Josiah James lingered on the court long after the final buzzer sounded.
Most of his Porter-Gaud teammates were headed to the locker room, but James wanted to savor the moment, his last game inside the school's Fishburne Gym.
Several dozen fans, classmates and parents milled about waiting to take pictures with James — as a final memento of his Senior Night.
"I'm gonna miss this place," said James, a senior point guard at Porter-Gaud. "All the time I've spent in this place, all the practices, the workouts and late nights with my father and brother here with no one else around. This place has grown to be my home. It's gonna be hard to say goodbye to this place. This place will always be special to me."
MUST WATCH! Absolutely incredible. Josiah James' final ever home game at Porter Gaud before suiting up for @Vol_Hoops next yr. His farewell performance-one for the ages. Check out
- Alley Oop
- Alley Oop off the window
- Baseline tomahawk
- Block, behind the back, coast to coast pic.twitter.com/u888khfDXR

— Scott Eisberg (@SEisbergWCIV) February 13, 2019
The fact that James remained in Charleston for his senior season surprised some, but not the people closest to him. James, who will take his talents to the University of Tennessee next year, had plenty of chances to leave Porter-Gaud over the summer.
All the elite basketball prep schools — the ones with the national brand names like Oak Hill Academy, IMG Academy, Prolific Prep and Carmel — came calling. They made plenty of promises about travel and apparel, and offered the chance to play with and against the best high school players in the country.
Who would have blamed James if he left? He had nothing more to prove at Porter-Gaud. He helped lead the Cyclones to three straight state championships. He was a national recruit, ranked as high as No. 21 overall by ESPN in the 2019 signing class.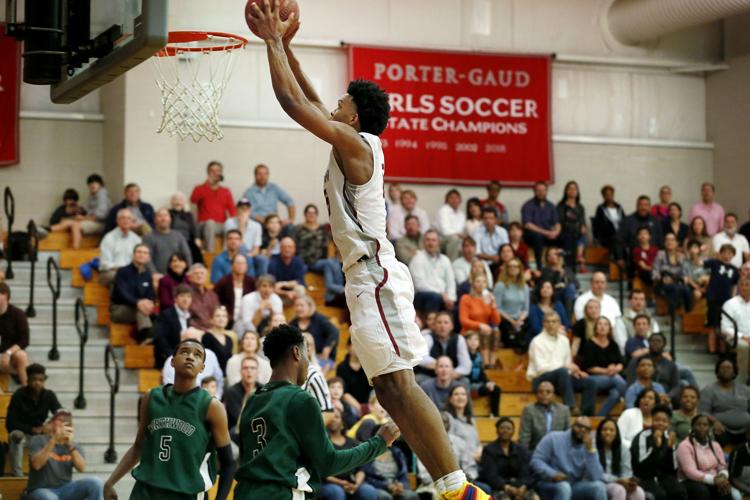 He was the elder statesman on a team filled with young, inexperienced players. Not many of whom would play at the college level.
None of that seemed to matter to Josiah Jordan James.
"Josiah is very loyal," said Porter-Gaud coach John Pearson. "He could have gone to those other schools and I would have supported him. It probably would have been good for him to practice and play against those guys. Most kids that were offered what he was offered and promised what he was promised would have probably left."
But James politely declined the offers. He wanted to win a fourth state title with his teammates. That goal remains a possibility with Porter-Gaud playing Cardinal Newman in the SCISA state semifinals Friday night at the Sumter Civic Center. The state championship is Saturday.
"Was a I tempted? Sure, a little," James said. "But this is where I want to be. I got everything I need right here, so why would I go someplace else."
It hasn't been an easy season for James or the Cyclones. With two stars from last year's team gone — Aaron Nesmith (Vanderbilt) and Jake Lanford (Yale) — James has had to take on more of a leadership and scoring role. James has always been a pass-first player, a point guard content to get his teammates involved first before looking for his own shot.
"I could rely on Aaron and Jake every game, every possession," James said. "I didn't have to be 'the man' but I definitely have to do a lot more this year. It has made me a better player. It was a little frustrating at times, but I've got their backs and they've got mine.'"
Pearson said forcing James to become more involved offensively will make him a better player at the next level. He is averaging a career-high 29.1 points a game to go along with 11.2 rebounds, 5.2 assists and 5.3 blocks.
"We lost eight seniors and Josiah has had to carry more of the load this year," Pearson said. "He would have never become the offensive player he is this season had those other guys been around. He still looks to pass the ball, but he's learned he can score too, which is scary for other teams."
It's been a whirlwind year for James, who got to play for the U18 U.S. National team over the summer and spend time with NBA MVP Steph Curry.
"Getting to meet Curry was an unbelievable experience. We got to watch him workout and individually meet with him," James said. "It was an unbelievable dream come true to see how humble he is and how hard he works. Makes me want to work that much harder to be like him."
As fun as hanging out with Curry was, the highlight of James' busy summer was helping the U.S. claim the gold medal at the FIBA Americas U18 tournament in August.
"I know it sounds cliché, but I never imagined that basketball would take me this far, but it did," James said. "I got to meet a lot of great guys and great coaches and they made me not only a better basketball player, but a better person."
James said watching Tennessee climb to No. 1 in the polls earlier this season has only made him more eager to get to Knoxville.
"I can't wait. To see what they've done this year, it's been amazing," James said. "Hopefully, they'll be cutting down the nets in April."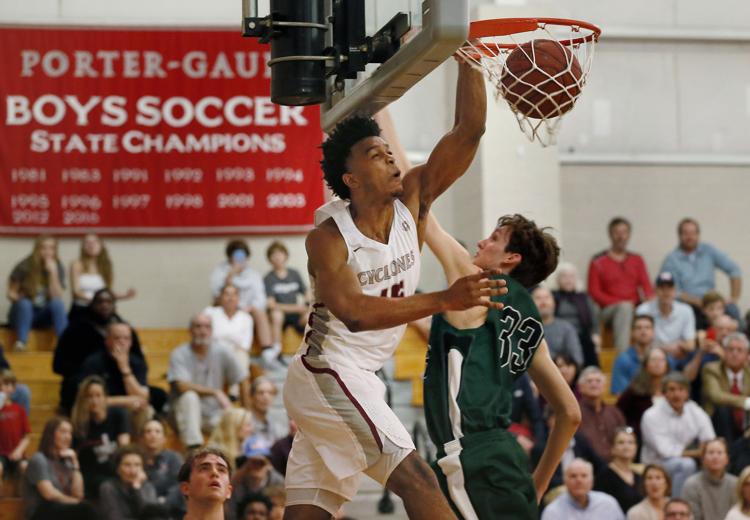 But first he has some business to take care of with the Cyclones, who hope to be cutting down nets on Saturday. 
"It's why I came back," James said. "It's why I play. To do that in my senior season, to share that with my teammates and coaches, would be unbelievable."