West Ashley head football coach Bobby Marion is adding a new defensive coordinator to his coaching staff for the upcoming season, and it's a coach he knows very well.
Former Stratford head coach Joe Marion, Bobby's younger brother by two years, will assume duties at West Ashley this fall, leaving Cross High after one season. He was let go as Stratford's head coach in 2017 after four seasons there. Prior to his stint as head coach at Stratford, Joe  Marion spent 26 seasons as an assistant coach at the school, including 14 as defensive coordinator.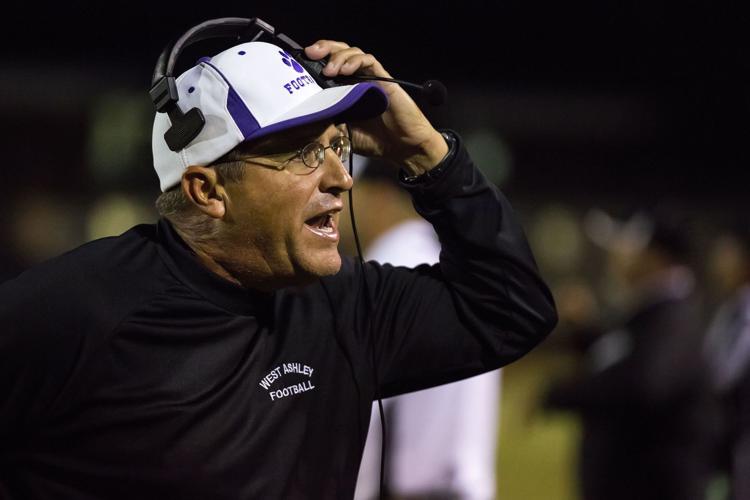 The brothers have coached together before. Prior to Bobby Marion taking the head coaching position at West Ashley, he served as the offensive coordinator at Stratford. He moved to West Ashley for the 2007 season.
Locals perform at Coaches Classic event
A host of Lowcountry schools participated in the annual Bob Jenkins Coaches Classic track and field meet, the state's largest regular-season competition. More than 80 public and private schools from around the state participated in the meet at Dutch Fork High School on Saturday.
The meet was an open meet, meaning athletes from all classifications competed against each other.
Winning their respective events in the boys' meet were Berkeley's DJ Chisolm (long jump), Wando's Dillon McCarthy (pole vault), Wando's David Kowalchik (discus), and Wando's Luke Pauldine (javelin). Kowalchik also placed second in the shot put.
McCarthy's vault of 16 feet, three inches was a school record.
Other highlights in the boys' meet included Berkeley's Jaquon Williams taking third in the 110 hurdles. Wando's Caleb Walker and Ethan Cocco were second and third, respectively in the javelin, while Wando's Paul Kowalchik was second in the discus and third in shot put
On the girls' side, Bishop England had two winners with Grace Hotchkiss winning the pole vault and Emma Albano winning the discus. Wando's Chloe Berda won the javelin.
Other highlights from the girls' meet included Fort Dorchester's Taylor Smith finishing second in the long jump and James Island's Tia Lucas placing second in the high jump. Wando's Hannah Togami was runner-up in the pole vault.
Lowcountry baseball rankings
With a month left in the regular season, area high school baseball teams are fighting hard to earn region titles and state playoff berths.
Bishop England and Hanahan are on a collision course for the Region 7-AAA title, though Academic Magnet owns a win over Bishop England and Georgetown upset Hanahan earlier this season.
Bishop England has the area's top player in Clemson commit Geoffrey Gilbert, a left-handed pitcher. Hanahan has a bevy of quality arms and recently tossed five consecutive shutouts.
Region 7-AAAAA is a logjam at the midway point with Wando, Berkeley, Cane Bay and Stratford all within a game of each other. Cane Bay has the toughest road ahead with two-game series with Wando and Berkeley. The Cobras beat Stratford on Monday night and play game two on Wednesday.
It's the same story in Region 8-AAAAA as Summerville, Fort Dorchester, West Ashley and Ashley Ridge each have teams capable of winning the title. West Ashley's sweep of Ashley Ridge last week put the Wildcats back in the race but still chasing Summerville and Fort Dorchester.
Here is this week's Lowcountry top 10 baseball rankings.
1. Bishop England
2. Hanahan
3. Wando
4. Berkeley
5. Summerville
6. Ashley Ridge
7. Stratford
8. Cane Bay
9. Fort Dorchester
10. West Ashley