Lexi Thompson is hitting balls on the driving range at the Wrenwoods Golf Course at Joint Base Charleston.
As the noon sun steams down, golfers at a clinic for military personnel pepper the LPGA star with questions. What's her warmup routine? How does she perfect her alignment?
Thompson thoughtfully answers each question, then turns to hit another shot. An 8-iron makes a satisfying thump, landing 155 yards away. A rifle-shot of a driver turns over ever so slightly, about a 7-yard draw.
Then, this question. "How do you prepare for the mental side of the game?"
Thompson stops and laughs, almost to herself.
"I've learned along the way that golf is a lot mental," she said. "Very mental."
That might be the next step in the education of Lexi Thompson, the top-ranked American star heading into this week's U.S. Women's Open at the Country Club of Charleston.
Thompson, who just turned 24, has always seemed ahead of the game: 12 when she first qualified for the U.S. Open, 15 when she turned pro, 16 when she became the youngest player ever to win an LPGA event.
A strapping 5-11, Thompson could always hit the ball.
"She can overpower a golf course," said Charleston's Beth Daniel, an LPGA Hall of Famer.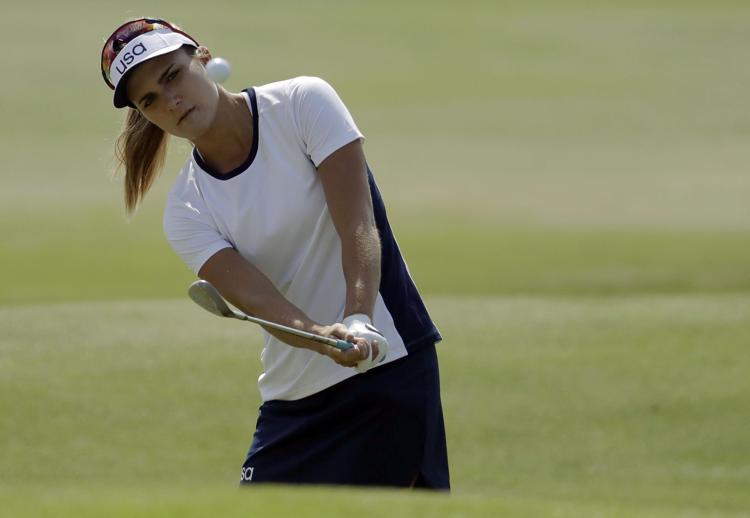 But Thompson, who has 10 career victories and is ranked No. 7 in the world, points at her own head when discussing what she's working on now.
"I'm seeing a therapist now, and that's helping me out," Thompson said during her May 17 appearance at Joint Base Charleston. "I've been doing a lot of breathing exercises before I even head to the golf course. Even before I tee off, I do a few breathing exercises just to make sure I'm fully relaxed.
"I still get nervous. Out there on the first tee, I'm anxious and ready to play. I have the adrenaline going, and I want to get out there and compete."
Thompson cashed a big payday when she won the CME Group Tour Championship last November, but her results this year have been up and down. No wins, three top 10s and three finishes of 26th or below, including a missed cut in April.
Some of that is learning to control her competitive streak, she acknowledged.
"I get intense, and I do realize that I hold my breath. And that's all in here," she said, pointing to her head. "I'm not one to say I'm always Miss Happy on the golf course. I get down because I get frustrated when I know I can do better.
"I'm like, 'Lexi, you don't hit that golf shot, what is that?' And then I remind myself, 'Let's go into the next one with a positive attitude, and not let that bad shot go into the next one.'"
Thompson's mental toughness was tested in 2017 at the Ava Inspiration, where she had a two-stroke lead through 12 holes on Sunday and seemed well on her way to a second major championship.
Walking off the 12th green, Thompson was informed by a rules official that she was being penalized four shots for an incident that happened in the third round. A TV viewer spotted Thompson improperly replacing her golf ball after marking it. She was assessed two strokes for the improper marking and two more for signing an incorrect scorecard.
"Is this a joke?" she asked a rules official at the time.
Fighting through tears over the final six holes, Thompson managed to play her way into a playoff with Ryu So-yeon before losing.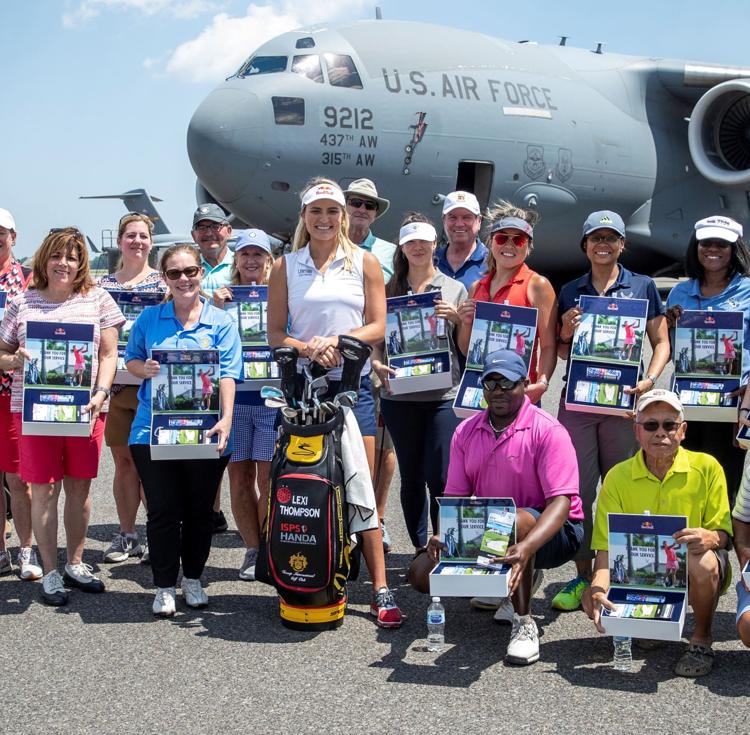 The incident helped prompt a rules change as the USGA and R&A, and major men's and women's tours around the world, announced in 2017 that they would no longer field rules inquiries from viewers.
Thompson ran into another mental roadblock recently when she decided to take a break from social media. Some media speculated that the break stemmed from blowback Thompson received after a golf outing with President Donald Trump, but her agency denied that.
"I'm too involved with it, and to read some of the hurtful things being said to me lately isn't fair and I'm not dealing with it," Thompson posted on Instagram. "Thank you to my true fans out there I will be back on but I'm going to be focusing on me right now and my life. Thanks for understanding."
Events like Thompson's appearance at Joint Base Charleston provide much-needed perspective. Thompson adopted military causes such as the Wounded Warriors and the SEAL Legacy Foundation as her prime charities after meeting Wounded Warriors at her first LPGA victory, the Navistar LPGA Classic in 2011.
"The main charity for that event was the Wounded Warriors," she said. "And I got to meet a few of them and just talk to them and hear their stories. Just to see their attitudes after all they've been through, it was unbelievable and eye-opening for me.
"When I get mad because this white ball won't go where I want it to, I think about them."