Spencer Carbery was looking for a fight.
It was early in the 2007 ECHL season and Carbery, in his second year of professional hockey, wanted to solidify his spot on the Bakersfield Condors roster. The California-based Condors were trailing the Las Vegas Wranglers by three goals midway through the third period, and Carbery wanted to inject some energy into his team.
The best course of action, Carbery figured, was to drop his gloves and punch someone in the face — repeatedly.
"In that situation you just want to give the guys a lift, give them something to get excited about," said Carbery, who was a player, assistant coach and head coach for the South Carolina Stingrays from 2008-16.
Fighting in professional hockey is not only accepted, it is expected. It has been a staple of the NHL for more than a century.
But that appears to be changing.
In today's game, players like Carbery, who fought more than 20 times in one season for the Stingrays, are a dying breed. Fighting in the sport at all levels has dropped off dramatically in the last decade, especially over the past couple of seasons.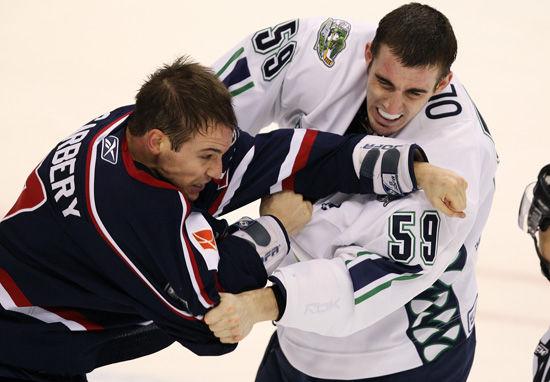 Fighting was at a historic low in the NHL this season with 226 altercations recorded by hockeyfights.com for the entire league (less than .02 per game). Two years ago, there were 372 fights.
Compare that to 30 years ago and it seems like the NHL was playing a different game. During the 1985-86 season, the league averaged almost 1.2 fights a game and had four teams with more than 100 fights over the 82-game schedule. Detroit led the NHL with 154 fights, and the New York Islanders had the fewest with 50. This year the Boston Bruins led the league with 26 fights.
During the 1997-98 season there were 56 players that had at least 10 fights in the NHL. This year, six fights were the most by any one player. San Jose Sharks forward Micheal Haley, who played for the Stingrays in 2007, was the last player in the NHL to have double-digit fights in a single season and that was two years ago.
Fighting has dropped nearly 70 percent in the NHL in the last 10 years.
Most experts in the sport will tell you that the decline in fighting is just the natural evolution of the game. Teams at all levels are building their rosters with faster, more skilled players, and there's been an uptick of players coming to the U.S. from Europe, where fighting is frowned upon.
Another factor is the increased focus on concussions and chronic traumatic encephalopathy (CTE), a brain condition associated with repeated blows to the head.
But fighting still can be a flash point in a game, even during the playoffs, when fights are much less common. Washington Capitals superstar Alex Ovechkin knocked out Hurricanes rookie Andrei Svechnikov during Game 3 of their Stanley Cup series earlier this week. 
"I see it as two willing combatants," said Washington Capitals head coach Todd Reriden after the game. "That's part of our sport."
The decline isn't as dramatic in the ECHL, of which South Carolina is a member, but the falloff is still significant. During the 2008-09 season, there were 714 fights in the 24-team league (.45 fights per game).
This season that number declined to 495 with 27 teams (.25 per game).
"I think the mentality of the game has changed," said South Carolina Stingrays head coach Spiros Anastas. "I think it's a change in philosophy, but I do think the awareness of health has changed the game.
"The trigger point is obviously concussions. I think the game has attracted a different fan base. The game has gotten more popular. They love speed and skill. There's still a lot of old-school fans who will always love the rough and tumble stuff, but there's a new generation of fan that appreciates the skill and speed of the game."
'It's such a fast game now'
The decline in fighting can be traced back to the 2004-05 NHL lockout season.
In an effort to make games more entertaining and attract new fans, the NHL instituted new rules that reduced the clutching and grabbing that players could get away with. For years, the bigger and stronger players dominated the sport.
With the new rules in place, the game saw a dramatic uptick in offense and a new emphasis placed on speed and skill.
"It's such fast game now. If you can't skate and you're not skilled, you're not going to play," said South Carolina Stingrays forward Josh Gratton, 36, who last played in the NHL during the 2008-09 season.
The need for an enforcer like Gratton and former Stingrays winger Trevor Gillies, who played for the New York Islanders as recently as 2011, began to wane.
"Back in the day, each team had at least two legit heavyweights and maybe another five or six guys that could handle themselves," said Gillies, who had 263 fights according to hockeyfights.com. "As the years went on those numbers dwindled to maybe one heavyweight and another guy that could play and protect the guys on the ice."
There was another NHL work stoppage during the 2012-13 season and the rules committee went to work again, bringing more offense to the ice.
"It seemed with each lockout, the league got faster," Gillies said.
When concussions and CTE started making headlines, the NHL began to crack down on fighting. Staged fights, altercations that occur right off the faceoff, were given extra scrutiny as were instigator penalties. Players were also punished for taking off their helmets before fights.
"I never liked the staged fights anyway," Gillies said. "They don't belong in the game. A fight should happen organically, during the normal run of play."
Then the Canadian junior hockey leagues began to hand out suspensions for players that had multiple fights in a season. Two years ago, the Ontario Hockey League suspended players one game after their sixth fight in a season. The OHL is one of the main developmental leagues for the NHL and has seen an 80 percent drop in fighting over the past two seasons.
"One time I think we went 10 games without a fight," said Carbery, who coached in the OHL with the Saginaw Spirit during the 2016-17 season. "This generation that's coming up isn't used to fighting. They played junior hockey for three years without a lot of fighting, so this is nothing new for them."
Carbery, who is now the head coach of the American Hockey League's Hershey Bears, has seen a similar drop in the AHL, minor league hockey's top tier. Players receive a one-game suspension for each fight they are involved in after reaching the allowable limit of 10 per season. Only one player in the last two years has had 10 fights in the AHL.
"There's been a massive effort among all leagues to increase player safety," Carbery said. "All the leagues are trying to clamp down on fighting."
The ECHL doesn't have a similar fighting policy and there are no plans to put one in place. Jacksonville's Garet Hunt, who is the league's all-time leader in penalty minutes, led the ECHL with 17 fights this season. Two years ago, the league had one player with 30 fights.
"I don't see fighting being eliminated in my lifetime," said ECHL commissioner Ryan Crelin. "I don't see it being eradicated. I could see it further diminishing from the game. I don't even think you need to rule it out of the game because the game is so focused on speed and skill now."
Even ECHL team owners are taking notice of the decline in fighting.
"Speed, skill and athleticism has become paramount in the game today," said Stingrays owner Todd Halloran. "I think there's still a place for physicality, but the skill and competitiveness of these guys is what is most important."
'Out on My Feet'
A decade removed from his playing career, Carbery still gets nostalgic about the days when he had that warrior mentality.
"I loved it," Carberry said. "Once I got to the pro level I realized my skill level had maxed out. Fighting was something that I saw as a way to contribute to the team. It was my way of being a good teammate, and a way to contribute without getting on the scoresheet."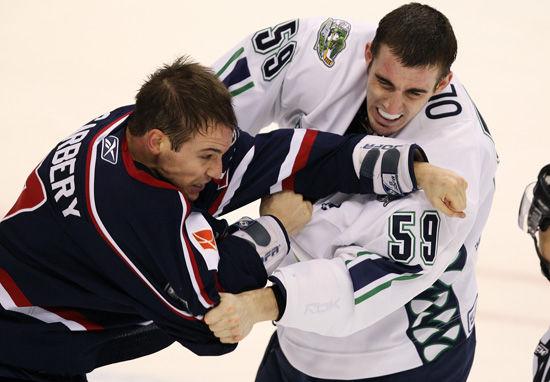 The fight in Las Vegas more than a decade ago was typical for Carbery during in his playing career.
Play was stopped and there was a pile up of players from both teams. The obligatory pushing and shoving ensued, and Carbery got tangled up with Las Vegas defenseman Gerry Burke.
At 6-2 and 190 pounds, Carbery gave up 35 pounds and two inches to his opponent. One strong right hand from Burke and the fight was over. Carbery's knees buckled and he fell to the ice.
When Carbery got back to his feet, a linesman escorted him to the penalty box. Carbery asked if the Las Vegas player had been ejected. The linesman gave him a confused look.
"Someone from the Vegas bench hit me with a stick in the back of the head," Carbery told the linesman.
The linesman just shook his head.
"No, Spence, you were in a fight" Carbery recalls the linesman saying to him. "It was a right to the chin."
Carbery watched a replay of the fight the next morning.
"I was out on my feet before I hit the ice," he said.
Former tough guys like Nate Kiser, Gillies and Gratton can spin similar yarns about their experiences. There's almost an WWE element to professional hockey with heroes and villains and personal grudges that go back years.
But there is more to fighting than dropping the gloves, exchanging blows and flexing for the crowd on the way to  the penalty box. For guys like Carbery, Kiser, Gillies and Gratton, who played their role as tough guys for years, it's about the other guys in the locker room and on the bench that share the same jersey.
"It's a job that a lot of people don't understand," said Gillies, who played 19 professional seasons, including 57 games in the NHL. "It's takes a special type of human to fight for the crest on the front of the jersey instead of the name on the back. Ask the guys I played with if they didn't feel 20 pounds heavier and two feet taller when I was on the ice with them."
A sentiment shared by Kiser, who is the Stingrays' all-time leader in penalty minutes.
"There was nothing more exciting to me than dropping my gloves and sticking up for my teammates," said Kiser, who played for the Stingrays from 2004-11. "The reaction you get from the bench, all the boys are cheering for you. There's nothing like it. You never want to let them down."
'Eating some knuckles' 
Despite the rules changes and concerns about head injuries, the majority of players still believe that fighting is an essential part of the game.
Gratton, who has 229 fights to his credit, says less fighting is good for the game, but there's still a place for it under certain circumstances.
"Fighting will always be there, it will always be in the game, but it has to be for a purpose," Gratton said. "I've always believed that. You play the game first, I'd rather play hockey than fight, but if I've got to stick up for a teammate or get some energy going in the building then I'm going to do it, but it has to be for the right reasons."
Hockey is one of the rare sports in which the players tend to police themselves on the ice. Referees can only do so much. A player might think twice about delivering a high hit or extra slash when enforcers like Gillies and Gratton on the ice.
"Guys that took liberties with our skill players knew they were going to have consequences when I was out there," Gillies said. "I bet the number of high hits and hits to the head will increase as fighting goes down because there are no consequences anymore.
"If you had a rap sheet like me, it allows the skill guys to do their thing. I'm the ultimate deterrent. They're thinking, 'do I want to take this guy out a little high because later on I might be eating some knuckles.' That's a huge factor. The players like me to police the game."
There's also the entertainment value that fighting brings to hockey.
During the Stingrays' recent "Education Day" promotion in which thousands of school-age children attended a game,  many for the first time, the biggest cheers came when Gratton got into a fight with a Greenville player.
"Does fighting sell tickets? Sure," said South Carolina president Rob Concannon, who played for the Stingrays from 1995-2000. "But how many? I don't think anyone knows for sure how much of an impact fighting has on ticket sales, but it's been a part of the sport for a long, long time."
Concussions and CTE
Carbery didn't suffer a concussion the night he was knocked out in Las Vegas. His only injury was a sprained knee after falling awkwardly on the ice.
The NHL says less than eight percent of concussions that occur in games are the result of fighting. The vast majority of concussions and head trauma occur during open ice hits or hits from behind that cause a player's head to collide with the boards.
Over his relatively brief four-year professional career that included more than 250 games and at least 40 fights, Carbery figures he had between six and eight concussions.
Gillies said he had six diagnosed concussions, while Kiser, who would later become a professional MMA fighter, estimates he had as many as 10 concussions.
Gillies retired last year after undergoing a battery of medical tests, including a MRI on his brain.
"The doctor told me it was an absolute miracle that I have a normal brain," Gillies said. "There were no legions, no shrinkage of the brain, no dead spots."
Even with a clean bill of health, Gillies decided it was time to hang up his skates.
"No one knows what your number is," said Gillies, who is 40 years old. "They didn't know if my number was one more good hit, or one more good punch and I didn't want to risk that. I want to be around for my wife and kids, but I knew what I signed up for."
Since his retirement, Gillies has become involved with Athletes for Care, a non-profit group that offers support and education for former professional athletes. Riley Cote, a former enforcer for the NHL's Philadelphia Flyers, is one of the co-founders.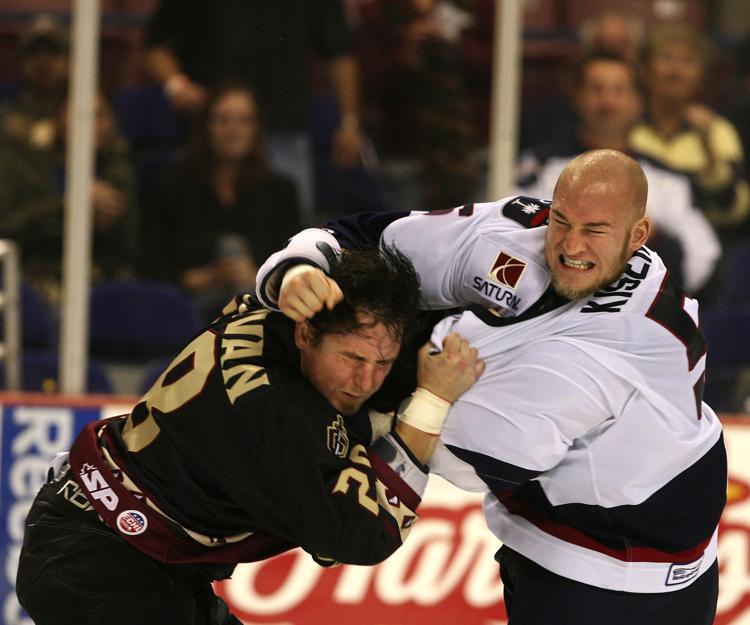 "I'm a big believer in what Riley is advocating," Gillies said. "I've had no problems since I retired. I'm not trying to mask the symptoms anymore. I'm not worried about the future at all."
Kiser said the long-term effects of head injuries is something he thinks about.
"It was never a thought in my mind when I was playing," Kiser said. "Are there worries because of the accumulation of hits and punches I took when I was playing? Of course.
"Would I change anything I did during my career? No, I wouldn't change a thing."