Is the gap between Fort Dorchester and the rest of Region 7-AAAAA closing? Maybe a little, but the Patriots start the high school football season as the team to beat in their region and one of the top teams in the state.
Fort Dorchester has won its last 18 games against Lowcountry teams. The Patriots lost twice last year to Midlands power Dutch Fork. No team in the area has been able to beat Fort Dorchester since Ashley Ridge turned the trick in November 2014.
Fort Dorchester coach Steve LaPrad feels confident about this year's team, but realizes other programs in the region may be catching up.
"This region has some really good coaches and some really good athletes," LaPrad said. "We don't really look at that streak. Heck, I didn't even know what it was. We've had some success over the last few years and some other teams have been a little down. But we don't overlook anyone. For us to reach our ultimate goal, we have to take one game a week. We'd rather win the last five games if we had our choice."
Behind Fort Dorchester is Summerville, led by junior quarterback Johnathan Bennett. Ashley Ridge, Wando and West Ashley have enough talent to make some noise in the region race as well. 
Goose Creek and Stratford are coming off poor seasons but both teams should be improved. James Island coach Ike Allred continues to rebuild his program and may be the biggest longshot in the league.
Ashley Ridge
After Ashley Ridge struggled last season, the coaching staff began focusing more on internal challenges than external challenges.
"In the spring, our main goal was to reestablish our culture," Ashley Ridge coach Kenny Walker said. "We really focused on that as far as building relationships and working more as a unit. Our other goal was to create more overall quality depth. We are pleased with how these players have come together."
The Swamp Foxes have some skilled athletes returning. Sophomore Matt Duncan, brother of former Ashley Ridge quarterback Steven Duncan, has emerged as the front runner for the starting job behind center. Senior Bryce Bryan returns with experience at QB and receiver.
"Matt has developed when it comes to his velocity and footwork and his reads are quicker," Walker said. "Bryce is also someone we will be able to rely on."
Senior receiver JJ McAfee returns with an athletic frame and 4.5 speed. Seniors Troy Chavis and Josh Linton also return with varsity receiving experience. Youngsters Jehnari Brown and Justin Moree add depth at the position.
Juniors Demarr Proctor-Floyd and Nick Cunningham show promise as running backs.
Senior right tackle Tyler Corrie, sophomore left tackle Kamyrn Petrick and junior center Jackson Pell are all returning starters up front.
Tyler Kraft, who played varsity H-back and linebacker last season, has been moved to left guard. Kaleb Brown will likely start at right guard and Juniors Zach Townsend and Domonic Pauley will provide depth up front.
The Swamp Foxes are optimistic about their pass defense.
Rover Rodney Oldham battled injuries last season, but has become the leader of the secondary. Free safety Darius Smith and corner backs Nijay Hill and Hombre Kennedy also return.
Rising seniors Aveyuan Dennis and Will Aiken bring experience at the linebacker spots. Rhett Butcher and Nathan Estep are newcomers likely to see playing time as inside linebackers.
Senior defensive end Jaheem President will provide leadership for the defensive front. Senior Blaine Dubois will line up on the other end. Tackle Anthony Jackson has some varsity experience and Jack Bruffey is also expected to start up front.
Fort Dorchester
Fort Dorchester has lofty goals.
"I don't know that it's a good thing, but we have reached the level where nothing but the state championship will do," Patriots coach Steve LaPrad said. "Obviously the region championship, Dorchester County championship and being competitive out of our region are all important to us, but the main thing for us is the last five ball games. All the things prior to that are tests. Hopefully we can pass them all, but we may flunk a quiz here or there."
The team's only two losses in 2016 were to Dutch Fork, which won the Class AAAAA state championship. The Patriots lost a Shrine Bowl athlete on each side of the ball since, but are still loaded.
"Talent-wise, we have a chance," LaPrad said. "Up front we have to get a little better, but I do think we have the ability to be pretty good up front."
Quarterback Dakereon Joyner, a South Carolina commitment, has all but one of his favorite targets returning from last season.
Seniors Justin Williams and Raquan Simmons head an outstanding group of receivers. Williams is drawing heavy recruiting interest and Simmons is a veteran, speedy receiver.
Deangelo Knight, who is verbally committed to Georgia State, will likely split time between the receiver and defensive back positions, and second-string QB Deaundre Sabb will also see action as a receiver. Chaz Jones, Ian Dudley and Antoine Parker have also shown promise as targets.
Drew Parker has returned for another season at running back. Sharing time with Parker will be youngsters Khalil Jenkins and Tyree Johnson.
Qumari Jackson, Avery Snipes and tight end Antwain Watson, all seniors, will anchor the offensive line. Also likely to see a lot of action in the trenches are Alex Garrido, Jordan Mann, transfer Bruce Benjamin, Aaron Doctor and Wakeel Rivers.
On the other side of the ball, defensive ends R.J. Cobb and D.J. Evans have returned to anchor the line. Deon Ladson, Nick Peeples, transfer James Middleton and Daquan Robinson are vying for time on the defensive interior.
Rising seniors Zach Hardin, Joey Spears, Kenneth Brown and Jonathan Parker return at linebacker. Brown received All-American honors as a sophomore, but missed much of last season due to injury. Devon Gilmore and sophomore Darryle Ware are also expected to vie for time at linebacker.
Rising seniors Josh McLeod, Jaquan Gomillion and Knight all return after manning the Patriot secondary last season.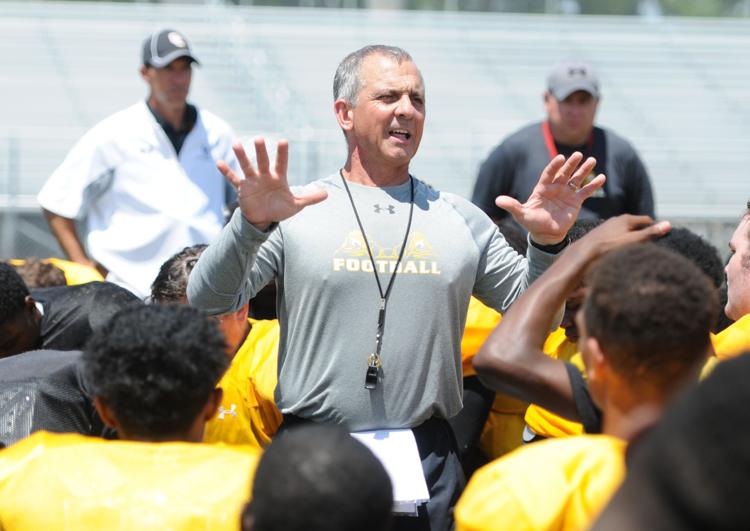 Goose Creek
One positive Goose Creek coach Chris Candor could take away from the 2016 season is the fact his Gators fought to the bitter end.
But, in the long run, they simply couldn't make enough plays as they stumbled to a 3-8 mark. Five losses came by seven points or less, including a heartbreaker to Conway in the first round of the playoffs.
It was their season in a microcosm. Candor's team trailed by 21, rallied to lead by five late, only to lose by 36-33.
This season is a chance to start over.
"It's kind of a rebirth," Candor said. "Everybody is undefeated. Everybody still has dreams of a region championship and a state championship. We've made some changes in the coaching staff that I think will benefit us. They're positive changes. We've got a lot of excitement at practice, even with us being 3-8 last year."
While the energy level is high, there is a bit of a deficiency in terms of experience.
Running back Dante Smith is the lone returning skill player back but had an injury-riddled 2016, finishing with about 300 yards rushing and one touchdown.
Defensive lineman Keyshawn Mays and strong safety James Wilson are two of the anchors on the other side of the ball.
James Island
Led by a strong, veteran line, the James Island offense should be off to the races this season, said head coach Ike Allred.
The five starting offensive lineman from last year are all returning to the field for the Trojans. This year, they'll be more experienced and play more like a unit, Allred said. And that solidarity will trickle down to the two starting running backs: Jermaine Alston and AJ Ladson.
"AJ is a shifty runner who can make plays, and Jermaine is a power back who knows how to gain extra yards," Allred said. "The way they're running the ball, you can tell they're comfortable playing behind our line."
The Trojans went 2-9 last season, including seven games in which they scored 20 points or less. With more veteran leadership, Allred says the difference in the offense this season will be like "night and day." Junior DaQuan Vinson is at quarterback, along with junior receiver Rodney Hamilton.
Defensively, he said the team has a combination of seniors and younger players. While the upperclassmen will take charge, Allred believes the freshmen and sophomores are also learning how to become leaders. Senior linebackers Zakhyis Pinckney and Germonta Brisbane are back.
"They hit the learning curve quick and that's what we've been stressing," he said. "Everyone has a role to play and I think all of our guys understand that."
Stratford
Stratford High School is coming off a 1-9 campaign and appears to be a work in progress this season. Last year was the worst in school history, which goes back to 1983.
The Knights have missed the playoffs two years in a row.
"We've got a fairly young team," Stratford coach Joe Marion said. "We're just trying to get better each practice, each day. Hopefully we'll get there as the season goes along. These kids have a lot of room to get better and they've gotten better in the preseason."
Stratford is counting on a mostly new cast to get the program turned around. Juniors Ryan Robinson and Travis Lott are in a two-man battle at quarterback. Junior running back Mario Anderson and sophomore receiver Sincere Brown (6-4) are primary weapons. Senior Jonathan Boags is a returner after making 24 catches for 255 yards in 2016.
Robinson was the top receiver in terms of yards last season, hauling in 11 passes for 279 yards and two scores.
On defense, junior inside linebacker Blake Marrs is the top tackler returning. He made 62 total stops as a sophomore.
Summerville
Summerville coach Joe Call is looking for better results in 2017.
"The last two years luck hasn't been on our side," Call said. "Turnovers hurt us and sometimes we just missed plays that we should have made. I feel like since we are more experienced this year we should be able to eliminate some of those turnovers and execute better."
Call has some of his top weapons back this season.
Senior Darryl (D.J.) Hancock returns after rushing for 897 yards and 10 touchdowns last season. Fellow rising seniors Shaq Davis and Olin McCurry lead a group of promising Wave receivers.
The athleticism Davis has demonstrated and his 6-5 frame have caught the eyes of college football and basketball scouts alike. He led the Wave receivers in 2016 with 28 receptions for 591 yards and six TDs.
McCurry is going into his fourth year as a starter for Summerville.
Jonathan Bennett returns as Summerville's quarterback after completing 107 passes for 1,529 yards and 13 TDs last season, and rushing for 812 yards and nine TDs.
"He really committed himself this spring and this summer to improving his throwing fundamentals and being a quarterback," Call said.
Andre Banks is a returner who played some tight end last year and has added H-back and slot receiver to his repertoire.
Senior Jackson Hutto and junior Daylen Powell return to anchor the Wave offensive line.
Junior Richard Vien will likely start at center while sophomore Ricky DeNigro and junior Casey King are the forerunners for the offensive guard positions.
The Wave defense also returns some veteran players.
Middle linebacker Deonte (Dino) Geddis is Summerville's leading tackler returning.
"Dino is providing tremendous leadership," Call said. "He is the heart and soul of our defense."
Senior Jimmy Mitchum has transferred to Summerville after leading Ashley Ridge in tackles last season as a linebacker. Derrick Larry was a running back on the Summerville JV team last season, but is now transitioning into a varsity safety.
Senior Graham McCurry, who played cornerback last season, will man the other safety position. Kevon Gregory and Corinthian Mack will also see action as defensive backs.
Up front, seniors Chandler Newton and Jimmy Bracey III are both returning starters and senior Chase Schlott has a lot of varsity experience. Ashley Ridge transfer Ben Mitchum and Stratford transfer Colby Taylor are also expected to make big contributions for the Wave defensive line.
Wando
Wando's offseason has been one of opportunity for its wave of fresh faces.
The Warriors graduated 34 seniors from last year's eight-win team, leaving holes to fill throughout the depth chart. Ninth-year head coach Jimmy Noonan says the newly available playing time has fueled healthy competition among both newcomers and veterans this summer.
"There's no doubt that we're going to be very inexperienced to start the year," Noonan said. "You never know; sometimes that can mean taking a few lumps as you develop that experience. Or the kids understand where we are, they put in the work in the off-season, as this group has, and they're talented enough to produce right away."
So much uncertainty makes veteran quarterback Cale Lewis invaluable. The 6-5, 210-pound senior passed for more than 1,800 yards and 12 touchdowns last season, completing better than 60 percent of his attempts.
"Cale's really blossomed as a football player," Noonan said. "His individual growth, poise and confidence are all so much stronger than even a year ago. We'll need to lean on him, especially early, to carry the torch and be the leader that he is."
Lewis transferred to Wando as a sophomore after starting for Palmetto Christian his freshman year. He sat for a season behind Bailey Hart — now a quarterback at USC — before grabbing the reins as the full-time starter the following year. His arm has never been in question; he even threw a perfect game for the baseball team last spring. Lewis came to Wando in search of better competition on a bigger stage. 
"It was a big transition from one of the smaller schools in the Lowcountry to the biggest in the state," Lewis said. "Last year everything started to make sense with what we were trying to do as an offense and this spring and summer I've taken a much firmer grasp."
Lewis's best weapons on the outside are 6-3 senior receivers Joe Jenrette and Connor McCarthy. Jenrette is a team captain, former quarterback and the most accomplished member of the receiving corps. McCarthy is a rangy target that's showed strong promise this offseason. Expect Kellan Noonan to make an impact out of the slot as well.
Wando might have found its next star running back in Jaden Singleton. The sophomore has a rare blend of speed, strength and elusiveness. He's next up in a backfield that's produced five consecutive 1,000-yard rushers. He'll operate behind an offensive line that returns just one starter in senior right tackle Scott Rogers.
Nose guard Jaelen Edwards anchors the frontline of the Warriors' 3-4 defense. Edwards benches more than 400 pounds and squats more than 500. The 280-pound junior is beginning to garner heavy Division I interest.
Outside linebacker Justin Pelic's is a strong edge rusher. Ramsay Turnage returns at cornerback and Will Pickren has shown strong promise at free safety.
Much of the rest is still to be decided, though. Wando's junior varsity went 6-1 last season while its B-team finished 6-2. Such success at the lower levels may seem like a promising indication of what's to come. But Noonan remains cautious as success on Thursdays doesn't always translate to Friday nights.
"It's been a rollercoaster ride," he said. "You stress consistency within your program, but without a middle school feeder system that can be very difficult to maintain. You may have uncertainties but you really don't know until you see it play out at the varsity level."
Noonan put together one of his best coaching jobs last season leading a team littered with injuries to just its second eight-win season of the past 11 years. A first-round playoff loss left more to be desired, however. The early exit is now motivation for the Warrior veterans. Lewis believes in Wando's system and despite the senior exodus expects the Warriors to once again contend in the Lowcountry this year.
"If we stick to what we're doing with how the coaches have practices set up and we keep our heads down and work," Lewis said. "Our success will speak for itself."
West Ashley
West Ashley finished 6-6 a year ago, earning a spot in the Class AAAAA state playoffs. Head coach Bobby Marion feels good about his skill positions, but says the defense will be a strength this season
"We are fast and athletic and we return more experience on that side of the ball," says Marion, who begins his 10th season at West Ashley. "The defense will have to carry us early on while we mature some on offense."
Returning as a key leader along the defensive front is senior end Jay Smith, who will be a third-year starter. Senior linebacker Kamden Middleton led the Wildcats in tackles last season, while senior safety Josh Heyward anchors the athletic secondary.
Junior Kenyatta Jenkins will take over at quarterback and makes up for a lack of experience with exceptional athleticism, according to Marion. West Ashley must find a replacement for running back Dexter Freeman, who graduated as the all-time leading rusher in school history. Dwalynn Deleston, a junior, is the top candidate at running back while the lone returning starter along the offensive line is senior D. Smith.
Region 7-AAAAA schedules
Ashley Ridge
Aug. 18 at Cane Bay
Aug. 25 Boiling Springs
Sept. 1 Colleton County
Sept. 15 at West Ashley
Sept. 22 Summerville
Sept. 29 at Goose Creek
Oct. 6 Stratford
Oct. 13 at Fort Dorchester
Oct. 20 Wando
Oct. 27 at James Island
Fort Dorchester
Aug. 18 at Dorman
Aug. 25 Colleton County
Sept. 1 at Dutch Fork
Sept. 15 Wando
Sept. 22 at James Island
Sept. 29 Stratford
Oct. 6 at Goose Creek
Oct. 13 Ashley Ridge
Oct. 20 at West Ashley
Oct. 27 at Summerville
Goose Creek
Aug. 25 Cane Bay
Sept. 1 at Sumter
Sept. 8 at Greenwood
Sept. 15 Summerville
Sept. 22 at West Ashley
Sept. 29 Ashley Ridge
Oct. 6 Fort Dorchester
Oct. 13 at Wando
Oct. 20 James Island
Oct. 27 at Stratford
Stratford
Aug. 25 Berkeley
Sept. 1 at Cane Bay
Sept. 8 Georgetown
Sept. 15 at James Island
Sept. 22 Wando
Sept. 29 at Fort Dorchester
Oct. 6 at Ashley Ridge
Oct. 13 West Ashley
Oct. 20 at Summerville
Oct. 27 Goose Creek
Summerville
Aug. 18 Spartanburg
Sept. 1 at Berkeley
Sept. 8 at Dutch Fork
Sept. 15 at Goose Creek
Sept. 22 at Ashley Ridge
Sept. 29 West Ashley
Oct. 6 Wando
Oct. 13 at James Island
Oct. 20 Stratford
Oct. 27 Fort Dorchester
Wando
Aug. 18 at Beaufort
Aug. 25 Conway
Sept. 1 Hanahan
Sept. 15 at Fort Dorchester
Sept. 22 at Stratford
Sept. 29 James Island
Oct. 6 at Summerville
Oct. 13 Goose Creek
Oct. 20 at Ashley Ridge
Oct. 27 West Ashley
West Ashley
Aug. 18 at Colleton County
Aug. 25 Bishop England
Sept. 8 at Charlotte Christian
Sept. 15 Ashley Ridge
Sept. 22 Goose Creek
Sept. 29 at Summerville
Oct. 6 James Island
Oct. 13 at Stratford
Oct. 20 Fort Dorchester
Oct. 27 at Wando