Bishop England welcomes back a familiar face and Hanahan hopes to return to familiar ways as both teams look to challenge perennial football power Timberland in Region 7-AAA.
Former Bishops head coach Jim Daniel is back as Bishop England's offensive coordinator, teaming with senior quarterback Leo Albano. Hanahan and coach Charlie Patterson seek to rebound from last year's 3-8 mark.
And at Timberland, coach Art Craig and the Wolves will try to add to their remarkable string of 11 region titles over the last 12 seasons.
Bishop England
Bishop England has upgraded its offensive staff just in time for its quarterback's senior year.
Former coach Jim Daniel returns as offensive coordinator. Daniel led Bishop England from 2001-07 before starting the program at Palmetto Christian and spent last season in an advisory role at First Baptist.
"It's been a really easy transition," said Bishops coach John Cantey, who succeeded Daniel in 2008 after seven years as his defensive coordinator. "We know each other pretty well from working together in the past so it's been great. Having Leo has helped a lot with that too. He's like an extra coach out there."
Bishops senior quarterback Leo Albano put up more than 2,000 yards and 28 touchdowns last season. His understanding of the Bishops' offense has helped provide Daniel insight into how a unit with eight starters returning can become even more productive.
"Leo's a very, very smart kid and a really good athlete. He just gets things done out there," Daniel said. "He's already been successful in that offense and we're not changing that. I want to learn from him."
Expect some variation, though, as Daniel is well known for his veer offense and spread formations. Bishop England averaged 30 points per game during Daniel's first season in 2001. By his second year at Palmetto Christian, the Eagles were scoring 40 points per game on way to the SCISA state title game. Last November, First Baptist won the SCISA Class AA state championship with an offense that racked up 44 points per game.
"Coach Daniel has tried to open it up a little bit more but we're still going to be run-heavy with a few wrinkles," Albano said. "The players have taken really well to Coach Daniel and are trying to soak up everything he's teaching."
The Bishops' top two backs graduated, opening opportunities for seniors Jacob Shiver and Christian Greavu. Shiver showed promise in very limited action last season, averaging 15 yards per carry and scoring a touchdown. Greavu lined up both in the backfield and on the line of scrimmage, totaling more than 400 yards and seven scores.
Cantey will run the defense. Bishop England held opponents to 14 points or less 40 times in Cantey's seven years as defensive coordinator. The Bishops allowed just seven points per game and won their first state championship in 2011, the last time Cantey doubled as head coach and defensive coordinator.
"I'm actually really enjoying being back with the defense. More than I thought I would," Cantey said. "It's going to be mostly reading keys and executing, not a lot of stunting and blitzing. Know where to go, fly to the ball and create turnovers. That's how we've had strong defenses in the past."
There'll be very little room for error early as Bishop England hosts perennial Upstate power Christ Church in its season opener before traveling to Class AAAAA West Ashley. The Bishops' 7-0 start last year included wins over Christ Church and West Ashley.
"I don't want to ease into the season," Cantey said. "We'll take the challenge to begin with. That way, we learn a lot about ourselves in those first two weeks."
Hanahan
Charlie Patterson's 10th team at Hanahan High School looks like it has an opportunity to finish near the top of Region 7-AAA.
Patterson said the Hawks have been solid in preseason action.
"I think we can compete with everybody on our schedule," Patterson added. "I think we can be in the mix to compete for the region championship. I think that's where we are but we've got to stay healthy and got to continue to improve."
The Hawks, 3-8 in 2016, won four straight region titles from 2010-2013 and another in 2015 before finishing fourth last fall when close losses were the common thread.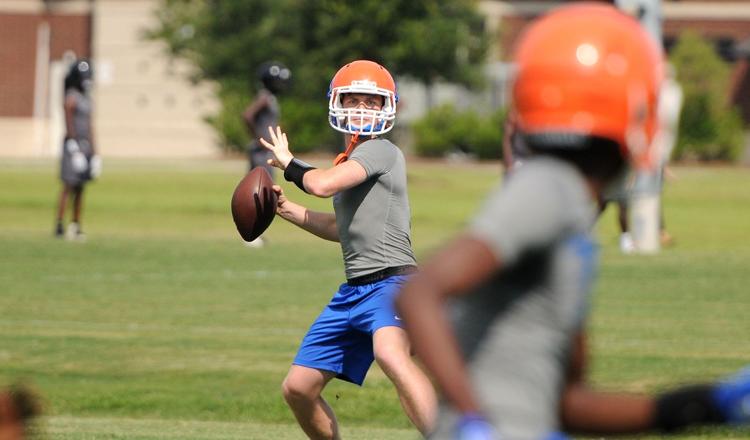 "Some of those games didn't have to come down to the end," Patterson said. "If we had played better throughout entire games, we might not have been in those situations."
Offensively, Jake Ward moves into the quarterback spot and has good mobility. Receiver Javante Grant, who made over 60 catches for 1,000-plus yards last season, is a primary target. Speedster Quincy Mitchell, one of the fastest track athletes in the state, has big-play ability in the running game.
On the other side, most of the defensive unit has returned.
Lake Marion
Leonard Johnson begins his second season at Lake Marion hoping to improve on last year's 2-8 finish. More than the record, however, Johnson is looking to establish a higher standard for the program.
"We are working hard to change the culture around here," said Johnson, who won two state championships at Scott's Branch. "We are still dealing with commitment and numbers issues. We have made some progress in that area but this is not a quick fix."
The Gators' roster will include only a handful of seniors so much of the playing time will be from underclassmen. Johnson's run-oriented offense will be directed by quarterback Tymell Grant, who also will double as a starter in the secondary. Senior Tarius Keitt will be the top back and also starts as a key leader at linebacker.
Returning along the offensive and defensive line are seniors Jonias Blocker and Darius Brisbane. Freshman Lajuan Paulling has earned a spot along the offensive line and has been the surprise of preseason camp, according to Johnson.
Lalijah Williams will be a leader in the defensive secondary.
Manning
Head coach Keith West begins his second season as the head coach at Manning and feels confident his Monarchs can improve on last year's 7-4 record. The Monarchs finished second to Timberland in Region 7-AAA last season, losing to the Wolves, 28-27.
West has 13 starters back and says a year in the system should lead to more success.
"Experience is a big thing and we feel like we have a good balance on both sides of the ball," said West, a former all-state quarterback at Sumter High who graduated from Wake Forest. "We certainly are hoping for a good season."
Manning will have a new starter at quarterback as Jack Owens steps in. The key experience returns at receiver in Camron Cain and David Fulton. DeJuan Wilson is a returning starter at running back and Darias Williams returns at tight end.
Along the offensive line are returning starters Chris Livingston, DeQuan Johnson and Quay Briggs.
D. J. Felder, a 6-4, 210-pound defensive end, returns along the front, along with tackle Payton Nelson. Julian Richardson is the lone returning linebacker but the secondary is strong with returning starters Ryan Brown, Keilah Dupree and Rashawn Garris.
Timberland
Timberland has won 11 region football championships over the last 12 years and aims to keep it rolling this fall.
The Wolves bring back plenty of key pieces on offense from a squad that finished 9-4 and advanced to the third round of the Class AAA playoffs. Among them is senior quarterback JaQuez Mitchell.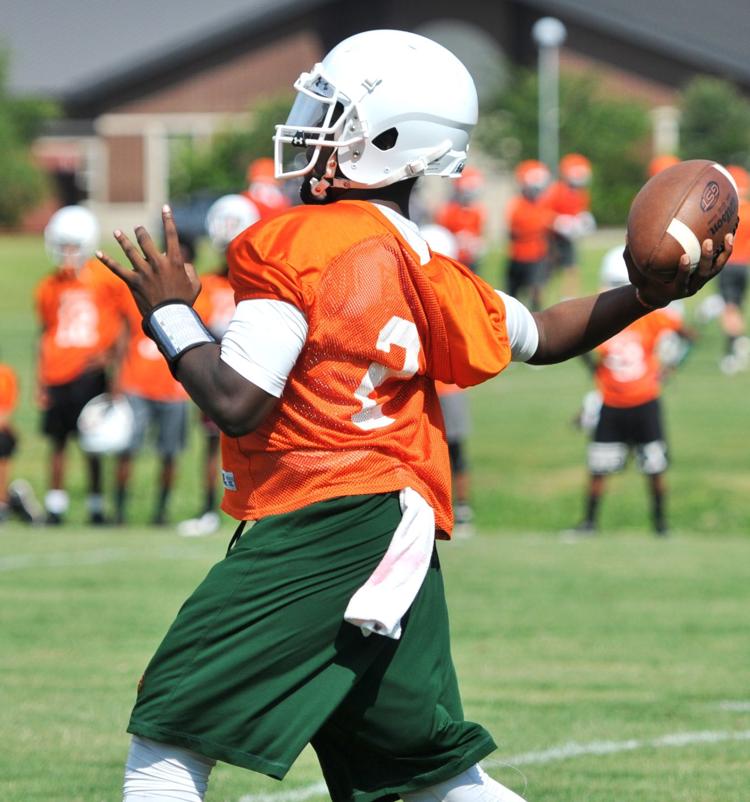 "Our offense is going to follow how he plays, as far as how well or bad," Timberland coach Art Craig said. "The good news is out of the 11 starters on offense, about seven or eight had to start at some point last season."
Mitchell combined for over 600 total yards and had a hand in eight touchdowns in 2016. Running backs Kevin Williams and Roger Gibbs accounted for right at 1,100 yards and 12 scores on the ground.
Center Sam Driggers, guard Ian Balzano and tackle Kevin Wilson are returning starters up front.
Defensively, the Wolves have more holes to fill but bring back strong safety Josh Hill, who made over 90 total stops, and defensive lineman Kevin Wilford to help anchor the unit.
Wilford topped 50 tackles and led with 10 sacks.
Gibbs is a strong performer returning at cornerback. He made a team-high four interceptions.
The Wolves play three of their first four games at home, including the opener Friday night against North Myrtle Beach.
Rob Gantt, David Shelton and Jeff Hartsell contributed to this story.
Region 7-AAA schedules
Bishop England
Aug. 18 Christ Church
Aug. 25 at West Ashley
Sept. 1 at St. John's
Sept. 8 at Porter-Gaud
Sept. 15 Woodland
Sept. 22 Academic Magnet
Oct. 6 Lake Marion
Oct. 13 at Hanahan
Oct. 20 Manning
Oct. 27 at Timberland
Hanahan
Aug. 18 at May River
Aug. 25  Andrews
Sept. 1 at Wando
Sept. 8  Berkeley
Sept. 15  St. John's
Sept. 22 at Cane Bay
Sept. 29  Manning
Oct. 6 at Timberland
Oct. 13 Bishop England
Oct. 20 at Lake Marion
Lake Marion
Aug. 18 Brookland-Cayce
Aug. 25 Orangeburg-Wilkinson
Sept. 1 Woodland
Sept. 8 at Hardeeville-Ridgeland
Sept. 15 at Burke
Sept. 29 Timberland
Oct. 6 at Bishop England
Oct. 20 Hanahan
Oct. 27 at Manning
Manning
Aug. 18 at Wade Hampton (HH)
Aug. 25 Scott's Branch
Sept. 1 at Lakewood
Sept. 8 Crestwood
Sept. 15 at South Florence
Sept. 22 May River
Sept. 29 at Hanahan
Oct. 13 Timberland
Oct. 20 at Bishop England
Oct. 27 Lake Marion
Timberland
Aug. 18 North Myrtle Beach
Aug. 25 at Woodland
Sept. 1 Cross
Sept. 15 Cane Bay
Sept. 22 at Berkeley
Sept. 29 at Lake Marion
Oct. 6 Hanahan
Oct. 13 at Manning
Oct. 21 Franklin Christian
Oct. 27 Bishop England