CLEMSON — Dave Doeren is a man Clemson football fans love to hate.
The head coach at N.C. State has managed to draw the ire of Clemson faithful through his antics and comments over the years. 
He did himself no favors when he questioned the integrity of Dabo Swinney a season ago over a mysterious laptop allegation. Or when he seemed OK with his players injuring and knocking Clemson running back Wayne Gallman out of the 2016 game. And when one of his staff members shoved Clemson quarterback Deshaun Watson in 2015, Doeren took some heat. 
The storylines go on.  
But when Doeren runs onto the field at Memorial Stadium Saturday as his undefeated and 16th-ranked Wolfpack take on undefeated and No. 3 Clemson, there are several things fans should know about N.C. State's fiery leader. Off the field, he can be a warm, likeable guy.
He's not much of a self-promoter, but the good characteristics are there.
For starters, Doeren is a father to three boys and the husband to a former nurse. He strives to be the ultimate family man first. 
Just Wednesday, a maintenance worker with the football department told N.C. State assistant athletic director for communications Annabelle Myers how much he appreciated working for Doeren because of how special he makes everyone around him feel.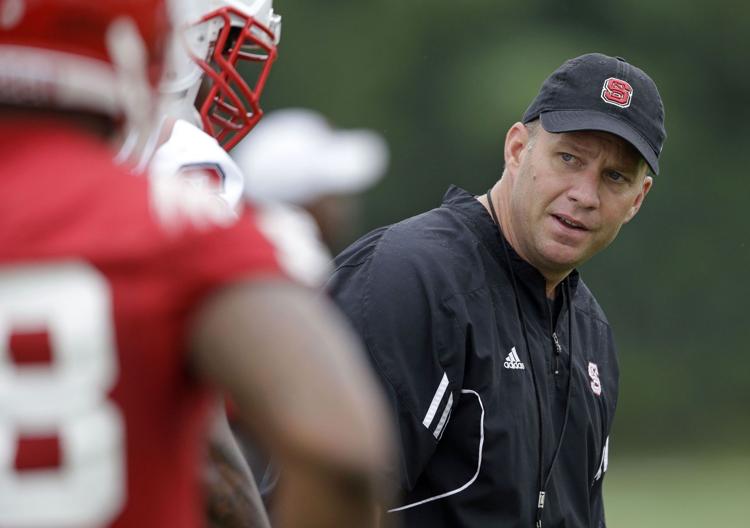 That reminded Myers of her own Doeren anecdote from a season ago. Myers' 9-year-old daughter broke her ankle, and it was Doeren who led the charge in making sure everyone in the football program rallied around her. 
It's the little things that go a long way. 
Doeren is also an advocate for the special needs community. He has a son with special needs, so it is something that hits particularly close to home. He lends his support with action and money for special needs programs in Wake County on a regular basis. 
A couple of other tidbits: 
• Before Doeren was a football coach, he wanted to be an orthopedic doctor — so much so that he majored in pre-medical biology at Drake University and even took the MCAT. His career goals changed after working at a seven-on-seven camp one summer for his high school coach. The experience changed his life and inspired him to become a football coach. 
• When he started out coaching at Shawnee Mission High School in Kansas, Doeren painted houses to help him make ends meet. 
• If he's not in his N.C. State attire on the field, you can typically spot him listening to country music, wearing his treasured boots and driving his pickup truck. 
• Every week from January until the football season starts, Doeren has "Real World Wednesdays," which involves him bringing in guest speakers to address his team about life beyond football. Sometimes it's a financial expert or a successful business owner. Other times it's someone connected to the NFL. His players learn how to tie neckties. They learn how to eat properly at etiquette training. They talk about managing money. 
• And last but not least, a certain Clemson football staffer actually has close ties to Doeren.
Brent Venables, the Tigers' defensive coordinator, has known Doeren since the late 1990s, when Venables was a graduate assistant at Kansas State and Doeren was a graduate assistant at Drake — both of their alma maters. 
They each coached linebackers, recruited the same area in Dallas and became confidantes, then later respected competitors.
In fact, when Doeren was applying for a job at Kansas under  Mark Mangino, it was Venables — then at Oklahoma — who put in a word for him that helped him snag a life-changing interview. 
"I gave him a strong recommendation," Venables said. "Dave's done a terrific job everywhere he's been. He's very detailed, very passionate, very tough, disciplined — and his team reflects that." 
"I got the job because he got me the interview. I definitely owe him for that," Doeren added. "I think a lot of him." 
And the same goes for Venables. 
Potential future drama aside, there is more to Dave Doeren than meets the eye.