Hanahan 13-year-old Scotty Parker aims to 'change the world' with bike ride across the U.S.
Scotty Parker's friends fall into three categories.
"A few think I'm really crazy. A few think I'm just kind of crazy," he said of his fellow 13-year-olds at Hanahan Middle School. "And then a few of them are like, 'That's really cool.'"
Some friends know Scotty recently received an award for being an outstanding philanthropist.
"Mom," Scotty said at the banquet. "What's a philanthropist?"
Well, it's someone who at 10 completed a 218-mile bicycle ride across South Carolina to raise $70,000 for people around the world in need of clean water. And who has raised the bar much higher: Scotty pedaled away from the Santa Monica Pier on Saturday to start a 3,300-mile roller coaster ride from sea to shining sea, dipping a tire into an Atlantic Ocean wave at Sullivan's Island on Aug. 1.
The trip is sponsored by North Charleston-based Water Mission, which engineers safe water solutions to combat sanitation issues around the world.
Scotty has already raised more than $289,000 and hopes to attract donations every day of his eight weeks on wheels (see www.scottysride.com to help).
The dream was hatched three years ago when a local television reporter asked Scotty a question just after he pulled into North Charleston following his ride from Greenville.
What next?
"Maybe I'll ride across the country," Scotty said.
He was joking. Until he got home.
"Then everything settled down and I started thinking we raised a lot of money and a lot of people have clean water now," Scott said. "But what about the rest?"
Into the desert
The long road home includes an average of 75 miles a day. It starts with a Pacific breeze as Scotty heads across the L.A. basin and into the California heat. Victorville, Barstow and on to the Mohave Desert before a climb to Kingman, Ariz. Following most of the famed Route 66 trail in a path picked with help from Adventure Cycling, the major tweak is a lean north into Kentucky. That's so Scotty can drop back via Asheville, N.C., into Greenville to repeat his original South Carolina state ride of 2014.
"That was Scotty's idea," said Steve Parker, Scotty's dad.
There will be no standing on a corner in Winslow, Arizona. The schedule calls for a stay at the Painted Desert Inn on June 15 but then it's off to Gallup, New Mexico, through Zuni reservation land, into Albuquerque and through Tucumcari on the way to the Texas panhandle. The Cadillac Ranch comes just before a stop in Amarillo on June 25.
Heady stuff for a kid who's been to only four states.
"I just know it's going to be really hot when we get into the desert," Scotty said. "And then we're going over three mountain ranges. But I like the hills. Some of those mountains excite me."
Theme: "Anybody can change the world," Scotty said.
Support crew: Dad, mother Pam Parker and sisters Lily (9) and Emmylou (5) riding in the family's 2017 Ford Expedition, plus several core riders, various guest riders and a photographer. An accompanying van will include snacks and drinks, spare parts for Scotty's Trek Domane carbon fiber bicycle, a backup bike, plenty of clothing for rain or snow. And a toilet.
"Oh, it's a circus of chaos," Steve Parker said with a laugh. "Lots of logistics."
If thunderstorms force delays, Scotty will pedal harder the next day to make up time. The mission bunch will sleep in hotels.
Of course, Scotty, who just completed the seventh grade, will miss his girlfriend Mackenzie. But trips like this are why FaceTime was invented. Scotty will blog everyday on his website, essential for a Hanahan celebrity.
"Yeah, I try as much as I can to be Scotty Parker and not that kid with the bike," he lamented. "But random kids come up and say, 'You're Scotty Parker?'"
He wears the "Scotty's Ride for Water" T-shirt every day and talks a good Water Missions game, which is pretty remarkable for someone that required speech therapy as a younger child.
But Scotty seems to understand what Sandy Funk of Water Mission means when she says, "The more people understand why he's doing what he's doing the more people will get involved." He has acquired keen business sense, and perspective.
"It's amazing," Scotty said. "Not just one person donated all the money we've raised. There are so many different people from so many different walks of life. There are people who have a lot of money and people who don't. They give different gifts but it means the same to each person."
Three classes of 5-year-olds at Northwood Academy, where Emmylou Parker attends, chipped in $6,000. A classmate of Scotty's at Hanahan Middle presented him with a bag full of 100 pennies.
"It meant so much to me to see that kid come up and give that," Scotty said, "because that's all he had. And he's willing to give that up to help people who are so far away."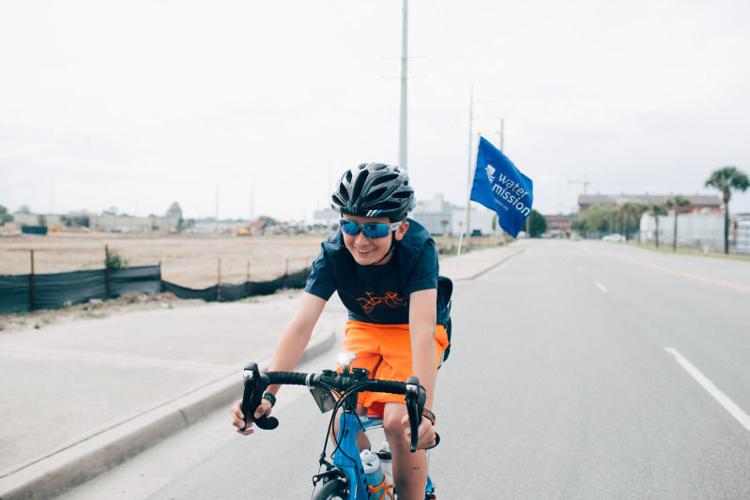 Training for 3,300 miles
Scotty's great ride busts out of Texas for Elk City, Oklahoma, then Oklahoma City and Tulsa. If all goes well, there will be a Fourth of July arrival in Carthage, Missouri, one of the most fought-over towns in the Civil War. Then it's through the Show-Me State and the Mark Twain National Forest and into Southern Illinois, crossing the Ohio River into Kentucky on July 12. The July 21 climb from Hazard to Harlan is 5,963 feet in elevation changes over 60 miles.
That's why Scotty trained for 18 months, averaging 100-130 miles per week on his bicycle or Wahoo indoor training bike. Plus running and swimming for cross-training. No wonder his grades "slipped a little bit."
But a 3,300-mile tour of America often required Ravenel Bridge work – 12 times back-and-forth each visit.
"Scotty is very self-motivated," says his mother Pam. "We've never had to push him. God has laid this passion on his heart."
The final training run was May 15: The Assault on Mount Mitchell. It's a 102.7-mile, leg-grinding, body-sapping bicycle climb from the Spartanburg Auditorium to the summit of Mount Mitchell in North Carolina – an ascent of more than 10,000 feet.
It took Scotty exactly eight hours, 55 minutes and 31 seconds. But he bested many seasoned cyclists and was the youngest finisher.
Scotty's doctor has approved all of this, the Parkers insist, including such a workload for a kid who stands 5-7 and weighs 116 pounds.
"Almost 117," Scotty said.
To gain or maintain weight, he has an EAS Myoplex protein shake and two protein bars at lunch with his ham sandwich each day.
"My friends are like, 'How do you drink that stuff?'" Scotty said. "My friend was at my house and he tried it and he spit it out. But you get used to it."
Dabo on board
It's 6,597 feet worth of elevation ups and downs on the way from Asheville to Edneyville, North Carolina, on July 26. Scotty plans to be in Greenville by July 28, Orangeburg by July 31.
The official Aug. 1 party and parade is set for Water Mission headquarters in North Charleston.
Eventually, Scotty Parker wants to attend Clemson (Tigers head football coach Dabo Swinney recently sent him an encouragement message on video). He wants to enter the land surveying business, following his father.
But first he will go from coast-to-coast seeking help for people in Uganda and Peru, Malawi and Indonesia. Scotty hopes to speak at a church most of the Sundays on the route, as he did last week at three services at Summerbrook Community Church in Summerville.
His favorite Bible verse is Philippians 4:13: "I can do all this through him who gives me strength."
Each morning the Parker family prays over the ride. They pray for safety, and for the people Scotty hopes to help. 
"This isn't about me," Scotty said, "this is about getting people clean water. This shows people that others care about them. We want to give them hope."
Follow Gene Sapakoff on Twitter @sapakoff