HILTON HEAD — What do you mean a "fanless" tournament?
The enthusiastic crowd watching Webb Simpson, Bryson DeChambeau and Davis Love III putt on the 18th green during Friday's RBC Heritage second round included 13 people and a shaggy dog, all watching from nearby condos.
There was cheering.
"Let's go, Webb!"
"Davis! See you Sunday!"
There were homemade signs, "H-TOWN PLAID NATION" and "PGA TOUR IS BACK" among them.
Some guy hang-gliding high above the adjacent Calibogue Sound seemed to pay attention, too.
It's still strange having zero conventional ticket-buying customers on the Harbour Town Golf Links grounds for the first time since this became a PGA Tour stop in 1969; that's necessary with COVID-19 spiking in South Carolina and elsewhere (Nick Watney became the first PGA Tour player to test positive and withdrew before Friday's action).
But tune in to CBS coverage this weekend and see quite a contrast to the fanless Charles Schwab Challenge last week in Fort Worth, the first tour event after a 13-week shutdown.
Harbour Town includes condos, homes, townhouses, a hotel and a reputation for a good-time tournament scene most players love. While it was as quiet as a masked mouse on most holes Thursday, there were a few more interested occupants Friday.
Expect noticeable noise by Sunday.
"It was actually nice," Simpson, the second-round leader, said of the fans at 18. "We made a long putt there and (caddie Paul Tesori) said, 'It feels nice to have some fans out in their houses on their porches and cheering for us.' So that felt good. It felt kind of like back to normal a little bit."
True, the top-ranked player in the world was able to walk through the Harbour Town public area between the No. 9 green and No. 10 tee box without catching a second glance from one of the handful of tournament officials encountered.
But, like Simpson, Rory McIlroy also heard positive buzz after he whistled a drive between a three-story hotel, The Inn & Club at Harbour Town, and a red and black cannon on the opposite side of the first fairway.
"Very nice!"
"Way to go!"
"Woo!"
Sometimes there were only two people in orange Clemson chairs watching players two-putt.
Or a lone vacationer stepping onto a balcony just as the threesome of Bubba Watson, Jason Day and Nate Lashley walked by.
The condo turnout might have been larger if booking agents knew a year in advance that the RBC Heritage would be moved from its usual mid-April date to late June.
But a little boy playing in the grass just outside the ropes Friday got a free golf ball kicked his way as Love showed how to juggle social distancing and interaction skills.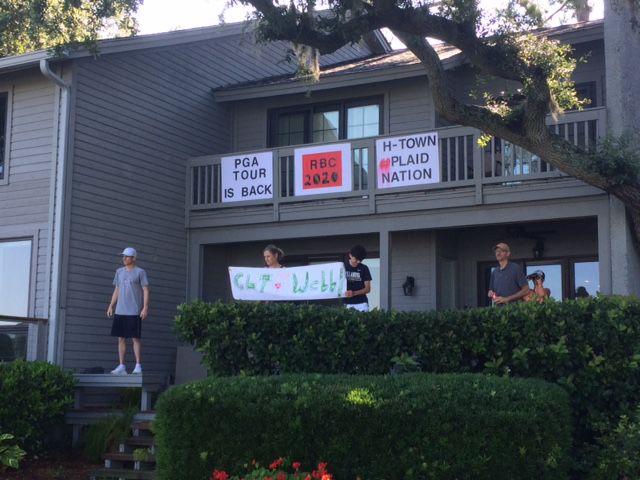 $44 million to charity
It's such a mixed blessing/curse for a tournament that depends on TV exposure for Boeing and other sponsors but needs ticket sales for charity work. Ratings should be there if the corporate tents are not.
To help add to the $44 million donated over the years, the Heritage Classic Foundation is emphasizing front-line health care workers and on its website is offering hats, T-shirts and other clothing items for those who give.
Meanwhile, officials and participants from other sports leagues are tracking this PGA Tour experiment.
Those other sports might have added risk factors such as head-first slides, on-ice brawls, charge-block collisions and sacks. But golf traditionally has more fans getting up close for autographs.
Or not.
Sign of the times
Veteran star Dustin Johnson, a Columbia native and former Coastal Carolina golfer, said he has signed one autograph in the two "Return to Golf" tournaments. The request came from an official scorer on the course.
"Hey, one a week," said Johnson, who goes into Saturday four shots back of Simpson. "I'll be fine with that."
Talk about a sign of the times.
And the "new normal" PGA Tour gives new meaning to a muffled golf clap.
Even at Hilton Head, there are only so many patio parties to go around.
"Not having fans out there is very different," Rickie Fowler said. "Not knowing how close your ball is, crowd reactions, making a putt for birdie. It's very quiet. It's whatever happens in your group. Try and relax and just go play golf. That's what it comes down to at the end of the day.
Before the end of the tournament, it will get louder.
Not April loud at Harbour Town but louder than Fort Worth loud.
Follow Gene Sapakoff on Twitter @sapakoff