COLUMBIA — There they all are, wearing their brand-new ballcaps, each gleefully holding up four fingers. South Carolina's Block C logo on Raykm Felder's T-shirt is nicely framed by the window in the middle of the East Regional Championship trophy, P.J. Dozier's face is shielded by his hat brim and Frank Martin's garnet blazer is matched by his garnet tie and black slacks.
He's there in the background of that picture hanging in the press room of Colonial Life Arena, a freshman starter on the Gamecocks' 2017 Final Four team, his face exulting between TeMarcus Blanton and Khadim Gueye. Maik Kotsar is the only player in that photograph who will still be at USC next season, and that picture is a reminder of what he was and what he can be.
He was good that year, solid enough to start 33 of 37 games, chipping in nearly six points and five rebounds per game. The numbers weren't great but they didn't have to be, Kotsar adding a 6-11 dirty-work presence to a team with talented players like Dozier, Chris Silva and SEC Player of the Year Sindarius Thornwell.
With that start and a Final Four appearance in his back pocket, there was nowhere to go but up.
Yet Kotsar has spent much of the past two seasons trending down. There's just something that's not there from the happy-go-lucky freshman experience that continued to be undiscovered as a sophomore and junior.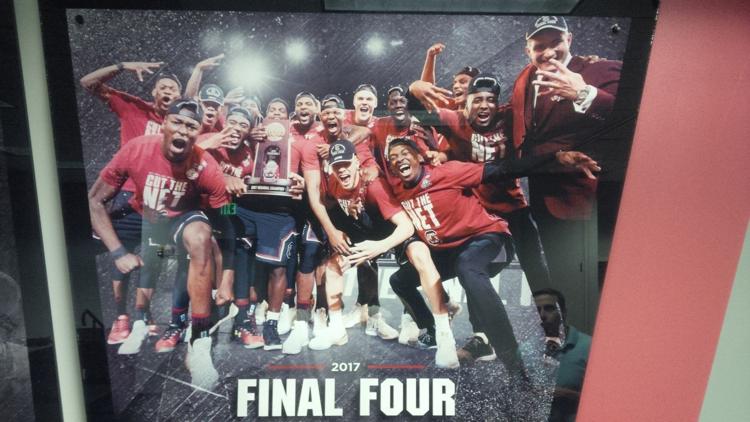 "I feel like I didn't contribute nearly as much as I should have. There were various factors to it," Kotsar mumbled in the funereal atmosphere of the locker room after what turned out to be a season-ending SEC tournament loss. "I just need to be a lot better next year."
He demurred when pressed about those factors, saying they were a little bit mental and a little bit physical. Martin agreed.
"He lost total confidence and faith in himself," Martin said. "It's hard to be productive when you got no faith in yourself."
It was equally mystifying and infuriating. Everyone knew it was there. Kotsar's never been a consistent double-figure guy but he could occasionally do it, and when he scored 25 points against Mississippi State on Jan. 8, everyone figured it was there to stay.
At that point he'd scored at least 12 points in half of his last eight games. That spot-up 3-pointer from the top, the putbacks he'd fight through double-teams to get, that unstoppable move from the high post, where he faced the glass, took one dribble and powered to the rim.
Then he'd flip that matinee-movie-idol hair off his forehead, flash a sideways grin to the bench and accept the hero's laurels after a USC win.
And then it stopped. Cold.
Kotsar was in double figures once in his final 18 games. He had five or less points 12 times. He wouldn't drive. Wouldn't shoot. Couldn't hit a free throw if they lowered the basket to five feet and placed it within arm's reach.
Martin was bewildered. Kotsar's preseason was the best he ever had. He never came out of practice even when his games weren't going well.
The only thing he could point to was Kotsar's unacceptance of being in the gym when he didn't have to be, to shoot during his downtime. That can fix an awful lot of woes.
The mental part? That remains to be seen.
"I need to work really hard in the offseason just to be a leader for the team, a better leader for the team," Kotsar said. "Just to be there for every single one of the guys and contribute a lot more than I did this season. Statistically and off the court."
Martin lauded Kotsar as a great teammate who's willing to take coaching. For whatever reason, even after that beautiful Mississippi State game, Kotsar slammed into a wall and lost all of the moxie, confidence, whatever the word is.
He has one season to get it back. One season to build into a player who Martin thinks can make a lot of money playing the game.
One season to get back to that kid in the picture, the year his success was part of USC's greatest success.