Gunner Stockton, the No. 1-ranked dual threat quarterback in the nation for the class of 2022, has college offers from top football programs across the country.
Last week, Stockton, a 6-1, 200-pounder from Tiger, Ga., committed to South Carolina. The 5-star prospect chose the Gamecocks over Georgia, and also has offers from Alabama, LSU, Ohio State, Florida, Oregon, Kentucky, Southern Cal, Mississippi State, Penn State, Ole Miss, West Virginia, Louisville, N.C. State, North Carolina, Missouri and Arkansas.
South Carolina's recruiting edge was a couple of strong connections with Stockton: former USC quarterback Connor Shaw and new offensive coordinator Mike Bobo.
Bobo has known Stockton for years and offered him while  head coach at Colorado State. And Stockton's high school coach, Jaybo Shaw, is the brother of Gamecocks' all-time winningest quarterback Connor Shaw, who currently works for the USC football program.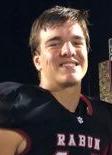 "He grew up watching Connor playing with the Garnet and Black and we have been very close to their family all our lives," Jaybo Shaw said. "The two things that are most common between the two, all they care about is winning.
"It doesn't matter the stats, the individual awards. Anytime they are competing, all they want to do is win. I think that's the best thing you can ask for in a quarterback."
Jaybo Shaw said the long-standing relationships Bobo and the Shaws have had with Stockton paid off big for the Gamecocks in this head-to-head battle with Georgia.
"I do feel very strongly that he always felt comfortable with Coach Bobo and Coach Muschamp, and with Connor being there, and with what Coach Bobo is going to do offensively and what he's done in the past," Jaybo Shaw said. "I could see it all over his face when he was ready to make his decision. He felt at home in Columbia."
In his two seasons of high school football, Stockton has thrown for 6,390 yards and 77 touchdowns with 12 interceptions. He has rushed for 1,835 yards and 36 touchdowns.
"He is a pure passer when it comes to arm talent, and his arm is nothing like I've seen at his age," Jaybo Shaw said. "His arm talent is second to none in this state and in this country. Just a very, very special talent."
In the 247Sports Composite. Stockton is the top dual-threat quarterback in the country and the No. 24 overall prospect in the class of 2022. He is the No. 3 prospect in Georgia.
Gaffney defensive tackle Tyrion Ingram-Dawkins posted on Instagram that USC and Tennessee are his top picks, with  Georgia as a contender and Alabama as a dark horse.
USC target defensive end DeMarcus Smith of Birmingham, Ala., announced a commitment to Ole Miss on Friday. He narrowed his decision to USC, Tennessee, Ole Miss, Mississippi State and Kansas.
Another defensive end, Kelvin Gilliam of Highland Springs, Va., committed to Oklahoma on Saturday. He had his list down to USC, Oklahoma and Penn State.
USC target Zyun Reeves, a defensive end from Kernersville, N.C., plans to announce his commitment on Sept. 1. He has had a top five of USC, N.C. State, Virginia, Florida State and Michigan State.
USC was his first offer and Reeves hasn't forgotten that early interest from the Gamecocks, a big reason he has them in his final five.
"I'm always going to have love for them," Reeves said of the Gamecocks. "They hit me up every day with quotes and stuff. And my family is not too far away from there and they've put multiple people in my position in the NFL."
Last season Reeves recorded 88 tackles with 13.5 tackles for loss, 7.5 sacks and 18 quarterback hurries. He's rated as a three-star prospect in the 247Sports Composite and ranked as the No. 46 strongside defensive end nationally in the 2021 class.
Tight end Michael Trigg is one of the most gifted players at his position in the 2021 class. Last season he caught 82 passes for 1,232 yards and 16 touchdowns. He's an athletic tight end with the speed and agility to make plays down the field.
That's why he's such a highly coveted prospect who has narrowed his list to USC, LSU and Southern Cal. And, he's a major college basketball prospect to boot and will play that sport as well in college.
Trigg is close friends with Gamecock cornerback John Dixon, and said Dixon has nothing but good things to say about the program. He also has a good friend who plays at Southern Cal. He said his dad and his trainer are consulting with him on his decision.
Continuing to scour the market for immediate help for the secondary in the 2021 class, USC offered Jadarrius Perkins of Mississippi Gulf Coast Junior College. Perkins is a native of Hattiesburg, Miss., and he has been committed to Oregon since May 29.
The Gamecocks reached out to him recently and then followed up with the offer, and he's receptive to the overtures.
"A couple of the staff have been following me for a while," Perkins said. "I mean, I take every offer as a blessing. It really is one. I feel like it's always great and a real confidence booster, to make you feel good, by being recognized by these great programs."
Perkins also holds offers from Alabama, Auburn, Arizona, Florida, Texas A&M, Memphis, Liberty, Southern Miss, Maryland, FAU, Arkansas, Missouri, Washington State, West Virginia, Central Florida, Ole Miss, Louisville, Texas Tech, Baylor and Mississippi State.
Defensive tackle Luther McCoy of St. Augustine, Fla., named his top five of USC, Minnesota, Baylor, Tennessee and Georgia Tech. McCoy has yet to visit any of his finalists, so he had to form his opinion on the programs based off his conversations with the various coaches.
"All the coaches I talk to, there is no fake energy," McCoy said. "I feel like I can trust them, talk to them about anything. I feel like as a whole, their staffs have the same goal and mindset."
McCoy said he hears from USC coach Will Muschamp every day via text message. He also talks a lot with defensive line coach Tracy Rocker. Those two have got him thinking hard about playing his college ball in Columbia.
"Coach Muschamp pumping up great defensive linemen, and the D-line coach is a really cool dude. I like talking to him," McCoy said. "I feel like I will be used well to the best of my ability. I'd have a chance to be great at South Carolina."
McCoy is rated a three-star prospect. In the 247Sports Composite, he is ranked the No. 62 defensive tackle prospect in the country and the 167th top prospect in Florida.
Clemson target Tristan Leigh, an offensive lineman from  Fairfax, Va., was offered by Arizona State. Leigh was one of several prospects expected to visit Oklahoma over the weekend. It was a gathering put together by Oklahoma quarterback commitment Caleb Williams. NCAA rules allow players to visit a school on their own but they can have no in-person contact with the football staff.
Clemson target Kamari Lassiter, a defensive back from  Tuscaloosa, Ala., was offered by Michigan. He has had a top group of Clemson, Georgia Tech, Auburn, Alabama, LSU, Florida State and Georgia.
Sumter defensive end Justus Boone was offered by Ohio State last week. Boone has been committed to Florida since February but has not shut down his recruiting as he continues to entertain contact and offers.
USC is one he is in regular contact with, and the Gamecocks continue to work him in hopes of turning him away from the Gators.
Clemson defensive tackles coach Todd Bates reached into Indiana with an offer to four-star tackle Caden Curry. Indiana has not been a Clemson recruiting hotspot, but the Tigers deemed Curry worthy of an offer coming off a sophomore season of 100 tackles with 26.5 for loss and 10.5 sacks.
And being in the Midwest and surrounded by Big 10 schools, Curry did not see the Clemson offer coming.
"It was definitely very surprising," Curry said. "I didn't think my film would get all the way down there in the ACC and SEC, but I am glad my film impressed the coaches and they thought enough of me to extend the offer."
The Clemson offer adds to an already impressive list for Curry, who has offers from Alabama, Arizona State, Boston College, Indiana, Iowa, Kansas State, Michigan, Michigan State, Minnesota, Missouri, Ohio State, Oregon, Penn State, Purdue, West Virginia and Wisconsin.
"Ohio State, Oregon, Alabama, Indiana, and the schools nearby in the Big Ten are recruiting me the hardest," Curry said. "If things open up, I would definitely like to go see Ohio State, Clemson, Oregon, and I would like to get down to Alabama to check that out."
In the 247Sports Composite, Curry is ranked the No. 1 prospect in Indiana and the No. 8 defensive tackle nationally in the 2022 class.
Clemson is one of many schools to offer 2022 defensive end Shemar Stewart of Opa Locka, Fla.. The five-star prospect is ranked the No. 1 strongside defensive end in the country for the 2022 class.
Stewart had 15 sacks last season to go along with 48 overall tackles.
"The Clemson offer means a lot to me," Stewart said. "It means I have the ability to play at that level and that is a reward for all of my hard work. I know that for the past 10 years they have had more wins than any other team, and they've been in the College Football Playoff five years straight, and they've been in four National Championship games, and they've won two National Championships."
Stewart said Georgia, Alabama, Clemson, LSU, Miami, Tennessee, Florida, and Penn State are the schools he hears from the most.
"I would say Clemson would be one of my five official visits if we can take visits during the fall," he said. "I really don't know when I will begin to narrow things down, but nothing too soon. I would say when I start taking visits to campuses and seeing what each school is like then I will start thinking about narrowing a list down or even making a decision."
Basketball
Clemson is in the final seven with D'Marco Dunn (6-3) of Fayetteville, N.C. In an interview with Jamie Shaw of Absolute Basketball Company, Dunn said he also has Arizona, Texas, North Carolina, Georgia, Vanderbilt and Louisville on his short list. Dunn said he will narrow his decision to four or five and then make a decision.
Seven-foot center Jonas Aidoo of Charlotte has been impressive on the summer circuit and as a result his offer list now includes a number of major programs, including  USC and Clemson.
Rutgers was his most recent offer, and he also has Marquette, Alabama, Miami, VCU, Wichita State, Houston, Providence, Virginia Tech and Appalachian State. The Gamecocks, led by assistant coach Will Bailey, have taken a particular strong liking to Aidoo and the relationship is continuing to grow.
"They check up on me. We had a tournament and they were just checking up to see how I did and stuff like that," Aidoo said.
Aidoo said he also hears from head coach Frank Martin, so there seems to be some sincere interest coming from the Gamecocks' side. "Everything is good with them," Aidoo said. "I haven't really heard from Clemson lately to be honest. I would hope they are still interested since they offered me. I can't even tell you the last time I heard from them."
Aidoo said other schools showing serious interest are Marquette, Houston, Providence, Pitt and Miami. 
USC offered Carlous Williams (6-5) of Gulfport, Miss. Baylor, Houston, LSU, Mississippi State and Oklahoma State are some of his other offers.
Baseball
Pitcher/outfielder Caleb Hampton of Chattanooga committed to USC for the class of 2023. He's the top-rated outfielder in Tennessee for his class by Perfect Game and the No. 49 prospect nationally.
Pitcher/infielder Erik Parker of Snellville, Ga., committed to USC for the class of 2024.
USC also gained a commitment from 13-year-old Eli Pitts of Suwanee, Ga. The infielder/outfielder was named to the Perfect Game 13U National Showcase Top Prospect List.