COLUMBIA – It wasn't a surprise. Hayden Hurst is 24 years old and if he wants to really pursue his dream of playing a second professional sport, he needed to leave.
On Thursday, the South Carolina Gamecocks' standout tight end made it official.
"After sitting down with my family and coach (Will) Muschamp, I have decided to declare for the 2018 NFL Draft after this season," Hurst said in a statement on Twitter. "This was one of the hardest choices I have ever had to make because of how special South Carolina is to me. This university has completely changed my life and leaving next month will be extremely hard, but I am on to pursuing my next dream and representing Gamecock Nation wherever I end up."
Hurst will play in the Gamecocks' Outback Bowl date with Michigan, a source close to the football team confirmed.
It's been quite a career for the junior, who followed a professional baseball path out of high school but grew dissatisfied with it. A football rival but off-field friend of former Gamecocks quarterback Perry Orth in high school, Hurst mentioned one day that he always wondered what he could have done on the gridiron. Orth offered to set him up with then-walk-on coordinator Steve Spurrier Jr. at USC.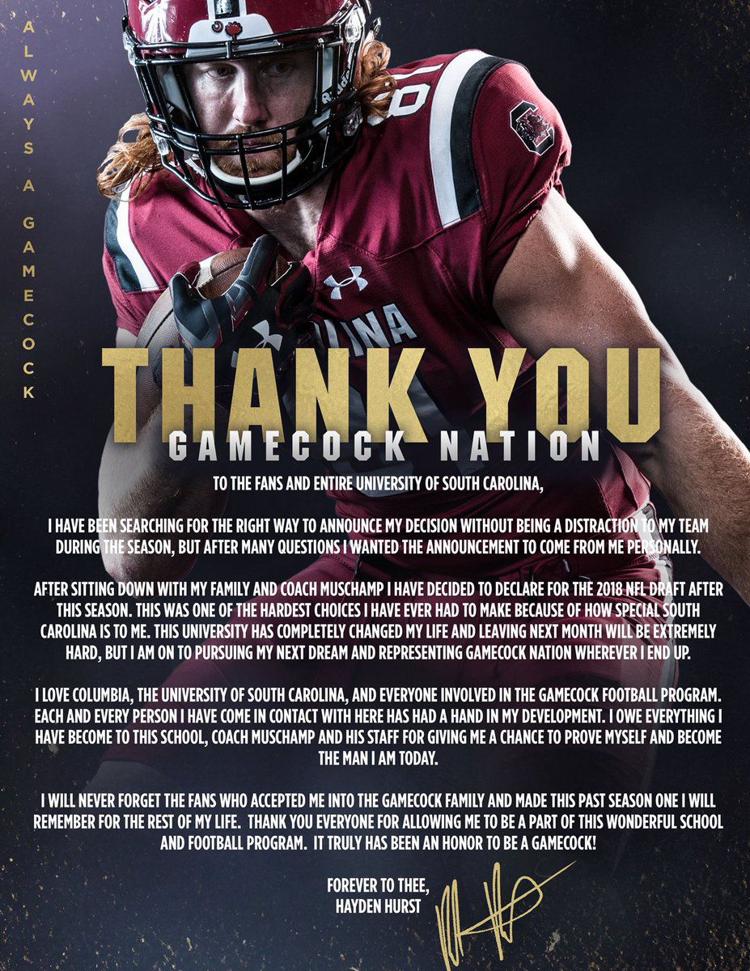 Hurst bloomed from walk-on to the most prolific tight end in USC history, setting single-season records for catches and receptions and a career record for catches by a TE. A permanent team captain since last year, Hurst earned his team's respect for his relentlessness on and off the field.
"I'm glad he's on my team," quarterback Jake Bentley said.
A unanimous first-team all-SEC selection, Hurst also became a crowd favorite for the long red hair spilling from his helmet. Tabbed "Garnet Thor" and "The Big Red Machine" among other nicknames, Hurst's looks were as dynamic as his abilities to catch in traffic, bull through defenders and pass-block.
Hurst is considered one of the top three tight ends in the draft, along with Oklahoma's Mark Andrews and Wisconsin's Troy Fumagalli.
Hurst thanked the coaching staff, his teammates, the school and fans for their support in his message. "It truly has been an honor to be a Gamecock!," Hurst wrote.
He signed it, "Forever to Thee."