COLUMBIA — He swore he wasn't trying to do it. The proof was evident.
If he was trying to do it, he'd probably wear a lot more pitches than he did, and in more tender areas. If he was trying to do it, more college pitchers who fail to see the art in progress would probably have tried to "accidentally" bean him.
"Wasn't the list I was hoping to be at the top of," South Carolina shortstop George Callil said, "but I'll take it."
When South Carolina's season ended on March 10 due to the outbreak of COVID-19, Callil was the team's leader in being hit by a pitch. He'd taken 12 in just 16 games, putting him on track to break the program's single-season record (21 in 52 games, set by Brandon Walters in 1996).
He had a ways to go to reach the career record, the 63 Scott Wingo took from 2008-11, but the gift Callil seemingly had of sticking out a knee, elbow, forearm or ear flap to get clipped had him linked with Wingo. Callil was twice plunked in the Gamecocks' final game, a 10-1 win over The Citadel, to leave him forever in a second-place tie among the country's leaders.
"They're all right," he said afterward, motioning to the heavy bandages and tape on his wrist and finger. "I try to get on the meat as much as possible. There's not much of it, but when it comes my way, I try to protect myself."
Wingo, the heart and soul of USC's 2010 and 2011 College World Series championship teams, hasn't had as much time as he would like to admire from afar. A volunteer assistant coach at Notre Dame, he's been dealing with returning to coaching and the cancellation of his own season.
Still, he had time to reflect on what made him so good at taking pitches and what Callil is mimicking.
"I think it's more of an art than anything," Wingo said. "I coach now and I see some guys get out of the way of curveballs like it's a freight train. When the ball's coming at you, there's an element of not having fear. The guys that are really good at it can just kind of take it."
Callil isn't leaning in or jobbing the game, he's simply taking what's there. It definitely isn't fun to stand up there like the batting dummy in "Major League," waiting for Rick "Wild Thing" Vaughn to sizzle one at his ribs.
"He's a guy that stands fairly close to the plate as it is," USC coach Mark Kingston said. "He's tough enough that if they come in, he's not trying to get hit, but he knows how to get hit and protect himself."
The edict "Don't rub it" on the way to first base after being hit applies, and Callil has become somewhat of a master at holding in pain. His teammates are amazed when he runs back to the dugout without a limp or a request to take it easy with the high-fives, as swallowing the contact has become as much a part of his game as starting a double play.
After 21 HBPs in less than two seasons at USC, his body would seem to be a mosaic of seam imprints. Callil demurred.
"Not at all. I had a couple of light bruises, but for the most part, I get hit on areas that don't hurt for too long," he said. "I forget about it after that at-bat."
Wingo applauded.
"Sometimes I'd be at first just dying from the hits I took," he reflected, recalling a particularly nasty bruise when a fastball from a Kentucky hurler found his spine. "I once got hit four times over a couple of games in the same spot. The whole right side of my leg was purple and black."
A native of Melbourne, Australia, who journeyed to a Texas community college before being discovered by USC's coaches, Callil started 41 of 43 games at shortstop last year. Not known for his bat, he only had five errors all season but showed a knack for getting on base, walking 15 times besides his nine free passes via beaning.
His average and HBPs had increased this year (but curiously his defense dropped, Callil booting seven chances already) but he was showing signs of being a terrific table-setter. "Get on base by any means necessary" was a mantra also chanted by Wingo.
"It wasn't instructed," Wingo said of his numerous lean-ins, "but they knew what I was going to do. My first fall at-bat as a freshman might have been an HBP. My first career at-bat in college was a hit-by-pitch.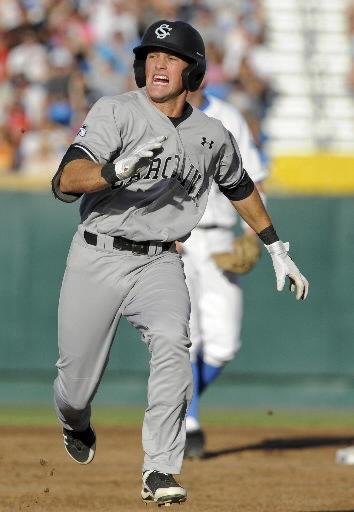 "If it was 0-2, and they wanted to come in, that's fine. If it's over the plate, I'll swing at it. If not, I'll probably stick that elbow out."
Callil didn't break it down so concisely, putting it as he was doing what he had to do.
"I think I'm either lucky or unlucky. I'm just doing my job to get on base and let the other guys drive me in," he said. "I'm going up there with the intent to swing and anything coming my way, I'm happy to take it and get myself on to score eventually. It's not something I try to do, but I'll take what I can get."
If a trip to first base and an eventual run scored comes with a set of bruises, pain's temporary.
Wins last a while.