South Carolina coach Frank Martin expects the NCAA to be "extremely aggressive" in its approach to the recent FBI probe into college basketball corruption.
Martin is not as certain about what that means for his program, which is connected to the FBI investigation through former assistant coach Lamont Evans.
Evans worked for Martin at USC from 2012-16 before moving to Oklahoma State. He was arrested in September 2017 and was sentenced to three months in jail earlier this month after pleading guilty to accepting $22,000 in bribes to link top players with managers and financial advisers.
Evans is one of four assistant coaches who were charged in the probe. All pleaded guilty to bribery conspiracy.
Martin called it a "sad chapter" in college basketball.
"But I also think it was needed," Martin said at a news conference this week. "And now the NCAA will do its part, and I have faith ... I think they will be aggressive in how they go about their business, and I applaud that."
Martin also said, "I'm not part of this majority opinion that they (the NCAA) are going to just kind of let it all go away. I think they are going to be extremely aggressive."
What that means for USC is uncertain.
CBSSports.com reported earlier this month that at least six Division I programs will receive notices of allegations for Level 1 violations from the NCAA. Of those six, two are "high-profile programs" that will receive those notices by July. The report said the four other programs would receive notices later in the summer.
"Where (do) we stand on that?" Martin said. "I don't know. Obviously, Lamont worked here.
"I'm at peace," Martin said. "I go to bed every night, I'm at peace. I know how I live my life. And I think the people I work with are at peace, too."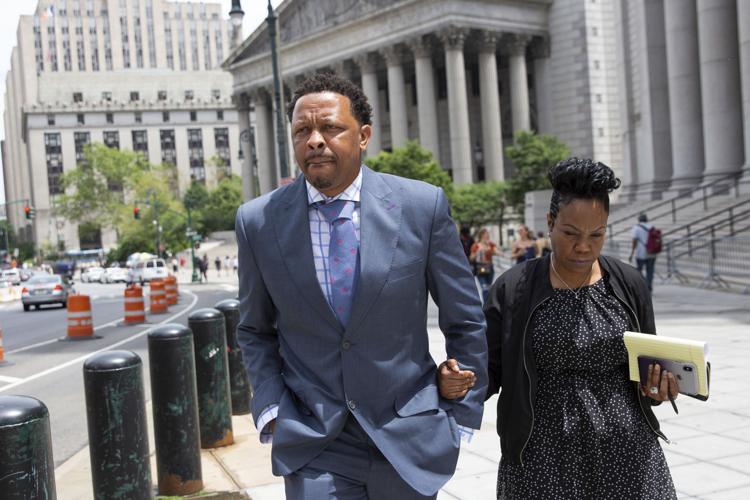 USC turned over all documents, e-mails and computer hardware related to Evans in the fall of 2017. Gamecocks athletic director Ray Tanner said earlier this month that USC had not heard from the FBI or NCAA since then.
But there is concern at USC that the names of Evans and former point guard P.J. Dozier in the FBI trial transcripts could put the greatest accomplishment in program history — the 2017 Final Four — in danger of being stricken from the record books.
The other coaches who pled guilty in the FBI probe are former Arizona assistant Emanuel "Book" Richardson, who was sentenced to three months in prison; ex-Southern Cal assistant Tony Bland, sentenced to 100 hours of community service but no prison time; and former Auburn assistant Chuck Person, who still is awaiting sentencing.
"I feel really bad for Lamont and for Book Richardson," Martin said. "I coached high school basketball against Book, I've known him since he was 16 years old. My heart goes out to those two guys.
"My biggest disappointment in this whole deal is ... why did they find those four young African-Americans? There are more people involved than just those four. Why is it just those four going to jail?"
Martin lamented that some "big dogs" involved in allegations stemming from the probe seemingly escaped, while four assistant coaches were sentenced.
"That to me is really sad," he said. "The big dogs got involved, but they went and got the guy who hangs out on the street corner. And that's disappointing to me from a law standpoint."