The phone call was made last Easter Sunday as Wesley Bryan steered his Lexus sedan off Hilton Head Island with his wife Elizabeth riding shotgun and the RBC Heritage trophy in the back seat.
The former University of South Carolina golfer wasn't hungry after a nice dinner at CQ's, an upscale restaurant on the other side of the lighthouse and yacht basin from Harbor Town Golf Links, where Bryan had just earned his first PGA Tour victory.
Still, the Bryans were determined to celebrate in style.
Hello, Taco Bell.
Bryan, who turned 28 on Tuesday and will play in his first Masters this week, has not finished higher than 27th in his nine events this year. At No. 89 in the World Golf Rankings, he isn't an immediate threat to Dustin Johnson, Bryan's friend and fellow Dutch Fork High School (Columbia) graduate who is ranked No. 1.
But Bryan unofficially leads the PGA Tour in fun. Heritage victory and $1.17 million first-place check or not, he remains best known for a bunch of golf trick shots on YouTube.
That and a big grin.
"Very few people I've been around enjoy life more than Wesley," said George Bryan III, Wesley's father.
So the Taco Bell trip was all very Wesley. A dark 130-mile drive on a two-lane blacktop through pine belts and cotton fields, finally crossing the Savannah River to arrive at the Taco Bell on Peach Orchard Road in Augusta not far from the Bryans' new home.
"I called and it was like, 'Yeah, we can keep the doors open a little bit later tonight,'" Bryan said. "I think we strolled in about 1:30 in the morning or so. But I just had to have my normal meal."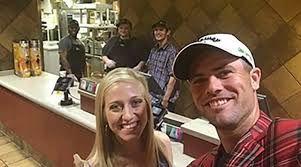 Here you go, sir, two Crunchwrap Supremes and a Mountain Dew Baja Blast.
The selfie snapped between bites went viral: Bryan in the plaid jacket awarded to the Heritage champion, Elizabeth beaming, Crunchwrap preparers in the background.
Hello, Taco Bell sponsorship.
Which led to a visit to the Taco Bell Test Kitchen in Irvine, Calif.
"One of the things I got to do there was create my own recipe," Bryan said. "So I made this like bean and steak Quesarito thing. Then there was a competition to see how fast I could make a Crunchwrap Supreme. And just for the record, I was able to make one from start to in-the-bag for the customer in a minute and 27 seconds. Which I thought was pretty good."
Turns out the Taco Bell standard is under a minute. Like the title to comedian Adam Carolla's bestselling book, Bryan perhaps is "Not Taco Bell Material." But few visitors to Irvine ever got a bigger kick out of advanced quesadilla experiments.
Few first-time Masters competitors will soak up the fun of at least two rounds at Augusta National more than an Augusta resident who learned the game just across the border at his dad's Chapin golf academy — with a big boost from those trick shots.
Bryan family fun
Meet the Bryans:
• Wesley Bryan, defending RBC Heritage champ, self-described "golf rebel."
• Elizabeth Bryan, Wesley's wife (the couple met in pre-school).
• George Bryan IV, 30, also a pro golfer, twice first-team All-SEC at South Carolina, Wesley's trick shot partner.
• George Bryan III, former Gamecock golfer, George Bryan Golf Academy proprietor since 1994.
• Valerie Bryan, George III's wife (they met in ninth-grade band class), frequent caddy for their children.
• Mary Chandler Rainey, the Bryan's youngest child, former standout golfer at College of Charleston.
• William Rainey, Mary Chandler's husband, 2017 Colonial Athletic Association Men's Golfer of the Year at College of Charleston, aspiring PGA Tour pro.
It's all pretty remarkable considering the patriarch didn't pick up the game until his senior year at Irmo High School. Those times George Bryan III's buddies and their fathers pushed him to join them for a little golf sure paid off.
"If you want to learn how to play," George Bryan III said, "just get around other players that can really play. That's the biggest secret in golf. They gave me their passion and then they gave me their playing principles and that's how I got good quick."
George Bryan III kept at competitive golf after his Gamecock career.
At 37, he qualified for the PGA Championship at Medinah in 1999.
At 42, he played in the 2004 Heritage.
Along the way, he gained a reputation as one of the top instructors in the South — even while struggling to get the message across to his own children.
"The truth is I choked like a dog teaching my kids," George Bryan III said, quite modestly.
So he took George IV, Wesley and Mary Chandler to nationally prominent coaches such as Mike Bender and Dr. Morris Pickens.
"Then I stole what they said and taught it to my children," George Bryan III said. "Now I don't know if you call that teaching or not."
Oh, absolutely. To this day, Wesley Bryan — who considers himself "a little hard-headed" — tunes out most advice that doesn't come from his father or George Bryan Golf Academy instructor Chase Butler.
"Wesley was interesting to coach in that he questions a lot of things," Gamecocks head coach Bill McDonald said. "I wouldn't say he was disrespectful to authority but more of 'Why are we doing this?' and 'What's the deal?' But if he believed in it, he was all in."
College teammates that loafed around Bryan felt the wrath. He constantly challenged fellow Gamecocks to chipping games of "H-O-R-S-E" or "P-I-G." The team once took a trip to the famed Bandon Dunes Golf Resort on the Pacific Coast that required three airline stops to get home from Oregon. All the exhausted Gamecocks piled into their vehicles at Cobblestone Park Golf Club in Blythewood for rides home — except the 6-foot, 175-pound Bryan, who began practicing.
But the Bryan boys questioned the old man when he went all traditional on them as they started honing their trick shots after noticing how some similar videos were drawing crazy attention on YouTube.
"I didn't say they were stupid," George Bryan III said.
Not exactly.
Well, almost.
"I just said 'If y'all are going to mess around like that, you might as well get a job."
Funny thing is, the trick shots turned into serious part-time work for two guys trying to scrape along on the PGA's mini-tours. Wesley, an experienced youth baseball player, found he was surprisingly good at smacking golf balls out of mid-air.
Even better at bouncing balls off a putter several times before smacking them out of mid-air, among other things. Soon, the Bryans were taking on YouTube challengers from amateurs to Bubba Watson.
"It started because we were both really broke and really bored," Wesley Bryan said. "But we were able to make a decent little living off that for a while. It helped us be able to pursue the game of golf, which we might not have been able to do otherwise."
Kids, don't think trying this at home will land you a PGA Tour card. But focusing on a moving golf ball did help Wesley Bryan straighten out his drives.
Dad finally came around.
And there is no doubt where the kid brother got his golf perspective.
"The thing Wesley does that is extremely special is he moves on, has fun with golf and keeps golf a game," George Bryan III said. "This is where I get a little bit silly about it but this is a fact: No. 1, golf is just a game for Wesley. Now I know the culture is heavy-duty out there on the PGA Tour. And they call it a 'business.' Did you know that? 'Golf is a business,' they say. I think that's a joke."
Home cooking at the Masters
When Wesley Bryan was back in Hilton Head recently for a promotional appearance, he popped into a coffee shop.
"Hey," a fellow customer said. "Didn't you win the Heritage last year?"
"Yeah," Bryan said. "I did."
The brief return to Harbor Town offered perspective. For 13 years, his memories of the course were all about 2004 as a teen, watching his dad play and finding a VIP room full of Kit-Kat chocolate bars. Now the tournament sprinkled with Scottish ritual means the big breakthrough, financial security and a gateway to the Masters. Rallying from four shots back in the final round with a 67 to edge Luke Donald by one stroke was Bryan's road to Augusta, literally and figuratively.
"I can't believe how much your life can change in four and a half hours," Bryan said.
He will get plenty of attention at the Masters.
The Dustin Johnson connection.
"Two PGA Tour players and winners from the same high school," said former Dutch Fork coach Chris Miller, the South Carolina Junior Golf Association's Director of Operations. "Pretty freaking cool, huh?"
That Trick Shot Guy (retired for two years).
Local fellow.
Bryan has carefully timed the drive from his Augusta home to Augusta National: 11-12 minutes in traffic, 7½ minutes very early in the morning.
"I'll get to sleep in my own bed and probably get in a few more practice rounds than a normal Masters rookie would get," Bryan said. "I'm looking forward to it; it's going to be a fun week. But I'll have to be ready once Thursday rolls around and treat it just like every other tournament."
Bill McDonald used Bryan as an example just last week when his South Carolina team was struggling at the Hootie at Bulls Bay Intercollegiate Golf Tournament in Awendaw. He told the Gamecocks about Bryan's "bullet-proof" approach and "undying self-belief" late in tournaments.
Bryan has a Masters plan.
"I want to be competitive," he said. "I want to have a chance on Sunday afternoon and hopefully put on a green jacket. You don't suit up to lose."
That means he expects to suit up in his Sunday best, something like the hot pink pants, sky blue shirt and white ballcap he wore while winning the RBC Heritage.
Plus that green jacket for the trip to Taco Bell.