COLUMBIA — He's a native of Miami who was a self-described terrible player in high school. She's from Philadelphia and one of the greatest point guards to ever play the game. But once they arrived at South Carolina, Frank Martin and Dawn Staley each started from the same place: The bottom.
Staley's home debut as women's head coach was a loss to Clemson played before a few thousand people, the beginning of a 10-win season in 2008. Martin arrived four years later to run the men's team and won 14 games before crowds so small he could clearly hear conversations in the stands.
In SEC play, the numbers were far worse: Staley won two league games her first season, Martin four, and in each case the attendance numbers dwindled as those debut campaigns wore on.
It all seems like ancient history now, with both programs headed for their respective Final Fours. The USC women open the national semifinals Friday in Dallas against Stanford, with the men following Saturday in Glendale, Ariz., against Gonzaga. South Carolina is the 10th school in NCAA history to have its men's and women's programs each reach the Final Four in the same season.
"When you're supported the way that we have been supported, I think it becomes part of what can happen," Staley said. "I'm super proud of Frank. In the five years that he's been at South Carolina, I know the pain that he's been through. I used to tell him, 'This will be a distant memory.' Although he's probably fueled by what happened maybe five years ago when he first got started, I'm sure today makes up for some of those hardship years that he had."
Both coaches endured hardship years at South Carolina, Staley first, and those common experiences have helped build a bond between the two. Staley arrived from Temple in 2008, took over a program that had won four SEC games the year before, and hit bottom with a 10-win campaign in her first season at USC. Her third season brought her first winning record with the Gamecocks, her fourth year the first in a string of six straight NCAA Tournament appearances.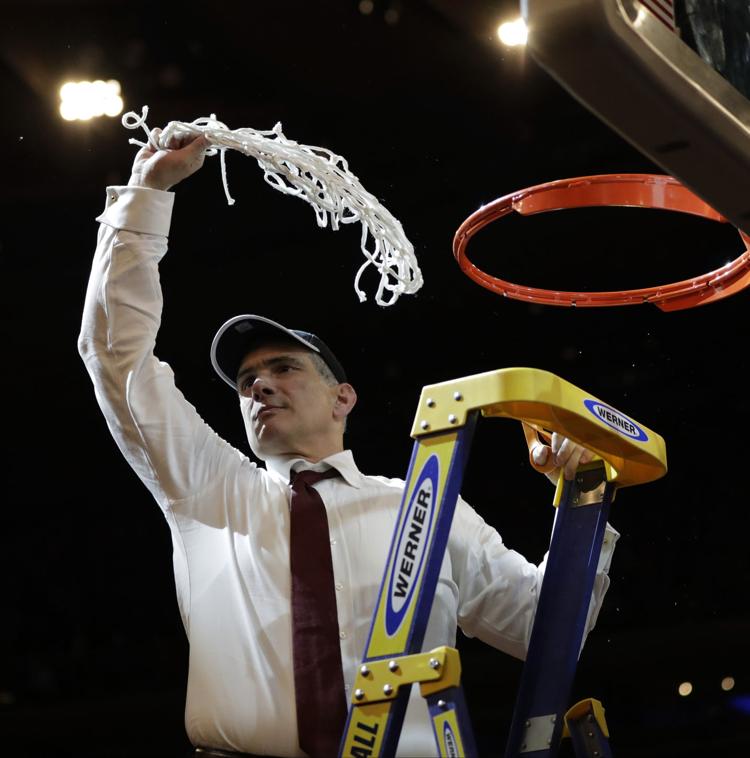 Martin arrived from Kansas State in 2012, taking over a program that had won 10 games the season before. He won 14 games his first season, needed three years to earn his first winning record with the Gamecocks, and in his fourth season ended up in the NIT after narrowly missing the NCAA Tournament. During those dark, early years he leaned on his colleague Staley, who had been there before.
"Those first couple of years when winning didn't happen very often, she'd pop her head in my office early in the morning, send me a text late at night," Martin said. "She was giving of her time, her emotion, to help me get through the beginning stages. That's something I'll never forget."
By the time Martin arrived at South Carolina, Staley's women's team was already showing signs of the turnaround that would produce the program's first Final Four berth in 2015 and a string of four consecutive SEC championships that continues to this day. She wanted to let Martin know he wasn't alone in facing the kind of rebuilding job he'd undertaken at USC.
"Frank and I have gone through the same things. You come here, you want to turn the program around, you get people who never thought the programs could be in this position working against you at times, and you're fighting against that. Sometimes you just need some ray of hope, if it's a text message or something," Staley said.
Staley said she'd text not just Martin, but also his wife Anya, to "make sure everybody that's invested in the program, and the momentum of the program, feels the love. Because it's hard, day to day. Four or five years ago when Frank was going through it, I knew exactly where he was," Staley said.
"You can be the most magical coach in the world, but if you don't have the players and the talent that can meet up with your coaching to execute it, you're spinning your wheels. But once you get players who believe in a vision and can stick around — he's got seniors, and he's got experienced players who understand what he's all about. They can go out there and probably run his practices by now. And that's the culture that you want in your programs."
Both coaches repeat the same mantra: within the USC athletic program, success breeds success. When he hosts men's recruits on campus, Martin makes sure they meet with Staley, whose women's program is widely known for being at an elite level, and who still carries the cachet of being a three-time Olympian and Naismith Hall of Famer as a player.
"She's helped us in recruiting," Martin said. "Anytime we've had recruits come into town, she's available. Even if she's in practice, she'll find a window to help us sell this community, this university, this program. I'm a big believer that wining breeds winning. And Ray Tanner winning and Steve Spurrier winning and Dawn Staley winning has enabled people to believe — including this guy here, when I took the job — that we can win here."
Tanner, now USC's athletic director, won two national championships as the Gamecocks' head baseball coach. Spurrier led South Carolina's football team to three consecutive 11-win seasons and five straight bowl wins before retiring. Staley has picked up the mantle from there, overseeing what recently has been USC's most successful athletic program, one that's now been a No. 1 NCAA Tournament seed for four years running and made the Final Four in two of the last three seasons.
"When our players are at the women's game, and they see how good they are and what they've become," Martin said, "it gives them hope that we can do it, too."
USC's men's and women's players, including stars Sindarius Thornwell and A'ja Wilson, are regular attendees at the other team's games. It's another sign of the bond between the two programs, forged by their respective head coaches, who each faced daunting rebuilding projects and now have their teams in the Final Four.
"Seeing how both of these teams have really come up from the bottom," Wilson said, "it's a great feeling."