Sipping a beer at Riverfront Park while sporting a Clemson beanie and a Dallas Cowboys hoodie, it wasn't immediately clear where Brent Thompson is from.
Especially since Saturday's Charleston Marathon boasted about 5,100 competitors from the local area and nationwide.
But Thompson is a Summerville resident who had already planned out his evening well before he ran the 13-mile, half marathon in 50-degree weather on Saturday morning.
"My recovery is calculated, so I'll be at home stretching and icing my knee, watching the Cowboys," he said about his favorite team's playoff matchup against the Los Angeles Rams on Saturday night.
Thompson and the other competitors embraced the low 50s temperature under cloudy skies. Both the half and full marathons began at Burke High School on Fishburne Street in downtown Charleston, bypassing the Hampton Park, the Battery and The Citadel on the way to the Riverfront finish.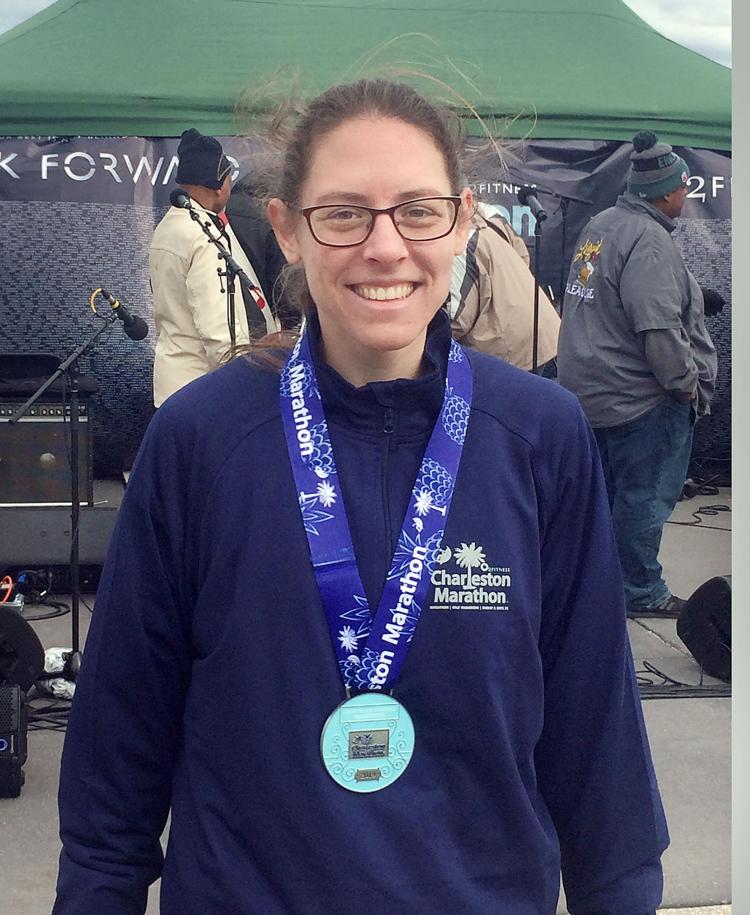 While Thompson took in some familiar scenery, Heidi Steiner, the female winner of the full marathon, was getting her first taste of Charleston's history.
A regular marathoner, Steiner came down from Ohio to participate in the event.
Unlike other places she's competed, she said the Holy City route offered unique sights and a smoother terrain than she's used to.
It clearly worked to her benefit. Her time of 3:02:11 was about 15 minutes faster than the second place finisher.
"It's a flat course and that made for a good race," she said after receiving her first place medal. "Mile 24 is when I started hitting the wall, but I was able to make it to the end."
Wisconsin-native Brain Falcone agreed about the race's scenic route.
Deciding to run while a visiting a friend who just moved to Charleston, Falcone finished second overall in the full marathon with a personal best of 2:36:38. That's about a minute faster than his previous best.
Twenty-six miles later, Falcone said he plans to celebrate by checking out Charleston's night life.
"I've heard a lot about the food too, so we're planning on eating good and maybe hitting some bars," he said. "The race was really fun and we're excited about everything else Charleston has to offer."
Other races during the Charleston Marathon included the Shrimp and Grits 5K, the Youth Marathon, and categories for age groups listed in intervals, such as 19-24, 25-29, and so on.
This is the second year Capstone Event Group, a Raleigh-based company, has run the event. Of the 70-plus races affiliated with Capstone, CEO John Kane said the Charleston event is one of the best.
That's partly because of the proceeds going to Engaging Creative Minds, a local group that finds fine arts programs in Lowcountry schools.
"They're in over 30 schools, so what we do here is really important," he said. "It's a phenomenal charity and we can't say enough about the work they do."
Results
Marathon Male
1. Jack Mcafee
2. Brian Falcone
3. Daniel Taylor
Marathon Female
1. Heidi Steiner
2. Tara Smallidge
3. Ellery Wiest
Half Marathon Male
1. Matthew Howe
2. Eric Riesterer
3. Alphonse Harris
Half Marathon Female
1. Carly Seymour
2. Emma Brown
3. Meaghan Murray
Shrimp and Grits 5K Male
1. Nicolas Fiorillo
2. Kip Otterness
3. Michael Hyland
Shrimp and Grits 5K Female
1. Rochelle Persso
2. Alexa Leopold
3. Hailey Meyers