CLEMSON — Tavien Feaster was Clemson's No. 1 running back when spring practice began six months ago.
"Tavien earned the right," Tony Elliott, the Tigers' co-offensive coordinator and running backs coach,  said on March 2. "That's how we finished the (2017) season and he earned the right to go out there first. But it's an open competition."
Then, a little more than six days ago, Feaster was adamant that perhaps 2018 would be the year the junior from Spartanburg would put all of the pieces together for a breakout season.
"Definitely," he said. "Definitely."
That certainly is possible.
But for that to happen, Feaster will have to start from behind and work his way back up.
That's because Monday morning, when Clemson released its depth chart for Week 1 against Furman, not only had Feaster lost his starting spot to sophomore Travis Etienne, but he missed out on the No. 2 slot as well.
Feaster is third on the depth chart, behind Adam Choice. 
So what happened to Feaster?
It all started with a knee injury (meniscus) this summer. Then came the rise of Choice — part bowling ball, part well-oiled machine.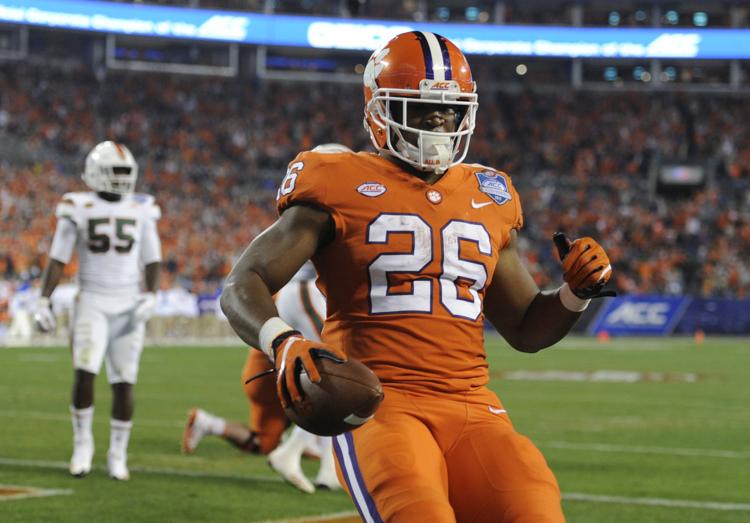 "It's very, very close. I could have listed it as (Choice) or (Feaster), but I felt like obviously Feaster was a little bit hampered coming into camp with the knee and I think he's back to where he needs to be right now," Elliott said. "In that meantime, Choice took a lot of reps … and there's no doubt he's the leader in my room.
"Adam's paid his dues, he produced in camp. That's where we're going to start."
Elliott went on to explain that when there is a situation where coaches are evaluating the depth chart and several contenders are right there together, the senior is likely going to get the benefit of the doubt initially.
Choice, a fifth-year graduate, was the "forgotten guy," as Elliott dubbed him, sandwiched in between the ever-explosive Etienne and the incumbent Feaster.
But when Feaster was held back from fall camp the first several days, Choice took it upon himself to pounce on an opportunity. Then when Feaster returned, it was obvious to coaches that Choice — who has battled his own fair share of injuries — had no intentions of relinquishing his lead in the race.
Choice spent time this offseason chatting with his cousin Tashard Choice and his uncle Joe Burns — both of whom parlayed careers at Georgia Tech into NFL careers. They spoke to him about controlling what he could control and running with more aggression, almost as if he was angry.
Their help, combined with his work ethic and consistency in staying the course at Clemson even when he considered transferring earlier in his career, put him over the edge this summer.
"My mom called me (Monday) night and she said, 'I feel like congratulations are in order' and I was like, 'for what?' so she told me then and I was like, 'OK, well thank you,'" Choice grinned.
"But honestly, all of that stuff, it doesn't matter in our room. We're still a group of competitive backs."
He's right. This is only Week 1. And Feaster is coming.
Freshman to handle kickoff duties 
Clemson coach Dabo Swinney has said he doesn't know how freshman kicker B.T. Potter, who is 5-10, 175 pounds, kicks with the power that he does. The freshman from Rock Hill has one of the strongest legs Swinney has seen and that is why he has won the right to handle Clemson's kickoff duties. 
He even beat out starting kicker Greg Huegel, a redshirt senior, for that task. 
"It's not close. It's just that simple. It's like when Sammy Watkins came in here it wasn't close. I can't even — I don't even know how he generates that type of power," Swinney said. "It is just amazing to watch him kick the ball. I've never seen him live in game situations but that was a pretty easy decision. It ain't got nothing to do with anybody else, he's just the best guy." 
Injury update
Tight end Milan Richard was injured last week on a kickoff drill, but was able to walk off on his own and appeared OK after hurting his knee. Swinney said he is hopeful Richard will be healthy enough to play Saturday.