Mount Pleasant native and former Wando High standout Dexter Coakley is part of a seven-member class that will be enshrined this year into the South Carolina Athletic Hall of Fame.
Coakley, an All-Pro linebacker during his time in the NFL, will be joined by Clemson punter Chris Gardocki and former Major League Baseball pitcher Roberto Hernandez, who played at the University of South Carolina at Aiken.
Former Gamecock and Atlanta Falcon John Abraham will also be inducted, as well as Nancy Wilson, former women's basketball coach at the College of Charleston and at USC.
Rounding out the 2019 class are former Clemson and MLB outfielder Shane Monahan, and Miriam Walker-Samuels, who played basketball at Claflin College.
The induction ceremony will be May 13 at the Columbia Metropolitan Convention Center. For ticket information, call (803) 779-0905.
• After starring at linebacker for Wando and then Appalachian State, Coakley was drafted by the Dallas Cowboys in the third round of the 1997 NFL draft. He played for 10 seasons that included three Pro Bowls and two All-Pro selections. In 2011, Coakley was named to the College Football Hall of Fame, largely due to his three  Southern Conference Defensive Player of the Year Awards.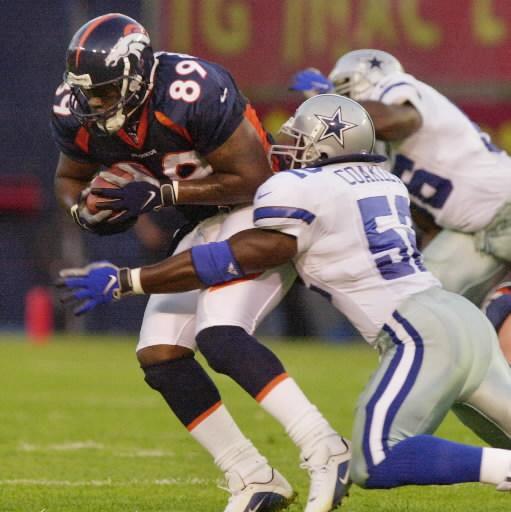 • Abraham, a Timmonsville native, was a star at Lamar High before heading to USC in 1996 for a four-year stint. There, the linebacker amassed 23.5 sacks, which is still second in Gamecock history. Abraham played 15 seasons in the NFL for the Atlanta Falcons, New York Jets and Arizona Cardinals. He captured played in five Pro Bowls and was named All-Pro twice
• Wilson is a Lake City native who served as head basketball coach at the College of Charleston from 1976 to 1984. She then coached 13 seasons at South Carolina before returning to Charleston in 2003 for another 10 years. Wilson's teams made it to five NCAA tournaments, and won three conference championship tournaments.
• Hernandez, a native of Puerto Rico, played one season at USC Aiken after transferring from the University of Connecticut in 1986. That season, he posted a 10-2 record with 97 strikeouts in 94 innings of work. Hernandez was drafted in the first round of the 1986 draft by the California Angels. He played 17 seasons in the MLB for 10 different teams and was named an all-star twice in his career.
• Gardocki played three seasons at Clemson as a kicker. He was the first player in NCAA history to twice finish in the top 10 in punting and kicking. Gardocki was taken in the third round of the 1991 draft by Chicago. He played 16 seasons for the Bears, Indianapolis Colts, Cleveland Browns, and Pittsburgh Steelers, who he won a Super Bowl with in 2006.
• Monahan batted .372 as a freshman and left Clemson with multiple All-ACC and national awards. The outfielder became the first player in ACC history to capture a league MVP, MVP of the ACC tourney, of a NCCA regional and first team All-American in a college career. The Seattle Mariners selected Monahan in the 1995 draft and he played two seasons in MLB.
• Walker-Samuels was named "Miss Georgia Basketball" before heading to Claflin College in 1987. She played four seasons for the Orangeburg school, leading her team to the NAIA national tournament in 1988 and 1989. Walker-Samuels won tournament MVP twice, and was also a first team All-American on two occasions.