The elevator doors opened, and former Citadel All-American Dee Delaney wheeled a beach-cruiser bicycle into the school's football office.
Waiting there was Curtis Carter, a longtime custodian at the military school and one of the first friends Delaney made at The Citadel.
"I promised you a bike my freshman year, and here it is," Delaney said. "I love it, man," Carter answered.
Promise kept. @deethatguy fulfills a promise he made as a freshman & gives a new 🚲 to long-time @Citadel1842 employee Curtis. #FireThoseCannons | #TheCitadel pic.twitter.com/fdP5juDjIj

— The Citadel Football (@CitadelFootball) February 12, 2019
Delaney was a freshman from the tiny town of Seabrook in Beaufort County when he came to The Citadel in 2013. But Carter, who has worked in The Citadel's athletic facilities for almost 30 years, saw something special in the nervous knob.
"When I got here my freshman year, Curtis told me, 'I see something in you. You are going to play in the NFL with my team, the Jets,'" Delaney recalled this week. "I just liked how he always said to me, 'I hope you are still working, because you are going to play in the league.'"
Carter's words came true as Delaney blossomed into an All-American cornerback for the Bulldogs, graduating from The Citadel before transferring to Miami for his final college season.
Delaney, 5-11 and 200 pounds, signed with the NFL's Jacksonville Jaguars in 2018, made the practice squad and appeared in two games. After he was waived by the Jaguars, he was picked up by Miami and recently signed a futures contract with the Dolphins.
All that time, he remembered his promise to Carter.
"He always kept me going, and it meant a lot that somebody here saw the future for me," Delaney said. "I told him that when I make it, I'm going to buy him a beach cruiser. He thought I forgot."
It's not the first time Citadel athletes have expressed their gratitude to Carter. In 2014, when the custodian's bike was stolen, players from the football, volleyball and soccer teams chipped in for a new $250 bike for Carter.
Delaney was among those players, too, and now continues to pursue NFL success.
His brief time in the the league has taught him a lot. Delaney has already been signed, cut, re-signed, promoted to the active roster, waived, re-signed to the practice squad, promoted again to the active roster, and then waived again by the Jaguars.
He was claimed off waivers by the Dolphins on Dec. 4, waived four days later and signed to the practice squad before signing his futures contract on Feb. 1.
"It's never personal, so you can't take it personal," said Delaney, who went to Whale Branch High School in Beaufort County. "You just have to go back to work. Somebody's always trying to take your job, because it's a business."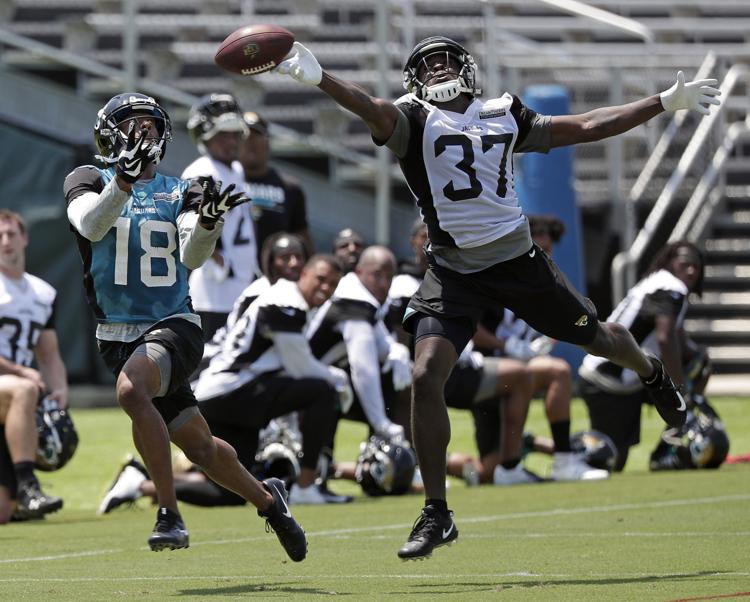 Delaney hasn't made life-changing money yet, but he's been able to assist his family in Beaufort.
"I've definitely tried to help my family out," he said. "I've been able to pay some bills we fell behind on, and I've got a little investment company with my uncle. I've been able to help my grandparents out, and my brother also."
Delaney also makes sure to visit the schools in Beaufort; he was at St. Gregory the Great Catholic School earlier this week to talk with students.
"I want to impact their lives, show them I was once in their shoes," he said. "I tell them it's not going to be easy, that every day you have to get up and grind. You've got to have dedication and go through a lot of sacrifices.
"But at the same time, don't let anybody tell you that you can't do something. You control your own destiny."
And with him, just as he did Curtis' words of encouragement, Delaney carries the lessons learned at The Citadel.
"It's the discipline, and doing the little things," he said. "You have to get up and make your bed, shine your shoes and do the little things that teach you about life. You are never too big to do the small things in life, and it's those small things that will get you big things. I think about that every day."