Former Citadel players give thanks to ailing coach Don Powers with book
After his freshman season in 1996, Carlos Frank found himself in the office of Citadel football coach Don Powers, explaining why he wanted to transfer to another school.
"Going through my freshman year, I had some tough times," Frank recalls now. "I was ready to transfer and go somewhere else."
Twenty years later, Frank has not forgotten what Powers told him that day.
"He said, 'Carlos, you can stay here and be part of the solution,'" Frank said. "'Or you can leave for somewhere else and face the same problems.'
"That's one of his sayings that has stuck with me through the years," said Frank, who went on to become one of the top kick returners in Citadel history. "He had a lot of great quotations that we called 'Powerisms.'"
When word spread over recent weeks that Powers, who just turned 72, is suffering from a serious heart ailment known as cardiac amyloidosis, some of his former players begin trading "Powerisms" on Facebook, reminiscing about their former coach who led the Bulldogs from 1996-2000.
Frank, who now works as the chief financial officer at his church and as a financial coach, put the quotations together in a book called "The Powers in Us" that he presented as a surprise to the coach Wednesday, the day before Thanksgiving.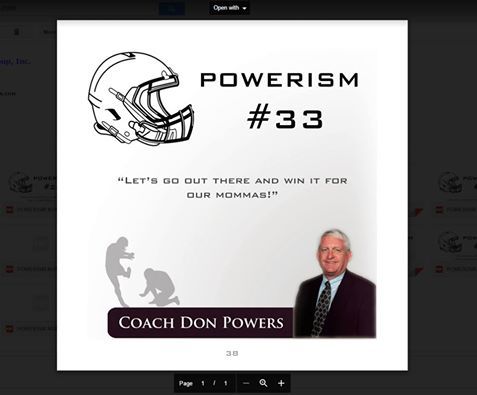 "Even when I went to visit him recently, he was saying all this sage advice while I was sitting there," Frank said. "It reminded me how we all used to talk about the things he said to us."
Frank started a Facebook group and collected about 100 "Powerisms", paring the number down to 50 for the book.
No. 33, for example, is "Let's go out and win it for our Mommas!"
Another popular Powerism: "Pray for a stronger back, not a lighter load."
Said Frank, "What kind of man has 50 quotes that everyone remembers 20 years later? Some of them are funny, some of them make you scratch your head. But for a lot of players, they remember what Coach Powers said to them during tough times."
Powers, who lives in Mount Pleasant, was The Citadel's defensive coordinator for seven years, helping Charlie Taaffe's 1992 team to an 11-2 record and No. 1 ranking in Division I-AA.
"I didn't know Don well, but Art Baker recommended him highly to me," Taaffe said. "But it ended up being a great hire for us. Don was the senior statesman of the coaching staff and did a fantastic job. With my background and focus always on the offense, I really needed a defensive coordinator I could turn it over to. Don did just that, he was the head coach of the defense."
When Taaffe was forced to leave The Citadel just prior to the 1996 season, Powers took over as head coach.
Powers' teams had only one winning record in five seasons, but that didn't limit the influence he had on his players.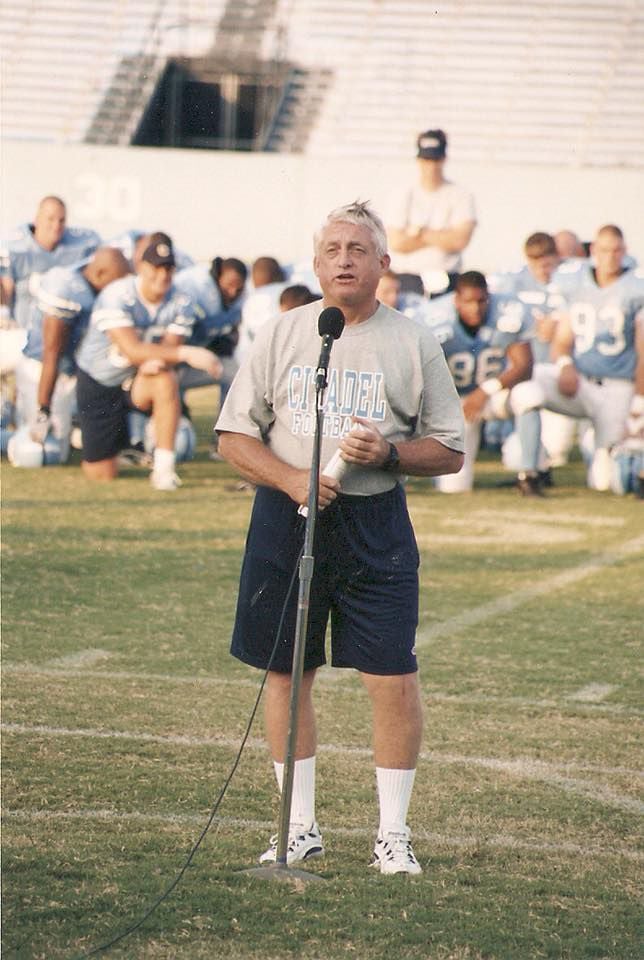 Jason Barley, a member of all five of Powers' teams, recalled how Franks' father passed away in the team hotel the night before a game at East Tennessee State. The next week, Powers interrupted practice in order to take all the team's seniors on a bus to St. Mary's, Ga., for the elder Franks' funeral. The senior players served as pallbearers.
"That's what brothers do for each other," Barley said Powers told the team. "No matter what, you're always there for your brother.
"Now that I look back on it, that was a transition period for Citadel football," Barley said. "Coach did a great job with what he was working with, and it's not only about wins and losses. Eighteen or 20 years later, he has guys that are doctors, lawyers, bankers, guys that are good husbands and fathers. He played a big role in that."
Former Bulldogs who played for Powers include former Citadel defensive coordinator Maurice Drayton, now with the Indianapolis Colts; Summerville High School coach Joe Call; Stanley Myers, a member of The Citadel's Board of Visitors; and Lamar Sales, Mario Richardson, Scooter Johnson, Nick Johnson, Travis Stephens, Antonio Smith, Denny Haywood, Stan Hollingsworth, Nate Mahoney, Kevin Olecki, Chip Simmons, Brad McCoy, Harry Miles, Dary Myricks, Lance Gray, Deedrick Reese, Travis Cunningham and Dendrick Gamble.
Dave Sollazzo was an assistant coach under Powers and Taaffe.
"He is one of the finest men I have ever met in my life and in the business," Sollazzo posted on Facebook. "It's a tough business, and people have a hard time keeping there character and integrity. Coach Powers never lost his in times of adversity."
Taaffe recalls Powers' thoroughness.
"We used to kid around as a staff — if you asked Don Powers what time it was, he'd tell you how the watch was made," Taaffe said. "He has a lot of those old Southern colloquialisms, a great personality and a great way of getting his point across."
The book and recent visits and phone calls former coaches and players have meant a lot to Powers, said his daughter, Cassie Powers Hanna.
"He told us, 'I feel so fortunate to have all these people tell me how they felt. I had no idea.'"
• "The Powers in Us" can be purchased at www.thedpbook.com. Some proceeds will go to Powers and his family, according to Frank.
Reach Jeff Hartsell at (843) 937-5596. Follow on Twitter @Jeff_fromthePC