It was just one game.
But for Summerville native James Reeves, it was a reminder of how close he is to his dream of playing in the major leagues and possibly joining New York Yankees stars Aaron Judge and Brett Gardner, both having Lowcountry ties of their own.
Reeves, a left-handed pitcher in the Yankees' minor league organization, pitched in one game at the triple-A level last summer, allowing one run and posting one strikeout in 1.2 innings. 
In most situations, it's hard to gain a ton of wisdom from such a short experience. But recording five outs for the Scranton/Wilkes-Barre RailRiders gave Reeves a snapshot of what's to come if New York decides to bring him back to triple-A in 2019.
"Off the bat, you can just tell hitters are more experienced and more patient," he said. "So I think the biggest thing is just learning to get guys out and lean on my teammates behind me."
Reeves had a solid year in 2018. In 33 relief appearances, all but one with the double-A Trenton Thunder, he posted a 2-2 record with a 2.88 earned run average and 72 strikeouts.
With a few weeks left before spring training, the Yankees' 10th-round pick in the 2015 MLB draft is making the most of his offseason.
He's traveling back and forth from the Lowcountry to Chicago where his girlfriend lives. And in Charleston, he's working out at The Citadel with former coaches and teammates. Among them is pitcher J.P. Sears, a fellow lefty who also plays for the Yankees. Sears was taken in the 11th round of the 2017 draft by Seattle, then traded to New York.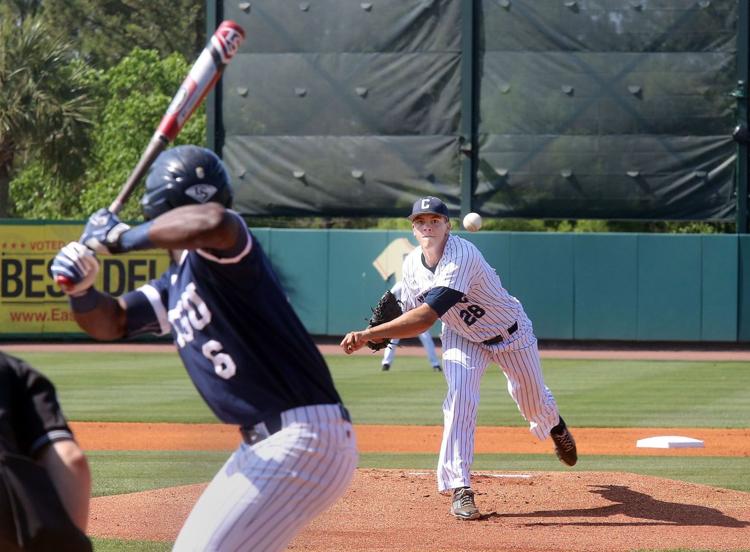 "We played together one year in college and have stayed in touch ever since," Reeves said. "... Definitely good to have a friend in the same organization."
When he's not working out, Reeves hangs with old friends and stays active in the community. In fact, the former Ashley Ridge High School star held a pitching clinic last weekend at Deer Park Elementary.
That was important to him because he remembers going to Charleston RiverDogs' games as a kid and getting to talk to professional players.
Little did he know he'd pitch a few games for the RiverDogs, New York's Class A affiliate. In 2016, he posted a 1-1 record with a 2.7 ERA in four appearances with Charleston.
With a full season of double-A baseball under his belt, Reeves is hoping for a triple-A assignment. From there, the next step is the South Bronx. That's where he hopes to share the dugout with Judge, who played for the RiverDogs in 2014, and Gardner, a former College of Charleston star who now lives in Summerville.
"It's obviously something you think about," Reeves said about reaching the majors. "But for me, I just have to take it one day at a time and do my job. That's how you become successful in this game."