COLUMBIA — In the preseason, it was a unit that the new head coach called "light years away." But by the end of the SEC schedule, it had become a unit with a knack for generating turnovers, and it was powering one of the stingiest pass defenses in the conference.
And yet, the lingering image of South Carolina's secondary is one of cornerback Jamarcus King, clinging to the back of Clemson wide receiver Mike Williams and being carried into the end zone in a 56-7 rout. It was but one snapshot of a humbling night for defensive backs who had played such a pivotal role in helping USC's defense make statistical gains across the board.
Watching film of that game was hard. "Yes, it actually was," said cornerback Chris Lammons. "Because they did whatever they wanted to do, and everybody saw that. So we're just going to attack this week strong like we attack each practice strong, and we're just getting better."
What had once been the second-best pass defense in the SEC allowed 372 passing yards and six passing touchdowns that night in Death Valley, and now prepares to face another quick-strike offense in Thursday's Birmingham Bowl against South Florida (10-2). Bulls quarterback Quinton Flowers draws comparisons to Clemson's Deshaun Watson with his abilities to run and throw deep, and he'll face a USC secondary eager for redemption.
"Obviously we didn't end the year like we wanted against Clemson," said safety D.J. Smith. "But as a unit, I felt like everybody learned the scheme pretty well, and the people who were playing for the first time played well. ... I just feel like the whole DB corps played well this year."
USC (6-6) led the SEC this season in turnover margin, fueled by 14 interceptions, 10 of which were recorded by defensive backs. While the Gamecocks slipped to fifth in the SEC in pass defense, that was still an improvement from their ninth-place standing the season before. And they did it all with USC routinely playing an extra man in the box to defend against the run.
But clearly, the Clemson game showed room for improvement. King, a one-time SEC Defensive Player of the Week who owns a team-best nine pass breakups along with three interceptions, was clearly outmatched against Williams in man coverage. Asked what he took from that experience, the junior college transfer said simply, "Just lift."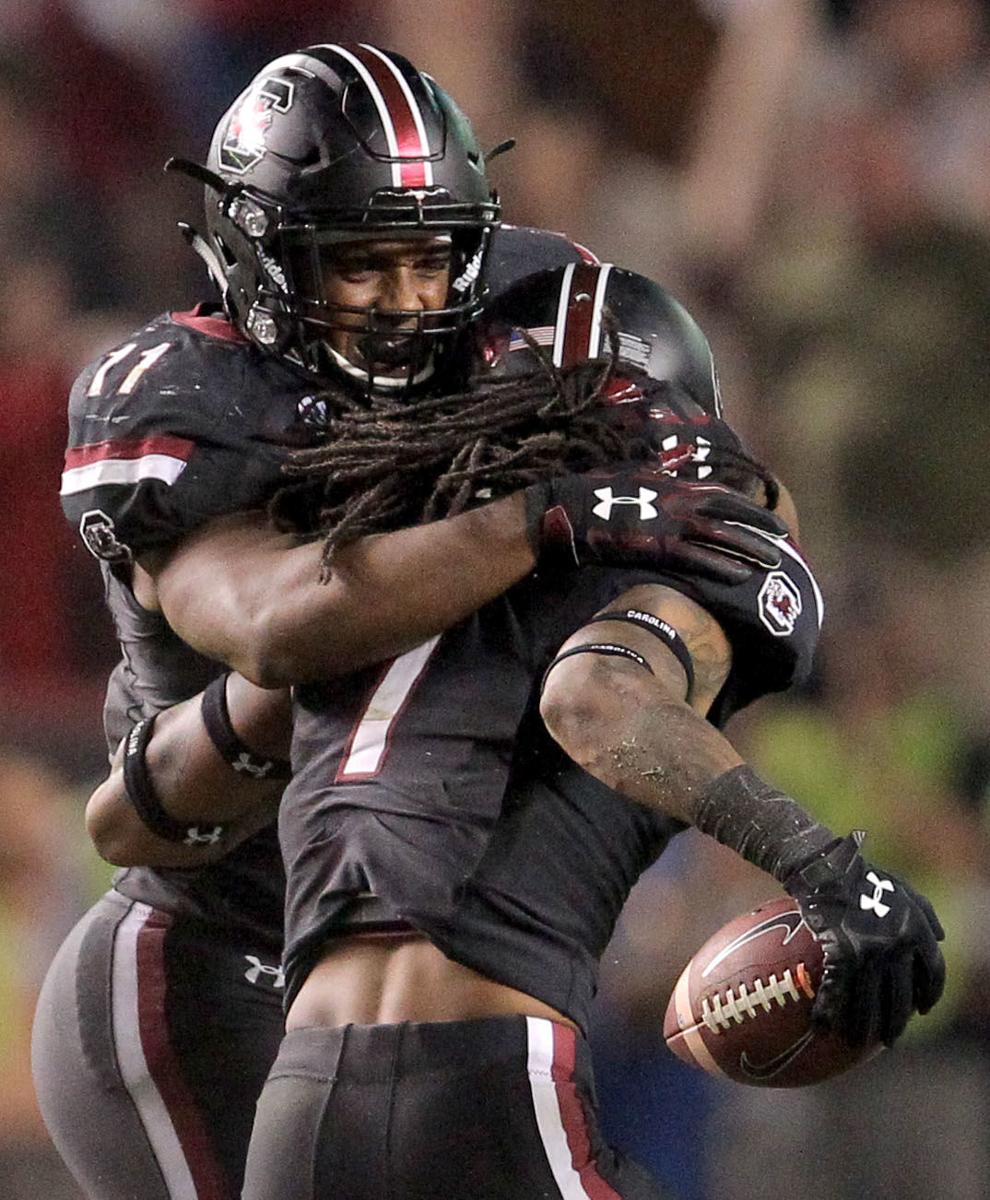 It was music to head coach Will Muschamp's ears. "You go against the bigger receivers, and you can't get banged around," he said. "He's got to continue to increase his physical stature. That's something that's been said to him since day one. Sometimes, it takes a tough night to teach somebody."
Smith said that one night didn't lessen his belief in King. "It's football. He was playing against a real good player. It happens to the best of us," the safety said. "If you play DB, you've been burnt before. If you haven't, you're just the best. Jamarcus knows he's a good player, and he knows we've got faith in him."
On the opposite end of the spectrum is Lammons, benched at Mississippi State for poor tackling, who rebounded to share the team's most productive defensive player award with end Darius English. "He responded the right way, instead of going into a shell or not responding and (not) practicing the right way or blaming the coach," Muschamp said. "He took it on himself, which is what good players do."
Lammons, who finished the regular season with three interceptions, five pass breakups, and four tackles for loss, said the transformation was immediate. "Once (Muschamp) said it, everything else changed," he said. "And I agreed with him on the situation."
Another test looms in South Florida, averaging 43.6 points per game behind Flowers, who is "similar to Deshaun Watson in his ability to move out of the pocket and throw the ball downfield," according to USC linebacker Bryson Allen-Williams. Which means a Gamecocks secondary looking to leave a different kind of lasting impression will get the chance to do just that.
"We've had some great games, some not-too-great games," Lammons said. "As a secondary we'll go up and come back down, like that last game (against Clemson). We've just got to stay consistent and have belief in our technique, and everything will play itself out."