He was an ideal candidate, but perhaps too good to be true. So Miami head baseball coach Jim Morris leveled a direct question: "Why do you want to do this?"
The curiosity was understandable. Mark Kingston was a salaried assistant coach at Illinois State, interviewing for a volunteer position with the Hurricanes. What little money he'd make would come through running summer camps. It was a hard position to fill with a quality coach — of the kind that had fallen into Morris' lap.
"You don't make a lot of money doing that," Morris remembered this week from Coral Gables, Fla. "But he felt it was something that would help his career, and he wanted to be at Miami."
Even then, prior to the 2000 season, Kingston had a plan. He had a vision for climbing the coaching career ladder that would take him from assistant, to head coach, to head coach at a program capable of reaching the College World Series and competing for the national championship.
Kingston took that last step a week ago, when he was named head coach at South Carolina, a two-time national champion where the goal every year is to make a run at Omaha. Along the way he turned around two programs that hadn't enjoyed much success before his arrival, proved himself as a recruiter even under arduous circumstances, and earned a reputation as a coach who knows how to develop bonds with players.
"The job he did for Tulane and our program was really, really special," said former Green Wave head coach Rick Jones, whom Kingston worked under for seven seasons that included a College World Series trip. "And coach Kingston will do an outstanding job at South Carolina because he's proven it as a head coach, and he's proven it as an assistant in more than one place, certainly ours. He's the total package."
As recruiting coordinator at Tulane, the coach known as "King" helped keep a string of NCAA appearances going despite the Green Wave relocating to Texas Tech for a semester due to Hurricane Katrina. As head coach at Illinois State, he took the Redbirds to the NCAAs for just the third time ever, and first time in 16 seasons. As head coach at South Florida, he took a program that hadn't made the postseason in 13 years to the NCAAs twice in three seasons.
And it all began in earnest in Miami, where Kingston left a paying job — "very unusual," Morris called the move — to spend two seasons as a volunteer assistant with the Hurricanes.
"He's had a plan," said Larry Lyons, athletic director at Illinois State, where Kingston was head coach from 2010-14. "I'll be honest with you, he's had a plan for his career, and I admire him for that. I talked to him a couple of days ago about that, and he's worked his plan. His plan was to be at a high-end program like South Carolina, play consistently well, run a great program … (and) take a team, or two, or three, to Omaha. He's working his plan."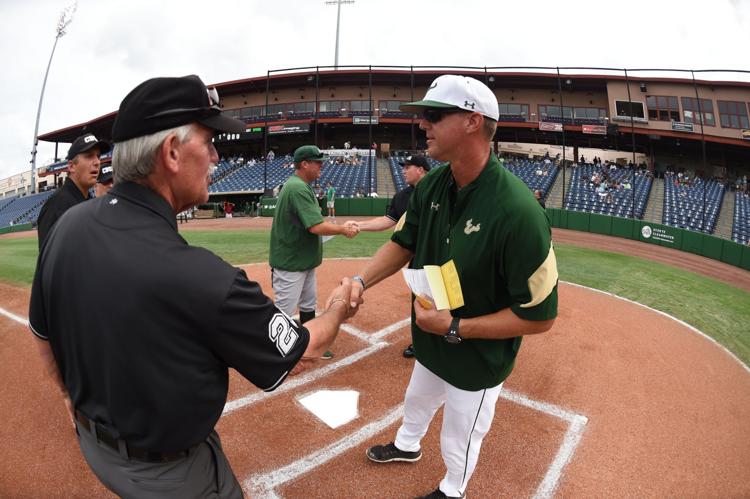 'Definitely a player's coach'
During his first eight seasons at Tulane, Rick Jones' recruiting coordinator was a former player of his at Elon named Jim Schlossnagle. When Schlossnagle left to become head coach at UNLV — where he worked for two years before beginning a long and successful stint at TCU — Jones heard from Miami's Jim Morris, whom he had once worked for at Georgia Tech.
"If you lose Schloss, I've got a guy for you," Morris told him. That guy was Kingston, who had worked with catchers and coached first base in his two seasons at Miami, including a national championship campaign of 2001. Morris brought Kingston to the national convention, they went to dinner with Jones, and soon the former volunteer assistant had a paying gig in New Orleans.
And along the way, he began to develop a style: understated and approachable, but firm. At Miami, Morris noticed that Kingston always knew how to handle himself around people. "He's very smooth," the Hurricanes coach said. When he was introduced at USC, Kingston pointed out that he wasn't a yeller and a screamer, and athletic director Ray Tanner raved about how he related to players.
Much of that goes back to his time under Morris and Jones, who were on the same staff for four years at Georgia Tech. Jones is similarly even-keeled, and Morris is "a Major League manager in many respects, because he never overreacts," Jones said. "I think we both benefited from that, and (Kingston's) style is very similar. That's very positive for the kids. If you're not overreacting in a negative way, kids are going to play in a very relaxed, focused manner."
Kingston played at North Carolina and for six seasons in the minors, and Morris and Jones both believe that experience helps the 47-year-old Kingston still relate to his players today. But some of it, though, comes natural.
"You talk about having great feel — he had a way of being able to communicate with our players and get his point across. They related to him and responded in a very positive way. Some guys have a better feel for being able to translate that more than others. His ability to do that is at a very, very high level," Jones said from Wilmington, N.C., where he played in college and moved after retiring in 2014.
"Sometimes you have to be a little bit more firm than others. Sometimes you have to show tough love. Sometimes you have to throw an arm around a shoulder. Having a feel for when to do those things, I think, is innate."
Larry Lyons saw the same thing at Illinois State, where Kingston returned to work as associate head coach in 2009, before taking the reins the following season. "He's definitely a player's coach. I don't say that the players run the program; there's no question who's in charge, and it's Mark. But the players respect him," the AD said from Normal, Ill.
"It's in his personality that he can connect with the young men and get them to believe in themselves and believe in what they're trying to do with the program. And they compete very, very hard for him. It was obvious."
Kingston's relatability was perhaps most evident midway through his tenure at Tulane, and on the heels of a 2005 season in which the Green Wave had reached the College World Series as the No. 1 national seed. Jones said staffers were moving freshmen into dorms when evacuation orders went out due to Hurricane Katrina. While New Orleans recovered, Tulane spent the fall semester at Texas Tech.
As recruiting coordinator, Kingston was organizing official visits — to Lubbock, Texas. Kingston battled not only other programs, but also horrific images unfolding on CNN, all of it on top of usual hurdles Tulane faced recruiting as an expensive private school. "We were all holding it together," Jones said of the experience.
The Green Wave returned to campus for the spring semester, and made its ninth consecutive NCAA Tournament that season. "He was at the forefront as our recruiting coordinator," Jones said of Kingston. "And we were able to overcome a lot of it, things there was no manual for."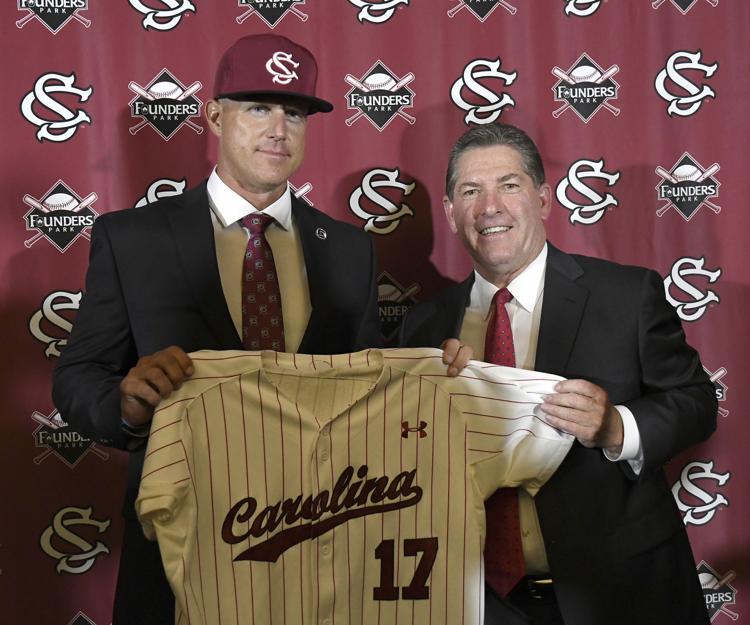 'He's going to apply pressure'
The turnaround at Illinois State began in 2009, the season Kingston returned to Normal as associate head coach. He would take over the program the next year, and what gave him hope was the reaction of his players after the Redbirds were eliminated from the Missouri Valley Conference tournament in a close semifinal loss to host Wichita State.
"Our dugout was just devastated," remembered Illinois State athletic director Larry Lyons. "I was on the field and Mark turned to me and said, 'We're turning the corner, because these kids hurt right now.' You could see it in their faces. He was with them for one year. It was amazing he made that comment, and was intuitive enough to see that."
The following season, Kingston's first as a head coach, the Redbirds made the NCAAs for the first time since 1994. Five years later he was in the postseason again, this time as head coach of a South Florida team that hadn't made the tournament since 2002. He took the Bulls to the NCAAs again this past season, his springboard to the job at South Carolina.
But at neither of his previous two head coaching stops presented the level of pressure he will face at Columbia, where his predecessor Chad Holbrook resigned despite winning 65 percent of his games in five years. The two national championships and six College World Series appearances under Ray Tanner set the bar for a program where Omaha is an expectation, not a dream.
"There's an added pressure, no question. Coach Tanner, the way he set that thing up by winning two national championships and then stepping down, those expectations are pretty tough," said Miami coach Jim Morris, who replaced a two-time national champion himself in Ron Fraser.
Morris watched Kingston's introductory press conference, held in a suite at Williams-Brice Stadium, and it brought back memories of his own. "It reminded me of the press conference for a football coach when I was at Georgia Tech," Morris added. "That's the same expectations."
Kingston got a taste of that as an assistant, certainly at Miami, and even at Tulane, which was the standard-bearer for the Green Wave athletic department at the time. "We had a saying, and we kind of lived by it: You don't feel pressure if you're applying it," said former Tulane coach Rick Jones. "And I can assure you, he's going to apply pressure."
Lyons points out that while the pressure may be greater at South Carolina, so will the resources Kingston will have to deal with it. "He's gotten the best out of kids he's been able to coach at Illinois State and South Florida, and he's going to have more, better kids at South Carolina," Lyons said.
"There's no question. I look at South Carolina as a top-five program in the country, top-10 at the very least. So he'll have access to more and better players. … His goal is to take a team to Omaha. He's played in Omaha, he's been there a couple of times (as an assistant) with other teams, and he wants to go as a head coach."
It's all part of the plan, a career climb that began in earnest when Kingston took a volunteer staff job at Miami 17 years ago. He went to the Omaha with two prominent programs as an assistant, he went to the NCAA Tournament with two underdog programs as a head coach.
Now Kingston takes his biggest step yet, becoming head coach at a South Carolina program where the goals are evident in the College World Series and national championship graphics displayed on the scoreboard at Founders Park.
"To be honest with you, I would have expected South Florida to go to the World Series with him there," Morris said. "That's the respect I have for him. That's the goal at South Florida. That's the expectation at South Carolina."