The date was March 22, 1991. The Philadelphia 76ers had just won a tough game against the Chicago Bulls and the team was out celebrating.
Small forward Armen Gilliam went to the party, but he wasn't dancing. He was exhausted and just wanted to "show his face" before he went home.
"He had to guard Michael Jordan that night," said George Gilliam, the NBA player's first cousin.
George Gilliam was at the game, which Philly won, 95-90, largely due to Armen Gilliam's defense on Jordan. Charles Barkley led the Sixers on offense that night with 22 points.
Jordan was held to 20 points, far below his season average of 31.5.
George Gilliam remembers the passion and determination that his cousin showed every time he played. It's the same passion George sees in his own son, Isiah Gilliam, a 21-year-old outfielder for the Charleston RiverDogs.
Family Tree of Trailblazers
When Isiah Gilliam was born in 1996, Armen Gilliam had just wrapped up a season in which he averaged 18.3 points and 9.1 rebounds per game.
Armen Gilliam was drafted by the Phoenix Suns as the second overall pick in 1987, and went on to play for several other teams. In his 13-year career, he averaged 13.7 points and 6.9 rebounds.
He died of a heart attack in 2011 at the age of 47.
The Gilliam family remembers him as a quiet, laid-back guy. They also honor the former NBA player because he continued the family's legacy of fostering professional athletes.
The athletic family tree dates back to 1953 when Junior Gilliam made his Major League Baseball debut with the Brooklyn Dodgers.
Jackie Robinson had debuted with the same team just a few years earlier in 1947, the year he became the first black player in Major League Baseball. The two were teammates for four years.
"It's pretty cool to be related to such a guy," Isiah Gilliam said. "They were trailblazers who paved the way for guys like me to have a shot."
A speedy utility player, Junior Gilliam was named NL Rookie of the Year after batting .278 with six homers and 63 RBI. That rookie campaign included 17 triples and 21 stolen bases.
After retiring from coaching, the speedster became one of the first black coaches in the majors.
He died of a brain hemorrhage on Oct. 8, 1978. He was 49.
The Gilliam family tree has at least one other trailblazer.
Joe Gilliam made a name for himself in his four years as a quarterback for the Pittsburgh Steelers. He broke into the NFL in 1972. And in 1974 he won the starting job when Hall of Famer Terry Bradshaw went on strike with the NFL Players' Association.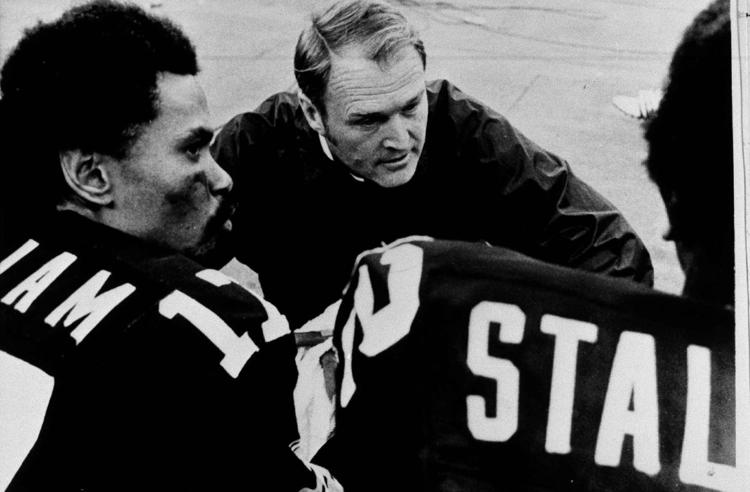 Bradshaw returned in Week 7 after Gilliam posted a 4-1-1 record with the team.
Joe Gilliam's touchdown-to-interception ratio wasn't the best, and some people speculated he was affected by the pressure of being Pittsburgh's first black quarterback.
George Gilliam believes that was the case.
"I think it wore him down," he said. "It's tough being the first black anything, and I'm sure he was under a lot of stress."
Joe Gilliam died on Christmas Day of 2000 of a drug overdose. He was 49.
Pride over pressure
The storied family history isn't one that Isiah Gilliam obsesses about. Instead, he's worked to embody it.
"Obviously, I never got a chance to meet these guys, but it's been great learning about them," he said. "It makes you want to be a part of that history. So it's definitely more of a pride thing."
That pride does not go unnoticed in the RiverDogs' dugout. Isiah Gilliam's teammate, Brandon Wagner, said he's heard the stories about his friend's family, and can tell how much pride he takes in carrying the Gilliam name.
"He plays with a special type of passion that lets you know he wants to be here," said Wagner, the team's first baseman. "I think a lot of that has to do with his roots."
George Gilliam said the only pressure on his son is to play as hard as he can. He said his son embraces the family history and looks to honor that legacy rather than compete with it.
"It's something to be proud of," he said. "Isiah sees that and just wants to be the best he can be."
'We need him'
Wagner says it's no coincidence that the RiverDogs are in first place at the same time his friend is playing his best baseball of the season.
From July 31 to Aug. 6, Isiah Gilliam went 10 for 26 (.385) with two homers, four doubles, and seven RBI for the RiverDogs, the Class A affiliate of the New York Yankees.
It was during that span that Isiah Gilliam was named South Atlantic League Player of the Week for the second time this season.
This year, he's batting .263. His 13 home runs are tied for eighth in the league and 73 RBI are second.
"We need him to keep hitting the way he is," Wagner said. "If he keeps doing even half of what he's doing now, I think it gives us a chance against anybody."
Moving forward, Isiah Gilliam says he focused on honing his swing and getting better in the outfield by reading the ball as it leaves the bat.
The latest member of the pro sports family tree dreams about debuting in the MLB just like every other minor leaguer.
"But you have to focus on what's happening how," he said.
Now, the RiverDogs are prepping for a seven-day homestand. They'll open a three-game series Tuesday against the Greenville Drive.