Duggar Baucom had been basketball coach at The Citadel for about a year when he got the call.
Pat Conroy, the former Bulldog basketball player and best-selling author, had died in March of 2016. His widow, Cassandra King, called and asked if Baucom could provide two Citadel basketball players to be honorary pall-bearers and stand guard, in uniform, at the funeral.
"It was one of my greatest honors to be able to do that," said Baucom, who sent players Quinton Marshall and Warren Sledge to carry out the duty. "We went down for the funeral and Quinton and Warren were amazing and great representatives of The Citadel."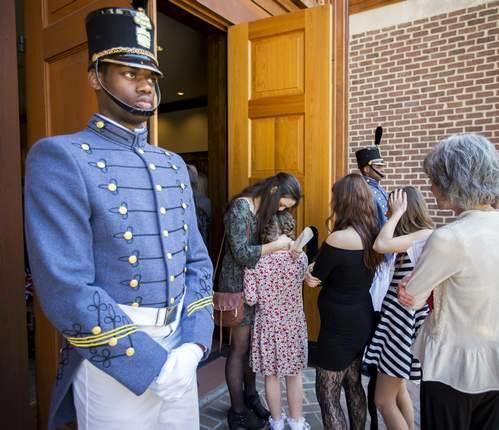 That request demonstrated just how much Citadel basketball meant to Pat Conroy. The Citadel will honor him at Saturday's 1 p.m. game against Furman with "Pat Conroy Recognition Day." Teammates, friends and family members will be part of a special ceremony at McAlister Field House.
Citadel basketball was an integral part of Pat Conroy's life and work. The famed author played for the Bulldogs from 1963-67, averaging 11.8 points per game as a senior, when he was named his team's most valuable player.
Conroy's experiences as a Citadel basketball player informed his novel "The Lords of Discipline," and his memoir "My Losing Season" was a best-selling look at his college career. He also wrote best-sellers such as "The Water is Wide," "The Great Santini" and "The Prince of Tides."
"He was extremely proud of being a Citadel basketball player," said his cousin, Ed Conroy, himself a former Bulldog player and coach. "He was a good player, and he should have been proud of what he did at The Citadel. He loved being out there as a point guard, loved his teammates and being a part of Division I basketball."
When Ed Conroy coached the Bulldogs from 2006-2010, Pat Conroy often came up from his home in Beaufort to be at McAlister Field House for practices and games.
"I'm not sure people realize how closely he followed Citadel basketball and college basketball in general," Ed said. "I miss talking to him about it."
Pat Conroy wore No. 22 at The Citadel, the same number point guard Cameron Wells wore when he played for Ed Conroy's best teams. Ed's 2008-09 team won 20 games, one of only two Citadel teams in school history to win 20 games.
"We'd argue about who was the better No. 22, him or Cameron," said Ed, now an assistant coach at Minnesota. "I won't tell you where I came down on that one. But every time Pat was around our team, he brought so much joy and energy to the locker room.
"He was back in his element, being part of a college basketball team."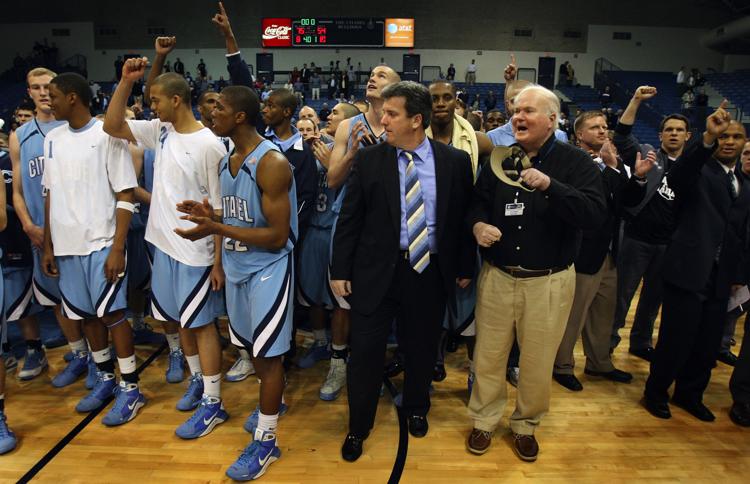 Pat Conroy's portrayal of a Citadel-like military school in "The Lords of Discipline" and statements about the school over the years caused an estrangement between the two. But that eventually thawed, and Pat Conroy was invited to give The Citadel's commencement speech in 2001. He was inducted into the school's athletic Hall of Fame in 2014.
"It meant a lot when he was welcomed back," Ed Conroy said. "The school always meant so much to him, and he was glad to put that in the past and thrilled to be welcome back on campus."
Baucom was coaching at VMI when he met Pat Conroy. Pat and some of his Citadel teammates visited Lexington in 2007 to meet with former VMI players and relive a four-overtime classic between the rivals.
"Pat told stories and signed his book, and it was a great experience for all of us," Baucom said. "We had no idea then, of course, that I'd end up at The Citadel."
And it's ironic, of course, that one of the challenges Baucom faces at The Citadel is the image of losing basketball cemented in Pat Conroy's "My Losing Season."
"If you look at our history, there's been two 20-win seasons here," Baucom said. "There's been a lot of losing, and it's our job to try to change that. I think it's ironic that it was Pat's cousin (Ed) who had the last 20-win season here.
"Ed took his lumps for a couple of years and then got it turned around, and I hope we can do the same thing."
Of course, Pat Conroy's words sum it up best.
"It was my team, my team, my bruised and damaged team, that was my greatest gift from that year – Dan Mohr, Jimmy Halpin, John DeBrosse, Dave Bornhorst, Bob Cauthen, Doug Bridges, Tee Hooper, Bill Zycinsky, Greg Connor, Al Kroboth, Brian Kennedy," he wrote. "I grow weak when I think about these guys, the way it felt to be around them, to be part of them."