One signed with a new team after his most successful season in Major League Baseball. One was traded to a new team after only a few months as a pro. One could make his MLB breakthrough this season.
Former Citadel pitchers Asher Wojciechowski, J.P Sears and James Reeves spent much of the offseason working out at their old stomping grounds at Riley Park.
As spring training begins this week, each pitcher — all three were voted Southern Conference pitcher of the year during their Citadel careers — is on a different rung of the pro baseball ladder.
Here's a look at where they stand heading into the 2018 season:
'Wojo' now an Oriole
Wojo — a first-round draft pick of the Blue Jays in 2010 — is on his sixth team in eight pro seasons.
"It's a different route," said Wojciechowski, who just turned 29 and is now with Baltimore. "But I'm still playing baseball for a living."
Wojciechowski, a 6-4, 235-pound right-hander, is coming off his best pro season. He appeared in 25 MLB games for the Cincinnati Reds last season, going 4-3 with a 6.50 ERA in 62⅓ innings, including eight starts.
He got his first MLB win on May 20, pitching 3⅔ innings in a 12-8 victory over Colorado. The high point might have been a 3-2 win over St. Louis on Aug. 4, when Wojo allowed one run on one hit and stuck out five in five innings.
All of that came after he was released by the Diamondbacks in March 2017 and spent three weeks back at The Citadel, working out and hoping to land another job. The Reds signed him on April 21.
"It was a whole roller-coaster of a year," Wojciechowski said. "Getting released by the Diamondbacks, coming back to The Citadel for three weeks. When Cincinnati called, I went to AAA and did well and got called up.
"It was a great experience, a lot of highs and a lot of lows, and I'm very appreciative of it."
But it wasn't enough for the Reds to keep him around for 2018, and he signed with Baltimore as a free agent in December. This offseason wasn't nearly as nerve-wracking as the three weeks he spent without a job last year.
"I have a lot more confidence now, having had some success in the big leagues last year," he said. "I also got my butt kicked a couple of times, and I'm trying to learn from that and focus on the little things I need to get better at."
Wojciechowski will be in spring training with the Orioles as a non-roster invitee with a chance to make the MLB club.
"I want to get people out and pitch in the big leagues," he said. "That's my goal, to help a team, whatever team that is, and however I can help."
Sears graduates, is traded
The last year for J.P. Sears has been a similar whirlwind.
The SoCon pitcher of the year in 2017 — he struck out 138 batters while going 7-2 with a 2.03 ERA — was drafted in the 11th round by the Mariners, pitched well in rookie ball, returned to The Citadel last fall to earn his degree and got traded to the Yankees.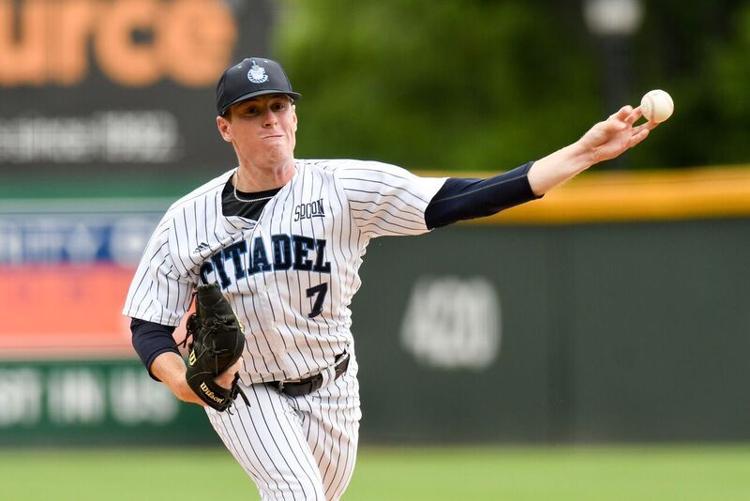 "It was a lot of different emotions when I got traded," said the 5-11, 180-pound lefty. "I had some sadness because I got close to a lot of the guys in the Mariners' organization last summer. But I'm also excited about being with a new organization like the Yankees, who are known for their winning culture."
The trade means Sears, from Sumter, joins James Reeves with the Yankees, and could play in Riley Park this summer with the Charleston RiverDogs.
"Being a competitor, I want to be in as high of a league as I can be starting off," he said. "That's any guy's goal. Hopefully if I start here in Charleston, I can move up. But I'll be excited about being here.
"It will be weird to be back here at Riley Park with a different uniform on, but I'll be excited if I do."
Sears pitched well in his brief stint in rookie ball last season, going 1-2 with an 0.65 ERA and three saves in 27⅔ innings, striking out 51 against just 12 walks. Then, he came back to The Citadel to finish his degree.
"The Mariners let me come back three days earlier than I was supposed to, and The Citadel let me come back a little late," he said. "It worked out perfectly. I had 15 credit hours left, and it was worth it to come back and get my diploma and my ring so I didn't have to worry about it later."
Reeves ready for breakthrough?
James Reeves has it all set up. New Yankee J.P. Sears will be his roommate during spring training in Tampa.
"It's all ready, a pool house with a family down in Tampa," said Reeves, a former Ashley Ridge High School standout. "It's going to be great."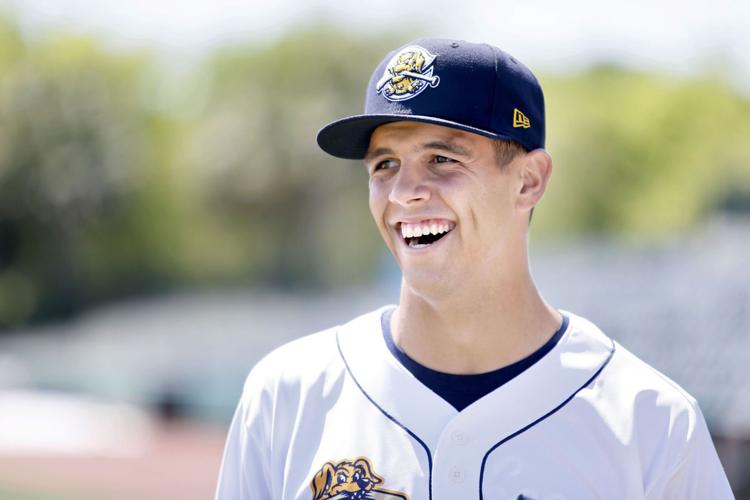 The 2018 season could be a great one for Reeves, who was the SoCon pitcher of the year in 2015. The 6-3, 195-pound lefty was drafted in the 10th round by the Yankees in 2015 and is highly thought of by the brass in New York.
"It's a fun organization to be a part of," Reeves said. "Especially with the minor league system as stacked as it is with incredible guys. It speaks to how good our system is with everybody competing at every level."
Reeves suffered a setback last year with an injured ligament in his elbow but recovered in time to pitch 46 innings in 26 games with Class A Tampa and AA Trenton.
He was 4-0 with a 1.96 ERA and three saves in three opportunities. Reeves pitched only four games with the hometown RiverDogs in 2016 before getting promoted.
With a deadly slider and a fastball in the low 90s, Reeves seems likely to begin this season at least at the Class AA level and could be on track for an MLB debut in 2018.
"I'm trying to not even think like that," he said. "I just want to show up every day and attack something, so if I do get a shot, I'm prepared for it."