The 1960s were a time of student uprisings all across the country, and Charleston Southern University was no different.
Baptist College, as the school was known when it was founded in 1964, was affiliated with the S.C. Baptist Convention. Early administrators, the story goes, wanted the school's sports teams to be known as the "Christians" or "Crusaders."
But the students weren't having it.
When Baptist College played its first basketball game in 1965 (at College of Charleston, because the Buc Dome had not yet been built), the students showed up wearing eye patches, bandanas and earrings.
"They were waving swords and holding signs that said 'Buccaneers,'" the late Howard Bagwell, the school's first athletic director, said in the school's 1991 yearbook. "And ever since that fateful night downtown in 1965, we've been the Buccaneers."
"Bucky" has been the face of CSU athletics since then, undergoing several iterations over the years.
The oldest known Bucky, dating to 1968, grips a cutlass between his teeth. A 1970 version shows a pensive, youthful Bucky gripping what could be a light saber. By 1978, a swashbuckling Bucky looked like the most interesting Buccaneer in the world.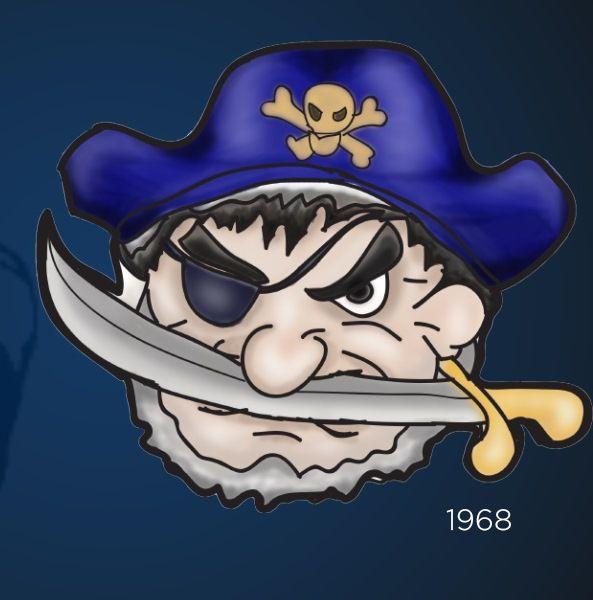 Last week, Charleston Southern announced the latest version of Bucky, part of new athletic director Jeff Barber's effort to rebrand CSU athletics. The new logo is the product of many months of work, including input from CSU coaches and professionals at Walt Disney Animation Studios.
"It's a fresh look and something exciting," Barber said. "I think it's something that will be really good for us."
Brand identity
An iconic logo goes a long way in college sports.
Just ask Clemson, where the famed Tiger Paw is synonymous with the school. In 2014, Athlon Sports ranked the Tiger Paw — designed by the late John Antonio, who died in 2013 — as the second-best logo in college sports, behind only the Texas Longhorn symbol.
"There are tons of Tigers, Wildcats and Bulldogs in college sports but none use their mascot quite like Clemson," Athlon said. "The Tiger Paw print is synonymous with Clemson athletics and is utterly simple but still edgy and creative."
Barber, hired at CSU in May 2018, felt it was time for Charleston Southern to update its logo and add to the familiar crossed cutlasses logo the school has used in recent years.
"You need more options than that," said Barber, previously the AD at Liberty and executive director of the Gamecock Club at South Carolina. "You look at any school, and there are multiple options. After time, something gets worn out or people get used to it.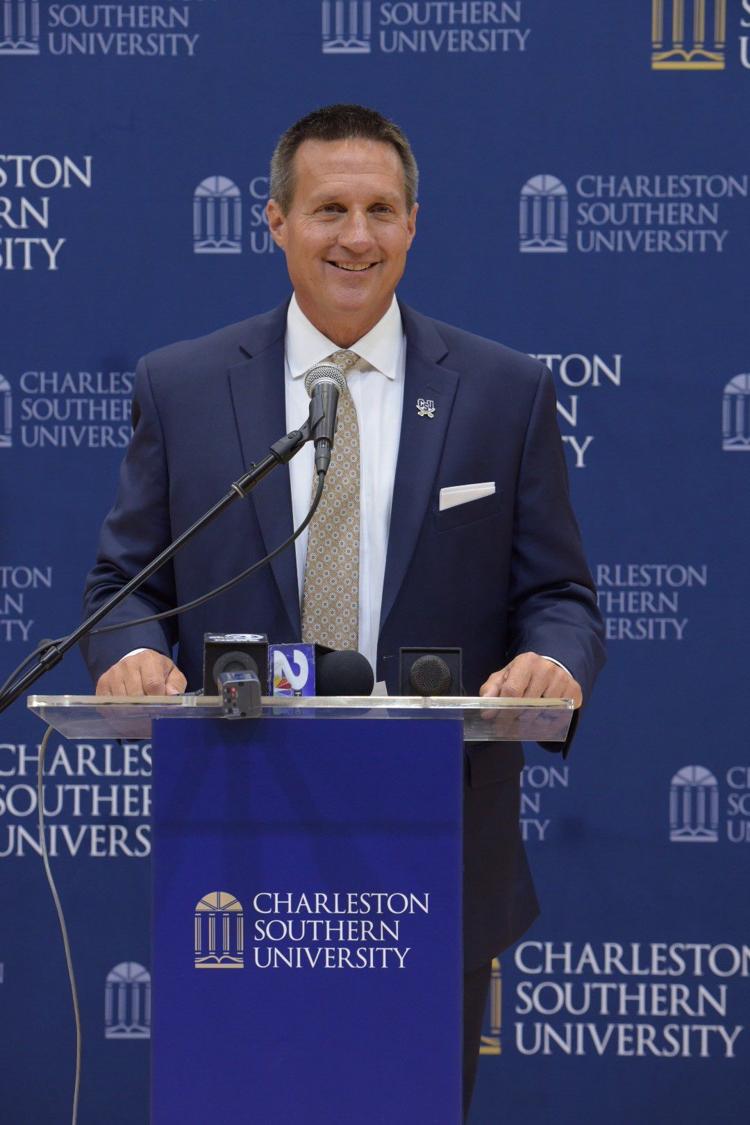 "We wanted to introduce something new and fresh, something that would be great for our coaches, our  athletes and students and fans."
For the new Bucky, Barber wanted a look that hit the "sweet spot" between friendly and intimidating.
"Not something from a cartoon, but at the same time not scary or nefarious so that it's a problem for kids," Barber said. "You want to find a balance between those two things, and it's not easy to do.
"A buccaneer is a little different from a pirate," Barber said. "I was a Pirate during my days at East Carolina, but a buccaneer has a certain look and feel."
'A gentleman'
The task of designing a new Bucky fell to Tyler Stokes, a graphic designer in CSU's marketing and communications department. Stokes, a graduate of the Art Institute of Charleston, said he'd never designed a sports logo before.
"When I got here last October, the school had worked with some people to get something, but they weren't really happy with what they had," Stokes said. "The logo was front-facing and kind of aggressive and abrasive."
Stokes did some research into the history of Bucky at CSU and looked at various pirates, buccaneers and cavaliers from other sports teams around the country. Input came from coaches and athletic department officials such as Anna McSwain from marketing and Tyler Davis from development.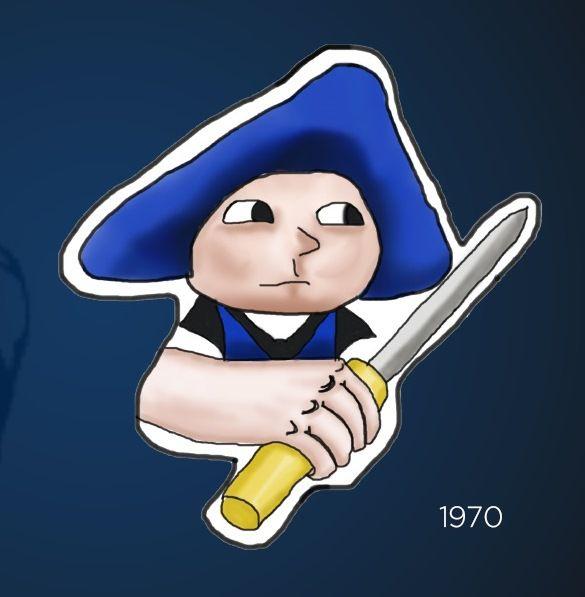 "Some of the old Buckys were okay and some were not so great," Stokes said. "I looked at other pirates and buccaneers, and a lot of them were very front-on and aggressive. You don't want your sports logo to be scary, but you don't want him to be a pushover, either.
"As I talked to people here about how Bucky came about, they said he had more of a gentleman quality to him, so I tried to get more of that in there. He's got a side view, so he's no so up front and abrasive."
#NewProfilePic pic.twitter.com/9FlGu2MGnO

— Charleston Southern (@csusports) April 13, 2019
Disney approved
Stokes came up with a dashing figure who's wearing an eye patch with a feather in his cap and a bandana around his neck. His mouth is not visible, but an upturned mustache gives the hint of a smile, while a crease on his forehead implies intensity.
Barber, who has three friends who work for Walt Disney Animation, ran the design past the experts to get their input.
"They are high level Disney animators who have worked on big movies and TV shows," he said. "We actually got a lot of input from them and they all loved it. We ran it by them and other artists and kept working on it until we got to the point where we had done everything we could.
"There were a lot of finite points to get right," Barber said. "The end of the bandana, we looked at a half-dozen points under his hat. We like the combination of the buccaneer hat, the feather and the bandana. That's unique to CSU."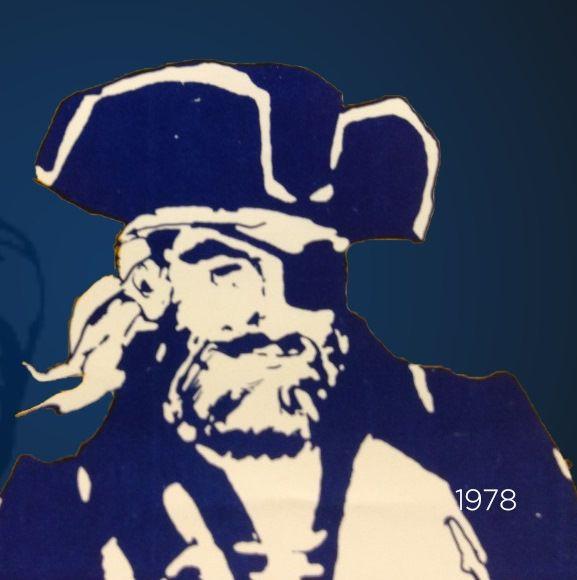 The new Bucky has already been put to work on CSU's social media outlets, and fans can purchase gear with the new logo. Barber said he met with Nike officials this week about CSU's football uniforms for next year.
"Having the new logo and being one of the first teams that will be wearing it on our gear just adds to the level of excitement around the program already," said new football coach Autry Denson.
Now, Barber can add Bucky to the list of projects written on a greaseboard hanging in his office.
"We start our senior staff meetings every Monday by talking about the little things we did the week before to make the program better, and writing them on the board. We've got 120 things up there, and a year from now, we'll have maybe 400 things.
"We're putting a lot of little pieces together right now," Barber said. "Everything matters when you have recruits on campus, when you have people considering giving money to the program. We want to create a high quality program, and that means doing everything well over a long period of time."