COLUMBIA — The drive that carried South Carolina to the cusp of bowl eligibility started in the shadow of its own goal post. Ninety-eight yards later, Rico Dowdle was in the end zone, and the Gamecocks were able to safely envision a postseason that once seemed only a dream.
But not after Saturday, when the true freshman Dowdle rushed for a career-high 149 yards and scored two touchdowns, one from 20 yards out to cap a 98-yard, third-quarter drive that proved the deciding blow in a 31-21 victory over Missouri before an announced crowd of 73,817 at Williams-Brice Stadium.
The victory, South Carolina's third straight, pulls the Gamecocks (5-4,3-4 SEC) within one of the six wins needed for bowl eligibility, with a home game against FCS opponent Western Carolina still remaining. Missouri (2-7, 0-5) lost its fifth straight, and remained the lone SEC team without a victory in league play.
"It's 100 percent our players, in my opinion, as far as how they're responded to hard coaching, confrontation," said USC head coach Will Muschamp. "And we're not going to back off of it. We'll continue to do the things we're doing, and continue to improve. We're by no means where we need to be. But we've certainly improved, and I think everybody can see that."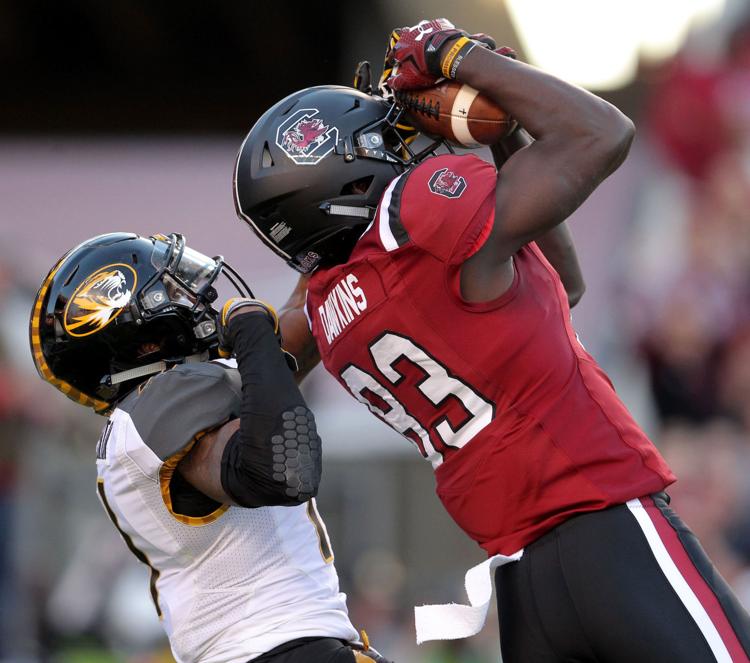 Gamecocks receiver Deebo Samuel enjoyed a career night with nine catches for 125 yards and one rushing score, while freshman quarterback Jake Bentley completed 22 of 28 attempts for 254 yards and a pair of touchdowns. An opportunistic defense forced three turnovers, one that led to to USC's opening touchdown, and another that preceded the clinching score.
"We just grew up as team," said linebacker Bryson Allen-Williams. "We're a very young team, (with) a lot of freshmen, a lot of sophomores. We didn't really have an identity. But coming out of that bye week, coach Muschamp talked to us about establishing an identity. … We want to be a dominant team."
It was more than talk. It was during USC's open week, following a loss to Georgia, when Muschamp ramped up the physicality in practice by pitting first-teamers against one another, and handed the offense to Bentley. The results have been evident in a three-game win streak that Saturday saw USC score its most points in an SEC game since a 2014 overtime loss to Tennessee.
"After the bye week, we said it's a new season. From then, we've been undefeated," said linebacker T.J. Holloman. "We just all bought into the program, all came back with a different mindset after the break, and that's what's really changed and turned around this program."
USC played the first half without starting safety D.J. Smith, ejected for targeting last weekend against Tennessee. And it played the second half Saturday without starting cornerback Chris Lammons, ejected on a targeting call, and disqualified for the second straight week after being kicked out for throwing a punch against the Vols.
But it was lapses in USC's run defense that helped Missouri stay in the game. The Tigers scored their first two touchdowns on almost identical plays, a 29-yard rush by Damerea Crockett and a 25-yard burst by Ish Witter in which they broke through the line of scrimmage and ran almost untouched into the end zone.
"We needed to stay more to the box. That's on me as a coach," Muschamp said. The Tigers' final score came on a 9-yard touchdown pass by quarterback Drew Lock that tied the game with 12:34 left in the third quarter, and after a missed Elliott Fry field goal attempt, the Tigers were poised to take their first lead.
Rashad Fenton had other ideas. The USC corner picked off a Lock long ball at the Gamecocks' 2-yard line, and the offense took over deep in its own end. "The first play is to just get the ball off our own goal line," said tight end Hayden Hurst. "Jake just brings a confidence to the offense. We think we can score from anywhere."
Having Dowdle certainly helped. The freshman opened the drive with a four-yard rush, then got loose for with an 18, part of an effort that saw him amass 118 yards in the second half. "Those defensive kids get tired of hitting it at the end of the day," Muschamp said. "It wears on you after a while."
The key play came on third-and-6 from the Missouri 45, when Bentley tossed a ball toward the near sideline. Samuel seized it and managed to sneak one foot in for a 25-yard gain. Two plays later it was Dowdle again, this time for 20, this time for a touchdown and a lead that USC would not relinquish.
"That was probably the sealing point of the game, and the momentum of the game, to make the stop and then have that happen," Muschamp said. "… When you're able to run it off your goal line, that's demoralizing to a defense. They got tired late in the game."
Contributions came from everywhere. Fry added a late field goal on a night when he became USC's career scoring leader. Dowdle and tight end K.C. Crosby pulled in touchdown passed from Bentley. Taylor Stallworth added a late pass-breakup, Holloman a late sack, and Chris Moody clinched it with an interception in the end zone with 29 seconds left.
And now, almost-certain bowl eligibility, for a program that went 3-9 last season and seemed equally as lost over the first half of this year.
"You're at 2-4 going into the open week, and the negativity is amazing, and then the guys keep believing and having confidence in what we're doing," Muschamp said. "And that's what's happening here."