There was a basketball court in the shadow of the apartment towers that loomed over her childhood, but it was where the older kids played. The little kids had to get creative.
So Dawn Staley and her brothers cut the bottom out of a crate to use as a makeshift rim, found a piece of plywood to fashion as a backboard, and nailed it all to an electrical pole down the street from the row house where they lived.
Many years later she would use a ladder to ascend to another rim, this one orange and affixed to an official glass backboard, where she would clip the net after leading South Carolina to its first national championship in women's basketball.
The April triumph over Mississippi State in Dallas is the main reason Staley is The Post and Courier's Newsmaker of the Year for 2017, but she has always been about more than winning ballgames.  
Staley's journey between those very different goals took her through gritty Philadelphia streets plagued by drugs and gang violence, through four years of college marked by success and heartbreak, and into a coaching career that was never part of the plan.
Again and again, Staley returns to the same place — her native Philadelphia, specifically her neighborhood in north Philly, where she was raised, blossomed as a basketball player, and took the leap into coaching. She may be in her 10th season at South Carolina, but Staley still returns home, as she did when she was honored by her high school after the Gamecocks won the NCAA title. Hers is very much a Philadelphia story, from the sprawling Raymond Rosen projects, to the rec center at 25th and Diamond, to the Liacouras Center at Temple.
"She didn't walk past or ignore anyone who were bad kids," said former Temple men's basketball coach John Chaney. "She reached out to them to point them in the right direction. That's the extraordinary thing about her. She just seemed to be a magi. She's just magical, man. I'm not kidding you. I knew her when she seemed to have a halo over her head walking through north Philly, doing good and setting an example for these kids. She's never stopped reaching back to a neighborhood that needed her."
Even in a major sports market dominated by pro teams like the Eagles, 76ers, Phillies and Flyers, Staley remains a legend in Philadelphia, thanks to her Hall of Fame playing career, her three Olympic gold medals, and her continued close ties to her hometown.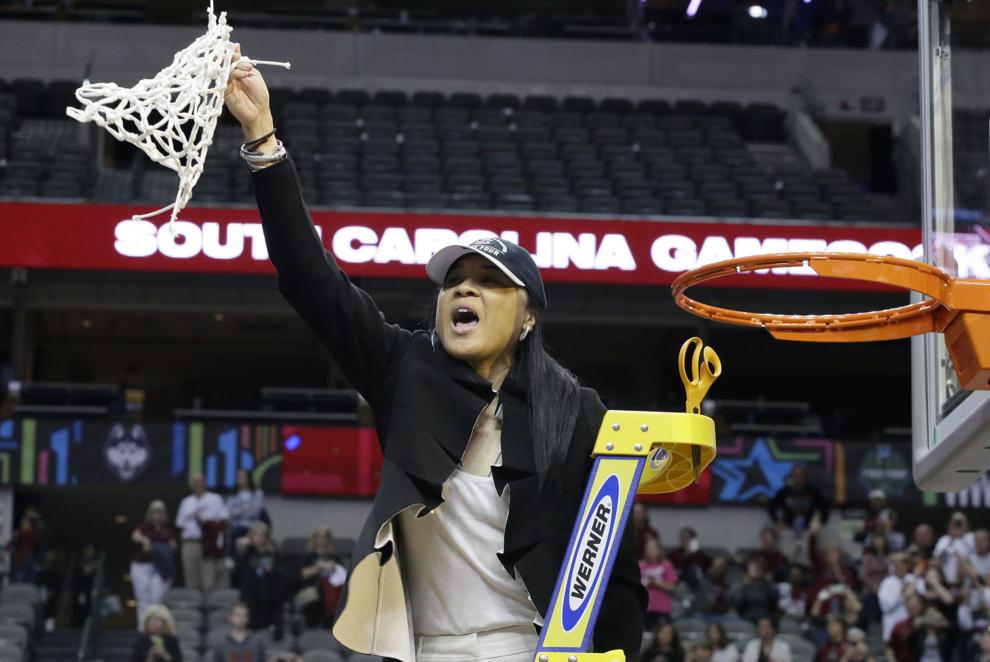 "She's a champion, and she stays a champion, and her name is always out there," said Rich Yankowitz, the former boys' basketball coach at Dobbins Technical High School, where Staley led the girls' program under the late Tony Coma to 60 straight victories and three straight city championships.
Shortly after graduating from Virginia, which Staley led to three Final Fours, she started a foundation in Philadelphia to mentor girls from the inner city. A former teacher, Carolyn Monson, said Staley continues to give back to Dobbins, both with money and time. Staley began her coaching career at Temple, which she led to national relevance in the same city where she was once featured in a mural on an eight-story building.
The lock screen on her cellphone, which proclaims "I'm from North Philly," says it all.
"My foundation," Staley said, sitting in her office in Columbia, "is Philadelphia."
'Carte blanche through the city'
The late Philadelphia newsman Acel Moore was unsparing in his contempt for the Raymond Rosen projects, which hulked over north Philadelphia for three decades until they were demolished in 1995. The complex was "an island — a black township — where crime, violence and drugs flourished," he wrote, as quoted in the Baltimore Sun. They were "filled with trash, garbage and dead rodents that rotted in hallways and stairways."
Staley grew up in the Rosen complex, and yet at a slight remove from the worst of it. The eight high-rise towers that crowded the north Philly skyline in the 1980s were the true nexus of the crime and filth Moore lamented in the Philadelphia Inquirer.
By contrast, Staley lived in one of the row homes that surrounded the towers, places that often had tidy front yards, and where the residents "thought they were upper class," she joked.
"My mom kept a clean, manicured house. Everything had order. The block that I lived on, the fourth block, we all kept our lawns cut, had flowers. We won the best block every year. There was a contest to keep the neighborhood clean, and our block always won," Staley said.
"We had a really strict block captain, Mrs. Jones. She didn't even let her grandchildren run in the yards. And all of our parents took care of all of us. We got told on if we did anything that was mischievous. It was an incredible environment, just because you learn discipline, you learn to do things the right way, or else."
Staley has said it wasn't the crime she feared but the wrath of her parents Clarence and Estelle if she ever got caught up in it. The network of mothers on the block looked after all the children, not just their own. Staley's father, a part-time carpenter, built fences for both his yard and the neighbors'. One block away, she said, the neighborhood might look nothing like the area around her home. But her little island was a sanctuary.
"Because you live on a good block, so to speak, doesn't mean you escape all the other stuff that's going on around the neighborhood," she said. "You heard gunshots, but it's not like I've seen anybody get shot or anything like that. For the most part, the people that did those types of things were somewhat respectful of kids growing up in the neighborhood."
Monson, her former teacher, saw it, too.
"The area, you could say, could be dangerous," she said. "But it was also loving because families took care of families. North Philly is a poor area, but we didn't think like we were poor. We had pride in our communities, we had pride in each other. So even though literally it was a poor area, we never took it that way."
The reputation of the Rosen homes, though, persisted. "They were tough," said Yankowitz, whose 486 victories coaching the Dobbins boys' team are the most in Philly public league history. A 1990 Sports Illustrated profile on Staley, then at Virginia, called the complex "bleak." Very early on, Staley realized basketball might offer her a way out. She had the discipline instilled from her parents, and the aspiration for a better life.
But in north Philly, there were no guarantees.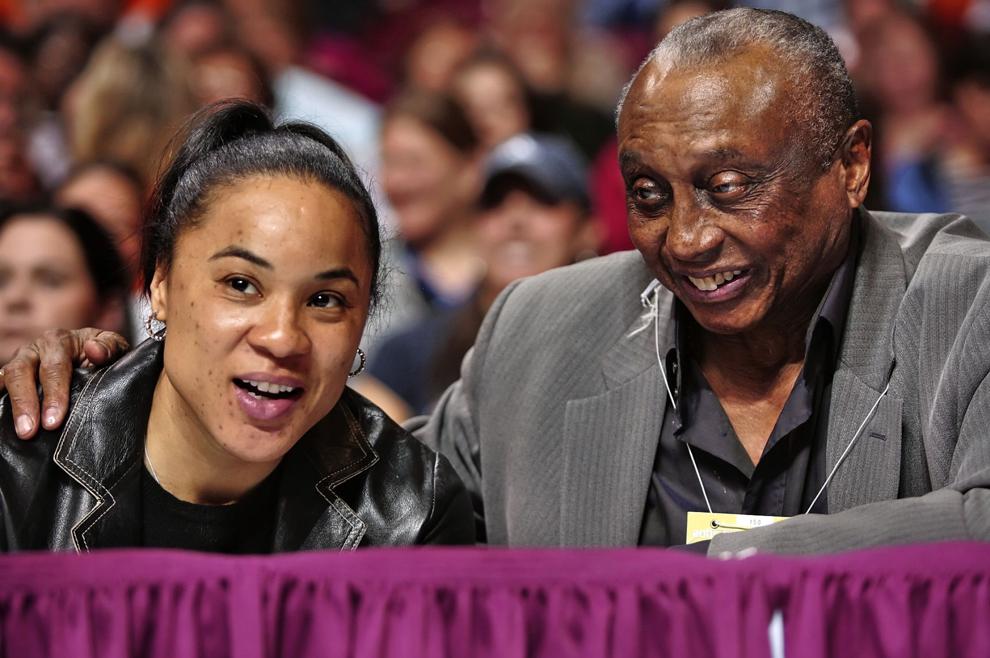 "In our community, in some tough communities, when a youngster is trying to do good, they find themselves always in jeopardy because the other kids who are bad want to bring them down," said Chaney, who coached the Temple men's team from 1982-2006. "You ever seen crabs in a basket? It's like crabs in a basket — one tries to get out, the others try to pull it down."
But Staley had something else working in her favor — an undeniable ability on the basketball court, recognized by both boys and girls. Growing up, Staley played regularly against boys, from her older brothers to the members of the Dobbins boys' team after girls' practice was over. Her prowess at point guard often made the boys look good, and made them want to play with her, and the respect she earned in return was ironclad.
"She played with guys all the time, and she was someone who made your game better. Even the worst players on the playground loved to play with her," said Debbie Ryan, Staley's coach at Virginia. "So now she's got not just a couple of brothers, but she's got a ton of brothers on the block to watch out for her. So she was always insulated in a very interesting way. Yet she was smart enough to know what the real world was."
Her reputation extended beyond the Rosen homes, and beyond north Philadelphia. "With all the drugs and the gangs in the neighborhood, if you were a ballplayer, you were respected, and they just left you alone," Yankowitz said. "If an average Joe from north Philly would walk onto a playground in south Philly, he might not come back. But a known ballplayer could go anywhere in the city. He could walk onto any playground and be left alone."
Or, in this case, she. In an era before social media and the internet, Staley didn't really break through as a nationally known phenomenon until her later years in high school. But on the playgrounds and in the rec center that now bears the name of late Dobbins boys' star Hank Gathers, they knew.
Staley was too involved in basketball to become entangled in the crime in her community. She was too involved in basketball to go home and eat, often grabbing fast food on the run instead.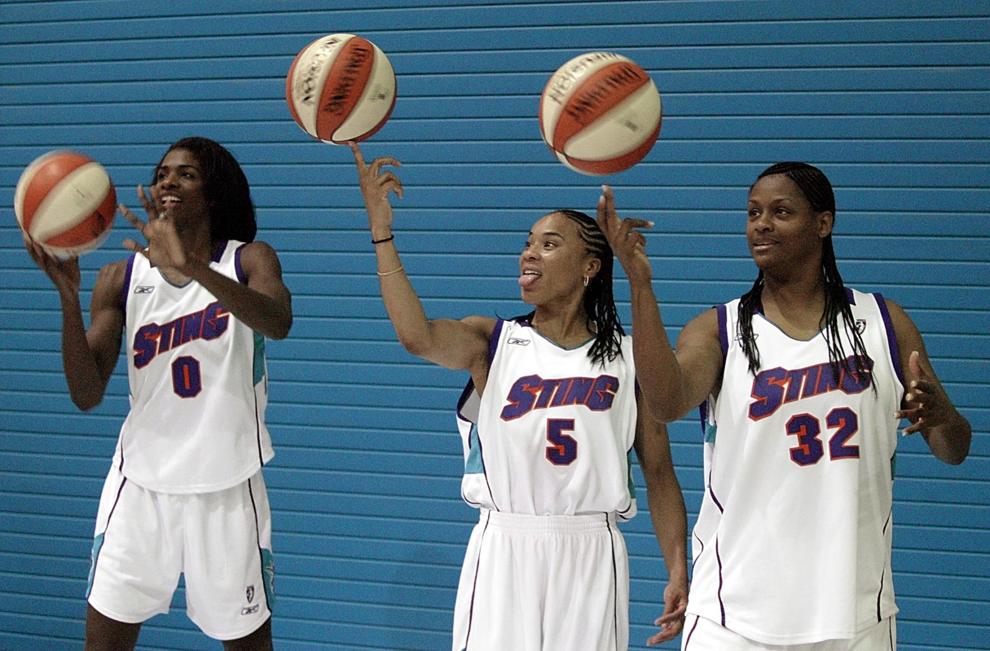 "I didn't want to do anything but play sports," she said. "I had no desire to be part of what was happening on the streets."
That's how Staley got out. Thanks to the discipline instilled from her parents. Thanks to the watchful eyes of other mothers on her block. Thanks to what Chaney calls "a carte blanche going through the city" due to her reputation on the basketball court. And thanks to a focus honed in north Philadelphia, and still evident on the bench at South Carolina even today.
"When you have a good upbringing, it's something that's inside of you, so no matter what you're going through, it won't matter," Monson said. "She was a focused young lady, and she just stayed the course. She knew what she wanted, and she knew what she was going to do to make it a reality, and she would not be deterred. It just says that it doesn't matter where you come from. Roses are going to come up where they're planted, and she is a rose."
'The Pied Piper of everyone'
It was back at the team hotel, hours after South Carolina had beaten Mississippi State to claim the program's first national championship, when Debbie Ryan finally caught up with Staley. "This is partly your trophy," the former Virginia point guard told her former head coach. "You share this with me. This is for you."
By any measure, Staley enjoyed a wildly successful playing career at Virginia, where she was a two-time ACC Player of the Year, three-time All-American, and the Cavaliers' all-time leading scorer until her record was broken in 2010. But growing up, Staley wanted two things — an Olympic gold medal and an NCAA title — because those were what she watched women athletes win on TV. The latter evaded her in college, despite three trips to the Final Four.
The first one, ended by Stanford in the national semifinals, was tempered by Staley's belief that she would be back. The second, ended by Tennessee in overtime in the national championship game, was different. Staley fouled out, beset by cramping, and a controversial call wiped out a late Virginia basket.
"Devastating," Staley calls it today. In her senior year, 1992, the Cavaliers were again ousted by Stanford in a semifinal, this time by a point. Virginia had one last chance with eight-tenths of a second remaining, but Staley's attempt at a game-winning shot didn't get off in time.
"Dawn always put it on her shoulders," Ryan said. "Dawn always wanted to take responsibility for losses. Always."
No wonder, then, that national championship claimed April 2 in Dallas meant so much to so many, even beyond South Carolina. Looking back at it now, Staley believes it was all meant to happen this way, so when her title finally came, it would reward so many more people — not just herself and her players, not just her extended community back in Philadelphia but also her former coaches and teammates at Virginia, plus the sizable women's basketball fan base she's helped cultivate at USC.
"You come to the conclusion of it really wasn't meant to be during that time, for one reason or another. Some years later, we find out why. This was probably the moment it impacted so many other people. And it still impacts the people I played with at Virginia, because they are a part of me and I am a part of them. I know they felt like they won because of what we went through," she said.
"I didn't look at myself as a failure, but I did look at myself as something that was incomplete," she added. "Some things happen for a reason. I don't know why, but in reflecting, I think it's because of the impact of South Carolina and all the fans, and how they've supported our team in women's basketball. It couldn't happen at a better time, with all the things happening in the state, it just unified. It made it bigger than the actual accomplishment."
One week after winning the title, Staley stood on the steps of the Statehouse in Columbia and addressed the thousands who had turned out for a championship parade. How different she was from the Staley who first arrived on the Virginia campus in 1988, suffering a severe case of culture shock. She had chosen the Cavaliers over Penn State because the Nittany Lions' women's basketball dorm had a communal bathroom, while Virginia's featured suites. After sharing one bathroom with six others in the Rosen complex, she was ready for a little space.
"Everything was different," Staley said of the transition from north Philadelphia to Charlottesville. "The basketball was different, the academics, socially it was different. But looking back on it, it was something I needed to go through to help me in my journey to be successful."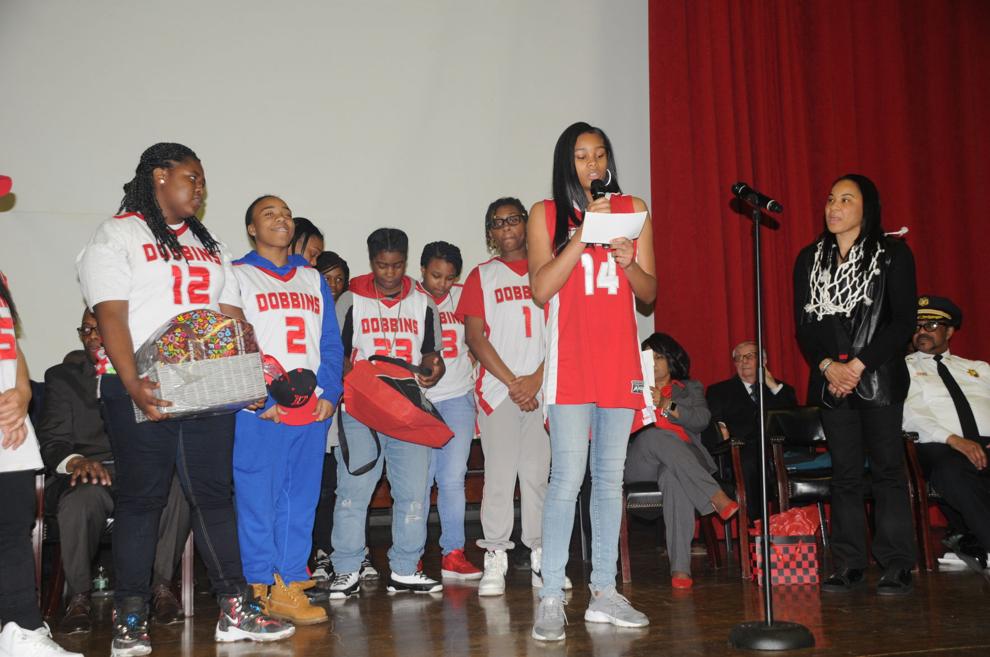 Former teachers and coaches at Dobbins readily classify the Staley from those days as shy, and not much changed after she arrived at Virginia. In the Sports Illustrated profile, Staley describes herself as "anti-social" and "a loner." That hardly seems to fit the description of the coach on the sideline at Colonial Life Arena, not to mention the figure who has become a leading national voice in women's basketball. But back then, things were different. Staley kept a small circle, associating almost exclusively with her teammates.
Ryan knew, deep down, that her point guard had the ability to be as communicative off the court as she was on it. She had seen hints of that as far back as Staley's recruitment, and how at ease Staley had been around so many different kinds of people back in her hometown. Now it was a matter of establishing that same comfort level in a different environment.
"She was someone who I always felt could interact with any kind of person, regardless of their race or their creed or their color. It didn't matter," Ryan said. "She could always relate to young and old alike. ... Listening to her talk about the range of people who would frequent their home, it was very obvious to me she was going to be really good with fans and all different kinds of people. I'll be darned if that didn't turn out to be the case. You can see, she's like the Pied Piper of everyone."
The breakthrough came one day during an offseason, when Ryan received a call from Staley's mother. "I want to know what you did with my daughter," Estelle Staley asked. "You sent home a completely different person."
Whether after home finales, NCAA watch parties or Gamecock Club meetings, Staley regularly addresses crowds in her role at South Carolina. She's even occasionally waded into political issues like the removal of the Confederate battle flag from the Statehouse grounds. "She got that from me," former Temple men's coach John Chaney said with a laugh. Staley's voice is a strong one, and it comes with plenty of clout. No one would describe her as shy or a loner anymore.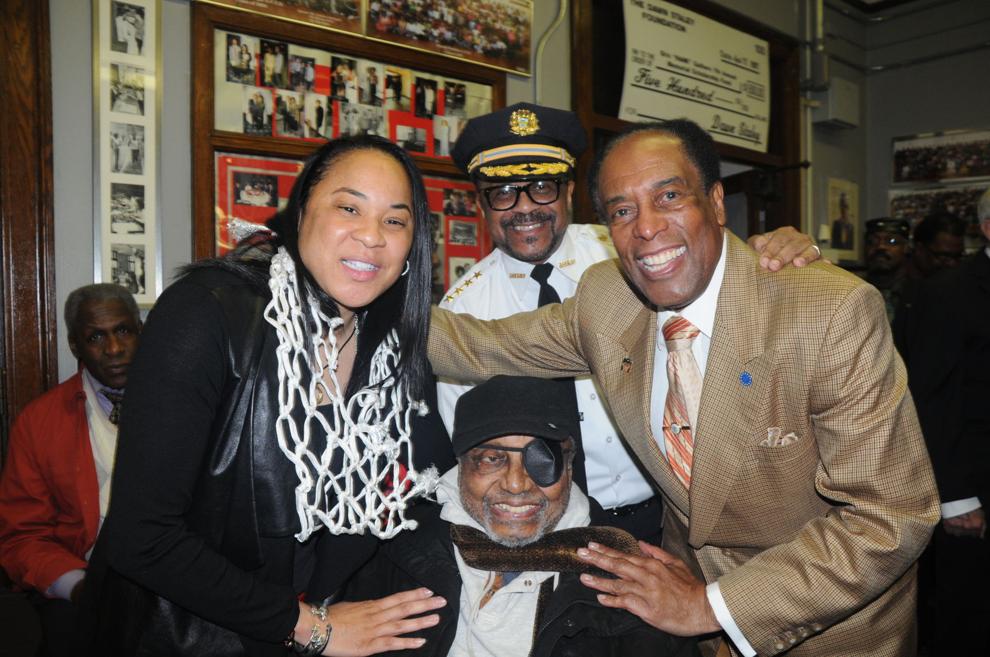 And yet, she's still not completely comfortable in front of a crowd. "Oh, I'm not, really. I just try to speak from the heart, so it's not really a struggle," Staley said. "When I speak, I'm moved a lot by something. I'm at my best in that scenario. But it just comes with the territory. It's something that's necessary at times. I know a lot of people ask me to speak at different things, and I try to exhale and figure out what would move me to speak. Because I'm not a speaker. I'm a coach."
Her success as a coach is evident in her office in Columbia, where an array of championship rings are displayed on the outstretched fingers of mannequin hands lined up behind her desk, and trophies fill a glass cabinet in the hallway outside. And her journey as a coach started in a familiar place — back on the streets of north Philadelphia, where it all began.
'She was born to lead'
Chaney could see the coach in Staley before she ever held the title for real. The former Temple men's coach once hosted a week-long overnight basketball camp for both male and female players, a rarity at the time. They charged $50 — "that didn't even pay for meals," Chaney remembered — so inner-city kids would have a chance to attend. Counselors included the likes of Chuck Daly and Vivian Stringer. And among the campers was Staley.
"Very few people are born, as I see it, for the kind of leadership that you find in a person like Dawn Staley," said Chaney, who won 516 games at Temple. "You could see the intelligence and wisdom she had in the game, being able to lead teams. You had all these great basketball players, men and women, standing around and looking down at her while she's instructing them. I think she was in her first year of high school. But you could see she was born to lead."
But coaching? Staley had no interest. She was a player, first, last and always. "I don't want to coach a day in my life," she once said, according to the Philadelphia Inquirer. But that didn't keep former Temple athletic director Dave O'Brien from pursuing her after Owls women's coach Kristen Foley moved into administration following the 1999-2000 season.
It was a perfect confluence of time and place. That year the Final Four was in Philadelphia, where Staley and the U.S. Olympic team were also training in preparation for the Sydney games. O'Brien, who died in 2014, reached out to Philadelphia's favorite daughter to take the job, even though Staley was still in the middle of her WNBA career and had never officially been a coach in her life.
"I said no. No, no, no, no, no," Staley remembered. "They kept asking. No, no, no."
O'Brien asked Staley to come to Temple so they could talk. Staley was a north Philly native and Temple is a north Philly school, so Staley felt she at least owed O'Brien the courtesy of turning him down in person. The first thing the AD asked was whether Staley could lead. The point guard and captain of the U.S. Olympic team thought to herself — is this guy serious?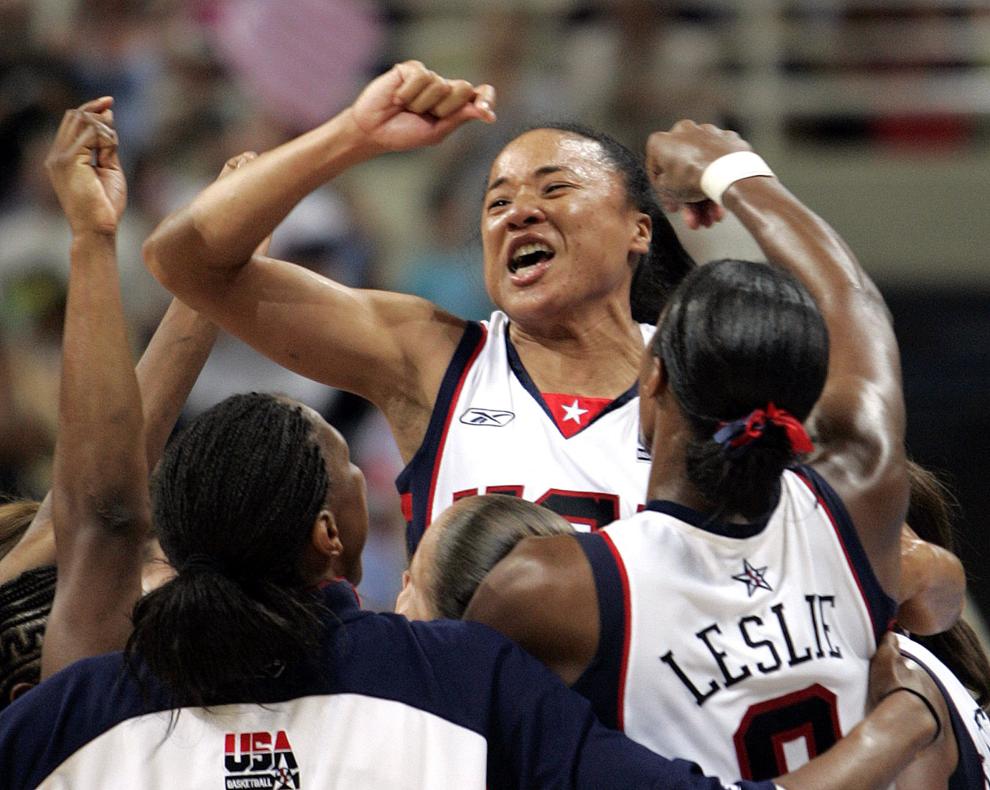 O'Brien asked Staley to walk down the hall and meet with a few more people. She entered a conference room and discovered the dozen members of Temple's search committee, waiting in ambush. They asked Staley about her plans for the next five years.
They tossed out the challenge of turning around a struggling program. Eventually, they devised a plan that would allow her to coach and continue to play in the WNBA, which she did until 2006. They wore her down.
"I don't think (O'Brien) knew he could get her, to be honest," said Foley, who became Temple's senior women's administrator and is now associate AD at William Paterson. "It was a perfect opportunity. The great thing about it was, the way the WNBA was set up, she could do both. She was a Philly native, the opportunity to come back to her roots and grow the game, I think it finally wore on her. It was just her wanting to touch young people. I think that finally got the best of her. I think she finally thought, 'Well. I've done everything else, let me at least try this.' And goodness gracious, thankfully she did."
Two weeks later, she took the job. "It was the best decision of my life," Staley said. "I didn't know it at the time."
North Philadelphia rejoiced at the news that Staley was coming home. "It was phenomenal," said Carolyn Monson, one of her teachers at Dobbins. "We were just beside ourselves. It was just awesome. Awesome."
The result was everything O'Brien and Temple hoped it would be. "It was a seamless transition," Foley called it. In Staley's first season, she had the Owls in the postseason for the first time in 12 years. The following season began a run of six NCAA trips in seven years. It worked then for the same reason it works now at South Carolina, because of Staley's intuitive nature with players.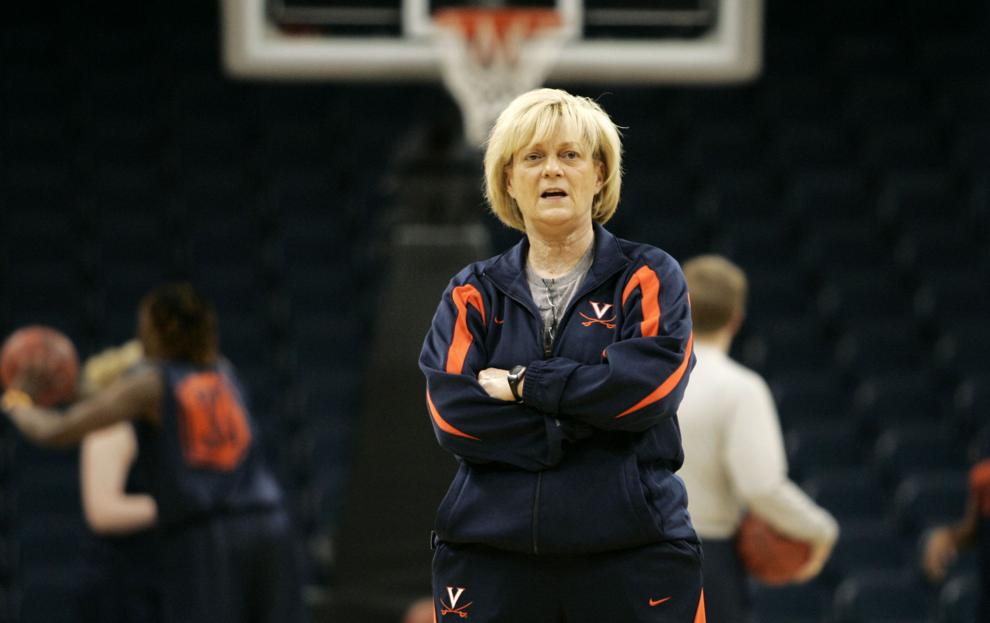 "She gets on a level with players the way not many coaches can," said Debbie Ryan, her coach at Virginia. "She talks to players in a real sense. She doesn't baby them. But she does find a way to empathize with them, because she was a player herself. She knows what they're going through. She would never baby them, because she was never babied. But she will be able to emphasize with them, to a point, and then say — toughen up, it's time to move on. She knows exactly what buttons to push, and when. And that's the key to being a really, really good coach."
It was only a matter of time before bigger programs took notice. In 2008, one was South Carolina, which had parted ways with coach Susan Walvius. The Gamecocks offered the lure of the SEC and a financial package initially worth $650,000 annually. And to Staley, there was something else — a personal tie to her parents' home state.
It wasn't north Philly; nothing ever would be. But it also wasn't completely foreign to her, given that as a child she spent some time in the Orangeburg County town of Woodford, where her parents came from.
"I kind of let my heart guide me to different places," she said. "My parents are from South Carolina, so that is a connection to South Carolina. I have family members here. It's not, 'I think I'll go.' It really has to make sense, and I have to have a connection, because I work from my heart."
But in north Philly, people were left heartbroken. "We were crushed. Crushed," Monson said. "Why won't they give her the money to stay here? But she needed her wings to fly even higher."
Added Chaney: "We're just jealous. I'm jealous that she left. Because we always wanted to keep somebody who works hard in this city, and someone who devotes their time to doing positive things for the kids, in this city."
But Temple's hands were tied. "There was nothing we could have done," said Foley, still with the Owls at the time. "We certainly couldn't offer a package like South Carolina did. It was sad to see her go. But because of all the success she had and the foundation she laid, it was easier for me to find someone who could keep the ball rolling."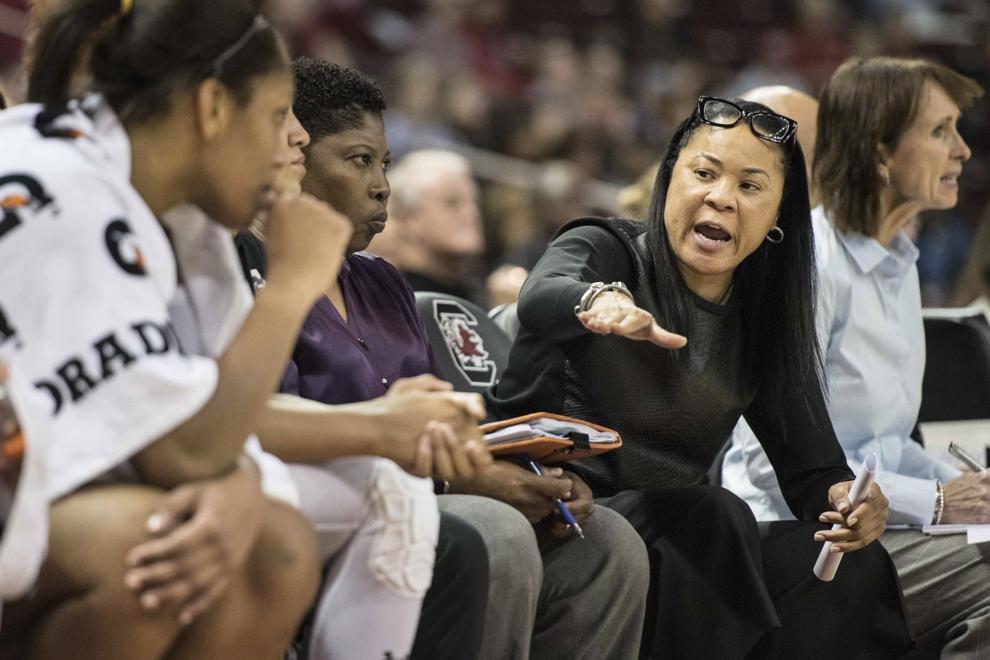 All those NCAA trips, all those SEC championships, the two Final Fours, the national title — the woman who once never wanted to coach has established herself as one of the greats in the profession. And it so easily could never have happened; had the Final Four been in another city, had it not been an Olympic year, had the opening been at a program unable to appeal to the pride Staley has in her hometown, had O'Brien taken no for an answer — who knows where Staley, and South Carolina, would be today.
"It's divine intervention," Staley said.
It was certainly an unexpected twist in an exceptional basketball career, one whose past and present collided Thursday when Staley brought South Carolina to Philadelphia to face Temple. The folks from north Philly bought up tickets months in advance, because it's always a celebration when Dawn Staley comes home.
"She's the example of someone who didn't have much and made it big because of hard work and determination," said Yankowitz, the former boys' coach at Staley's high school. "She came from the Raymond Rosen projects. She was rich as far as love is concerned from her family, but not in greenbacks. … She pulled herself up to the top level, and she's not finished yet."