DARLINGTON — But for lights added 14 years ago and a few other improvements, it's the same as it ever was. To get to Darlington Raceway, you still drive past the lumber yard and the cottonseed oil mill, until you see the low-slung buildings off Highway 52. The backstretch seats are still weather-beaten metal, and there's still the kink in the egg-shaped layout that slaps cars in the quarterpanel off Turn 2.
It still looks and feels very much like the same place where Jeff Gordon, or Dale Earnhardt, or even David Pearson won back in the day. And that sense of timelessness has become the Pee Dee track's greatest ally as Darlington tries to weather a turbulent stretch for NASCAR defined by dropping television ratings and attendance figures.
Viewership for the Fox/FS1 half of the television package, which ended with the June 25 race at Sonoma, was down 12 percent over last year, according to Sports Business Daily. Most of the early NBC/NBCSN events have seen similar declines. While NASCAR no longer announces attendance figures, the two companies that operate the bulk of premier-series tracks have reported lower attendance-related revenue, often reflected in empty seats seen on TV.
It's in this environment that Darlington prepares to host one of the sport's showcase events, the Bojangles' Southern 500 set for Sunday.
Even in good times, NASCAR's oldest major speedway has relied on tradition as its calling card. Now, with a return to its traditional Labor Day weekend and the addition of a throwback theme that's become a permanent fixture, Darlington is betting on its past more than ever before.
"Getting Darlington back on Labor Day weekend, to me that was really the main plank in stabilizing Darlington and its role in our sport," said Joie Chitwood, senior vice president and chief operating officer of International Speedway Corp., Darlington's parent company. "I really feel good about Darlington's prospects. ... I'm not sure I could ever see a season without Darlington on its Labor Day weekend, doing some special things."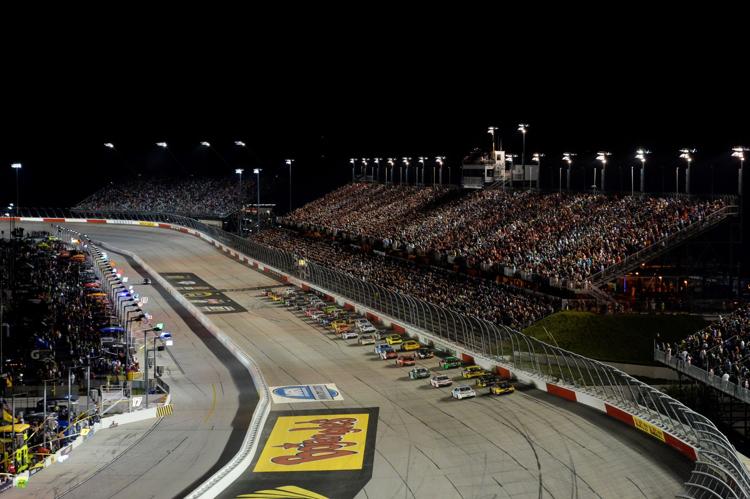 How far removed that is from the early 2000s, when Darlington lost both its second annual premier-series race and the Labor Day weekend it had called home since its founding in 1950. The track's very survival was questioned every year. It earned a reprieve thanks to lights, a new Turn 1 grandstand, and other needed upgrades added under former president Chris Browning. The track sold out three straight races on a Mother's Day weekend date where no NASCAR event had succeeded before.
Suddenly, Darlington had momentum again, and when the Labor Day date struggled first in Southern California and then Atlanta, it returned to its ancestral home in 2015. Along with it came a throwback theme implemented under former track president Chip Wile, an idea that proved so popular within the industry that driver firesuits, car paint schemes, and even the outfits of TV broadcasters began mimicking looks from yesteryear.
"One of the best moves our company has made," Chitwood called it.
It's all provided the facility with a boost of confidence, something Darlington didn't have a decade ago when its survival seemed at stake. "We expect to be on Labor Day to stay," said track president Kerry Tharp, hired in the spring of 2016 after Wile was named president at Daytona. "I think the future of our race track is very, very bright, very, very promising. I'm excited to be a part of it."
'True to the brand'
NASCAR at its heart is a sport where fans form bonds with drivers, and over the past few years several more popular drivers have stepped away. Gordon retired from full-time competition after the 2015 season, Tony Stewart after 2016, Carl Edwards prior to this year. Dale Earnhardt Jr., 14-time winner of the sport's Most Popular Driver award, does the same after this season.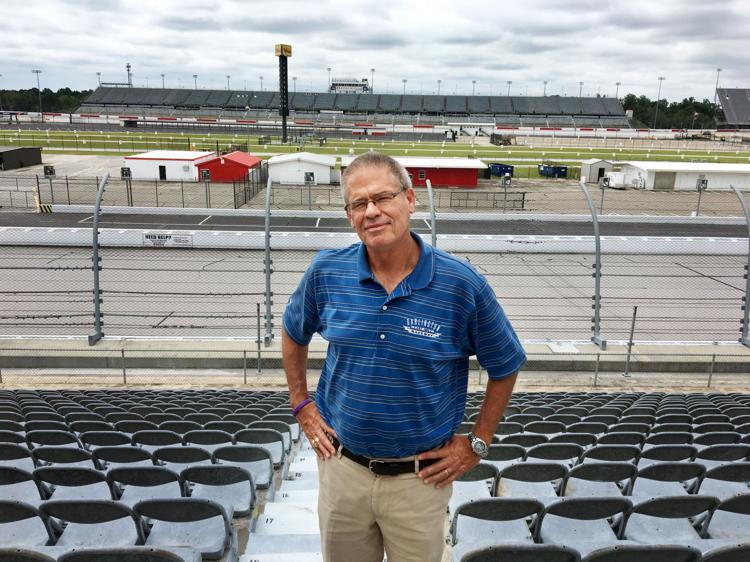 While those departures aren't the only reasons NASCAR has seen its popularity dip, they certainly haven't helped. Two recent conference calls between ISC officials and investors have touched on older fans aging out, and trying to build connections between younger fans and the next generation of drivers like Chase Elliott, Ryan Blaney and Kyle Larson.
"As the emotional connection is made with these young drivers, I think we're going to see a resurgence, and with a younger demographic," ISC president John Saunders told investors after the second quarter of 2017. "There are some short-term things that are working, and there are some things that are going to take a little bit longer to resonate."
In the meantime, though, the downturn is being felt. ISC, which operates 12 NASCAR tracks, reported a 5.9 percent drop in net admissions revenue (equating to a loss of $1.8 million) in the second quarter of 2017 compared with one year earlier. Speedway Motorsports Inc., which owns eight NASCAR tracks, reported a 1.7 percent dip in admissions revenue (a loss of $493,000) in the second quarter of 2017 compared with the same span the year before.
Advance sales for events at ISC tracks in the third and fourth quarters of 2017, a time frame that includes this year's Darlington race, were down approximately 5 percent, ISC reported in July.
"When you look at Jeff Gordon and Tony Stewart, and certainly Dale (Earnhardt) Jr. (retiring), that's having an impact," Saunders told investors.
Unlike some other tracks, Darlington is not awash in ticket inventory it will never be able to sell — with 58,000 seats, it has the third-smallest capacity of any oval track on NASCAR's premier circuit, and it has just one annual date to promote rather than two. Even so, the days of assuming sellouts anywhere are in the past, at least for the time being.
"That track has been affected. I don't think any one track in NASCAR is insulated from the peaks and valleys of the sport," said Ramsey Poston, formerly NASCAR's communications chief, and now president of the public relations firm Tuckahoe Strategies. "Which is why having a president and an enthusiastic leader like Kerry Tharp there is important. And because it's important for Darlington, it's important for NASCAR."
Tharp, who served 20 years as University of South Carolina sports information director before moving into NASCAR in 2005, brings with him a promoter's affability along with plenty of Palmetto State knowledge from his time at USC. And while ISC hopes to court new fans, Darlington also wants to win back the old ones — although the track draws from all 50 states, the majority of its ticket sales come from within a 150-mile radius of the raceway, Tharp said.
"That's the radius of the fan base that's fallen off a little bit," Tharp said. "That's why we're really focused on in-state."
The throwback theme, which this year focuses on the period from 1985-89 that includes Bill Elliott's Winston Million victory, is crucial in that approach. Tharp said the promotion helps Darlington at the ticket window, to the point where the track struck an agreement with NASCAR to make it the sport's official throwback weekend. That means no other facility is allowed to imitate the idea.
"We thought it was important to get it in writing," Tharp said. "Because when you have a great brand or great initiative, people have a tendency to copy it, which is flattering. But you have to protect your brand."
The industry has certainly jumped on board. This year's throwback paint schemes include Brad Keselowski in the black No. 2 made famous by Rusty Wallace, Austin Dillon in a takeoff on Dale Earnhardt's Wrangler scheme, and Danica Patrick in the red, white, and blue Ford livery Dale Jarrett used in his heyday. According to information the track supplied to teams, sponsors and TV partners, the throwback campaign has generated 2 billion impressions worth over $240 million in ad value.
Poston called the throwback "easily the best promotion in the sport today," and compared the strategy to tactics used by companies like Jack Daniel's and Harley-Davidson, which have successfully appealed to new generations by remaining close to their outlaw roots.
"It's just like in politics: the sport needs to secure the base and then move on to swing voters, if you will," he said. "NASCAR needs to generate more support among the average fans, really, really pay attention to these fans, and that's going to generate more excitement for the sport. That's going to attract new fans. You attract new fans by staying true to the brand."
'Don't take it for granted'
The man in charge of that brand never expected to be there. Tharp, immensely popular among both drivers and reporters in his former role with NASCAR's competition division, was preparing to work the Coca-Cola 600 in 2016 when his cellphone rang. On the other end was Chitwood, who asked if Tharp would consider becoming president of Darlington Raceway.
"Joie," Tharp replied, "I haven't been president of anything since high school."
No matter. Chitwood and Martinsville Speedway president Clay Campbell, who assisted in the search, had their eyes on just one candidate: Tharp, whose 11 years in NASCAR and 20 years at USC comprised what they viewed as the right background to run the Palmetto State's lone premier-series venue.
"We put the full-court press on him, because candidly, once we thought he would be the perfect fit, there was no other person we wanted," said Chitwood, who worked as president at Indianapolis and Daytona before moving into his current role at ISC.
"The folks in South Carolina are proud of what Darlington represents. There's real history, real heritage there in terms of being one of the building blocks of NASCAR. I think Kerry's ability to communicate that message ... brings another element of credibility in terms of what Darlington Raceway means to the state."
Although a Louisville native who attended Western Kentucky, Tharp has been connected to the Palmetto State since he arrived as USC's associate athletic director for media relations in 1985. When he left the Gamecocks in 2005 to work out of NASCAR's Charlotte office, he moved not to the Queen City but to Fort Mill, staying just inside the state line.
Mementos from his time at USC dot Tharp's Darlington office, bits of garnet and black amid items like a driver's helmet and a signed checkered flag. Tharp remains close to many of those he worked with in Columbia, including athletic director Ray Tanner and former head football coach Steve Spurrier, both of whom he still speaks with on occasion.
"He's certainly a very well-liked man," Spurrier said. "He's an excellent leader of all the people who have worked under him."
Tharp is quickly earning the same reputation in Darlington, where he manages the smallest staff (14 people) of any premier-series track in NASCAR. "He's a jewel. He's a gem," said Darlington Mayor Gloria Hines. "He has a pleasing personality. He's a people person. And I think he will do great things for Darlington."
Poston, once Tharp's boss in NASCAR communications, said a track presidency is a part-promoter, part-politician role that "comes natural to him.
"He is able to connect with people, and that connection being in South Carolina and in that community — it was easily the best decision for both Darlington and NASCAR," Poston added.
Tharp called the move "the best professional decision I've ever made, without a doubt." Much like current Gamecocks football coach Will Muschamp — whom Tharp had driven around the track at high speed during a visit to the Pee Dee — his approach is to win the state by taking the Darlington message throughout South Carolina.
"We want to immerse ourselves in the entire population of this state," Tharp said.
Darlington has held events in Charleston, Myrtle Beach and Columbia, and is trying to tap into college allegiances as well. The track sponsored a baseball game at Coastal Carolina last year, and the Chanticleers were honored before the 2016 Southern 500 for winning the College World Series title.
The national champion USC women's basketball and Clemson football teams were invited this year. The Tigers won't be able to make it because of their schedule, but Tharp expects coach Dawn Staley and some members of the USC women's team to attend. It's all part of trying to keep Darlington top of mind in the Palmetto State, which through boom and bust has remained the track's primary market — a fact as timeless as the old raceway itself.
"It's the state of South Carolina's home for NASCAR," Tharp said. "I know there are other tracks in this state, but we're the big show. We don't want people to forget that. We don't want people to take it for granted."