It began before Dale Earnhardt Jr. had started to think about his next career, much less finished his previous one. Sitting out the end of the 2016 season due to the effects of concussions, NASCAR's most popular driver was invited by NBC to help call a pair of Cup Series events beginning at Talladega Superspeedway. The cameras rolled, the race started — and network executives Jeff Behnke and Sam Flood shared a knowing glance.
"He came up to the booth and we looked at each other like, 'This can't be real, how good he is,'" recalled Behnke, vice president of NASCAR production for NBC Sports Group.
The enthusiasm, the candor, the twang — so many of the attributes that helped make Earnhardt so beloved inside the car were also present over the air. But despite suffering three concussions in four years, he wasn't yet ready to retire from driving, and he returned to his No. 88 car for the 2017 campaign. Then in April of 2017, citing a desire to step away on his own terms, he announced that season would be his last.
And NBC's full-court press began, led by Flood, the network's executive producer and president for production.
"Sam made it priority to go after him," Behnke said. "There were a lot of conversations with him to find out his level of interest in becoming a broadcaster. His love of the sport and his desire to keep NASCAR in his life … helped him make his decision."
So when Earnhardt arrives at Darlington Raceway for next Sunday's Southern 500, he'll do so not as a driver, but for the first time as a television analyst. Eight races into his second career, Earnhardt has been lauded for his on-air fervor — his "slide job!" call of the July 1 finish between Kyle Busch and Kyle Larson at Chicagoland quickly went viral — and embraced by a sport relieved to have its most popular figure still playing a starring role.
"I think it's a big deal for NASCAR, it's a big deal for the race tracks to have Dale Jr. still front and center in our sport," said Kerry Tharp, president of Darlington Raceway. "And while he's not driving, he's still talking to the masses. He's talking to the fans, he's communicating and doing a wonderful job of that. I think NASCAR is extremely blessed to still have him as such a visible part of the sport."
NASCAR continues to try and steer through a tumultuous era, where TV ratings have been mired in a multi-year slide, empty seats are evident, and even the sport's leadership is in flux due to the drunken-driving arrest of chairman Brian France. It's been hard for the racing action to stand on its own, hard for many young stars to gain traction among an older fan base. But Darlington is a track that celebrates a past many still cling to, aided by a popular throwback theme, and now augmented by a new TV analyst whose appreciation for NASCAR history fits right in with the Track Too Tough to Tame.
"He's a guy who not only was the most popular driver, not only was a very successful driver, but we all know he's a huge historian of the sport," former crew chief Steve Letarte, one of Earnhardt's fellow NBC analysts, told reporters at Daytona last month. "He understands every decade — '60s, '70s, '80s, '90s. I think that helps him, because he can relate to all the fans from the 14-year-old to the grandfather. I think that's what makes him unique."
Two of Earnhardt's races, including his debut at Chicagoland, have enjoyed double-figure ratings increases over a year ago, according to reporting by Sports Business Journal. But the others have declined, this on the heels of a Fox half of the season where average viewership was down 19 percent. But NBC's Flood isn't putting pressure on his new hire to deliver numbers.
"I don't put the ratings on Dale," he said on a recent conference call with reporters. "I put it on all of us to make it happen."
Earnhardt is ready to play his role. "I've always believed that in the universe, everything cycles. And (NASCAR) is just going through a cycle," he told reporters at Daytona. "We'll get back on top, and we'll have great days again. I think that, and I'm going to get to be a part of that. I'll be alive to enjoy it."
'Trying to find my lane'
Everybody loves driver rivalries — except Earnhardt when he was driving. He dreaded the prospect of a dust-up with another competitor that would make him the dominant news story of the following week. He hated the idea of being involved in an altercation that would be used in television commercials to promote the next race. He tried to stay under the radar, as much as a 15-time Most Popular Driver Award-winner could.
"But now that I'm on the media side, I understand what the purpose behind that type of promotion is, and why the media chooses to share that with fans and help them understand the storylines in the sport," he said on a recent conference call. "That's so critical, and I just didn't see it that way as a driver. That's just one of the many, many ways that my perception has changed."
Physically, as well as figuratively. Gone are the days of watching races from on top of a hauler. "One of the strangest things we always hear them say is, 'I've never watched a race from outside the oval,'" said NBC's Behnke. "Viewing a race from outside the oval so catches drivers off-guard, because it's such a different viewpoint."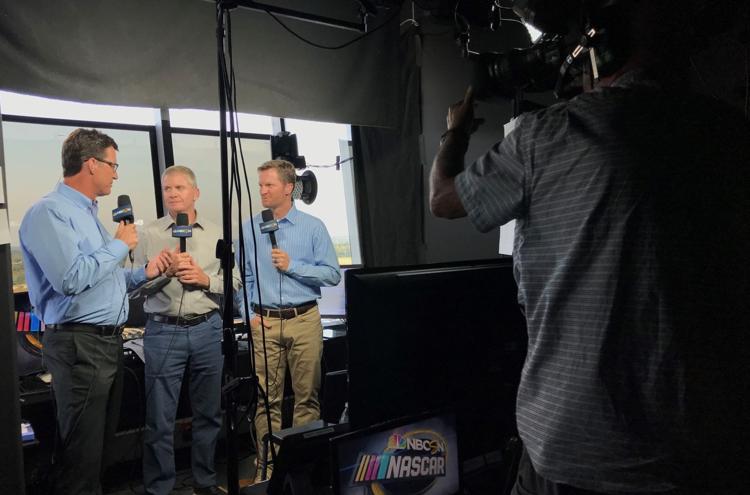 Although Earnhardt helped call a few Xfinity Series or special event races during his days as a driver, the move into the broadcast booth full-time has still brought with it a learning curve. Prior to his debut, Earnhardt took part in what Behnke called "rehearsals" — calling the Texas and Talladega races with announcer Rick Allen and fellow analyst Jeff Burton at the radio broadcast booth inside the NASCAR Hall of Fame, and calling the Memorial Day weekend event at Charlotte Motor Speedway in a suite at the track.
"I was really nervous about going in cold turkey without a whole lot of experience, and so it gave me a lot of peace of mind," Earnhardt said. "It allowed me to build a little bit of a rapport with Jeff and Rick, because we're going to need that chemistry. It helped me understand what their jobs are, and where I fit in there, and what I'm going to be asked to do and what my objectives are. It was really helpful for me."
He's had to grow accustomed to the dynamic in the booth, especially during a highly produced, 10-minute show open where Earnhardt can't just react to what he's seeing on the track. "You've got to have some thoughts," he said at Daytona. "That's probably the most nerve-wracking part."
He had to learn how to find his place to talk with three other voices, not including those of pit reporters, competing for air time on the telecast. He had to figure out when to hit the talk-back button to speak with the producer, or ask for a certain camera angle. "Trying to find my lane," he called it.
And then there's picking up the knack for continuing to talk while a producer is speaking into your ear. "You're trying to process information also while finishing what your thought is," Earnhardt said. "That's so challenging, to be honest with you. That will take a while."
He's asking a lot of questions, and taking a lot of notes.
"He's leaned on Jeff and he's leaned on Steve more than anybody, because those are guys from inside the garage who had to learn to become broadcasters just like Dale," Behnke said. "He's leaned on them heavily. And they'll all tell you, they're still learning every week."
Earnhardt said Flood has told him that he wants the former driver to be fun and carefree, bringing a vibe similar to the one found on Earnhardt's popular "Dirty Mo Radio" podcast. "I'm not having to trim off as many rough edges as I thought I would," Earnhardt said. And NBC wants Earnhardt, known during his driving days for offering thought-out opinions — he once called the Confederate flag "offensive to an entire race," and defended the rights of NFL players to protest — to speak his mind.
"These guys are hired to give their opinions and speak honestly about what's taking place on the track," Behnke said. "That's their job, and they know that going into it. Their job is to speak honestly … and they've done a marvelous job at that."
But to Earnhardt, at this point, it's mostly about having fun. "I'm watching the races anyway. I want to be at the track, I miss being at the track. So if I could hang out and watch all the races, I would," he said at Daytona. "So NBC is going to send me to all the tracks, and then they're going to pay me to talk about it. It's a dream come true, to be honest with you."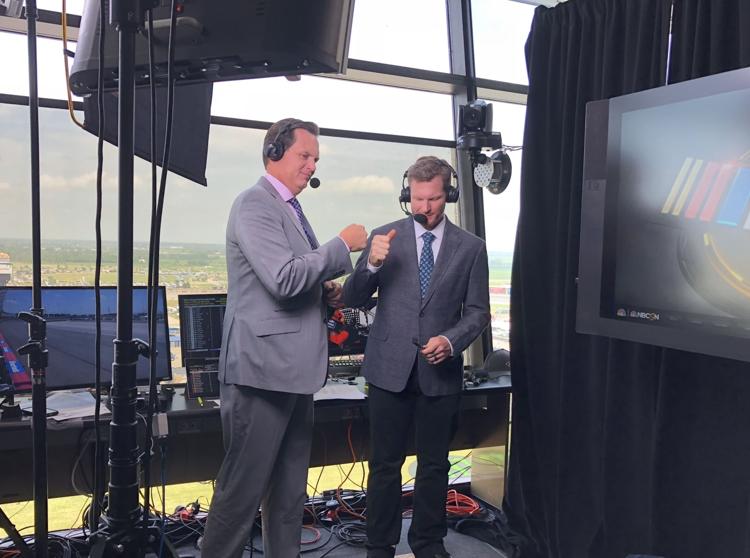 'Music to our ears'
Fans arriving at Darlington Raceway for the upcoming race weekend, which begins Friday afternoon with opening Xfinity Series practice, will notice $7 million in capital improvements. Tyler Tower boasts better sight lines, and molded seats with chair backs and cup holders. Wider bleachers have been added to the Wallace and Colvin grandstands. Some bathrooms and concession areas have been refurbished, some closed-circuit TVs have been added, and a "Wall of Honor" banner celebrating Cup Series winners now surrounds the track.
But that 1.366-mile egg-shaped oval is the same as it's always been. "We didn't touch the racetrack," president Kerry Tharp said.
Good thing, because Earnhardt is among many who like it just the way it is. Although he never won there — his best finish in 22 starts at the Pee Dee track was second in 2014 — Earnhardt's deep appreciation for the sport's history has made him a natural fit with Darlington. Earnhardt was an early backer of the facility's throwback theme, adopted in 2015 to celebrate the Southern 500's return to Labor Day weekend. He appeared in a media event at the governor's mansion in Columbia to help promote the 2017 race. And he's been featured regularly in Darlington's television commercials.
Darlington dedicated a tower last year in honor of the Earnhardt family, and Earnhardt Jr. has represented his late father at several events connected to the track's throwback theme, Tharp said.
"He's a big part of Darlington," Tharp added. "He may not have won here, but he's a big part of our throwback. He's always been very accessible to us. We're very grateful and thankful for all he's done for Darlington."
Earnhardt's Darlington contacts helped him connect with another Palmetto State institution. The longtime sports information director at the University of South Carolina before moving into NASCAR, Tharp invited then-Gamecocks football coach Steve Spurrier to the Daytona 500. The Head Ball Coach wanted to meet Earnhardt, a fan of the Redskins team Spurrier once coached in the NFL.
"They kind of connected," Tharp recalled. Spurrier gave Earnhardt a Gamecocks helmet. Once while traveling through Columbia, Earnhardt appeared on Spurrier's weekly radio program. They kept in touch, with Spurrier sometimes even texting congratulations to Earnhardt after he won a race.
That kind of magnetism attracts fans and celebrities alike. "He's a rock star," Behnke said of Earnhardt. So it was only natural for many in NASCAR to worry about losing such a popular figure when Earnhardt announced last year he was stepping out of the car. Three months later, Earnhardt signed a multiyear deal with NBC Universal — not just NBC Sports, as many have pointed out — ensuring he would remain a visible presence in the sport.
"You were hopeful he was going to still be involved in the sport in some fashion," Tharp said. "You knew he'd still be involved as an owner (of an Xfinity Series team) … but when it was announced he would join the broadcast crew at NBC, that just took it to another level. To have the most popular driver of the last 20 years still being at the track for the second part of the season — it was music to our ears."
Since then, NBC has used Earnhardt to promote its NASCAR coverage during the Super Bowl, the recent Winter Olympics, and on various talk shows. Not only is he still on television nearly every weekend, but now he's appearing outside of a car, without a helmet, and without his voice muffled by a radio connection. This is the real Earnhardt Jr., for all to see.
"Moving forward, he's going to impact so many people with what he's doing now," Tharp said. "He's impacted so many people as a driver. But he's likely to impact as many people or more now from the broadcast booth."