CLEMSON — The June thermometer read a sticky 98 degrees in Clemson on a scorching, muggy summer afternoon, and for the most part, the streets of the small, quaint college town were barren.
School was out, vacation calendars marked. The community that bustles with pride on weekends in the fall was nearly silent now on this weekday in the summer.
But on Oak Street, right behind the ever-popular Esso Club sports bar in the thick of Clemson's downtown area, the steady hum of construction echoed to break the silence. Echoes that had nothing to do with football, but maybe a lot to do with Dabo Swinney's Clemson football success.
There was the roar of a power drill and the ringing of a hammer clanking on a set of pipes.
There were builders dripping with sweat in flannel shirts and white hard hats; developers on cell phones. A slew of pickup trucks and mounds of red dirt accented a group of warm, beige townhomes in their final stages of construction.
Tucked into the corner of the site, a white banner told passerbyers the story.
"Coming August 2018," it read with large, green lettering.
"Pre-Leasing Now. Walk to Campus. Walk to the stadium. Walk to downtown."
The townhomes, of which there are now 37, are drive-to-the-front structures that are three bedrooms, three baths. Great Southern Homes' Michael Nieri had them built mostly for student housing purposes renting out at $695 per bedroom.
But at some point, with the help of close colleague Joey Martin of JW Martin Real Estate in Clemson, Nieri thinks he might like to sell the units as condos for ownership. 
When that time comes, the duo happens to know just the demographic they think will pounce to buy.
'Some people like football'
Construction of apartments and condos are booming around most large universities as cash-strapped schools boost enrollment but lack on-campus space for new housing. This is nothing new. But in Clemson's case, it goes a step further.
Now that Swinney has molded the Tigers' program into a national powerhouse with consistent dominance — the Tigers are preparing for a fourth consecutive College Football Playoff appearance — the demand from fans and alumni ready to purchase a second home in Clemson specifically for football purposes has climbed. 
Real estate markets only perform as well as the greater economy around them, and it is of course important to factor in the reality that with or without Swinney, Clemson's economy would still be far better off now than it was in 2008, when he took over the head coaching job and the recession was taking its toll.
But the Clemson coach, a former commercial real estate agent himself, has also done his part in substantially boosting the economy of the small college town he loves so much via his numbers on the field. Though the relative impact is hard to evaluate — real estate is booming around most other campuses in the South, too — Tom Winkopp, a prominent realtor in the Clemson area who has been perfecting his trade for 30 years, has sold more than 100 of what he calls "sports-related condos" since 2003, when Swinney first came onto Clemson's staff as a wide receivers coach. Martin is coming off of yet another busy spring/summer cycle that featured that same demand.
"There definitely is an upward trend of families — usually past alumni — that are coming down looking for a second home for tailgates and things like that," Martin said. "Everybody wants to be associated with a winner."
"Some people like to go to the beach, some people play golf," Nieri followed.
"And some people like football."
Swinney has created a product the latter can't resist.
'Wouldn't have happened without Dabo'
It's now Saturday, Nov. 17th, the day of the Clemson-Duke game, and Bob and Susan Hambright's television has the wacky Ohio State-Maryland game playing in the living room of their Valley Walk flat in downtown Clemson.
There is a giant hanging of a Tiger portrait above their couch and Clemson decor everywhere.
The door to their upper-deck porch is open, where dozens of corn-hole players and tailgaters alike are socializing.
The couple loves to watch the scene unfold in front of them, then walk the five minutes it takes to get from their living room to Death Valley once game time rolls around. You can see the stadium from their building.
Together, the two of them are just two of many faces representing the trend that Swinney has now made popular: they are a financially stable couple who love Clemson and who could have bought a vacation home anywhere, but were enamored enough by the product Swinney puts out each week that they felt compelled to make a hefty financial investment in the form of purchasing a home overlooking Death Valley.
Bob, a 1970 Clemson mechanical engineering graduate, has been going to games since he was 10 years old. Clemson runs in his blood and now that he is retired from his job as the CEO and former division president of Balfour Beatty Construction, he is the chair of Clemson's University Foundation.
His wife, Susan, whom he met at the wedding of a mutual friend and married 42 years ago, is a Furman gal who caught the Clemson bug early.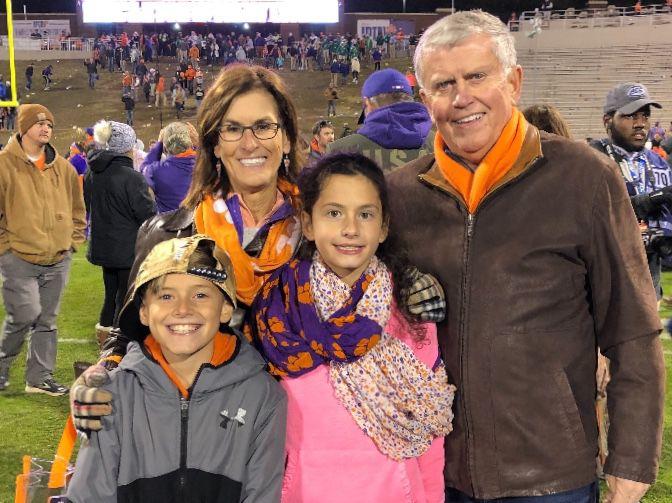 Since 1996, Bob and Susan have regularly had season tickets to Clemson's football games, but as former residents of Charlotte and current retirees in Blowing Rock, N.C., they always found themselves in the same pinch every weekend for years.
"We never saw the end of a game," Susan said.
"Thirty seconds before the game was over, if we were ahead, we would bolt for the exits and try to make it to our car," Bob followed.
"Or if it was a night game, we would just have to get a room in Clemson for $500 a night or in Greenville — and then you've still got to try to beat the traffic."
Inspired by the product Swinney was masterminding as Clemson started to climb the ladder on the national stage, about four years ago, the Hambrights decided it was time to buy a second home in Clemson for game day festivities and Bob's trips to the university for foundation meetings. 
This year, they upgraded and bought a condo at Valley Walk that meets all of their needs.
Winkopp helped the Hambrights find their condo alongside his co-worker, Susie Kohout, who knew exactly what the couple was looking for.
Like many in their same situation, the Hambrights wanted something no-fuss and easy to manage within walking distance of the stadium. That was the non-negotiable criteria.
But to even buy a second home at all, Swinney had to make it worth their while first. Football coaches are constantly evaluated by wins and losses, but in Swinney's case, it's easy to lose sight of the economic impact he has had on a greater community over the years, too.
"The product was beginning to be very good under Dabo and a lot of fun under Dabo and I just told Susan, 'As long as Dabo is the coach here, football is going to be a lot of fun. And it's one of our passions,'" Bob said. "We just said, 'You know what? This just makes too much sense.'
"It wouldn't have happened without Dabo."
The numbers
A friendly man with an inviting office and a wealth of knowledge, Winkopp has been working in Clemson's real estate market since he graduated from the university about 30 years ago.
Like Martin, he knows his data.
The period Swinney was a receivers coach, between 2003 and 2007, was perhaps the greatest block of time for real estate in Clemson that Winkopp can recall in his three decades. It was then followed by one of the worst times in 2008, when the recession hit.
Swinney can't be credited for the market success of 2003-07 as a young newcomer assistant, nor can he be associated with the 2008 crash, either. But he can be a complementary factor during the good times.
That's how he plays his role.
What Winkopp and Martin both see is that the real estate market tends to boom when the economy is stable on its own, but it is noticeably supplemented by Clemson athletics programs simultaneously excelling — which is exactly what has happened over the last several years with the football team.
It's not uncommon for people to want to purchase a second home specifically with a basement so they can rent it out during game days and have additional income to put toward their mortgages, Martin said.
It's also not uncommon for Winkopp to hear of hopeful buyers writing letters to current owners, inquiring about purchasing their homes from them so they can get in on the trend.
Often times, parents of a booming Clemson student population that has doubled since Winkopp left in 1984 will even purchase property for their children to live in, then either sell it as an investment once the children graduate or keep it for football and tailgating purposes later.
According to data Martin highlighted from the Western Upstate Multiple Listing Service, from January of 2008 to May of 2018, the average sale price of 46,009 listings in Clemson rose from $166,878 in January of 2008 to $203,909 in May of 2018.
The recession does play a large part in that, but consider this: from 2016 to 2017, which is when Swinney would have won Clemson's first national championship since 1981, the average price of a home sold rose from $179,855 in 2016 to $197,111 in 2017 — a 9.6 percent increase in one year.
The data says 314 homes were sold in 2017, up from 305 in 2016 and 255 in 2015. More people interested in the area not only helps spike Clemson's real estate market, but it boosts the town's overall economic flow, too; restaurants are fuller, apparel stores are more popular and local businesses are able to compete with behemoth chains.
"People are thirsty to be led by people like Dabo," Winkopp said.
"And if they're going to make a big investment, why not do it in the place where they had some of the best times of their life?"
'I take a lot of pride in that'
As he prepares for his fourth straight College Football Playoff run in as many years with a 114-30 overall record at Clemson, Swinney knows his role in helping to expand Clemson's economy and views it as a responsibility to take care of the place that has done so much for him.
Well rehearsed in the world of real estate, given that Swinney has his MBA, the Alabama native knows that one person cannot change an entire town's economy.
But he also knows the piece he can play in the bigger puzzle, and because of what he has learned in his real estate studies, he's able to market Clemson in a way that other head coaches around the country might struggle with. He even helped Winkopp advertise his premiere hotel, The Abernathy, as a spokesman of sorts to get the word out. Winkopp thanked Swinney by giving him a condo of his own where Bob and Susan Hambright live, but the reward wasn't important to the Clemson coach like the responsibility of helping Clemson's economy was.
"Absolutely, I know that it matters," Swinney said. "Football matters in Clemson and we're not the house here, but we're kind of the front porch if you will because people ride by and that front porch matters — the curb appeal.
"Make no mistake about it: there's a lot of people that probably want to check out Clemson because maybe they saw the game on TV or whatever and they got a chance to see the environment a little bit and so they want to come see it.
"I do take a lot of pride in that."
Through the years, Swinney has met lake-goers from Ohio, vacationers from Hawaii and hikers headed to the Blue Ridge Mountains. He jokes about how cool it has been to see the emergence of a Starbucks or a Lowe's or a Wal-mart in the 16 years he has been in the area and what it all means to him.
Part of Clemson's boom is because of the area and the outdoors. Upstate South Carolina offers lakes and mountains in a reasonable radius.
But a large part of it is also the effect of one coach on a football-crazed town where the two have become a perfect match for one another.
"The fact that (fans) want to be a part of it and they're like, 'You know what? I'm just going to get a place,' I think that's really cool. I really do," Swinney said. "And it's been great for our economy and certainly great for our environment.
"It's awesome. I love that."