The stuttering beats of "Alive" by Lil Jon greet The Citadel football team as the Bulldogs hit the practice field for an early morning workout.
During the stretching period, it might be the soothing vocals of The Weeknd and Kendrick Lamar's "Pray for Me" pouring out of the "funk trunk."
Or when it's good-on-good for a goal-line drill, the classic rock of Scorpions' "Rock You Like a Hurricane" could roar across the field.
There's a song for every segment of practice during the Bulldogs' preseason camp, the playlist curated by director of strength and conditioning/DJ Donnell Boucher.
"Coach D does a good job," said senior center Tyler Davis. "He surprises me sometimes. An album comes out one day, and he's already playing it the next day. That gets everyone hyped up."
Music at practice is not for every coach. New Florida State coach Willie Taggart introduced tunes at the Seminoles' bowl practices last year, after years of workouts that were dominated only by the sound and fury of Jimbo Fisher's voice.
Citadel coach Brent Thompson and former Bulldogs coach Mike Houston began cranking tunes at practice when they were at Lenoir-Rhyne, and brought the funk with them to The Citadel in 2014.
"When we got here, we thought the practices were a little dead and stale," Thompson said. "So we pumped it up some."
The music keeps the intensity up at times when practice might start to drag, players said.
"Music is a big part of life," said senior safety Aron Spann. "Everything is about rhythm, and music can either lift you or keep you down. This team responds well to music, and we feed off of it."
With the help of Spotify, Boucher synchs the songs to the rhythm of practice.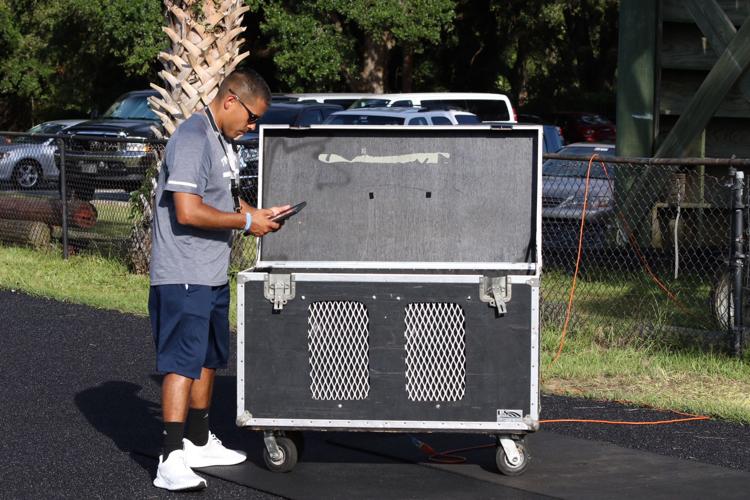 "It helps focus the players," Thompson said. "They know when it's an individual period, a teaching period, and the music is a little bit lower and it's background noise.
"But they also know when we are picking up the pace of the practice, like in a two-minute drill. The adrenaline is pumping, and we kind of amp that up a little to imitate the game atmosphere."
The loud noise can also prepare players for third-and-goal in front of the Wofford student section.
"Sometimes in games, I can be standing right next to a guy and I can't hear what he's saying," Spann said. "So communication is big in our signals and calls."
Boucher's playlist is dominated by the latest hip-hop (Drake, Rae Sremmurd, Gucci Mane, Migos) and classic rock (Aerosmith, Red Hot Chili Peppers, Rage Against the Machine). But he'll drop in the latest bro-country hit, and can range from the Celtic punk of Dropkick Murphys to soundtrack themes from "Conan the Barbarian" or "Starship Troopers."
Thompson's only request? Keep it clean, or at least use the clean version.
"Music is involved in their lives all the time," Thompson said of the players. "They listen while they do their homework, they walk around with the headphones on more than you and I ever did.
"I know a lot of coaches don't like it," he said. "They think it can be distracting at times. But we've gotten to the point as coaches where we don't even notice it."
Highlights from the 🐶 2nd scrimmage Saturday night.#FireThoseCannons pic.twitter.com/WYp8KJsh0L

— The Citadel Football (@CitadelFootball) August 19, 2018
Also, Thompson said, the players have to earn the right to get jiggy with it at practice. Last year, after a 56-20 loss at Furman late in the season, the coach shut off the speakers for the rest of the season.
"I canceled it all after that game, I was so mad at them," he said. "But we brought it back this year. This is a different group of guys and a different season."
Maybe this year, the Bulldogs can rock on all season.
Notes
• Citadel soccer scored a big victory with a 3-2 win over North Florida on Sunday. North Florida, of the Atlantic Sun Conference, was 9-6-1 last year, including a 2-0 win over the Bulldogs. Katherine Arroyo, Kessy Bradshaw and Logan Dix scored for the 2-0 Bulldogs, who host Francis Marion on Friday.
"It feels fantastic," said coach Ciaran Traquair. "We looked back at our performance down at UNF last year and it was a really, really tough game. I look back on that and saw how difficult it was on us physically, and we challenged our team to not allow that to happen her at WLI Field. I think our players were absolute Bulldogs the entire game. It ebbed and flowed a little bit here and there with the scoring, but I never really felt like we were going to lose the game because the work rate was just so high."
• Freshman soccer player Lee Winroth, a record-setting age-group weightlifter, has left The Citadel to accept a professional contract to play in her native Sweden.