Less than three months ago, Stefano Peschiera, Enrique Arathoon and Paris Henken were surrounded by and competing against the best athletes in the world on the biggest stage in sports — the Summer Olympic Games in Rio de Janeiro.
Immersed in the glitz and glamour of the event, the three College of Charleston sailors, though representing their home countries, competed on Guanabara Bay as the planet watched and cheered them on.
Today, however, more than 4,500 miles away from the lively lights of Rio, things have calmed down. You can catch a glimpse of these three College of Charleston sailors wandering the streets of downtown Charleston, studying at the library, eating at the student cafeteria and, of course, practicing with the nationally ranked College of Charleston sailing team on the Cooper River.
"The whole Games were an incredible experience," said Peschiera, who competed for Peru. "My biggest thrill was when I went into the Opening Ceremony and got this weird feeling of excitement that is so difficult to explain.
"I almost cried when I was walking and realized that it was real, and that all the work and sacrifices I had made had paid off and it had been worth doing."
Savoring the moment is hard to do knowing all of those countless hours are being put to the test. However, nothing is as special as being the flag bearrer for your country. Arathoon carried the El Salvador flag during the closing ceremony and said he spent time talking with American gymnast Simone Biles. Apart from meeting tennis stars Rafael Nadal, Andy Murray and Novak Djokovic, Arathoon said he chatted and took photos with NBA superstar Kevin Durant.
"All the famous people are just normal human beings like me," Arathoon said.
Like Arathoon, Peschiera also spent time with Biles during the final event of the Games.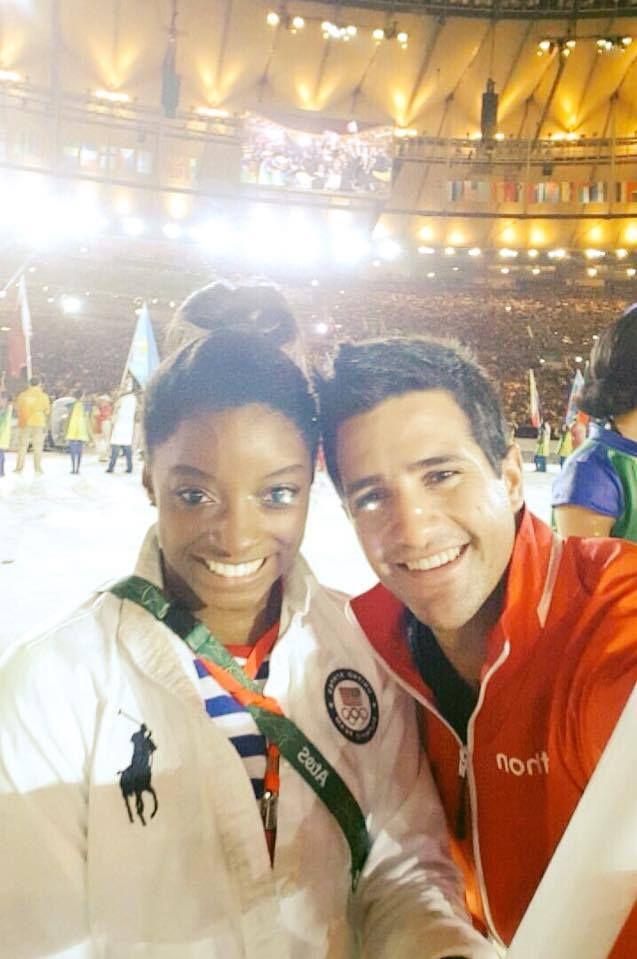 "It was an incredible moment. I realized how humble Olympic athletes are," Peschiera said. "I am not the kind of person that tries to take pictures with all the famous athletes, but my mom has been a fan of gymnastics her whole life and my grandmother qualified for the Olympics in Moscow in gymnastics. That's why when I saw her (Biles), I asked her for a picture and thanked her for making the sport so exciting to watch."
Peschiera said he also met some other well-known international superstars.
"I met Nadal, my coach is Spanish and he knew him, so he introduced me," Peschiera said. "I met Juan Martin del Potro, silver medalist in tennis for Argentina, went to watch him at the finals. I also sat down on the same table with Usain Bolt. He would sit with different random athletes every day to make new friends. They all demonstrate that you can be the best at your sport and still be humble.
"My largest takeaway was the experience of being at the Olympics, both as a person and as an athlete. It is something that only a selected group of people get to experience, and I was lucky to be there. I learned how the process of the Games work and learned a lot of things that will help me on my road to Tokyo in 2020."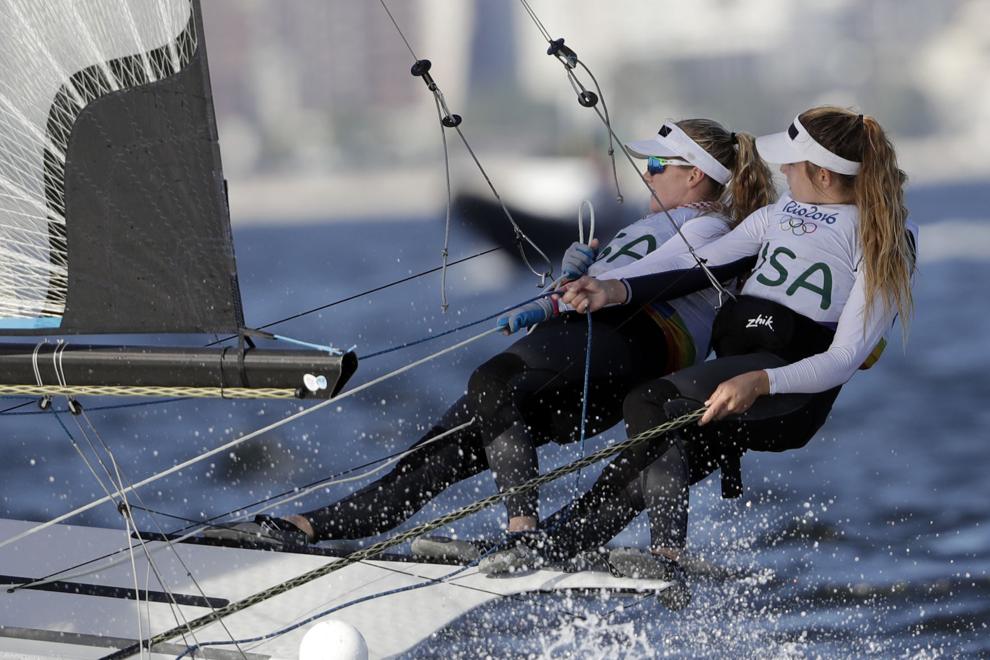 On the water
Henken, from Coronado, California, sailed with Helena Scutt, from Kirkland, Washington, and advanced to the medal round in the Women's 49er FX Class, finishing 10th overall in their fleet.
"Every moment of the Games was pretty thrilling, however I think the biggest thrill I had was when Helena and I won race 5," Henken said. "We were leading the race from start to finish, and to come away with a win in one of the races was awesome."
Peschiera and Arathoon raced against each other in the Laser Class. Arathoon, who had a pair of top-five finishes during the preliminary round, ended up 24th overall in the 46-boat fleet; Peschiera was 31st. The two were also joined in the Laser Class by former College of Charleston star Juan Maegli, who was competing in his third straight Olympics. Maegli, who was the 2013 college sailor of the year, finished a career-best eighth overall.
"I am really happy to be back in Charleston," Peschiera said. "I didn't perform as I expected at the Games. I would continuously think of the great moments I was going to have back at school and in college sailing."
Back to school
Henken is the second woman to sail for the College of Charleston with Olympic experience, following Deborah Ong, whom competed in the women's 470 for Singapore at the Beijing Olympics prior to enrolling at the College of Charleston.
"I was very excited to be back in school," Henken said. "I began full-time campaigning in December of 2014, so to finally go back to school and be in the same place for more than two weeks is a pretty good feeling."
To reach the Olympics, Peschiera, Arathoon and Henken each took different roads to Rio and spent the last several years training and traveling the world just to get a chance to qualify for the Olympics. Even with all that going on, they each had the full backing of the College of Charleston and the sailing program.
"They are very supportive when it comes with being absent from classes," Arathoon said. "Professors are very understanding and give us the flexibility to keep with our campaign while we accomplish our academic goals."
It has also become a sense of pride for the College of Charleston to see its athletes competing internationally.
"It is so much fun to watch our team embrace the return of our Olympians — Paris, Enrique and Stefano. Certainly, they represented their respective countries at the Rio games, but also their C of C teammates," College of Charleston director of sailing Greg Fisher said. "It's amazing how humble they are and how much they enjoy their return to college sailing, the challenges of the different style of racing and the time with their friends and their teammates."
Henken has made the biggest adjustment of the three, going from the high-performance, state-of-the-art 49er FX skiff to the smaller and slower college-sailed 470s and FJs.
"It has been sort of hard to switch into a collegiate sailing mindset since the boats I sail for the Olympics are fairly different," Henken said. "FX sailing was a lot about boat speed and boat handling and it was fairly easy to get good at going fast to a corner of the race course and extending from there.
"For me at least, it has been a transition into a slower boat and focusing more on tactical decisions throughout the race course. Everything about college sailing will help with Olympic sailing, and the more practice and experience you gain will ultimately help your sailing in any type of boat."
The move from Olympics to college has not slowed down Peschiera and Arathoon, who along with teammate Gerald Williams competed at the ICSA Singlehanded championships in Galveston, Texas, over the weekend. Williams finished second, while Arathoon and Peschiera finished fourth and fifth, respectively. They have helped the College of Charleston coed team to a No. 4 ranking, while Henken has competed as the
A-skipper in several events for the No. 7-ranked women's team.
The offshore team, skippered by York-native Jordan Wiggins, also competed last weekend and finished third at the Kennedy Cup in Annapolis, Md.
Sophomore sailor Carter Cameron grew up in Mount Pleasant, went to Wando High and learned to sail at Hobcaw Yacht Club. As a result, he has seen the success of the College of Charleston on the water up close.
"I always heard about how successful the College of Charleston sailing team was and knew it was something that I wanted to be a part of," said Cameron, whose father John Cameron, U.S. Coast Guard (Retired), is the Executive Director for the Charleston Harbor Pilots. "That's the thing about this team. It doesn't matter if you're on an Olympic team or if you're the only kid from Charleston on the team, everybody is humble and motivated and great friends with each other."
As Cameron pointed out, the College of Charleston has a rich history, and part of that history is producing athletes who have gone on to compete at the sport's highest levels. This was the seventh consecutive time the Cougars were represented at the Summer Olympics.
Americans Jim Brady (1992 silver medalist in Soling Class) and four-time Olympian John Lovell (1996, 2000, 2004 silver medalist in Tornado Class, and 2008) are the only other College of Charleston sailors who have competed in the Olympics. Andrew Lawrence (2012 basketball for Great Britain) is the only other Cougars athlete to participate in the Olympics.
Lowcountry Love
The decision to attend a certain college may weigh on many factors, but one thing these three sailors all realized – Charleston was a special place and the sailing teams' tradition was a huge lure.
"When I decided to campaign for the Olympics, I found out C of C was one of the best sailing schools in the nation, so my dad convinced me to apply," Peschiera said. "I visited Charleston and fell in love with the city and the people in and also outside of the team. I didn't try to go to any other school and I have been really happy these past two years in Charleston.
"When I compete at other schools during the weekends, I always miss Charleston and realize that there is no point of comparison for this amazing and dynamic city."
Henken's transition from the West Coast has been made easier thanks to the weather here in the Lowcountry.
"I grew up in San Diego so going to school on the East Coast was definitely different than what I was used to," she said. "The sailing program is amazing and while some other sailing schools have to experience snow conditions during this time of year, we enjoy 80 degree weather."