For the past 51 years, Ralph Lundy has started his day with almost the same morning routine.
Get up just before dawn, most mornings at 5 a.m., shave, grab a quick bite to eat for breakfast and head to the soccer field. As either a player or coach, soccer has been Lundy's life for more than half a century.
Lundy, 69, has been a college soccer coach since 1976, the past 33 seasons at the College of Charleston, but according to him, he's never worked a day in his life.
"I was lucky because my vacation became my vocation," Lundy said. "This is what I love to do, so it has never felt like work to me, it's been just the opposite."
The College of Charleston paid the ultimate tribute to their longtime men's soccer coach before Saturday night's match against William & Mary when the field at Patriots Point in Mount Pleasant, was named Ralph Lundy Field.
This summer, the school announced his retirement at the end of the season.
"It's been such an honor to be head coach at the College of Charleston," Lundy said. "This has been a very humbling experience for me and my family."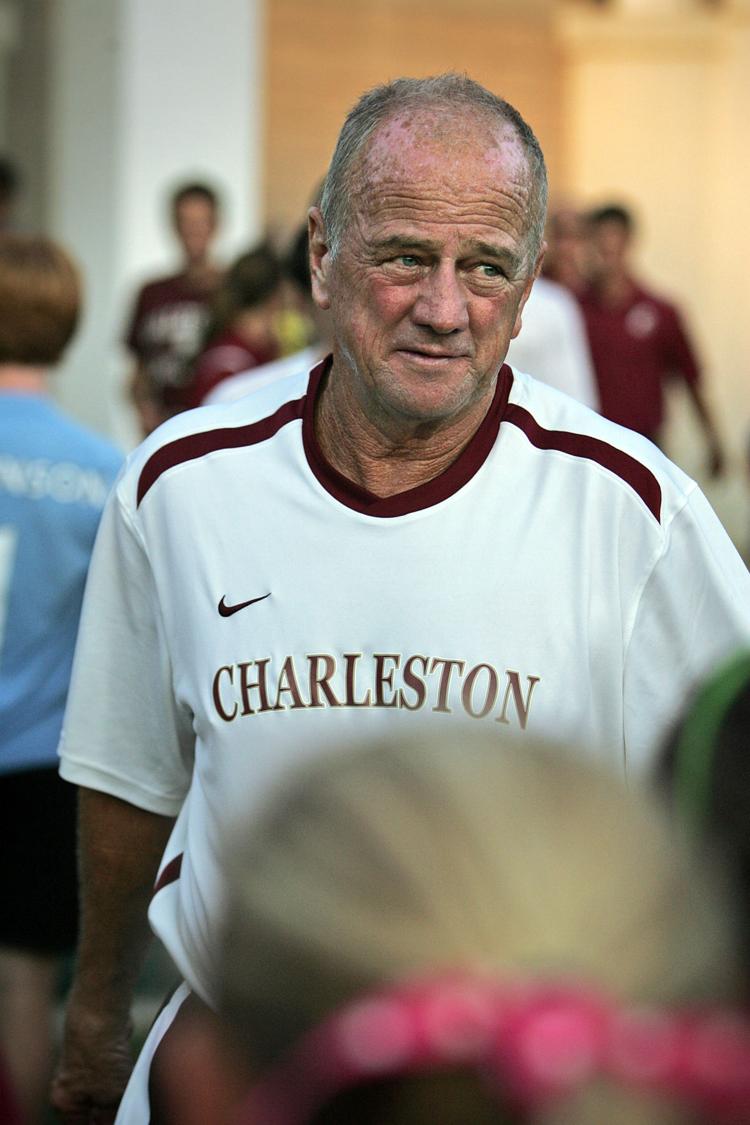 Players from as far back as his days as head coach at Erskine College, where he was the head coach from 1976-86, came to pay tribute to Lundy on Saturday night.
"It's something that he has definitely earned," said former College of Charleston midfielder Troy Lesesne, who graduated in 2004 and is now the head coach for the USL's New Mexico United. "If you think about the College of Charleston, not only just the athletic program, but the school in general, you think synonymously about coach Lundy. This is a great way to honor him by naming the field after him. I think it's incredible, deserved and long overdue. I think this was something that should have been done 10 years ago."
The numbers speak for themselves. Lundy's 451 career wins at CofC and Erskine rank 23rd all-time in NCAA men's soccer history and fourth among active Division I coaches. He has guided the Cougars to 321 wins, 19 winning seasons, six conference championships and five NCAA Tournament bids, including an appearance in the Elite Eight in 1994.
"Ralph is an institution at the College of Charleston," said College of Charleston athletic director Matt Roberts. "It's not only what he's done at the College of Charleston, but what he's done in the Charleston and in the region for the sport of soccer.
"Through his camps, through his teachings, through his coaching, he's touched so many lives through the sport of soccer. What a fitting way for us to honor him to name a field that he helped bring to fruition. It will forever hold his name."
The program has come a long way since Lundy arrived in the Lowcountry in 1987. It was former College of Charleston basketball coach John Kresse who helped lure Lundy from Erskine, where he had compiled a 130-71-13 mark. He had also beaten the Cougars 16 times while at Erskine.
"I really didn't want to come to Charleston, I had a good thing in Erskine, but coach Kresse and (former CofC president) Harry Lightsey got me to see the potential of this program," Lundy said.
The Cougars had lousy facilities at Remley's Point, a couple of makeshift trailers were used a locker rooms as players and fans were bombarded by mosquitoes during practices and games.
"We were not the Cougars, our nickname was the gnats," said Jamie Guyan, who played for the Cougars from 1993-96 and served as an assistant coach from 2001-04. "You can't imagine what it was like back then unless you were a part of it. You can't understand what he's built and meant to the program."
Slowly, Lundy began to build a program that wouldn't back down from any of the elite teams in the country. A turning point came in 1988 when he convinced a top-10 Notre Dame team to play against the Cougars during their fall break.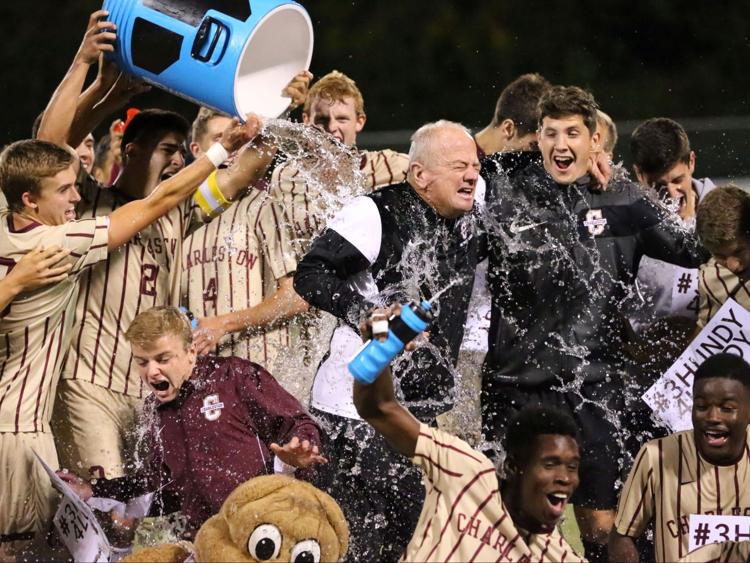 "We got bleachers from anywhere we could find them and ended up having about 3,000 fans show up," Lundy said. "President Lightsey didn't make the kickoff because got caught in a traffic jam trying to park."
The Cougars won the game 2-1. Then came victories over perennial powers Duke, North Carolina and Wake Forest, along with four consecutive Trans America Athletic Conference (TAAC) Championships and three trips to the NCAA Tournament in 1994, 1995 and 1996.
Just seven years into his tenure, College of Charleston enjoyed a magical run to Elite Eight, beating UNC Charlotte (1-0) and nationally ranked N.C. State (5-4) until finally losing the UCLA. The win against Charlotte marked the first time any Cougars team had won a NCAA Tournament game. It still remains the furthest any athletic team across all sports has advanced in NCAA postseason competition.
"He pushed us because I don't think anyone on our team realized how good we were," Guyan said. "He believed in us before we believed in ourselves. He saw our potential."
Lundy's most enduring legacy isn't the wins, the conference championships or the NCAA Tournament appearances. It was his relentless drive to spearhead the Patriots Point Athletic Complex in Mount Pleasant. The complex now is home to the men's and women's soccer programs, plus the baseball and softball programs. It's complex is also home to the youth fields for the Mount Pleasant Recreation department that opened in 2000.
"I tried to tell anyone that would listen that not only did the College of Charleston need better fields, but so did the town of Mount Pleasant," Lundy said. "No one listened. The only person that did was (former Mount Pleasant mayor) Cheryll Woods-Flowers. She listened. Cheryll, along with (former CofC president) Alex Sanders and the Patriots Point Development Authority got it done. Every time I drive up here and see kids playing on those fields, I just feel so proud of what was accomplished."
After more than four decades as a head coach, Lundy doesn't like to single out any one single player as being his favorite. But even Lundy had to admit that coaching his son – Ralph III or Ralphie – was a special time during in his tenure.
"I enjoyed coaching Ralphie and enjoyed watching him play and develop," Lundy said. "It was a special four years for us. There was a lot of pressure on him, and people don't understand that the pressure is on the kid because he has to be a regular player on the team, but his father is the coach. He grew up on this field from a very young age. I remember Ralphie scored two goals against Stanford when we beat them. That was a special night for our entire family."
Lundy isn't sure what he'll do come January when it's time to retire. He knows he'll stay involved with the game that has given him so much.
"Coach is a natural born leaders and leaders don't quit," Guyan said. "He won't ride off into the sunset. He'll continue to lead. Once a coach always coach. I don't think that will ever leave coach Lundy."