Earl Grant's high school football career came to an end on a rainy night in November 1995 at the old Stall High School in North Charleston.
Grant and his fellow Warriors had put together a remarkable season, carrying a program with little tradition and fewer resources to 11 wins and the brink of a state championship game.
All Stall had to do was beat Strom Thurmond High School at home in the Lower State championship game, and the Warriors would be headed to Williams-Brice Stadium to play under the bright lights for a state title.
The Warriors rallied from two touchdowns behind to lead in the final minute. But Strom Thurmond's quarterback completed a 23-yard touchdown pass with 46 seconds left, leaving Stall with a bitter 27-26 defeat.
"You played your guts out," Stall coach David Neal told his players, their faces streaked with both rain and tears. "That's what makes it count. Don't ever hold your heads down; you had an incredible season."
Twenty-three years later, that loss still sticks with Grant, who played defensive back during his one season of football at Stall.
"That was probably my most disappointing loss as a student-athlete," says Grant, now the head coach of College of Charleston's NCAA Tournament-bound basketball team. "We had a chance to go to state, but didn't quite make it."
Lessons learned at Stall High School formed a firm foundation for Grant, now a hometown hero after returning the Cougars to the NCAA Tournament for the first time in 19 years. He starred in basketball, contributed to a region championship in football and earned a reputation as a quiet, serious student in the classroom.
"The administrators and the teachers there at Stall, they were unbelievable," Grant said.
Eighth-grade wonder
Former Stall basketball coach Kim Deese remembers encountering Grant as a seventh-grader. Stall held an open gym a couple of times a week for the kids, and Deese stood with junior varsity coach Lee Runyon to check out the youngsters.
"Earl goes up and just kind of drops it over the rim," said Deese, now a teacher at Wando High. "He could have dunked it. Lee looked at me and said, 'I'm not going to get Earl, am I"?
Deese called Grant up to the varsity early in his eighth-grade season, while future College of Charleston star and NBA player Anthony Johnson was leading the Warriors' football team in the state playoffs. Grant stuck with the varsity as a freshman.
"I owe Coach Deese a lot," Grant said. "From the eighth grade, he believed in me."
The neighborhood the Grants lived in was not zoned for Stall, but that's where his mother — Marlene Grant, a longtime teacher at Baptist Hill High — wanted him to go.
"My mom made that decision," he said. "She didn't want me to go to a school where I could walk home from school, because she taught at Baptist Hill and was getting home late."
Deese remembers Grant as a "quiet guy."
"He wasn't real fiery, kind of reserved," Deese said. "He'd get fired up once in a while, but he didn't lead by yelling and screaming. He was a leader, but led by example."
Grant grew into a 5-10 guard, and led the Warriors in memorable battles against the great North Charleston High teams of that era.
"We beat North Charleston by one point at their place," Deese said. "That was probably Earl's favorite game at Stall. We had the ball with eight or 10 seconds left, and everybody on North Charleston went to cover Earl. He lobbed it to a kid under the basket and we won.
"That was probably his only assist of the game, because we needed him to score so much. North Charleston beat us by 30 the next time we played; they didn't take us so lightly then."
Grant was a three-time all-region pick in basketball, and an all-state player in 1996. In 1995, Grant led the Warriors to a region championship, and he totaled 1,541 points during his four-year career.
In football, Grant came out for the team as a senior, joining a squad that included standout players such as Jay Morgan, Laron Johnson, Steve McIntyre and Deroni Brown.
"We knew he was an athlete from basketball," said Neal, now retired from teaching and coaching. "And he was very quick. But what we really liked was his attitude. He was willing to learn and we encouraged him. He really came on and started at safety, and was quite a contributor to our team that won the region championship."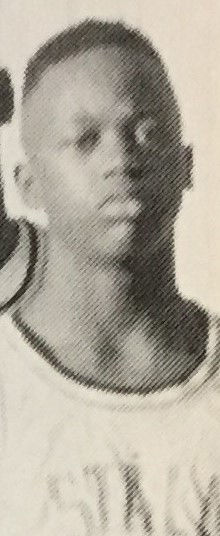 In Neal's memory, Grant — whose late father, Earl Sr. was a construction worker — was a self-starter who didn't need a lot of motivation.
"Some kids, you can yell at and give them a hard time, and that will motivate them," Neal said. "But with Earl, you didn't have to do that."
In the classroom, math teacher Sara Greenberg made an impression on young Earl.
"She was a real disciplinarian," Grant said. "She was always making sure we had good manners and were showing up on time."
Coach Grant
Deese, who also served as an assistant to legendary College of Charleston coach John Kresse, said he did not peg Grant as a future coach during his days at Stall.
But soon after Grant graduated from Georgia College, Deese saw Grant jogging in downtown Charleston. Grant was serving as a volunteer coach at The Citadel.
"He was living on bread crumbs," Deese said. "I think they had him living at the alumni house. He wanted to be a coach, and he did it the hard way. He didn't get a job right out of college, and he had to work, work, work to get there."
Both Deese and Neal are proud that they played some part in Grant's success.
"It's amazing," Deese said. "I'm so glad they made the tournament, so Earl has that feather in his cap. But I'm really proud of what he's done with the program and the way his kids handle themselves.
"They don't run around acting like jerks, they've gotten down in games and fight back. I'm really proud of the way he's instilled character in those kids."
Neal watched the Cougars' victory over Northeastern in the CAA championship game, when Charleston rallied from 17 points down in the second half to win in overtime.
"I'm totally amazed and very proud that he was part of Stall," Neal said. "When I watched that game, they never gave up. They just kept on coming, and that reflects on the coach.
"They say a team plays like it's head coach, and I agree with that."
And what does Stall think of Earl Grant? The school retired his jersey No. 10 in 2014, even before the Cougars made the Big Dance.