COLUMBIA – Woody Dantzler after the last of his record-breaking, eye-popping Clemson quarterback performances received the ultimate compliment.
On a snowy day and on blue turf in Boise, Idaho, of all places.
Some of the Louisiana Tech players asked for Dantzler's autograph in the minutes following Clemson's 49-24 Humanitarian Bowl victory on Dec. 31, 2001.
Those Bulldogs, as contemporaries, saw Dantzler highlights on ESPN and elsewhere each week. If they weren't aware the 5-foot-10 Orangeburg native left the field that day with 53 Clemson records, they knew a star was in their midst.
So did the South Carolina Athletic Hall of Fame folks who inducted Dantzler as part of the starry Class of 2023 on Monday night at the Columbia Metropolitan Convention Center. Former Georgia Tech quarterback Joe Hamilton of Alvin, Negro Leagues baseball star Chino Smith of Darlington County, University of South Carolina soccer coach Mark Berson, USC and NFL wide receiver Robert Brooks, USC and Olympic track and field star Dawn Ellerbe, Clemson golf coach Larry Penley and longtime NBA standout Jermaine O'Neal of Columbia were also honored.
Dantzler brought his wife Portia and wore a bow tie.
"Almost overwhelming," he said.
He's 43, a pharmaceutical sales rep and father of two daughters living in Anderson.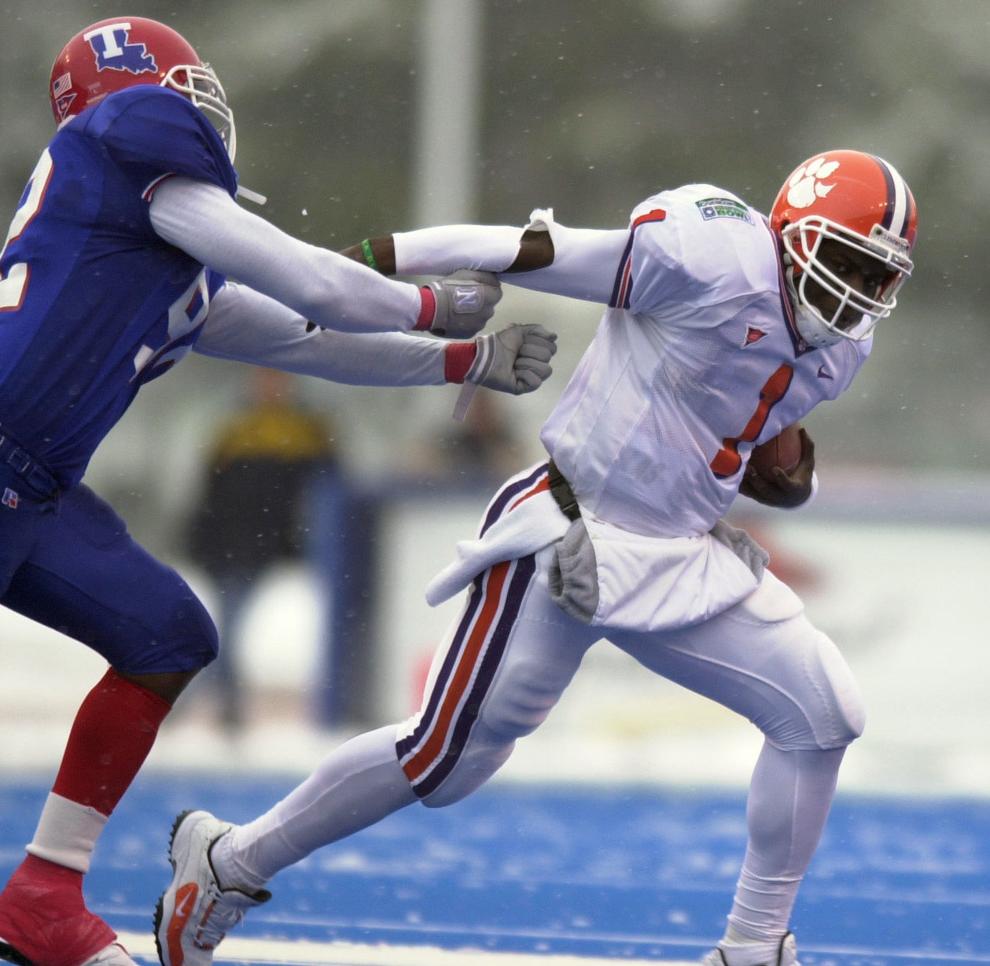 Dantzler mentors school children and works with head coach Dabo Swinney's PAW Journey career skills program at his alma mater. He also trains young quarterbacks.
He looks like he could still play.
Thankfully, for those who missed it, Dantzler's football career is saved in time via video on YouTube.
Georgia Tech, N.C. State
Just a sampling:
• Nov. 18, 2000. It was Dantzler who threw the 50-yard pass to Rod Gardner with 10 seconds remaining to set up Aaron Hunt's game-winning field goal in a 16-14 victory over a stunned South Carolina Gamecocks team and their livid head coach, Lou Holtz.
Did Gardner push off?
Depends on your favorite color.
"As (Gardner) would say," Dantzler said laughing, "big-time players make big-time plays in big-time games."
• Sept. 29, 2001. Clemson won a 47-44 ACC overtime shootout for the ages with the great Hamilton at Georgia Tech.
Three Dantzler jaw-droppers stick out: a 38-yard touchdown run as time expired in the first half, a 63-yard touchdown pass to J.J. McKelvey on fourth-and-13 late in regulation (Swinney did a retro play-by-play call of the play for the ACC Network) and an 11-yard touchdown run to win it in overtime.
"It was a fun game," Dantzler said. "When I played ball, I played to have fun. We always had such a good rivalry with Georgia Tech."
• October 13, 2001. How about 517 yards of total offense in a 45-37 victory at N.C. State? All while wearing purple pants.
Again, Dantzler had a blast.
"I just remember going back and forth," Dantzler said. "(N.C. State's All-ACC linebacker) Levar Fisher is still one of my good friends, and you know how you always want to beat your brother. It was great to go one-up on him."
• Dec. 8, 2002. What? You think Dantzler's highlights are confined to college ball?
Though he played in only 14 NFL games (five with the Dallas Cowboys, 9 with the Atlanta Falcons), an 84-yard kickoff return for a Dallas touchdown was a thing of zig-zaggy beauty.
It gave the Cowboys a 20-17 lead early in the fourth quarter at Texas Stadium.
The San Francisco 49ers rallied for a 31-27 win.
"I did not want to get in trouble," Dantzler said. "I went the wrong way but was able to will my way back across the field. It was one of those, 'Don't quit' things."
Woodrow Dantzler II, III
There's a notion out there that Dantzler was ahead of his time and would have been an even better college player with versatile passing and running skills transferred to the current world of run-pass option football.
In fact, he was in good strategic hands. Rich Rodriguez, a noted innovator, was one of his offensive coordinators under Tommy Bowden at Clemson. Another was Brad Scott, who earlier presided over Charlie Ward's Heisman Trophy-winning season at Florida State.
Defenses back then weren't as prepared for authentic hybrid stars.
But Dantzler these days surely would have been given a longer look as an NFL quarterback prospect.
He's not bitter.
About the only SC Athletic Hall of Fame thing better for Woodrow Dantzler III would have been the presence of Woodrow Dantzler II.
Woody's father, a Vietnam veteran suffering from Agent Orange issues, Woody said, died in 2005 after a long battle at the VA hospital in Charleston.
Mr. Dantzler raised his son with constant Socratic exchanges, answering questions with questions.
"He was teaching me how to critically think through the process and learn myself," said Dantzler, who credits his father for the drive to help young people, college age and younger. "He'd be proud the things he poured into me actually came back out. He challenged me to be the best version of myself. And he'd say, 'I told you so.'"
Woodrow Dantzler II knew all about his son's football exploits.
Highlight videos, Louisiana Tech autograph seekers and all.
He was more proud of the off-the-field process.
Follow Gene Sapakoff on Twitter @sapakoff