CLEMSON — This was exactly how Shaq Smith did not want to spend his vacation. It was a week after his graduation from Clemson, and Smith sat in the lobby of the Grand Bahia Principe Punta Cana resort in the Dominican Republic next to his mother, Shenika Brown. His cell phone buzzed. Her cell phone buzzed. The news had trickled out, apparently, and friends and coworkers and acquaintances and reporters wanted to know:
Was it true?
Had Smith, a skilled linebacker with two years of eligibility remaining and a presumptive starter for the defending national champions this season, really entered the NCAA transfer portal?
"It was a lot," Brown said. "We were supposed to be on vacation."
Smith spent the trip in deep thought. Normally a buoyant spirit with his family, Smith awoke most mornings before sunrise and stowed his cell phone away, trading the cacophony of texts and notifications for the sandy solitude of the empty beach, letting his thoughts sort themselves out as waves crashed in the background.
The conclusion he came to was tough to swallow for Clemson fans.
"It had nothing to do with Clemson," he said, "but everything to do with me."
Smith, who spent his formative years in Baltimore, Md., was close to signing with his home-state school out of high school before choosing the Tigers. But now hometown hero Mike Locksley had taken over as head coach at Maryland, vowing to steady the sinking program, and Smith was looking for a change.
On June 7, a Terrapins spokesperson confirmed Smith had enrolled at Maryland as a graduate transfer. 
"Didn't see that coming," Clemson coach Dabo Swinney said. "But if that's what he felt like he needed to do, I wish him well."
The feeling is mutual, Smith said. He harbors no ill will toward Clemson. For him, transferring to Maryland meant returning to his roots.
Smith was one of the bigger players on his uncle's youth football team, but he seemed loath to use his size to his advantage. After one game, during which a smaller player had knocked Smith out of his stance, Brown confronted her son.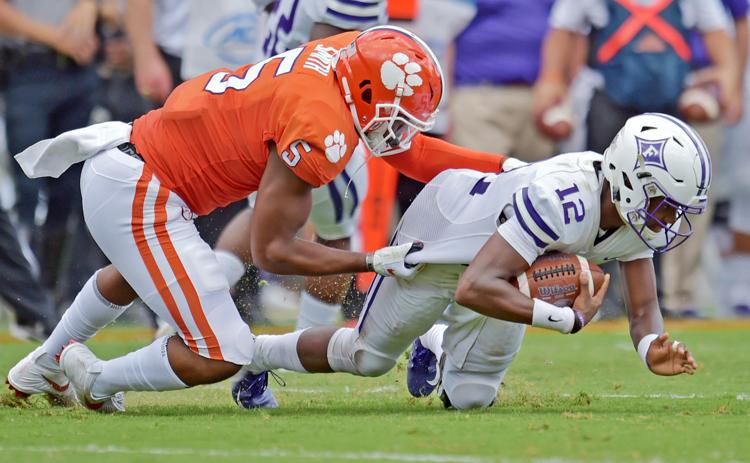 "He was just like, 'I was scared to hit him,' " Brown said. "I always taught him not to hit, so why is football any different?"
That's when Brown grabbed the green garbage dumpster from out front. Football was different, she said. He needed to learn how to hit to be successful in the sport. So she had him tackle the empty dumpster over and over. When that became too easy, she waited until the dumpster was full of trash, and soon he tackled it to the ground with ease.
He brought that same fervor to games. Cory Robinson took notice. A recent graduate of Central Connecticut State, Robinson was co-founder of Next Level Nation, a Baltimore-based nonprofit that hosted football workouts, among other services, for local boys in need of mentorship.
Brown, a single mother raising two sons, welcomed the help. She described her relationship with Smith as more 'sister-brother.' She brought him everywhere, even to her GED class, and later when she went to work at Sinai Hospital in Baltimore. But she welcomed Robinson's perspective.
"Growing up in Maryland, my father wasn't really in my life," Smith said. "There were some things my mom couldn't teach me. There were some things a male can teach you. When Cory came into my life, that's the role he kind of played from then on."
Smith's high school trajectory mirrored Robinson's coaching career path; he followed his mentor to Calvert Hall College High School and later to St. Frances Academy, both of which required lengthy commutes through Baltimore.
Sometimes Brown drove Smith to school; other times her son spent the night at a friend's house and caught a ride in the morning. When the logistics didn't line up, Smith would have to commute himself, catching buses and trains alongside people making drug deals. Brown worried her son might be recruited to join a gang.
"Gangs are huge in Baltimore, and here he is, a big kid for his age," Brown said.
Smith instead turned his attention to the gridiron. At the time, many notable prospects in the Maryland area — including Smith, a 4-star recruit, per 247sports.com — felt drawn to their home school, and Locksley, then the Terrapins' interim head coach, had relationships with many in the area, including Smith, who finished up his high school career at IMG Academy in Bradenton, Fla. Robinson had spent the 2015 season as the Terps' director of player personnel.
But then Maryland hired D.J. Durkin to run the program and Locksley took a job as an offensive analyst at Alabama. Smith went to Clemson. Robinson left to be the cornerbacks coach at Toledo.
As he dove into life at Clemson, Smith kept up with his friends who went to Maryland. He spoke to groups of young Baltimore kids, imploring them that their future was in their hands, regardless of their circumstances, using his presence as an example.
He redshirted in 2016 before contributing on special teams in 2017. Last season, he recorded 16 tackles and one sack as the Tigers went 15-0 and beat Alabama — and  Locksley, the Crimson Tide's offensive coordinator — in the national championship game. 
Smith became the first member of his family to graduate from college and was in line to start for Clemson this season. But then Maryland fired Durkin and hired Locksley, and Locksley hired Robinson to be his defensive passing game coordinator/defensive backs coach. That grabbed Smith's attention.
He also remembered how last season's Maryland team had rallied together in the wake of the tragic death of offensive lineman Jordan McNair, who died of a heatstroke. An ESPN investigation into the program revealed a "toxic" culture and resulted in Durkin's ouster and a chaotic season.
"I reached out and sent my condolences to everyone I knew in that locker room," Smith said. "I gave them guys a shoulder to lean on and somebody to vent to during that time."
As he walked the Dominican Republic beach, lost in thought, Smith recognized an opportunity. An opportunity to be a part of change, to play in front of his friends and family and to show local kids that success is within reach. 
He saw an opportunity to come home.
"I wanted a fresh start," he said.
Swinney said Smith was a "model" member of the program and was sad to see him go. Still, Swinney noted, he's optimistic about the Tigers' defense this season despite massive turnover on the defensive line.
"Certainly hate to lose him, but that doesn't dampen our spirits for who we have at the linebacker position," Swinney said. "I personally think this could be as good a back seven as we've had."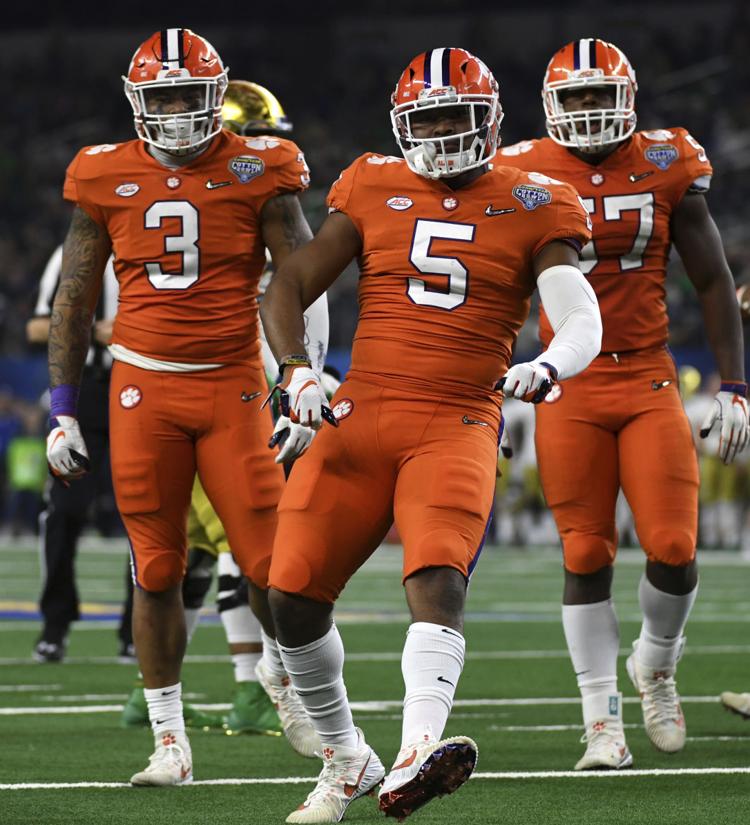 Smith keeps tabs on his old Clemson teammates, and is a dutiful participant in a group chat including Tigers linebacker Isaiah Simmons, defensive tackle Jordan Williams and wide receivers Tee Higgins, Cornell Powell and Diondre Overton.
And the biggest lesson he learned from his time in the Upstate sounds a lot like something that would come out of Swinney's mouth:
"The little things lead to the big things, and if you take care of the little things, the big things will take care of themselves."
Maryland hasn't had a winning season since 2014. The university's handling of the McNair situation has the school's accreditation in potential jeopardy. 
Smith and the rest hope to turn things around. A big thing? Certainly. But Smith believes he's up to the task. He's spent the past three years, after all, taking care of the little things.