Clemson football unity is a real thing, at least more apparent than within most other organizations involving 100-plus people and only so many starting spots. It's the culture. It's the winning. It's the extra gear and bowl gifts teams get at College Football Playoff games.
But, for the most part, players only love you when they're playing (or redshirting on a team with national championship potential, which is something Fleetwood Mac sadly was unable to work into a tight lyrical rhyme).
Two Clemson players — first running back Tavien Feaster and then linebacker Shaq Smith — have entered the NCAA's transfer portal since the end of spring practice. Five years and a couple more Clemson national titles from now, we will trace a larger group of Tiger transfers to The Feaster Decision.
Open floodgates, no.
More transfers, yes.
Do the math.
The overdue transfer portal concept as a booming business …
Plus …
Dabo Swinney's high-end recruiting machine …
Equals …
A group of players too talented to play second-fiddle in a college football band.
Maybe it's only a handful, perhaps a bunch.
Probably a couple players per year.
But consider it a success tax, a good problem to have for the likes of Clemson and Alabama and a few other potential College Football Playoff regulars such as Georgia and Oklahoma.
Nick Saban's whining
Not all transfers are alike, according to Nick Saban, among others.
Feaster is a graduate transfer, expecting to earn a Clemson degree this summer before his final year of college football — at South Carolina, or Virginia Tech or … Maybe even Alabama or Oklahoma.
Smith graduated this month and has two years of eligibility left.
Former Georgia quarterback Justin Fields is immediately eligible at Ohio State because the NCAA approved his appeal citing a racial slur a former Bulldogs baseball player yelled toward him at a football game. Former Ohio State quarterback Tate Martell got immediate eligibility at Miami after evidently leveraging drama surrounding Buckeyes head coach Urban Meyer and his staff.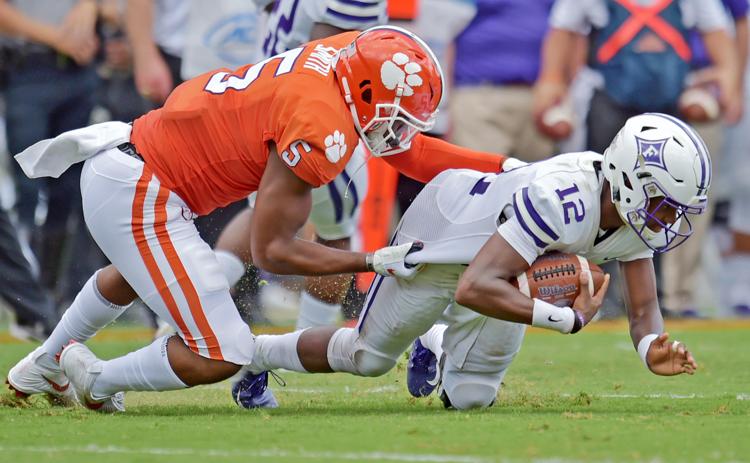 There are at least 720 football players in the transfer portal, per 247 sports. That's a huge number for something that made its debut only last October. Former Clemson quarterback Kelly Bryant was one of the first to take advantage with his bolt to Missouri.
Saban, the legendary Alabama head coach, has no problem with grad transfers and not that much of a beef with other transfers in the old-school sense.
It's the quick-turn leniency the NCAA is suddenly giving non-grad transfers that Saban can't stand.
"I think it's OK for guys to transfer, but we give out waivers left and right for them to be immediately eligible," Saban said on The Paul Finebaum Show earlier this month. "So there are no consequences. They made a commitment. When you make a commitment and you don't see it through, there's usually a consequence. It's a fact of life. It's a part of life and we should be teaching these lifelong lessons to young people while they're in college."
Except a given student in other walks of college life can leave for another school if he doesn't like the makeup of the pep band depth chart or thinks there aren't enough lab mice.
Or, more importantly, gets a new girlfriend.
And those transfers get immediate eligibility at Archrival Tech.
The trend is hard to dispute: soon full free agency will exist in college athletics.
It's the American sports way.
Jalen Hurts and hoops help
Granted, musical chairs was an overrated activity in kindergarten (at least in Mrs. Warwick's class after first prize was reduced from a Snickers bar to a new pencil).
A lot of players shuffling around the SEC East every year would get a bit chaotic.
So maybe some standardized NCAA rules about immediate eligibility within conferences or among rivals? That sounds fair.
But the best thing about the non-graduate part of the college football transfer portal is that the not-so-rich stand to get richer.
Clemson has seen that work in its favor in basketball. Marcquise Reed (Robert Morris), Elijah Thomas (Texas A&M), Shelton Mitchell (Vanderbilt) and David Skara (Valparaiso) were key parts of Clemson's Sweet 16 team in 2018. Brad Brownell hopes Khavon Moore (Texas Tech), Nick Honor (Fordham) and Curran Scott (Tulsa) can help the Tigers get back to the NCAA Tournament.
It's also possible that the Clemson football team somewhere down the road gets a key transfer, the way Oklahoma landed former Alabama quarterback Jalen Hurts.
But Swinney is more likely to lament the loss of good players, like Feaster.
"A great player," Swinney said. "I think (Feaster is) second all-time in yards per carry for people who have at least 1,000 yards rushing (at Clemson). It just so happens (Travis) Etienne, I think, is number one."
That's right:
1. Etienne (7.8)
2. Feaster (5.99)
And sophomore Lyn-J Dixon averaged 8.8 yards last season (62 carries for 547 yards).
Oh the agony of the Tavien Feaster and Shaq Smith losses for Clemson. And other fan bases would like to worry about having to repair the glove compartment on a shiny Ferrari.
Follow Gene Sapakoff on Twitter @sapakoff