CLEMSON — Astounding apples and outstanding oranges are hard to compare.
Sammy Watkins, DeAndre Hopkins and Mike Williams were the slickest vehicles in high-octane offenses built for the evolving fast track of modern college football.
Jerry Butler and Perry Tuttle were anomalies, Ferraris on a dirt road.
Watkins and Hopkins had record-shattering Tajh Boyd at quarterback. Williams caught passes from two-time Heisman Trophy finalist Deshaun Watson. It all added up to mind-boggling numbers unimaginable four decades earlier.
But just 13 seasons before Butler set a Clemson record with 47 catches in 1977, the Tigers' leading receiver for 1964 was Hoss Hostetler — with eight catches.
Two seasons after Tuttle notched his second straight 50-catch season in 1981, Ray Williams led Clemson in receptions with 19.
So there is more than one way to win a national championship in Florida: with Tuttle catching a touchdown pass on a 1982 Miami night Clemson threw for only 134 yards, or with Williams catching a touchdown pass on a 2017 Tampa night Watson went for 420.
And how to value the impact of Hunter Renfrow's College Football Playoff impact, which includes four touchdown catches against mighty Alabama?
"Wide Receiver U" will soon produce new additions, likely including Tee Higgins and Justyn Ross.
But, for now, let the arguments begin about a list that doesn't include such standouts as Terry Smith, Chansi Stuckey, Jacoby Ford, Tony Horne, Bubba Brown, Martavis Bryant and the late Dwight Clark, who caught only 33 college passes.
Clemson's top 10 wide receivers:
1. Sammy Watkins
Dabo Swinney and his coaching staff initially weren't sure about starting Watkins as a true freshman,  but speed, size and shiftiness made the decision easy. Watkins came from Fort Myers, Fla., and left as first-round draft pick — and Clemson's career leader in receiving yards (3,391). He is tied with DeAndre Hopkins for most touchdown catches (27) and is second in receptions (240).
Watkins added All-American value as a kick returner; only C.J. Spiller had more all-purpose yards at Clemson.
2. Jerry Butler
This guy is one of only six football players (and so far the only wide receiver) in Clemson's prestigious Ring of Honor for good reasons. Butler as a senior in 1978 caught 58 passes — slightly over half as many as Watkins' school-record 101 grabs in 2013. But the Tigers had only 111 catches as a team that year.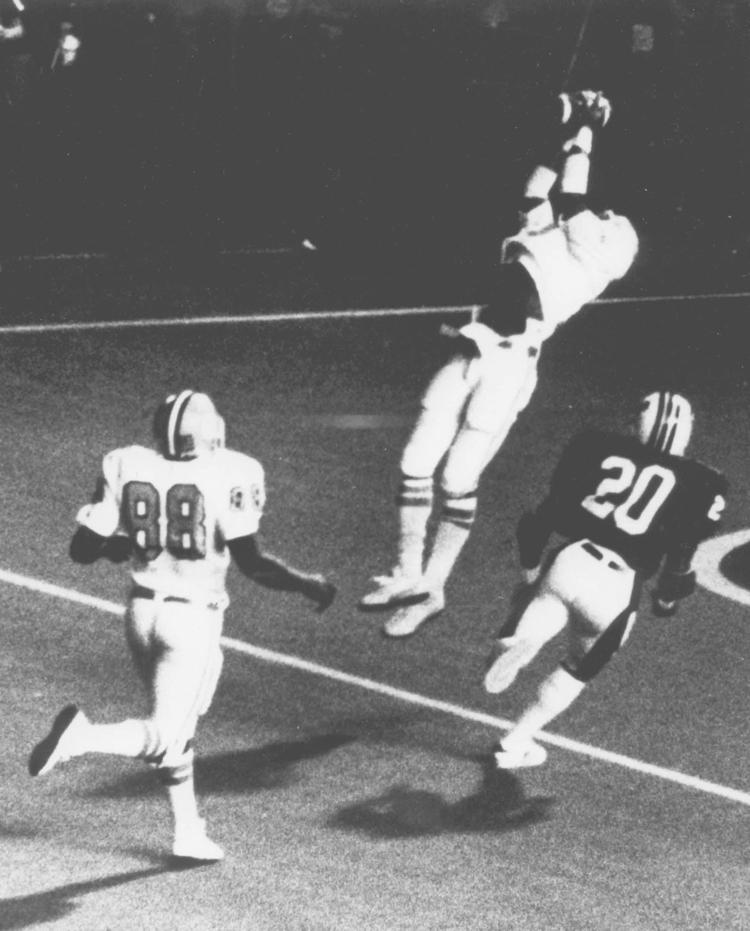 Butler's 47 catches in 1977 were for an average of 17.5 yards per catch (only Rod Gardner with an 18.1 average for 58 catches in 2000 has a better single-season yards-per-catch average for a Clemson player with more than 38 catches). Best catch: the soaring snag of a 20-yard Steve Fuller pass to beat South Carolina, 31-27, with 49 seconds left in 1977.
A Ware Shoals native and Buffalo Bills first-round draft pick, Butler played seven seasons in the NFL and still ranks 14th on Clemson's career receptions list (139).
3. Perry Tuttle
The touchdown celebration pose turned into an iconic Sports Illustrated cover shot for Clemson fans. Tuttle's 13-yard catch from Homer Jordan in the third quarter of the 1982 Orange Bowl kept Nebraska at bay on a night the Tigers won their first national championship.
Tuttle followed where Butler left off, leading Clemson in catches in 1979 (36), 1980 (53) and 1981 (52). His 150 catches were tops on the school career list when he left (now No. 9). Like Watkins and Butler, the North Davidson (N.C.) High School grad was a Buffalo Bills first-round draft pick but had a short NFL career (three seasons).
4. DeAndre Hopkins
He might wind up as Clemson's best-ever NFL receiver and his college numbers aren't bad either. A below-radar football/basketball prospect at Daniel High School, the 6-1 "Nuk" Hopkins is tied with Watkins for most Clemson touchdown catches (27), is second in receiving yards (3,020) and fourth in receptions (206) — all that in a three-year stretch from 2010-2012.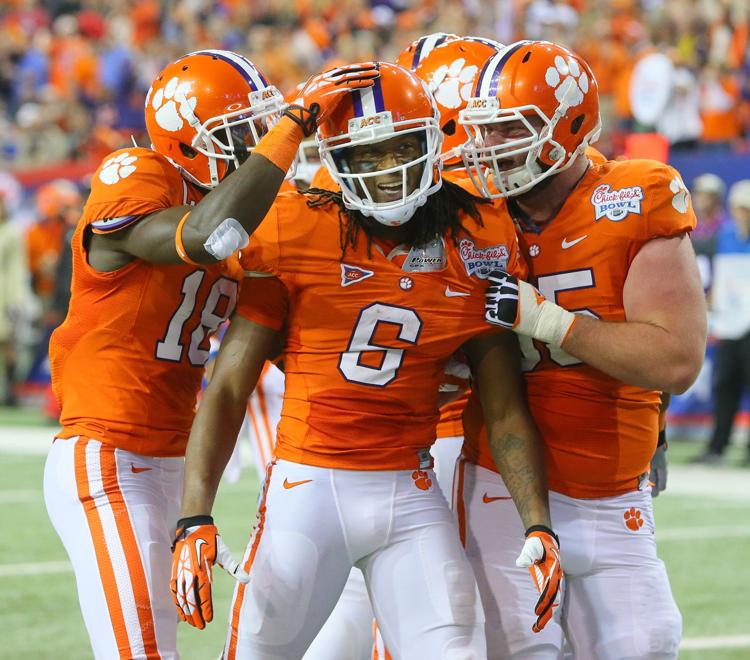 Baptized in a rubber pool after a Clemson practice, Hopkins had his best game with 13 catches for 191 yards vs. LSU in the 2012 Chick-fil-A Bowl, including a clutch fourth-and-16 grab to set up a winning field goal.
5. Mike Williams
Bounced back from a neck injury to help Clemson win the 2016 national title: 98 catches for 1,361 yards and 11 touchdowns. That and a 6-3 frame with a knack for winning jump balls is why the Los Angeles Chargers made the Lake Marion High School graduate a first-round draft pick. Williams is sixth on Clemson's career catches list (177), third in receiving touchdowns (21).
6. Hunter Renfrow
Odd resume: He never made an All-ACC first or second team. But the Oakland Raiders' 2018 fifth-round draft pick holds the College Football Playoff-record for catches with 37, which isn't bad for a guy who arrived at Clemson as a walk-on.
Renfrow, along with the Alabama heroics that include the game-winning catch in the 2016 national title game, is fifth on Clemson's career reception list (186). Holds school records for starts by a wideout (47) and consecutive games with a catch (43).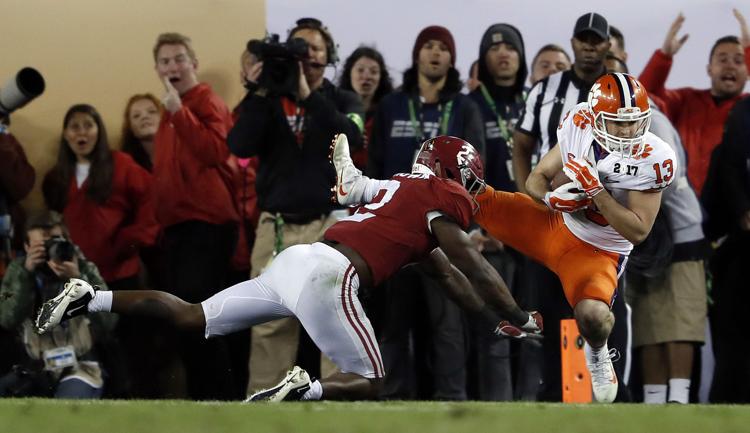 7. Aaron Kelly
The Marietta, Ga., native left Clemson as the school's leading receiver and still ranks third in catches (232) and yards (2,733) and fourth in touchdown catches (20). First-team All-ACC in 2007, second-team in 2008.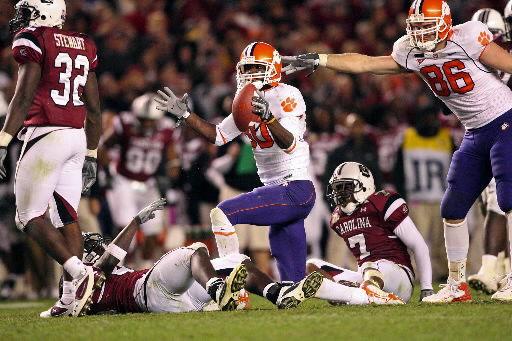 Kelly went on to play for four Canadian Football League teams.
8. Artavis Scott
Even for some Clemson fans this is a bit of a surprising answer to the question: Who is Clemson's career receptions leader?
Yes, 245 catches (five more than Watkins) from 2014-2016 for Watson's favorite target and former roommate.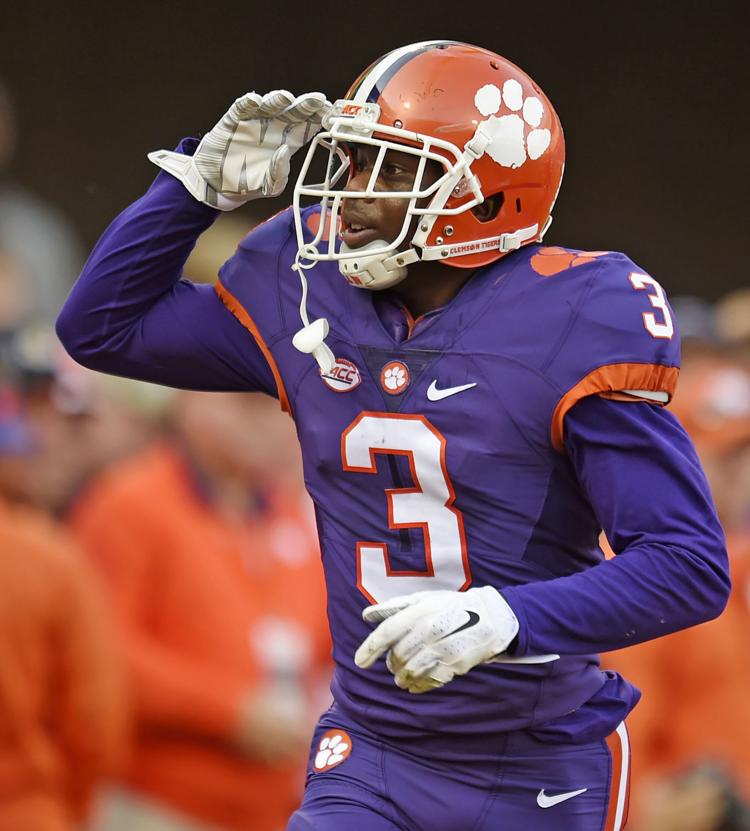 Scott is fifth in career touchdown catches (19) and 10th on Clemson's career all-purpose yards list (3,568).
9. Derrick Hamilton
A likely member of any Clemson All-Underrated Team. Only two Clemson players — C.J. Spiller and Watkins — have more all-purpose yards than Hamilton compiled from 2001-2003 (4,839). He had 167 catches, more than Perry Tuttle or Jerry Butler.
The Dillon native was a San Francisco 49ers' third-round draft pick but appeared in only two NFL games.
10. Rod Gardner
A toss-up here between Gardner and Terry Smith with Tee Higgins and Justyn Ross closing fast. Gardner was twice second-team All-ACC, and his 80 catches in 1999 set a single-season record.
Famous (or infamous) for his physical (or push-off) catch against South Carolina in 2000, the 6-2 Gardner is No. 9 on the career list with 166 catches but somehow caught only 13 touchdown passes.
Follow Gene Sapakoff on Twitter @sapakoff