Ask any tailor. Some changes, whether born of persistence or negligence, come suddenly. Others are more subtle.
It's that way in college football, too. One season a program is on the rise — Miami with Mark Richt, Virginia Tech with Justin Fuente. And then a puzzling thud or a loss to Old Dominion.
Sometimes you simply have to acknowledge gradual progress; N.C. State and Kentucky are fine examples.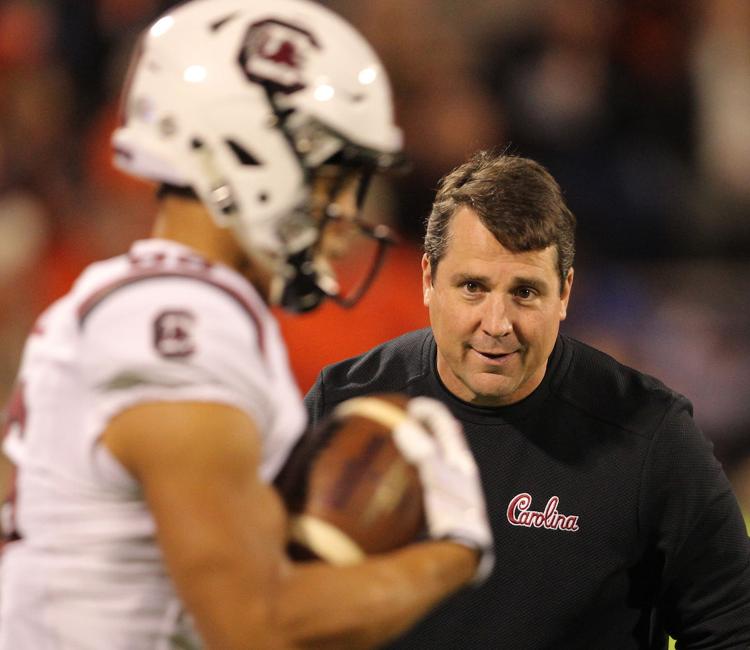 And then there is a tweak at the top, a new college football bow tie. It was on full display one enchanted evening in Northern California, where that 44-16 thing actually happened.
Ranking ACC and SEC head football coaches 1-28:
1. Dabo Swinney, Clemson
ACC rank: 1
ACC Atlantic rank: 1
2018 rank: 2
Why the flip-flop of No. 1 and No. 2 from 2018? Two of the last three national titles, Swinney is younger (49) than Saban (67), he's a recruiting buzzsaw and that championship game rout of Alabama. 
2. Nick Saban, Alabama
SEC rank: 1
SEC West rank: 1
2018 rank: 1
Saban has a great shot for a sixth national title at Alabama (seventh overall) during a season likely to feature more Tua Mania. 
3. Dan Mullen, Florida
SEC rank: 2
SEC East rank: 1
2018 rank: 3
Lots of SEC country road cred for his Mississippi State work. The Gators are making progress. 
4. Kirby Smart, Georgia
SEC rank: 3
SEC East rank: 2
2018 rank: 5
A few plays against Alabama or a few committee votes shy of a second straight College Football Playoff appearance.
5. Jimbo Fisher, Texas A&M
SEC rank: 4
SEC West rank: 2
2018 rank: 7
A national title winner at Florida State, Fisher is stockpiling talent in College Station. The former Clemson student almost pulled an upset in 2018 and presents the Tigers with their toughest regular-season test again this season.
6. Gus Malzahn, Auburn
SEC rank: 5
SEC West rank: 3
2018 rank: 9
Always a week away from the hot seat or potential greatness. Not many coaches could walk that tightrope. 
7. Dave Clawson, Wake Forest
ACC rank: 2
ACC Atlantic rank: 2
2018 rank: 8
It's really hard to win three consecutive bowl games at Wake Forest. Rebuilt Fordham, Richmond and Bowling Green.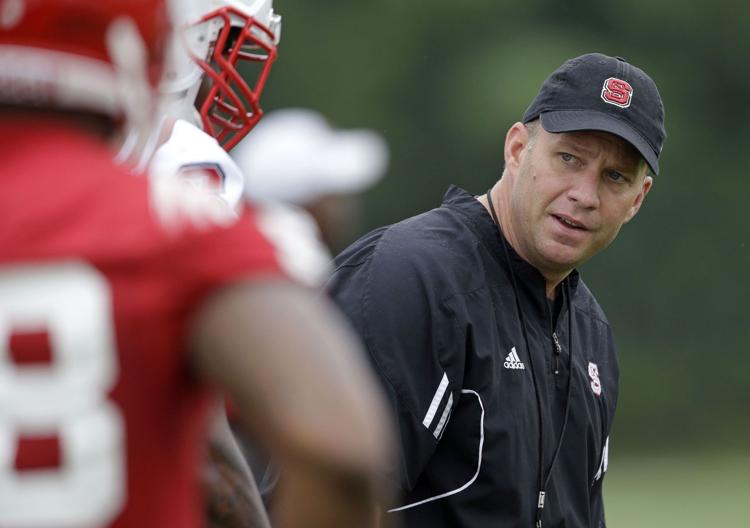 8. Dave Doeren, N.C. State
ACC rank: 3
ACC Atlantic rank: 3
2018 rank: 14
A long Clemson shadow keeps Doeren's Wolfpack from basking in more national attention.
9. Pat Narduzzi, Pittsburgh
ACC rank: 4
ACC Coastal rank: 1
2018 rank: 16
Sure, the ACC Coastal Division isn't exactly the Battle Rounds competition on "The Voice" but Narduzzi knows how to overachieve.
10. David Cutcliffe, Duke
ACC rank: 5
ACC Coastal rank: 2
2018 rank: 10
Six bowl trips in the last seven years. At a basketball school with a small throwback football stadium. 
11. Mark Stoops, Kentucky
SEC rank: 6
SEC East rank: 3
2018 rank: 22
Because there is no logical, traditional reason Kentucky should be 13-11 in the SEC over the last three years. Right, Gamecock Nation? 
12. Dino Babers, Syracuse
ACC rank: 6
ACC Atlantic rank: 4
2018 rank: 20
Not saying the Orange will repeat a 10-3 record in 2019, just that Babers probably won't be there much longer. 
13. Bronco Mendenhall, Virginia
ACC rank: 7
ACC Coastal rank: 3
2018 rank: 19
The odd fit of a former BYU head coach in the ACC looked pretty good when the Cavaliers beat South Carolina, 28-0, in the Belk Bowl. 
14. Will Muschamp, South Carolina
SEC rank: 7
SEC East rank: 4
2018 rank: 13
The talent gets a little better as the schedules get a little tougher. Sustained above averageness is a worthy thing in the SEC.
15. Barry Odom, Missouri
SEC rank: 8
SEC East rank: 5
2018 rank: 26
It seemed like Odom was set up to fail having to follow Gary Pinkel but he has two 4-4 SEC records after starting 2-6 in 2016.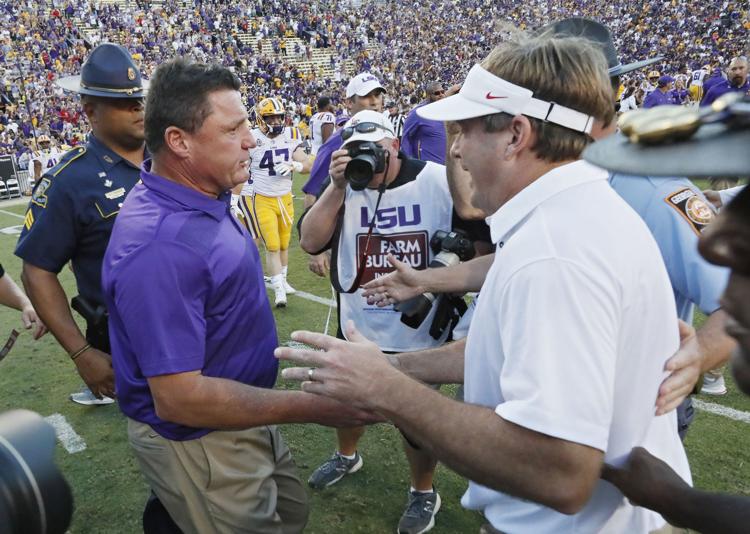 16. Ed Orgeron, LSU
SEC rank: 9
SEC West rank: 4
2018 rank: 28
Slow progress if not a sure SEC West title anytime soon for the program mysteriously and always in need of a standout quarterback.
17. Steve Addazio, Boston College
ACC rank: 8
ACC Atlantic rank: 5
2018 rank: 25
The Will Muschamp of the ACC: impressively steady and never spectacular under difficult circumstances. 
18. Joe Moorhead, Mississippi State
SEC rank: 10
SEC West rank: 5
2018 rank: 18
Tough act to follow, that Dan Mullen. But a nice 4-1 record down the stretch of the regular-season in Moorhead's first year in Stark Vegas. 
19. Scott Satterfield, Louisville
ACC rank: 9
ACC Atlantic: 6
2018 rank: first year
Good work at Appalachian State. Good luck finding another Lamar Jackson. 
20. Manny Diaz, Miami
ACC rank: 10
ACC Coastal rank: 4
2018 rank: NA
The son of the former Miami mayor of the same name is off to a good recruiting start in his first head coaching gig. Has worked for Mack Brown, Skip Holtz, Dan Mullen, Chuck Amato, Rick Stockstill and Mark Richt. 
21. Justin Fuente, Virginia Tech
ACC rank: 11
ACC Coastal rank: 5
2018 rank: 6
A losing season is not what Hokie Nation had in mind when Virginia Tech beat South Carolina to get Fuente from Memphis.
22. Derek Mason, Vanderbilt
SEC rank: 11
SEC East rank: 6
2018 rank: 27
Two bowl trips in the last three years at Vandy equals a hit record in Nashville. 
23. Mack Brown, North Carolina
ACC rank: 12
ACC Coastal West rank: 6
2018 rank: NA
Once more to the well. But the Tar Heels have a classy ambassador that might work as a place-holder in a weak division.
24. Jeremy Pruitt, Tennessee
SEC rank: 12
SEC East rank: 7
2018 rank: 24
Potential here but a Tennessee coach cannot lose 38-13 to Vanderbilt. 
25. Chad Morris, Arkansas
SEC rank: 13
SEC West rank: 6
2018 rank: 17
Zero SEC wins out of the gate in 2018. The Hogs were wallowing in SEC West mud when the former Clemson play-caller came over from SMU.
26. Geoff Collins, Georgia Tech
ACC rank: 13
ACC Coastal rank: 7
2018 rank: NA
He went 15-10 in two years at Temple. Following Paul Johnson's triple-option era, he must reintroduce fans on The Flats to such concepts as back-to-back passes and tight ends. 
27. Matt Luke, Ole Miss
SEC rank: 14
SEC West rank: 7
2018 rank: 23
Gave up 434 points in 2018, more than all but 15 of the NCAA's 129 FBS teams.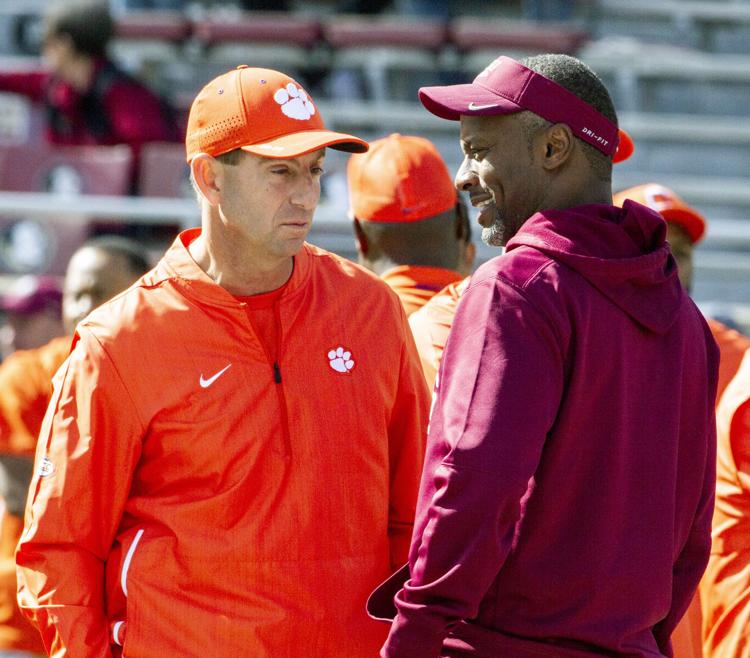 28. Willie Taggart, Florida State
ACC rank: 14
ACC Atlantic rank: 7
2018 rank: 12
What's worse, a once-proud Florida State program ranking 112th nationally in scoring offense or 90th in scoring defense? The Seminoles' record streak of 36 straight seasons with a bowl appearance dating to 1982 was snapped with a 5-7 finish. 
Follow Gene Sapakoff on Twitter @sapakoff