CLEMSON — Riley Bertram carefully seated himself in a leather massage chair by a pair of bright orange bunk beds in Clemson's "regeneration" room, mindful of the dirt smudges on what had been a crisp white uniform.
It was the messy but inevitable aftermath of a rain-delayed win over USC Upstate, pulling tarp on and off the field, then sliding around in a run-rule victory. The grad transfer from Michigan remained conscientious as he sat for an interview postgame, but he certainly wasn't uncomfortable.
"No one likes a complainer, no one likes excuses," Bertram said, very composed, as he repeated the mantras of his coach, Erik Bakich, who liked to say it was "Always 70 and sunny" in Ann Arbor, even when it was snowing out.
Bertram, a captain in his first and last Clemson season, sounds like his coach, preaching the inevitability of adversity and reacting accordingly. He understands, more than most, why the Tigers' first-year coach organized preseason workouts at 6 a.m., while there was still a chill in the air. Or why he would get them a practice in the rain when Mother Nature unknowingly cooperated.
As the Tigers claimed their 20th win in 24 games, collecting some dirt on his uniform midweek, Bertram was in his element. He's a willing competitor, the youngest of four brothers from Zionsville, Ind., going all out for Clemson and the coach who brought him here to help instill a way of doing things.
"It's more of a pride thing, it's a mindset," Bertram said, "and these guys at Clemson have just completely accepted it."
Bertram knows what it looks like when a Bakich-led team gets going, as the Tigers have heading into their final ACC series with North Carolina starting Thursday at Doug Kingsmore Stadium. He was a freshman at Michigan in 2019 when the Wolverines surged to the College World Series final.
The senior second baseman also has a tendency to get better as the season goes along. He's entered a phase Bakich refers to as "late-season Riley," smacking two-out RBIs with regularity. In the last month, Bertram has hit .367 to raise his batting average from .216 to .271.
"People talk about a clutch gene that some players have, just an intangible skill that doesn't show up on a stat sheet," Bakich said. "That's where he measures off the charts."
Bakich thinks back to Michigan's run in 2019, and it was Bertram who earned a spot start in a regional game and went 4-of-4 with a walk and a stolen base. In the CWS title series versus Vanderbilt, the Wolverines were down a designated hitter and Bertram was tossed in, again.
He's just a winner, Bakich says.
The coaching staff believed they had found a competitor, someone with a sharp baseball IQ, when Bertram committed to Michigan at just 15 years old. His older brothers were Ryan, a catcher at Division II Southern Indiana, and Drew, who transitioned from player to student coach at Purdue.
Bertram's older brothers weren't easy on him growing up, and Riley knew what he was getting into when he arrived at Michigan, initiated into a program where players have to earn the smallest things each year, like access to the locker room and the right to wear team-issued gear.
"I thought it was cool," Bertram said. "It truly does make you more thankful for each thing you get and more grateful."
Bakich talks a lot about taking the target off the athlete and focusing on developing the person. That is where Bertram thrived, learning from leaders like Tommy Henry, Ben Keizer, and Jimmy Kerr. He hit barely above .200 as a sophomore and junior, but the coaching staff's confidence in Bertram was rewarded with a .298 average and 19 doubles as a senior.
Bertram fully expected to play his fifth season at Michigan. But then Bakich got the job at Clemson. He was bringing assistant Nick Schnabel with him.
As it turned out, he was bringing Bertram, too.
"Once he made the decision to go in the portal, it was automatic," Bakich said. "Called him right away, 'Don't even bother talking to any other schools, because you're coming to Clemson.'"
Bertram, along with fellow Michigan transfer Willie Weiss, were pivotal in translating the method behind Bakich's meticulousness for the Tigers.
But as the Tigers earned their gear, hitting the track for another round of 300-meter sprints, Bertram was struck by the Tigers' embrace of change.
"They were excited about it," Bertram said. "It was probably more so me and Willie, like, 'Ah, we don't get the locker room now for a month. We gotta do this again.'"
If there are similarities between this year's Clemson team and 2019 Michigan, Bertram comes back to simple things. The Tigers have talent. They have "good dudes." And they weren't OK, particularly Clemson's veterans, with a "rebuilding" year after back-to-back NCAA tournament misses.
Bakich and his staff remained positive with the Tigers despite a 16-13 start, believing the scoreboard wasn't indicative of the talent on the roster. They were proven right, but Clemson's turn of success made Bertram curious.
"They haven't even tasted the postseason. So you kind of worry when they feel success. 'Are they going to be satisfied?'" Bertram said. "They actually reversed it and it's times two.
"If they were doing extra work, they are doing extra times two now. They tasted that success, and they love it."
He might be a Tiger for a year, but Bertram has found best friends in veteran pitchers Ryan Ammons, Jackson Lindley, and Nick Clayton. Bertram just has a "connected" personality, as Bakich puts it, someone who has a relationship with everyone but can still be a "sheriff" and correct teammates, when necessary.
Bakich credits Bertram for things that will never get in a box score, including a pivotal out in one of Clemson's first wins in this current streak. In the fifth inning at Florida State on April 7, Bertram organized a hidden ball trick that led to third baseman Blake Wright tagging a runner out.
A fly ball ended the inning, instead of scoring a tying run.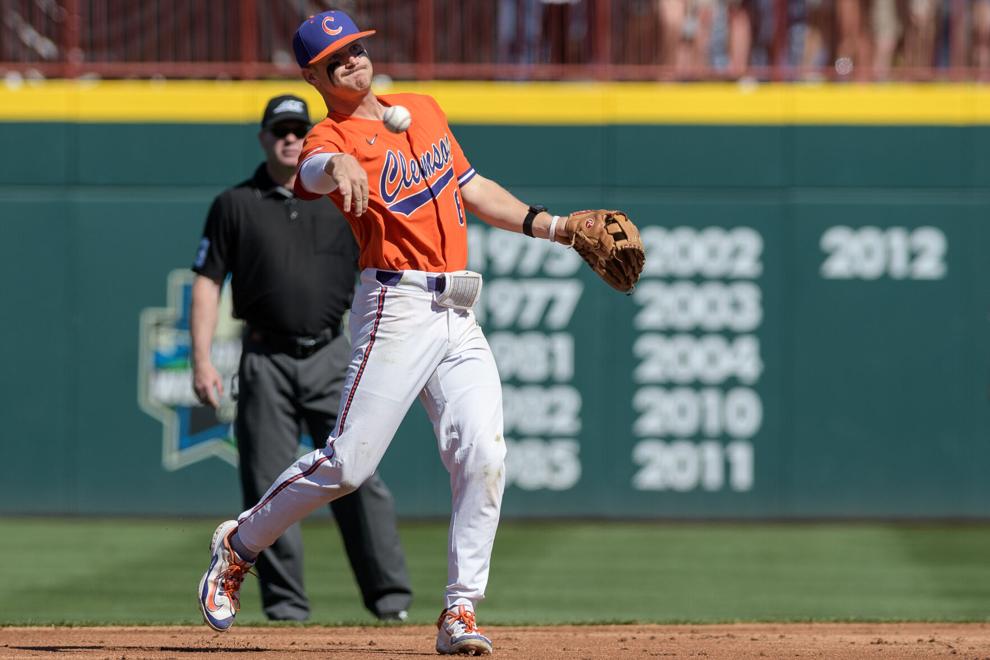 "I'm going to try to hire him someday. There's no question about it," Bakich said. "He will make a fantastic coach because he's like a coach on the field."
Until then, Clemson will try and ride "late-season Riley," who smacked a knee-high fastball past USC Upstate's diving second baseman with two outs to score another run and keep the Tigers rolling into their final ACC series.
It's been rewarding to contribute in ways readable in a box score, but it's always about more than that with Bertram.
"It's personal. I want to do my best for Clemson and (the coaches), because I'm one of the guys they brought with them," Bertram said. "Not satisfied. Got a lot more work to do. But I'm happy for the kids on the team."