Fresh off the field after his first fall practice in almost two years, Clemson's Justyn Ross was ready to go.
Ready for more than catching balls on air. Ready to absorb more than one hit. Ready to get past fall camp altogether, actually.
While there have been worries for so long about Ross and his ability to play football after a congenital fusion was discovered in his neck in the spring of 2020, Ross made clear Friday that none of that fear lives within him.
"If it's up to me," Ross said, "I'm ready to play a full four-quarter game."
There were both medical and legal hurdles to surmount before Ross was allowed to reach this moment, rejoining the Tigers in preparation for the 2021 football season. There was an emotional journey to ride out, as well. His mother, Charay Franklin, just told him, "You're in God's hands."
Ross kept the faith, and now it's time for the 6-foot-4, 205-pound junior to prove he's the same player who racked up 865 yards and eight touchdowns on a team-high 66 receptions in 2019. If he's healthy, he expects the only difference will be his position, slot receiver, giving the Tigers a matchup nightmare for smaller corners or slower linebackers and safeties.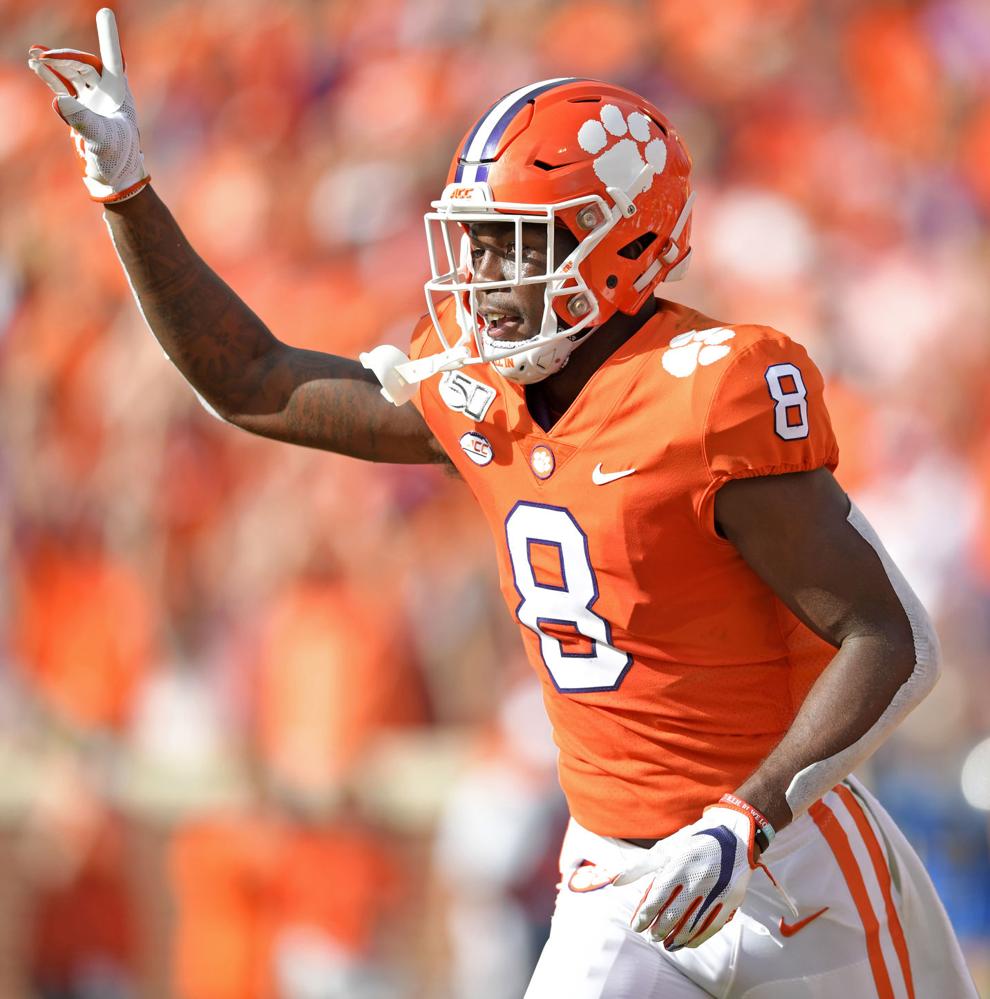 "I've played on the boundary (side), I've played to the field. This will be the only position I haven't played (at Clemson)," Ross said. "So I'll just show NFL scouts they can really put me anywhere on the field."
Ross very much believes he's back on track as a football player, a total 180 from the uncertainty that arose in 2020. Knocked out of spring practice by what he thought was a stinger, X-rays revealed the congenital fusion. He also had a bulging disc. Doctors were quite honest about what it meant.
He may never play football again.
"I shed a tear, just 'cause of how it came off. It came off as, like, you probably won't ever play again," Ross said. "This is something I've been working for my whole life since I was a kid. Having it taken away from me like that, it's real hard."
Such a fusion in the neck and spine can increase the strain on other discs, increasing the chance of injury. It wasn't until Ross found Dr. David Okonkwo, a neurosurgeon in Pittsburgh, that his chances of a return seemed to improve. In June 2020, Ross underwent surgery to remedy the bulging disc in his neck.
After that, it was a long wait.
"It was like a year and a couple months, but it felt like forever, being away from something I love," Ross said.
"It was hard, just the not knowing part. I mean, if I would have knew, if I had known I couldn't play at all, that probably would have been easier. Just the curiosity was messing with me a lot."
It was a long year. After a follow-up appointment in  June, and then some legal paperwork on Clemson's end, Ross had the all-clear to participate. But then Ross ended up in COVID-19 protocol, which delayed the start of his preparation for the season. Clemson coach Dabo Swinney joked Ross just wanted to come back Friday because that's when the Tigers go to the lake.
Jokes aside, Swinney has been impressed with Ross' maturity.
"It was interesting because I saw him pick himself up," Swinney said. "His mom was amazing, his teammates rallied around him, and he kept the faith. I think he's grown tremendously through the process. I think we all do when we go through adverse situations. Literally, it either defines us or it destroys us. I think through his faith, he's allowed this whole process to develop him into a much more mature, focused young man with a clear vision and a deeper appreciation for the opportunity."
When his stint in COVID-19 protocol was mentioned, Ross just smiled, "That was just another form of adversity, man. It's life, man. It happens." He was willing to wait an extra week, because he has been waiting this whole time with no other plans.
He was going to play football again. That was always his intention.
"Ain't going to lie," Ross said, "There was never a Plan B. There was never a Plan B or Plan C. It was just focusing on one thing."
There are more hurdles to cross, of course. Ross can't take a hit just yet, because he has to get in five practices before that's allowed. When that time comes, Ross will have to be ready. He can't be afraid.
During this whole process, the risks of continuing to play were explained to him. As his mother said, he just has to keep the faith.
Ross said it himself Friday, smiling, "I'm in God's hands, man."