CLEMSON — They worked painstakingly in an Oklahoma City design lab trying to capture the Mount Pleasant man's concept. It took years. Sketches turned into three-dimensional images led to bronze — a Clemson helmet, a dangling chin-strap, the football. It was all pounded out in a Mexican foundry.
Christian Wilkins' beard, after all, must ooze authenticity when it's forever.
Clay was used — modeling clay and Clay Swinney. He's the youngest son of the head coach with two national championships. And that's little Tianna Guess, all right. She can tell all her friends at school (and someday her fellow senior citizens).
Officially, the new statue unveiled April 5 just outside the Reeves Football Complex is a tribute to the "Culture of Care at Clemson Football." But the larger-than-life sculpture featuring two players and two children is also a testament to the closeness of a program to its fan base.
If it helps with Dabo Swinney's recruiting machine, well, that's part of the plan that came with Thomas Hash's foundation gift of $200,000. It paid for the whole thing.
"What I was trying to do was give Dabo another tool to use to recruit the right kind of players," said Hash, a retired business executive and 1969 Clemson graduate who lives in Mount Pleasant.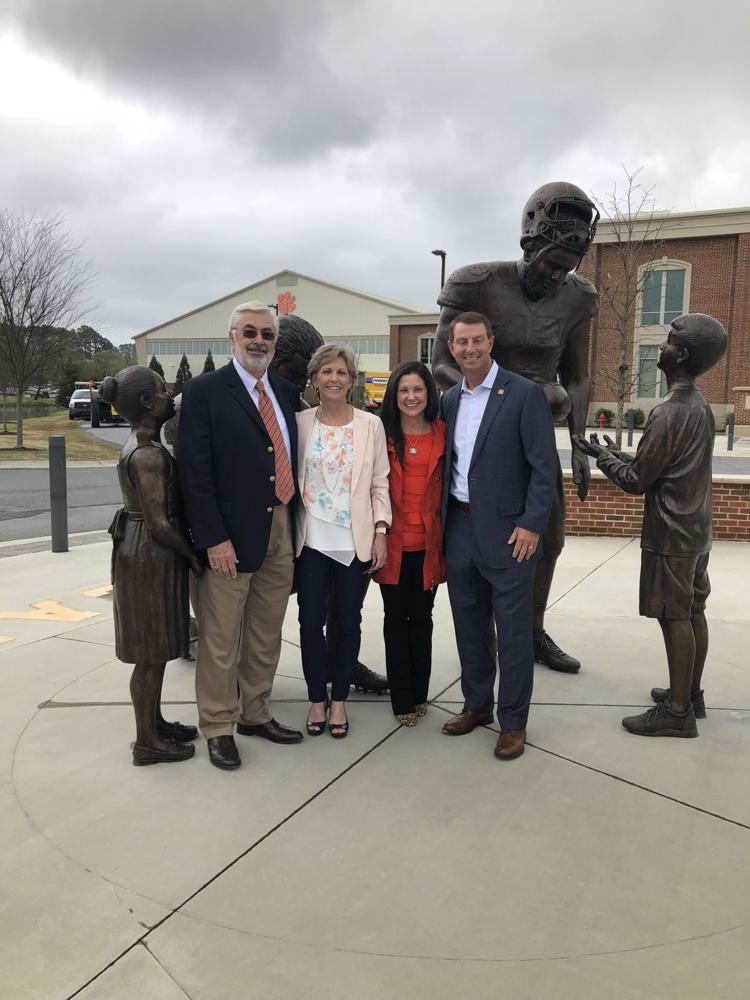 The display depicts Wilkins, the star Clemson defensive tackle picked last month by the Miami Dolphins in the first round of the NFL draft. He is handing a football to a young boy.
Next to Wilkins is the sculpted version of Stanton Seckinger, a former Clemson and Porter-Gaud High School tight end. He's kneeling to sign an autograph for a young girl.
It's instantly one of the coolest statues in college sports, a lasting image of a big-time sport at its best. It's certainly a contrast to the conventional star athlete or iconic coach.
It could be seen as College Football, USA.
It happens to be a Clemson message.
"The philosophy of our program is so much about love, serve and care," Swinney said. "We try to stress to our players to become men and to love, serve and care in their families and in their communities. And just being mindful that we're always an example and to understand the platform that we have and what that represents."
The statue is a combo of two photos.
The first was taken on the field at Death Valley as the cover of Clemson's game program for the 2015 opener against Wofford. It shows Seckinger signing an autograph for 8-year-old Tianna Guess, the daughter of former Clemson wide receiver Henry Guess, and former Clemson offensive lineman Joe Gore kneeling to sign another autograph.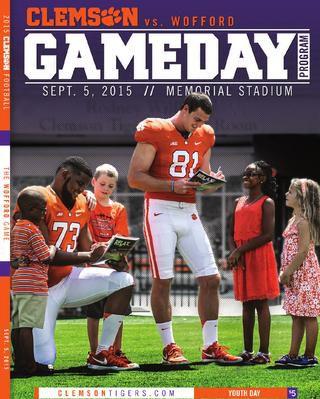 "It was one of those things where they tell you to show up at this time and at this place and tell you what to do," Seckinger said. "I definitely didn't think it would end up as a statue in front of a new facility that was being built when I was there."
The second photo was taken in the summer of 2017 by MTM Recognition, the Oklahoma company that built the statue: Wilkins handing a football to Clay Swinney, now a 15-year-old student at Daniel High School.
The mash-up bronze version has Wilkins in something similar to the Seckinger photo role (standing but offering a football instead of signing) with Seckinger in the Gore role (kneeling and with Gore's No. 73 instead of his own No. 81).
It came out right, six years after Hash went to Dabo Swinney with a vision.
Never mind that he stole the idea.
The path to 'Heroic' bronze
A nearly 9-foot version of Christian Wilkins holding a giant football doesn't just grow overnight, not even on a campus with "agriculture school" roots.
It sprouted from what Hash conceived after a discussion with Neill Cameron, a former Clemson vice president.
"Neill didn't go forward with his idea, so I kind of stole it and approached Dabo," Hash said.
That was in 2013. Swinney was immediately bullish but wanted just the right statue stage.
In November of 2015, Clemson broke ground for its opulent $55 million Reeves Complex — complete with the bowling alley and slide — that would open in January 2017. It included a plaza well-suited for displays.
MTM, founded in 1971, came on board in July of 2016 assigned to design something cool "to embody the culture of Clemson football."
Cory Beltz, MTM's Director of Sports Business Development, considered the options.
A sculpture?
A monument?
The Clemson people were shown some of principal project designer John Crawford's illustrations.
"Everything from players touching Howard's Rock to different celebration looks," Beltz said.
Rejected, every one of them.
In the spring of 2017, Clemson pitched MTM a tweaked theme: "Culture of Care."
An MTM team showed up on campus a few months later to take some photos for design evaluation.
"Christian Wilkins, who better to represent Clemson football players?" Beltz said.
Wilkins was one of the most popular and personable Clemson athletes. He was honored in December by the National Football Foundation and College Football Hall of Fame as winner of the Campbell Trophy, known as college football's "academic Heisman."
MTM also needed a child model to photograph from all angles.
"If you're going to pose a Clemson statue off of somebody, why not a coach's kid?" said Beltz, 43.
Enter co-star Clay Swinney.
It was a long photo shoot full of different poses and facial expressions. The emphasis was on Wilkins, the focal point.
"Smile, Christian."
"Give us … a look of care."
"Christian, sincere concern?"
Beltz loved working with Wilkins.
"Christian was great as a sculpture subject," he said. "Some subjects, it's hard to capture the likeness. With Christian, it's easy to capture. The guy looks like a Greek god."
Crawford loves the selected pose.
"It makes me hearken back to that Mean Joe Greene commercial," he said of the iconic 1970s ad in which a boy offers the limping Pittsburgh Steelers' lineman a bottle of Coca-Cola after a game. "It's something in everybody's fabric about the hero of the game connecting with the fan. I thought it was pretty cool."
Crawford in the fall of 2017 got busy sketching.
He sent Clemson several illustrations based off the Wilkins/Clay Swinney shoot.
Not quite what we want, said a Clemson creative team that included Hash and Dabo Swinney.
"They decided they wanted a little more balance and diversity," Beltz said.
That's about the time Beltz got his first look at the 2015 Wofford-Clemson program cover, a look MTM designers liked immediately.
The roots of that photo go back to 1979 and a program cover Notre Dame used for its home game against, of all teams, Clemson (a 16-10 Tigers' victory). It shows a pair of little boys collecting autographs from three Notre Dame players.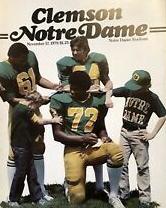 Tim Bourret, the Clemson sports information director and a Notre Dame graduate, remembered that while conceiving the 2015 Wofford-Clemson cover shot.
Thus, Seckinger and little Tianna Guess were roster additions to the statue project.
Then the work really started.
Photoshop editing.
Computer renderings compared.
3D images analyzed.
Early in 2018, soon after Clemson beat Alabama in Tampa for the first of its two national titles under Swinney, MTM got final approval to start building.
The clay sculpting took a while.
"This is beyond full-scale," Beltz said. "It's what we call 'Heroic size.' "
Absolutely. The two children are nearly 6 feet tall.
The Wilkins piece is almost 9 feet tall.
The clay was plastered.
The statues were bronzed.
They were sent to Mexico City for casting.
"It's an ancient method mixing old-school bronze with new-world technology," said Crawford, 50. "It will be there longer than we'll be here."
The display was almost fully assembled when loaded onto the truck that left Oklahoma City and headed east on I-40 towards Arkansas. It was off-loaded in Clemson and installed the next day.
"Really, really cool," Swinney said upon seeing it for the first time.
The unveiling ceremony, which included Hash and his wife Carolyn, was just prior to the annual All-In Ball benefiting Swinney's All-In Team Foundation.
Bronze tiger on the way
Beltz, a 21-year MTM veteran, studies sports statues for a living, typically coming to the same conclusion.
"I often say, 'That's been done before,' " Beltz said.
This one is a bit different.
It's got football players.
Fans.
Kids.
Community.
Spirit.
All that's missing in the statue display is an animal feature.
Not for long.
Crawford and his MTM design crew are working on a very large bronze tiger to be added later this year.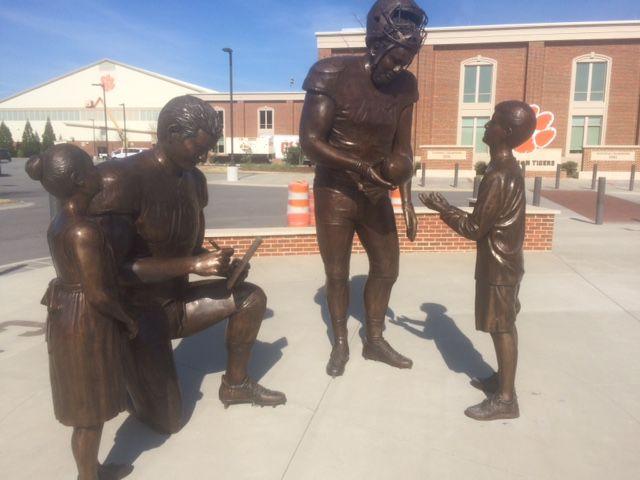 "It kind of goes to Clemson letting everybody come onto the field after the games and the players giving kids their wrist bands and signing autographs," said Bourret, who semi-retired in 2018 after 40 years at Clemson. "That's been going on for years and years. Dabo has really embraced that tradition."
Swinney likes that "it's kind of a reminder every day to us and to our players what they represent."
Davis Babb, CEO of IPTAY, Clemson's athletics fundraising arm, has a new toy to show donors and potential donors. The statue site isn't seen by many people outside the football program on a daily basis as the Reeves building is on the edge of campus near the baseball stadium.
That's by design, too.
"The Reeves Complex is not in the middle of things, campus-wise," Babb said. "But it's something that brings a lot of visitors, because it's football and what that facility represents."
The statue subjects couldn't be happier.
"I mean, it's awesome," said Seckinger, a 26-year-old medical device salesman for Smith and Nephew Endoscopy based in Charleston. "To think that they would make a statue off of a picture that I was in ... It's just a huge honor."
Tianna Guess, now 12, gets to see herself every time she visits her father at work; Henry Guess is Clemson's Director of Football Coaching Video.
"She thought it was pretty neat that she was actually immortalized right outside the football facility," Guess said. "She got a pretty big kick out of it."
And dad gets to brag about his daughter.
"For years to come," Guess said. "When she gets older, she can bring her kids back and say, 'This is me when I was younger.' "
Thomas Hash, 73, knows a successful project when he sees one. His resume includes leading Bechtel, an engineering and project management firm, to annual government projects revenue that soared from $2 billion in 1999 to $6 billion in 2007.
"It came out better than I thought it would," Hash said. "My concern all along was that it would not be tall enough, that it would not make a forceful enough statement."
Just as the Clemson football team went to California for the national championship game in January and defeated Alabama 44-16, the school's new statue statement is plenty forceful.
Follow Gene Sapakoff on Twitter @sapakoff.