CLEMSON — What about Clemson's linebackers?
Last year, the linemen were the stars of the Tigers' defense, and early into fall camp the team's secondary is hogging the spotlight. In redshirt senior Chad Smith's view, his position group has been dangerously overlooked. 
"We're really eager to prove ourselves," the linebacker said. "A lot of people, I feel, kind of doubt us a little bit, underestimate us."
That Clemson's linebackers haven't gotten as much attention as their peers on defense isn't up for debate; what's unclear is if the unit can live up to Smith's expectations.
"We honestly believe we can, as a group, show out," Smith said. "Show out and be discussed as one of the best linebacker corps in the nation."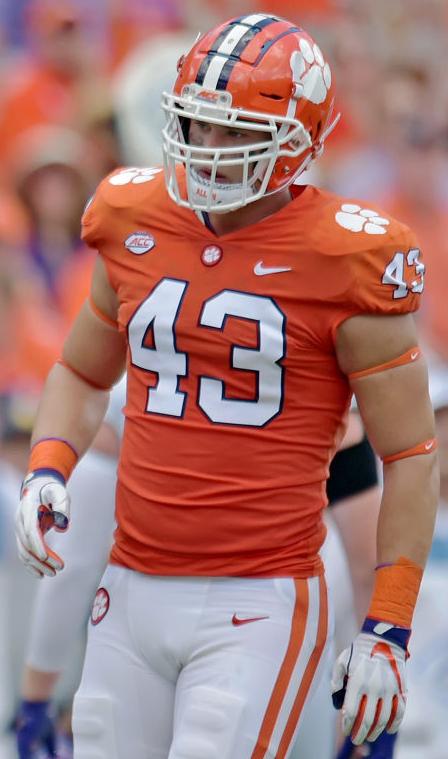 Clemson's defensive performance from last season will be tough to top. The Tigers led the country in scoring defense (13.1 points per game) and set a school record with 54 sacks, which was the third-most by an FBS team in a season since 2000. 
A big part of that success was the line, spearheaded by All-Americans Clelin Ferrell, Dexter Lawrence and Christian Wilkins. All three have left for the NFL, and as such, the Tigers' new-look line has been a hot conversation topic.
Coach Dabo Swinney gushed over the line Monday, noting how much more cohesive and knowledgable the group has looked so far compared to spring practice. On the depth chart, junior Justin Foster and sophomore Xavier Thomas are listed as starters at defensive end, and junior Nyles Pinckney and sophomore Jordan Williams starting at defensive tackle.
"Those first three days of spring practice, it was like, 'Wow, we've got a lot of work to do,' " Swinney said. "We just look totally different."
As for the cornerbacks? 
"That group is really a good group," Swinney said. "Same thing at safety ... We think we've got four guys that could start at safety, without a doubt. So we've got a lot of versatility and a lot flexibility, with that back group — at corner and safety." 
Still, that doesn't mean Swinney isn't excited about his starters at linebacker. Redshirt junior Isaiah Simmons is a preseason All-American, and Swinney said redshirt junior Jamie Skalski is poised for a breakout season. Smith, the third listed starter, recorded 35 tackles and one sack last season.
From there, though, Clemson's linebackers are young. Aside from the starters, there are just two other upperclassmen in the 16-player group — juniors Regan Upshaw and Landon Holden, both of whom are original walk-ons.
All of the young faces in the linebacker room have left Smith in an unfamiliar role. He's found himself answering lots of questions from the underclassmen, taking him back to his first days on campus.
"I can distinctly remember how I was back in the day," Smith said. "I was always asking (former Clemson linebacker) Ben Boulware questions all the time on the sideline. He'd kind of get annoyed with how many questions I'd ask. That's kind of how I feel a little bit with them, but it's good. It's good. They really want to learn."
Smith said the group's curiosity has bred sharp play. And though he acknowledged that it doesn't really matter if the unit is mentioned among the nation's best, he can't help but let his mind wander:
"It would be nice to get some recognition."