The long black Cadillac sedan pulled up to the curb at the Charleston International Airport on a steamy morning this July, Lou Spanos' beaming father George at the wheel and his uncle Augustus riding shotgun. Lou was in the back seat.
"Just like a kid being dropped off at school," the 50-year-old football coach said.
George Spanos was so proud of his only living son. The retired house painter from Pittsburgh enjoyed holding court in a Mount Pleasant barbershop, telling everyone how Lou as a defensive assistant helped the Steelers win two Super Bowls. He was particularly bubbly this sunny day.
Not only was Lou off to start another season as the University of Connecticut's defensive coordinator, the Huskies – as all George's friends heard multiple times – were coming to South Carolina for a Nov. 13 against mighty Clemson.
"I love you," George said as Lou got out of the car.
"I love you, too, dad," Lou said with a big grin.
Life and college football can change so fast. One week, you're a playoff favorite; a month later you're out of the top 25.
One day you're in your 26th year as an assistant coach riding in the back seat. The next you're driving a program into a daunting schedule while trying to come up with a eulogy.
Lou Spanos was already one of the most interesting coaches in football for two unusual reasons:
• He's worked for a handful of Hall of Fame coaches or future Hall of Fame coaches: Bill Cowher, Dick LeBeau, Mike Tomlin, Mike Shanahan, Nick Saban.
• To keep his wife and three children from having to move as often as other assistant coach families – and to provide stable surroundings for a special needs son – he opted to settle in a nice Mount Pleasant neighborhood off Rifle Range Road. Spanos for nine years has mixed living apart and commuting while coaching for the Tennessee Titans, Alabama and UConn. It helped that Spanos' parents, George and Fifi, lived in a separate apartment within the same house.
But few coaches go through the emotions Spanos juggled the first week of September.
Thursday, Sept. 2: George Spanos, 77 and diagnosed with COVID-19 not long after dropping his son off at the airport, dies in a Charleston hospital.
Monday, Sept. 5: Randy Edsall, with a 6-32 record in his second stint as UConn head coach, is forced to resign after a loss to Holy Cross. Spanos is named interim head coach.
Tuesday, Sept. 6: Lou, wary of COVID issues, cannot attend his father's funeral in Mount Pleasant. He watches on Zoom.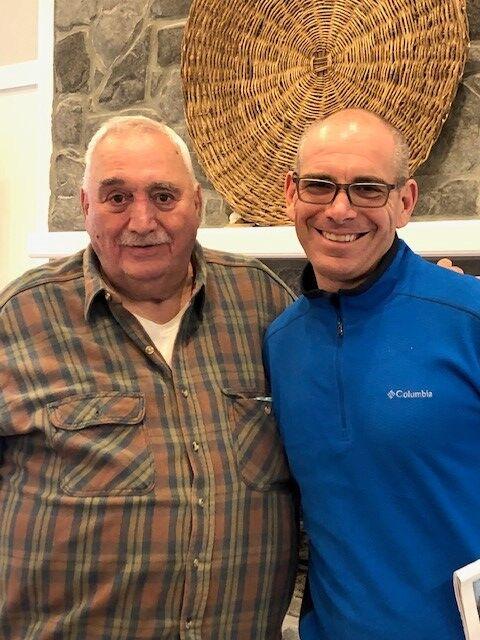 All that in just a few days.
"And, don't forget, I had to coach a game that coming Saturday," said Spanos, who had never been a head coach at any level.
He paused, the first of three times during a long phone interview.
"Damn. There I go, getting choked up," Spanos said in a raspy tone. "But the way I was raised and the people I've coached under over the years taught me to love and respect the moments and challenges you have."
Mount Pleasant's Spanos family
A Clemson fan wouldn't have to be all that skilled at golf to be able to see the Spanos house, the Target store where the family shops, Lou's barber and the funeral home that handled George's arrangements within several decent tee shots.
This isn't the case with the other head coaches on the Tigers' 2021 schedule. Kirby Smart, Dave Doeren, Dino Babers, Dave Clawson, Shane Beamer … They don't live part-time anywhere near the Isle of Palms Connector.
But this family life/coaching career hybrid reflects a creative commitment to both of those passions as applied by Lou and Timme Spanos.
Lou spends most of his offseason weekends in Mount Pleasant. The family often travels to wherever he's coaching for weekends during the season.
"We love Mount Pleasant," Spanos said. "We love the values. We love what it has to offer."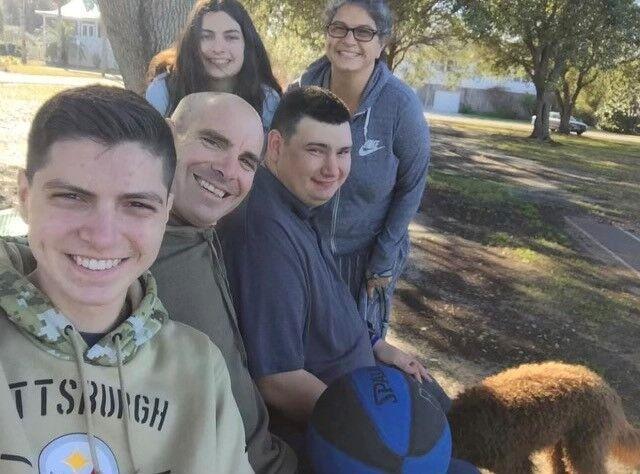 The home base gives the Spanos' oldest son Zachary, 21, familiar fun with the Charleston Miracle League, a baseball and softball organization catering to people with special needs (mourners in lieu of flowers after George's death were asked to donate to the Miracle League).
Zachary is also involved with Special Olympics.
Son Caleb, 18, and daughter Gabby, 16, are Wando High School students. Caleb is on the lacrosse team. Gabby is a lifeguard.
There are a bunch of family FaceTime calls and texts each day.
"Lou is amazing. He sacrifices everything," said wife Timme Spanos, who met Lou at a fraternity party when they were University of Tulsa students. "He wanted a quality of life that doesn't include moving a lot. I like to say he's a real-life George Jetson of fatherhood."
Lou did the initial Mount Pleasant house shopping in 2011, at first with a vacation home in mind. He met with real estate agent Alicia Mendicino and quickly got to know Mendicino's husband, Peter Wertimer, a longtime advertising and marketing executive.
Wertimer took Spanos to a Charleston RiverDogs minor league baseball game, where they had box seats behind home plate at Riley Park.
"We just met but I felt like Lou had been my friend for years," Wertimer said. "He didn't shrink from any questions about his football experience. I couldn't help but notice his Super Bowl ring and I asked to try it on."
Others sitting nearby at the ballgame, including a few baseball scouts, noticed the ring, too. It was one of two Super Bowl rings Spanos earned while working with the Steelers from 1995-2009.
"Lou was proud of it but not in a bragging way," Wertimer said. "He simply realized what a thrill it was for other people to see a Super Bowl ring."
Spanos has that engaging way about him.
"As great a person as I've ever worked with," said Dick LeBeau, who went on about Spanos' family values.
LeBeau, 84, was a Pro Bowl-caliber NFL player and a Cincinnati Bengals head coach but is in the Pro Football Hall of Fame because of his work as a defensive coordinator with the Bengals, Steelers and Titans (Spanos worked under LeBeau in Pittsburgh and Tennessee).
People think Timme Spanos is pretty special, too.
"Timme is an incredibly strong woman who has done a great job maintaining a family in an environment where it's tough to manage," said Debbie Antonelli, Timme's Mount Pleasant friend. "With Lou's high profile and being on the road so much, she's keeping the home life together in an area where they want to raise their son because we have such a great community."
Few people get this Spanos arrangement quite like Antonelli. Debbie and Frank Antonelli have raised a family, including Special Olympics standout Frankie Antonelli, with Debbie on the road sometimes doing over a hundred games a year as a basketball broadcaster and Frank running the prestigious Bulls Bay golf club.
"We have an exceptional community here for those with special needs," said Antonelli, who has served on boards with Timme Spanos. "I'm sure it's a strain on their relationship but it has to be so rewarding that they can make this work."
Jeff Richard has seen the Spanos family bond in action since Lou and the boys started showing up at Jeff's Barbering shop when they first moved to Mount Pleasant. Lou while serving as Titans linebackers coach in 2016 offered to get Richard tickets to see his beloved Denver Broncos play in Nashville.
Great seats. Right near the Titans bench.
Richard thanked Spanos, then mentioned how excited he was to be able to wear his orange Broncos gear to an NFL game.
Silence.
Blank stare.
On game day, Spanos interrupted his Broncos preparation to deliver a Titans shirt to Richard in the stadium parking lot.
"Tremendous guy. Who else does that?" Richard said.
George Spanos used to come into the barbershop as often as his son and grandsons. His favorite discussion subjects included Lou, Lou's coaching, Lou as a great dad and more Lou.
George was proud of his other son, too. He loved going from the family home in Dormont, Pa., outside Pittsburgh to watch the two brothers play as Tulsa teammates.
Gus Spanos was three years older than Lou but they played together in 1989 when Tulsa reached its first bowl game in 13 seasons.
Three years later, Gus was 24 and in his rookie year as a Tulsa police officer when he pulled over a car on 58th Street North. Fellow officer Charlie Tapper arrived several minutes later to find Gus Spanos on the ground.
He had been shot in the back of the head by the driver, a drug-runner later sentenced to life in prison.
More than 500 cops were among the crowd of 2,000 at the funeral for Lou Spanos' only sibling.
"I remember hurrying over from the Tulsa campus to the hospital that night," said Lou, who was 22 at the time. "My brother was still in his police uniform all bloody. I remembered the last phone call I had with him. And that I ended it with, 'I love you.' We say that a lot in my family. Never any regrets."
Cowher, Tomlin, Shanahan, Saban
Ray Horton went over the list of Spanos' NFL bosses: Super Bowl winners Cowher and Tomlin with Pittsburgh, two-time Super Bowl winner Mike Shanahan with the Washington Redskins, LeBeau as defensive coordinator in Pittsburgh and Tennessee.
Spanos spent 2018 as a defensive analyst on the Alabama staff with Saban, a seven-time national champion.
"That's rare air," said Horton, a former NFL defensive back, assistant coach and defensive coordinator.
Horton worked with Spanos in Pittsburgh and Tennessee. He calls him a "salt of the earth person."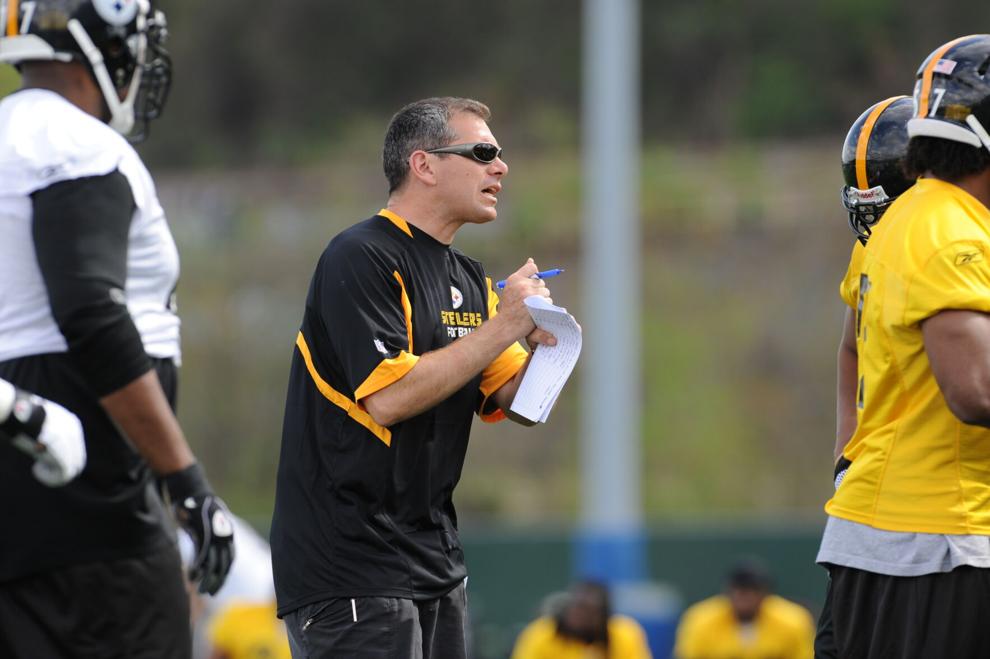 "Players love his energy, his passion for the game," Horton said. "He was a player at Tulsa, so he understands what it takes to be a player. He's been with great coaches, so he understands what it takes to be a coach. You roll all those things together and that's what Lou is."
Cowher is famed for his sideline intensity. A hard squint above a jutting chin. Words spewed at anyone within shouting distance.
"But Bill loved players," Horton said. "He was hardest on his coaches. You had to be 100-percent correct to the tiniest detail or he'd slowly yell, 'That's … not … right!'"
Once, while reviewing tape of the previous week's game with his staff, Cowher erupted.
"That's not right!" he snapped. "A play is missing from this tape."
A young defensive assistant spoke up. The missing play, Spanos said, was a pre-snap penalty on the other team.
"That's why we left it out," he explained to Cowher before the group. "So the number of plays is right, Coach."
Horton still laughs about it.
"Coach Cowher gave him one of his looks," Horton said. "But Lou held his ground. Then Coach Cowher started smiling."
LeBeau says Spanos was his "right arm" in game prep work with the Steelers and Titans.
"You tell him one thing," LeBeau said, "and he never forgets it."
In Tennessee, LeBeau asked Spanos if he recalled a certain double-inside cross blitz the Steelers had run against the Baltimore Ravens when they were together in Pittsburgh.
Spanos immediately found tape of those plays.
"That kind of recall is a valuable asset," LeBeau said. "Especially when you're calling defensive plays."
Which Spanos is still doing as UConn's head coach.
'Sorry, I'm tearing up again'
UConn's 0-6 record this season isn't surprising. Edsall finished his first stint as Huskies head coach with five bowl trips in seven seasons, including a 20-7 upset of Steve Spurrier's South Carolina Gamecocks at the 2009 Papajohns.com Bowl in Birmingham.
It wasn't the same when Edsall returned after getting fired at Maryland. UConn was one of the few FBS teams to have the entire 2020 season canceled. Prominent college football analyst Phil Steele had the Huskies ranked No. 127 among the nation's 130 FBS teams in his 2021 preseason poll.
An 0-2 start was enough. UConn athletic director David Bennett in naming an interim head coach cited "great respect for (Spanos) as a person and for his football acumen."
"It was like divine intervention," said Timme Spanos, a Lowcountry real estate agent. "It was as if Lou's dad was somewhere up there edging things along with, 'Please, my boy deserves this chance.'"
Spanos' simple message at his first team meeting: It's a new season.
It seems the players have bought in.
Asked by a Hartford Courant reporter to describe Spanos, UConn junior cornerback Jeremy Lucien said that wasn't easy.
"He's just one of those kinds of people that you just need to be around to kind of get the full experience," Lucien said. "I guess the best way to describe him is, he's a really wacky guy. He knows when to make jokes and when to be serious. He brings a really good balance of that to the table."
Progress has been obvious, if frustrating, since a 49-0 home loss to Purdue in Spanos' head coaching debut.
After a 52-21 loss at Army, UConn came home Sept. 25 to face undefeated Wyoming as a 31-point underdog. Freshman quarterback Tyler Phommachanh – younger brother of Clemson backup quarterback Taisun Phommachanh – led the Huskies to their first halftime lead since 2019 against Temple.
"The players are having fun," a peppy Spanos told CBS Sports Network sideline reporter Josh Martin at the break. "That's what the college experience is all about."
A wiry, nearly bald man wearing sunglasses and a long-sleeved T-shirt on the sideline, Spanos at a slight distance bears a striking resemblance to Paul Finebaum, the SEC Network talk show host. He wears a Super Bowl ring on the sideline during games.
A UConn touchdown drive cut the Wyoming lead to 24-22 with four seconds left at Pratt & Whitney Stadium.
Alas, UConn's 2-point conversion pass attempt was batted away.
At Vanderbilt on Oct. 2, UConn as a 14-point underdog lost, 30-28. Phommachanh led the Huskies to a pair of field goals and a 6-0 lead but didn't return after a first-quarter leg injury.
Vandy won with a 31-yard field goal as time expired.
"The players are playing for each other. They love the game …" Spanos said, trailing off. "Sorry, I have to get a drink of water. I'm tearing up again …
"Look, I've just been so fortunate to have coached for such a long time. This is a reward. It's just awesome."
Spanos wakes up in his loft apartment in Storrs at 4 a.m. each day.
He works out.
He soaks oats to eat later.
He gets to the office early.
He likes to get takeout from P.F. Changs or The Cheesecake Factory.
He talks to the family every night by FaceTime or phone.
Amid the adjustments, Spanos added another iconic head coach to his mentors list. Geno Auriemma, architect of UConn's 11 national championships in women's basketball, reached out as soon as Spanos got the interim gig.
Spanos immediately asked Auriemma to speak to the UConn football team.
"I was fortunate enough to work for Coach Saban," Spanos said, "and now I have another legend working right across the street."
Spanos said he is eager to meet Clemson's two-time national championship winner Dabo Swinney when the teams clash Nov. 13 at Death Valley.
"Dabo is upstanding. Class act. Professional," Spanos said. "He probably doesn't remember me but we've met a couple times at Clemson pro days when I was with the Titans. Great guy. Awesome guy. So much respect for him as a person. Amazing."
Spanos isn't peeking ahead. Not to Clemson or anything but this week's game at Massachusetts, the other FBS independent team that's winless in 2021.
"Looking ahead? Oh, God. Hey, I don't know where I'm going after this phone conversation," Spanos said. "How about that quote? Use that quote. In the big picture of life, we're focusing on this moment right here."
Back home in Mount Pleasant, Lou's mother Fifi still cooks the big Greek meals his father loved. The Spanos kids say a rare "no" to their high school friends and fast food when Fifi is making Pastitsio – a Greek dish with pasta, meat and zesty sauce. Same thing when her chicken or ribs are on the menu.
The whole Spanos family of Mount Pleasant remains as excited as George was about Nov. 13 at Clemson.
"Our neighbors tell us all about it but we've never been to a Clemson game," Timme Spanos said. "This is a great time because the kids are old enough to really appreciate what their dad does. They're having so much fun giving out UConn gear to their friends.
"We all get to float on a little cloud with the position Lou has now."
It wasn't Lou Spanos' UConn team when he last left Mount Pleasant and was dropped off at the airport to start the season. It sure is now.
You can tell because, just after Lou was named interim head coach that bittersweet week, the players put George Spanos' initials on the back of their helmets.
Follow Gene Sapakoff on Twitter @sapakoff