Clemson's spring game apparently was the perfect setting for nationally recruited safety RJ Mickens to announce a commitment to the Tigers.
Mickens, of Southlake, Texas, is viewed by some analysts as the top safety prospect in the nation for his class. On Saturday, he picked Clemson from a lead pack that included LSU, Texas A&M, Alabama, Oklahoma, Ohio State, Michigan, Notre Dame, Florida, Nebraska and Miami.
Mickens, the son of former NFL cornerback Ray Mickens, camped at Clemson last summer and was on campus for a junior day earlier this year. After that visit, Mickens said he was impressed by the Clemson defense and saw a good fit for him in it.
"They play a lot of different types of coverages, a very multiple-type of defense," Mickens said. "In practices, of course, they are going up against some of the best receivers and the best quarterback. They've got top 10 facilities and top 10 coaches.
"They don't always recruit the highest rated but the highest character. They want character, too, and high rated. And I like the atmosphere of the people there."
Last season Mickens had 57 tackles with two interceptions. He has seven interceptions over the past three seasons. He's the 10th commitment for Clemson's 2020 class and the first for the secondary.
Clemson added another big piece to its secondary for the 2020 class Monday night with a commitment from cornerback Fred Davis of Jacksonville. He was also at Clemson for the spring game.
Davis chose the Tigers over Florida, Miami, Ohio State, Auburn and Alabama. He also visited Clemson in January and the Tigers build on their relationship with him from there.
"It was the environment there," Davis said in making his announcement on the Jacksonville radio show "The Sports Den." "When I first went there, the coaches showed genuine love. It's just a different type of vibe there."
Davis also was impressed with Brent Venables as the defensive coordinator and Mike Reed, the cornerbacks coach, and the type of defense they run at Clemson.
"They run an NFL scheme. You are basically playing NFL ball already," Davis said adding that he expects to play early and add something to the secondary with his skills.
"Just a long, physical corner that's going to be ready to compete with everybody."
Last season Davis had over 60 tackles with 3 interceptions and 12 defended passes. He is the 11th commitment for the Tigers 2020 class.
Charles Montgomery of Tampa visited South Carolina on  Saturday with some 7-on-7 teammates. Montgomery, who is being recruited as an athlete for the Class of 2021, said he talked briefly with head coach Will Muschamp and had a more extensive conversation with recruiter Travaris Robinson.
Montgomery said he made his commitment to Robinson and then posted the news on Twitter and added it to his page profile. However, his commitment has yet to be acknowledged by Muschamp with his "Spurs Up" tweet and thus remains unofficial. But that hasn't reduced Montgomery's enthusiasm about the Gamecocks and his belief that he's a commitment.
"It's a lot," Montgomery said about his reasons for committing. "Not even just the big things. It reminds me so much of my high school and the growth factor. I'm a hard working person and I wanted to go to a school where I can work hard as well as compete."
Montgomery said he was impressed by what he saw on his visit. "It was all phenomenal. Just everything, the weight room, the studios, everything really."
Robinson said the Gamecocks like him as a slot receiver and a return specialist.
Elijah Rodgers was a two-sport standout during his high school career at Blacksburg. He was a quarterback and defensive back and was good enough to be chosen for the 2017 Shrine Bowl team as a corner. Indiana, BYU and Purdue were some of his top opportunities back then and he signed with the Hoosiers.
But last summer, family issues forced him to leave before ever suiting up and he landed at Gardner-Webb where he played mostly on special teams. Now he's considering another move and is in the transfer portal, and USC is his prime target.
"I'm just going to explore my options," Rodgers said. "If all else fails, I'll stay at Gardner-Webb. I'm liking them (USC) a good bit so we'll see what happens there."
Rodgers, who attended USC's spring game Saturday, said the Gamecocks are the only team he's interested in transferring to if he decides to leave.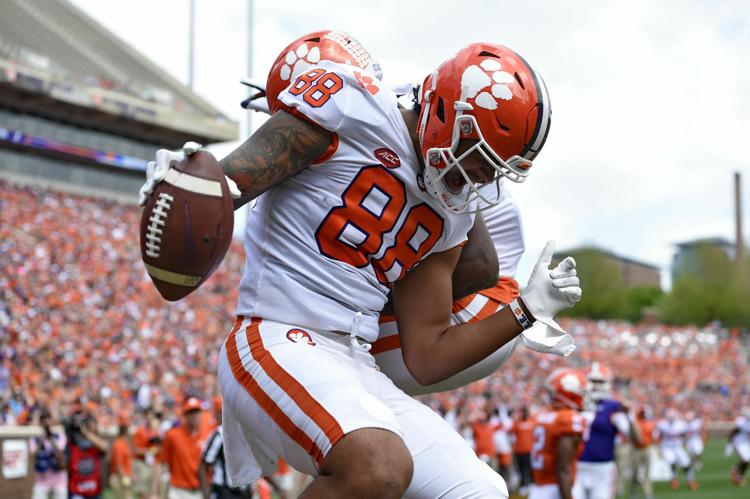 After playing in seven games last season, Rodgers will have three years of eligibility. As a high school senior, he had 29 tackles and three interceptions. He also passed for 866 yards and 14 touchdowns and rushed for 534 yards and 5 TDs. In his last two seasons, Rodgers blocked 7 kicks. USC is looking at him as a defensive back.
Quarterback DJ Uiagalelei of Bellflower, Calif., considered the top prospect in the 2020 class by some analysts, made his much-anticipated return visit to Clemson last week. He and his family arrived on Wednesday and left on Sunday.
"Everything went great. I don't think it could have gone any better," Uiagalelei said. "I've been to Clemson and I know how I feel, but I wanted my family to come out and see everything and see what they thought about it. Everybody had a good time."
Uiagalelei was able to watch spring practice and the game on Saturday. The visit also gave his mother her first look at the school.
"There isn't anything Clemson could have done different," he said. "They did everything right."
Uiagalelei will visit Oregon on April 20 for its spring game and is planning a decision between the Tigers and the Ducks within two months.
USC has one quarterback committed for the 2020 class in Luke Doty of Myrtle Beach. He's a dual-threat quarterback who is dangerous with his legs and his arm. Saturday a more traditional pro-style quarterback, Elijah Gainey from Flowery Branch, Ga., visited for the spring game.
If nothing else, the fact he comes from the school that sent Connor Shaw to USC should work in his favor with the Gamecocks. Gainey said he was blown away by his experience on Saturday.
"The facilities were by far some of the best in the country," Gainey said. "The coaches are all genuine, especially Coach (Dan) Werner. He's a great coach and awesome person. Had a great conversation with him.
Gainey, who has not yet landed an offer from USC, also is hearing from Boston College, Georgia Tech, Harvard, Yale and Troy. Last season he passed for 2,005 yards and 20 touchdowns in just eight games, missing several games  with a concussion.
Defensive lineman Alex Huntley of Hammond took another unofficial visit to USC Saturday. Huntley said it was another good visit for him and he got more time to talk with the coaches. But he said he's been to USC so often, there's not much more for him to learn about the program. He doesn't have any other visits planned at this point and soon he'll be setting up some official visits.
Oklahoma will get one of those. Huntley's teammate, defensive end Jordan Burch, also visited USC Saturday, his third straight Saturday visit with the Gamecocks. Huntley was one of the recognized standout performers in Sunday's Rivals camp at Nation Ford High School in Fort Mill.
Tight end Eric Shaw of Notalsuga, Ala., visited USC Saturday and spent a lot of time talking with tight ends coach Bobby Bentley. He said USC felt like a good fit to him and he plans to return for camp this summer. He said the Gamecocks continue to recruit him hard and he will talk with them about an official visit.
Wide receiver EJ Williams of Phenix City, Ala., was back at Clemson Saturday for the spring game. That was his sixth visit to Clemson since September. He said it was another great experience for him, especially watching the receivers do their thing.
Williams said he will take an official visit to Tennessee this weekend and plans to take one to Auburn sometime in June. He said he also will take an official visit to Clemson on a date to be determined. Some of his other visits this spring have been to Auburn, Alabama and LSU.
Defensive end AJ Beatty of Pittsburgh landed his first SEC offer over the weekend when he visited USC. Beatty also has offers from Pitt, Temple, Purdue, Air Force, Rutgers, Boston College, Princeton, Syracuse, West Virginia, Navy, FAU and North Carolina.
"We are very familiar with South Carolina because we have a condo in Myrtle Beach, so we're there quite a lot,"  he said." 
Offensive lineman Cesar Reyes of Tampa was with a group that visited USC over the weekend. He also has visited LSU, Florida and Kentucky and Florida State. His offers include LSU, Kentucky, Nebraska, Maryland, West Virginia, UCF, Virginia, North Carolina, Louisville and South Florida.
Cornerback DJ Taylor of Tampa also was in that group from the Tampa area. His offers include West Virginia, Wake Forest, USF, UCF, Syracuse, Pitt, Louisville, Illinois, Kansas State, Duke and Arizona State.
USC special teams coach Coleman Hutzler is looking over several place-kicking candidates for the 2020 class. Last week he welcomed in for an unofficial visit punter and placekicker Aidan Shahriari of Clearwater, Fla.
Shahriari said he will return to USC in June to compete in a summer specialists camp. It's from camps like that kicker and punters often earn offers. He is also talking to Washington State, Liberty, Navy, Arizona and Virginia Tech. He said he will take visits to Washington State, Navy and possibly Liberty, and he also wants to visit the Florida schools.
Clemson made the top 10 with safety Jordan Morant of Oradell, NJ. The others on his short list are Southern Cal, Penn State, Oregon, Alabama, Notre Dame, LSU, Miami, Michigan and Texas A&M.
Clemson target tight end Braiden McGregor took an official visit to Notre Dame this past weekend. Clemson is in the top 10 along with Alabama, Michigan, Penn State, Miami, Florida, Notre Dame, LSU, Ohio State and Oregon.
USC commitment offensive lineman Issiah Walker visited Florida State for its spring game over the weekend. USC commitment offensive lineman Javion Cohen was offered by Florida.
Basketball 
One day after wrapping up an official visit to USC, 6-9 Jalyn McCreary of Legacy Charter School in Greenville and Marietta, Ga., last Monday announced a commitment to the Gamecocks.
He said he chose the Gamecocks over DePaul and Georgia State. McCreary averaged over 18 points and 6 rebounds per game last season.
USC coach Frank Martin and assistant coach Chuck Martin have identified 6-7 Matt Cross of Beverly, Mass., as a target for the 2020 class. Cross plays for Woodstock Academy in Connecticut and averaged 16 points and 7 rebounds per game this season.
"I've developed a relationship with Frank and Chucky, and they wanted to get me down there for an unofficial visit," Cross said. "I went down there when they played Georgia. I sat right behind the bench and everyone was like telling me how Frank would be screaming and this and that, but I love that."
Cross also holds offers from Penn State, Connecticut, Massachusetts, Tulane and St. Joseph's. He doesn't want to rush his decision, but it definitely appears the Gamecocks will be a factor with him moving forward.
"I feel very good about them (Gamecocks). I think I fit their style and I think the way they are they fit my style, so I think it's a very good fit so far," Cross said.
Mike Green (6-2) of Christian Academy in Myrtle Beach plans to be a walk-on with USC next season.
Asanti Price (6-5) of Keenan committed to Georgia Tech.
Columbia native Jordan Davis, who started his career at Dayton, is transferring to Middle Tennessee State.
Baseball
Infielder Shane Shifflett of State College of Florida JC committed to USC. He started his career at Florida. He's batting .302 this season.