CLEMSON — The name of the game at Clemson over the last several National Signing Days has been drama free, and Wednesday was no exception for Dabo Swinney's national championship-winning Tigers, who are ready to reload for 2019. 
After signing 27 players in December during the early signing period, Swinney added just two more Wednesday — a Charleston running back who might be just as explosive on the basketball court as he is on the football field, and a grayshirt offensive lineman from Spartanburg. 
Michel Dukes, a two-sport star at First Baptist School, signed Wednesday morning, chosing the Tigers over handful of schools that included Arkansas, South Carolina, North Carolina and Syracuse. 
Mason Trotter, who went to Dorman High School in Spartanburg, also signed Wednesday. He is expected to be a grayshirt who will enroll in the summer of 2019. 
Dukes received many offers early in the process and could have gone elsewhere to play football or basketball. Clemson didn't make him an offer until last week, but the 5-10, 190-pounder was willing to hold out for what he wanted.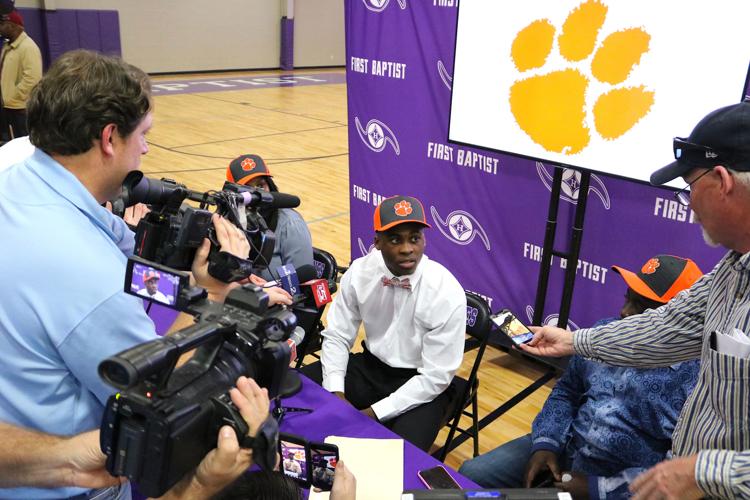 And Clemson was what he wanted. 
"He's just a guy that Tony (Elliott) just kept kind of coming back to and coming back to and he kind of bet on himself too, because he had a lot of opportunities to sign in December," said Swinney, referring to Clemson running backs coach and co-offensive coordinator. "Tony wasn't quite ready in December, so (Dukes) bet on himself. He really wanted to be at Clemson, and that matters, too. This was something that had been a dream of his. So its really cool to see it all come to fruition. But we think he's got a chance to be a heck of player." 
Clemson is loaded at the running back position with ACC Player of the Year Travis Etienne, veteran Tavien Feaster and rising star Lyn-J Dixon, so playing time could be hard to come by for Dukes.
But Clemson has a history of developing players that might not command the attention that four- and five-star recruits get coming out of high school. Hunter Renfrow immediately comes to mind.
"He's a legit athlete and he's been in our camp," Swinney said of Dukes. "So he's a guy that we've been able to have our hands on multiple times. I think he's been in camp maybe since the eighth or ninth grade." 
In addition to Dukes and Trotter, Clemson signed nine  preferred walk-ons, Swinney said, including another Lowcountry native in Jonathan Weitz, a kicker from Porter-Gaud. 
The Tigers put together another top 10 recruiting class with players from 14 different states, the most for a Tigers class since 1989 under Danny Ford. They certainly need bodies considering a chunk of the defense is walking out the door and Swinney announced Wednesday that defensive tackles Jordan Williams and Nyles Pinckney will miss spring practice because of injuries.
The Clemson brand, thanks to two national championships in three years, has made it easier for the Tigers to recruit nationally.
Clemson Signings
 Name                       Pos.        Ht.    Wt.    Hometown l
Davis Allen              TE     6-4    220    Calhoun, Ga.
LaVonta Bentley       LB     6-1   218     Birmingham, Ala.
Kaleb Boateng*          OG    6-4    290    Fort Lauderdale, Fla.
Andrew Booth           CB    6-0    187    Lawrenceville, Ga. 
Logan Cash*                DE   6-3   255   Winder, Ga. 
Joseph Charleston*       S    6-1   190    Milton, Ga.
Byton Constantin        LB  6-3   207   Baton Rouge, La. 
Tyler Davis*                  DT  6-2   293   Apopka, Fla.
Michel Dukes              RB   5-10 191  Charleston 
Tayquon Johnson         DT   6-2    293  Williamsport, Md.
Sheridan Jones*             CB   6-0    167   Norfolk, Va. 
Frank Ladson Jr.*           WR  6-3   178    Homestead, Fla.
Jaelyn Lay*                     TE   6-6    228   Riverdale, Ga.
Keith Maguire                LB   6-2    210   Malvern, Pa. 
Chez Mellusi                  RB  5-11  195   Naples, Fla. 
Joe Ngata*                        WR   6-2    200  Folsom, Calif. 
Ruke Orhorhoro*              DE   6-4    255  River Rouge, Mich.
Kane Patterson                LB   6-1    220   Nashville, Tenn.
Jalyn Phillips                    S     6-0    198    Lawrenceville, Ga. 
Taisum Phommmachanh* QB 6-3  197  Avon, Conn.
Will Putnam*                     OL 6-4   265  Tampa Bay, Fla.
Hunter Rayburn*               OG  6-3  220   Pensacola, Fla.
Etinosa Reuben*                DT  6-3  270    Kansas City, Mo.
Brannon Spector*              WR  6-2  187   Calhoun, Ga.
Aidan Swanson*                K     6-2  170   Bradenton, Fla.
Ray Thornton*                   S     6-2   198   Phenix City, Ala.
Gregory Williams            LB   6-3   226   Swansea
Lannden Zanders*             S      6-0   190   Shelby, N.C. 
* - Signed in December