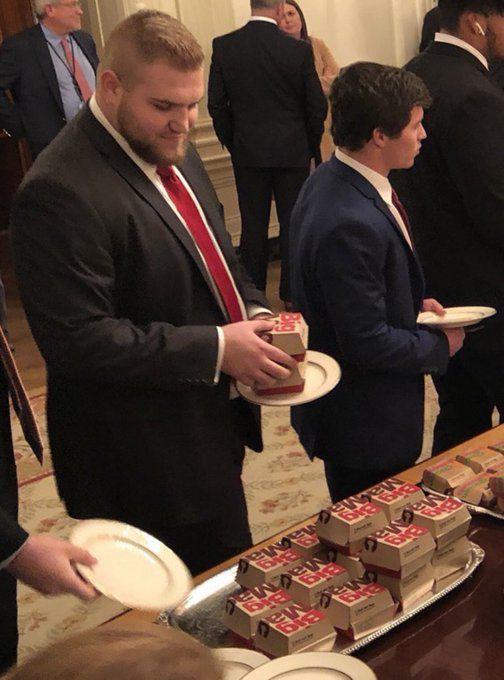 CLEMSON — Matt Bockhorst knows it will take a lot to make him known more for football performance than as that big guy who seemed to enjoy a White House fast-food buffet more than other Clemson players.
Yes, that's Bockhorst, all 6-4 and 310 pounds worth. He's beaming with a couple of Big Macs in a Washington photo snapped in January as President Donald Trump was honoring the 2018 national champions soon after their 44-16 victory over Alabama.
Bockhorst, a rising sophomore from Cincinnati, immediately responded to the social media one-liners with a Twitter blast: "I mean, you're not just gonna NOT eat the Big Macs stacked in a pile, right?"
He got several thousand retweets.
"Wow. It was a hectic couple of days for sure," Bockhorst said Monday after Clemson's second-to-last spring practice before Saturday's Orange and White Spring Game (2:30 p.m., ESPN2). "I'm not sure I expected that. I felt like I had to defend myself a little bit; I had to choose my words wisely. But it ended up working out."
It still comes up.
Around campus.
Around town.
"Some people say, 'You look really familiar,'" Bockhorst said. "I say, 'Yeah, I'm the Big Mac guy.' The funny thing is, I don't really eat Big Macs that often. But it was certainly a crazy experience going viral."
On the field, Clemson coaches like the way Bockhorst adds depth at left guard behind John Simpson (Fort Dorchester High School), a senior returning starter.
It's early, but if sophomore Jackson Carman can come close to filling in for four-year starter Mitch Hyatt at left tackle — and it looks good so far — Clemson will have an offensive line comparable to the gold standard of 2018.
Depth is a big part of that.
"It's not like John isn't a really solid player or that it's an open competition," Bockhorst said. "But there's always room for improvement. You want to have an open mind. You don't want to come out here and think 'The depth chart is set and I'm not really going to try that hard.' They're always going to be evaluating you."
Bockhorst has taken plenty of first-team repetitions this spring.
"That's the biggest thing for me, really increasing my role as far as readiness is concerned," Bockhorst said.
Bockhorst played 178 snaps for the 2018 national champs and finished the regular season strong. He got in for 30 snaps in a 56-35 victory over South Carolina in which the Tigers amassed 744 yards of total offense, the third-most for a single game in school history.
"That was huge," Bockhorst said. "I told my family after the game, 'It really felt like I was in high school again.' That was important for me. Sometimes you get lost in the shuffle in college, and obviously it's very competitive at Clemson. Having a game like that where you could get in the groove for a couple of quarters was really encouraging."
Success tasted even better in College Football Playoff games, and at the White House.
Standouts on offense
Clemson offensive co-coordinator Tony Elliott was asked Monday to name the most impressive players on offense so far in spring practice.
Answers: Carman at left tackle, Sean Pollard transitioning to center, offensive tackles Blake Vinson and Jordan McFadden, wide receiver Diondre Overton and running back Tavien Feaster.
Wanted: Etienne leading
Travis Etienne finished seventh in the Heisman Trophy voting last season but Elliott said "the biggest thing" for Etienne going into his junior season is leadership.
The verbal leader among running backs right now?
No doubt, Feaster, a senior.
"He's the alpha dog," Elliott said.
Follow Gene Sapakoff on Twitter @sapakoff.